This guide is from briskoda so all thanks to them. I just wanted to print it off with pictures so I changed all the urls to img codes and I thought others would appreciate it. If this is not allowed I apologise and understand if you delete it
Parts required:
1 Set Powerflex bushes - Part No PFF85-601
2No Seat Cupra Console bushes - Part No 6LL407183
1 Tube VW Special lube for fitting Console bush - Part No G 294 421 A1
6No Bolts for Balljoints - Part No N10127707 (VW Part No)
2No Bolts for Front Wishbone Bush - Part No N10141801 (VW Part No)
Note:- The bolts were purchased from a local VW dealership as none were in stock at any local Skoda dealers.
Tools required:
Tool to fit Cupra bushes into Consoles (See below for Details)
Jack and Axle stands
A strong socket set
A senior hacksaw
Mallet
Large screwdiver
Torque Wrench
Ratchet strap
Making your Bush fitting tool: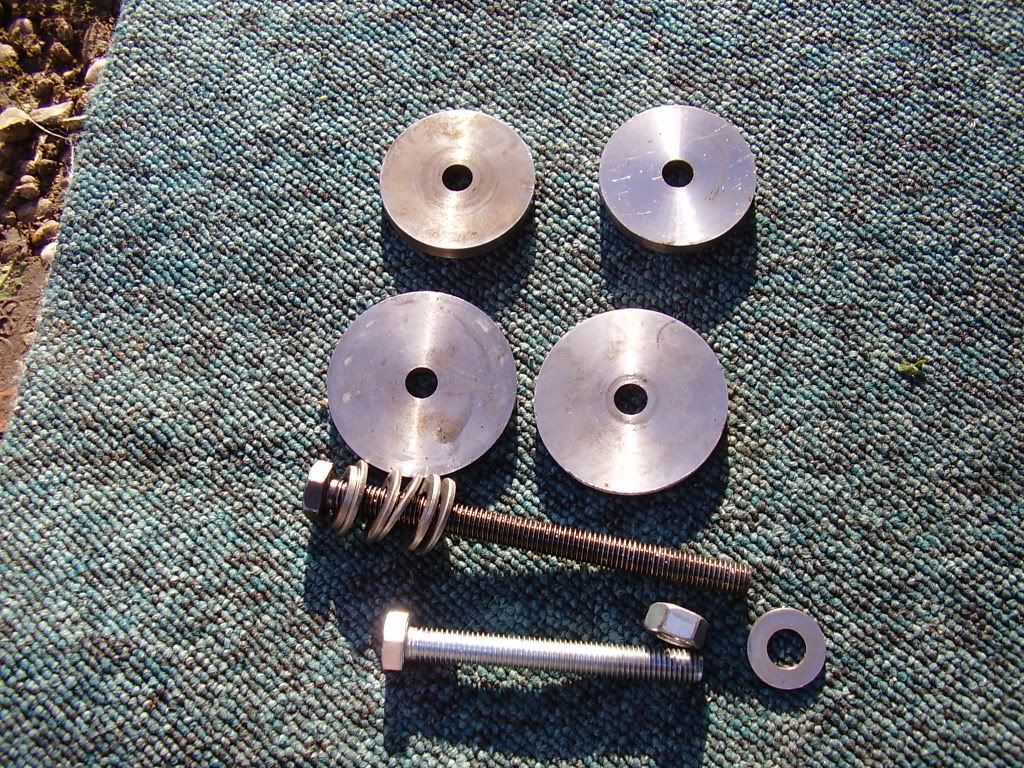 This consists of an M12 x 150 long high tensile set screw, 2No M12 washers and 2No M12 nuts. These are readily available from your local hardware shop or Fixings supplier.
You will also need to get a friendly local engineering shop to make the large spacers for you. I managed to get all 4 spacers made in return for a 20 bottle crate of Stella.
The spacers are 8mm thick with a 12.5mm dia hole in the centre. You will need 2No @ 61mm dia and 2No @ 71mm dia.
Procedure:
Jack up the car and support it on the sill jacking points with axle stands.
Remove wheels and engine splash guard.
Remove the 13mm nuts on the lower ball joint.
Pull the hub outwards and slide the lower balljoint out of the wishbone.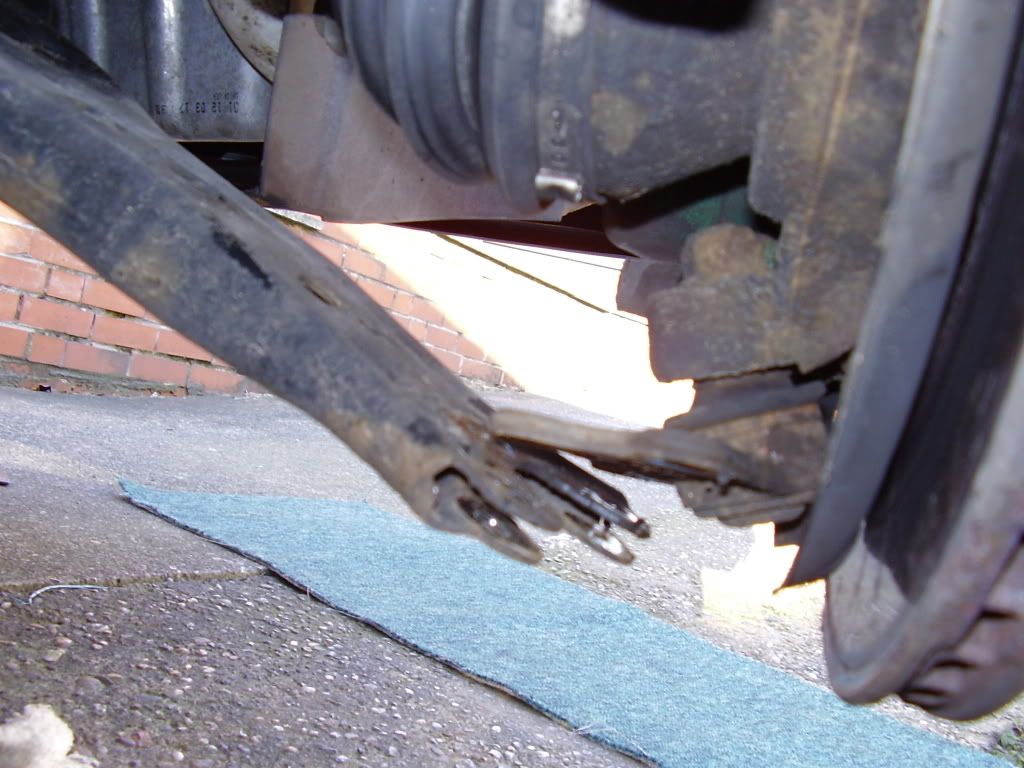 Remove the 18mm bolt from the front of the wishbone
Slide the wishbone out of its front mounting.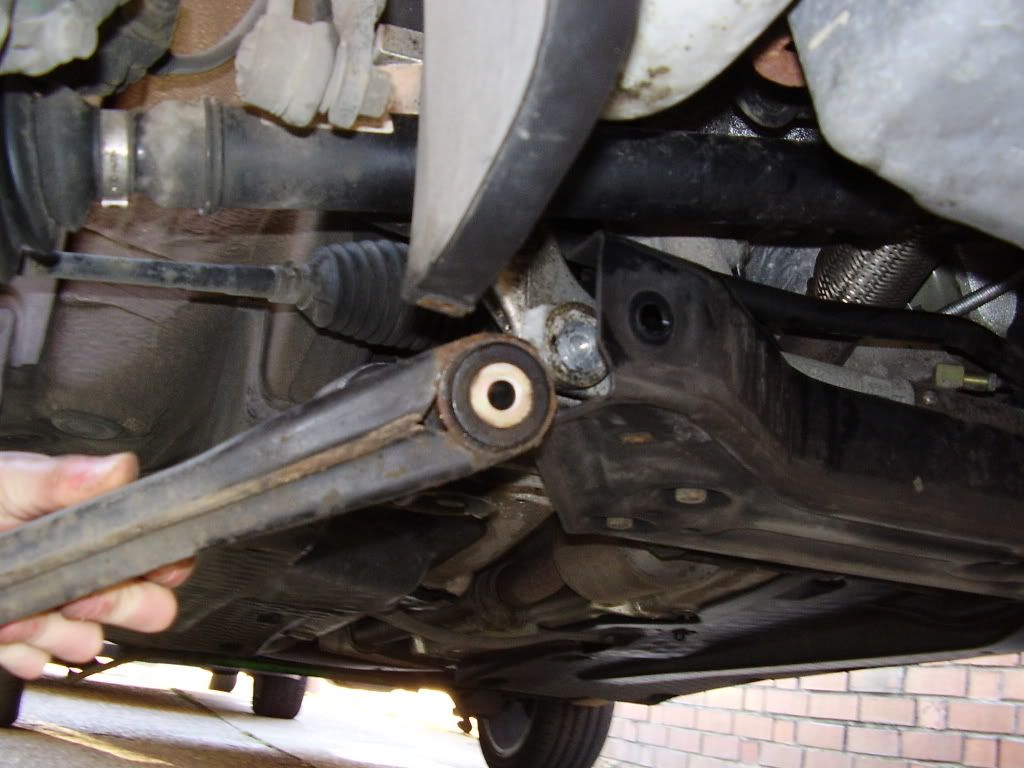 Remove the wishbone from the rear console bush. This is best done by rotating the wishbone to the 6 o'clock position a few times while maintaining forward pressure.
A view of the old console bush.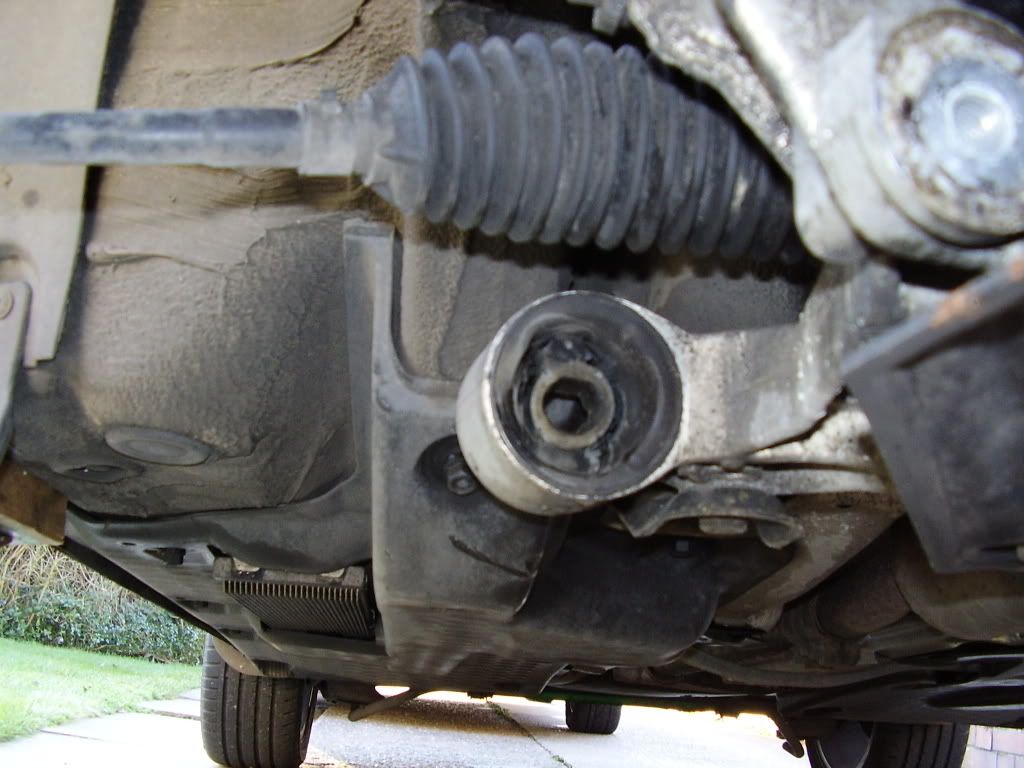 To remove the old console bush I found it quickest to cut partially through the outer nylon casing with a hacksaw blade threaded through a void in the bush. When the casing is partially cut you can tap a blunt screwdriver between it and the console and the nylon will split. Tap the bush out from the rear.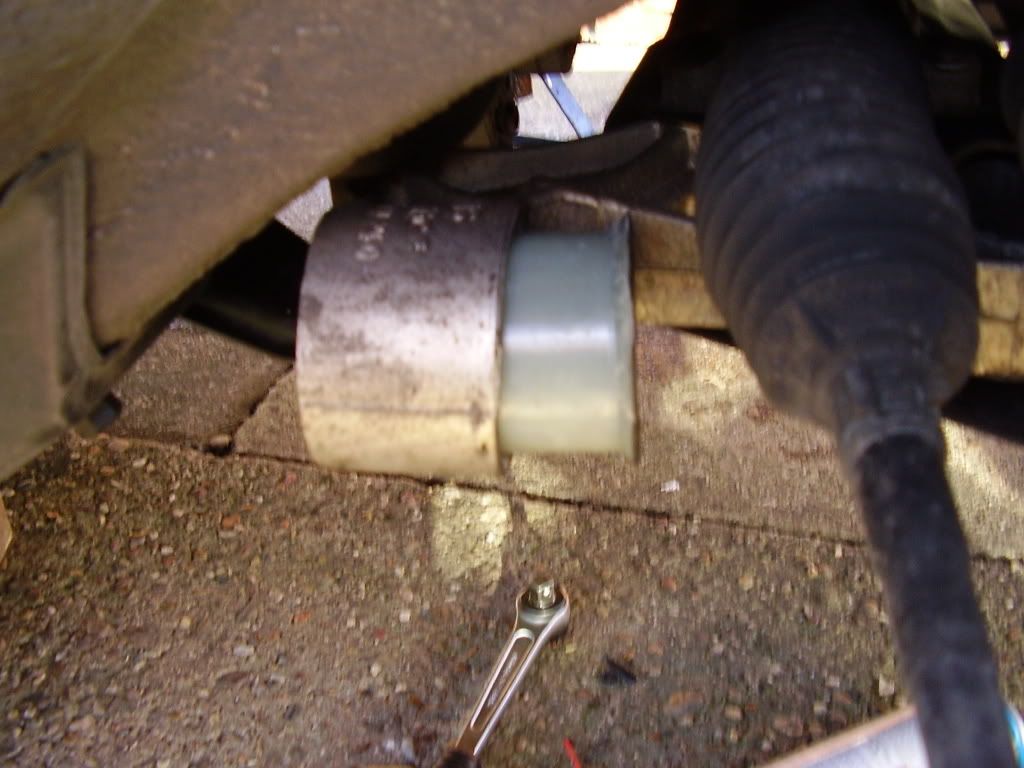 Clean the inside of the console with WD40 and a Scotchbrite pad.
To Remove the front wishbone bush from the wishbone you will first need to cut off the rubber flange from the rear side of the bush with either a hacksaw or knife.