Just to let you all know of an offer on at the moment.
1 x FREE 100mm Blue (Medium) Polishing Pad with every purchase of a 75mm backing plate, while stocks last.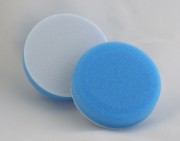 The offer applies to all the 75mm backing plates I have:-
M14 75mm Rotary backing plate
(UK, Europe)
5/8UNC 75mm Rotary backing plate
(US, Canada, some older air powered machines)
5/16UNF 75mm Dual action backing plate
(Megs G220, PC, UDM, DAS 6 etc)
Happy shopping.