SEAT kindly loaned SEATCupra.net a Leon FR 1.4 Titanium SC for a medium term test in early Autumn.
Looks
The exterior of the car is well kitted out as standard with a large spoiler (incidentally bigger than the Cupra's), side skirts and the titanium colouring on the wheels and the mirrors.
This particular model was red and it looked great.  In fact, in the brief time I had the car (around 6 weeks), it got more looks than my previous white CUPRA 280 SC in white.  I think the side skirts and colour helped with this.
Engine
The engine was one of the biggest surprises for me.  For a 1.4 it has a good amount of grunt with power at 148BHP, torque at 184lb ft and a 0-62 time of 7.9 seconds.  More than enough for spirited everyday driving.  I didn't find myself missing too much of the power of the Cupra in comparison.  The thing I did miss was the DSG gearbox.  Not that the manual in this car was a problem, but after 2.5 years driving a DSG Leon, my muscle memory meant I kept trying to pull away in second gear and kept crunching the gears.  It's odd as I still drive my wife's manual Altea most weeks, but my brain just expected the Leon to be automatic.
Economy
The engine features the ability to automatically shut off two cylinders, which I noticed when cruising on the motorway as it tells you on the dashboard display.  This saves fuel and should reduce emissions.  I can't say I fully got to test how economical the car was due to the fact I was tempted to put my foot down too much and enjoy the car's engine and handling!  SEAT's claimed figures state 56.5mpg.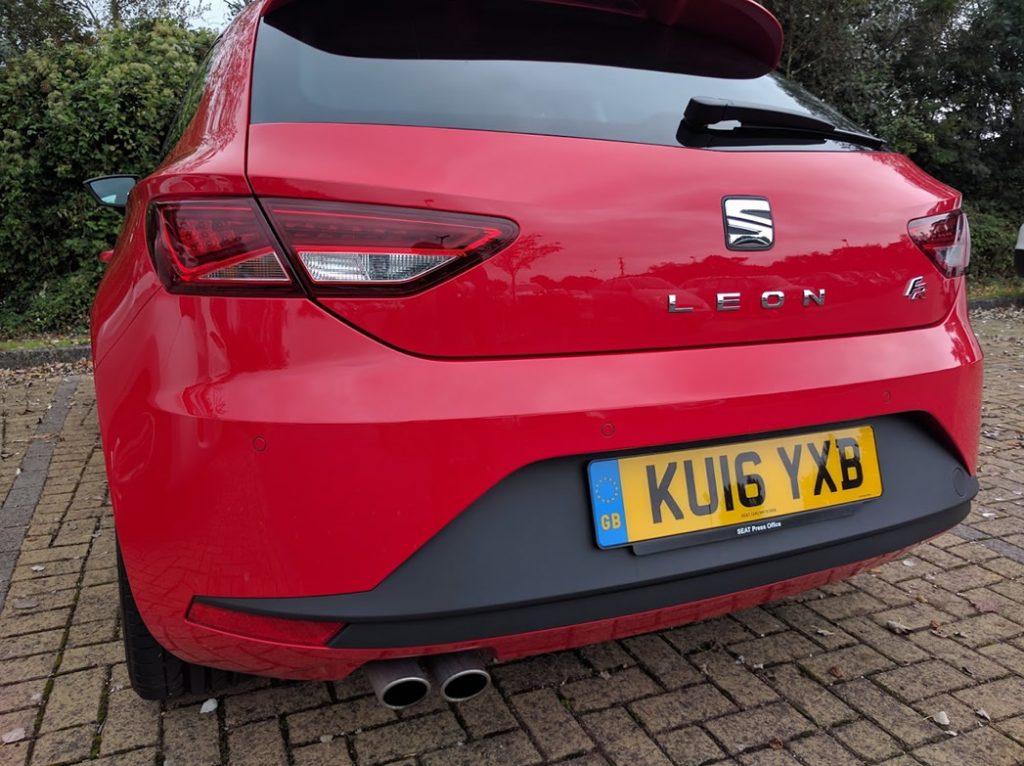 Practicality
As this is the tree door SC you get all the traits of a three-door car.  The doors are quite heavy due to the extra length, but they are not that bad.  Rear legroom is good as is headroom.  The boot is just the same size as the five-door model and it can comfortably cope with most things you would wish to carry.  A week's supermarket shopping is easily covered as an example.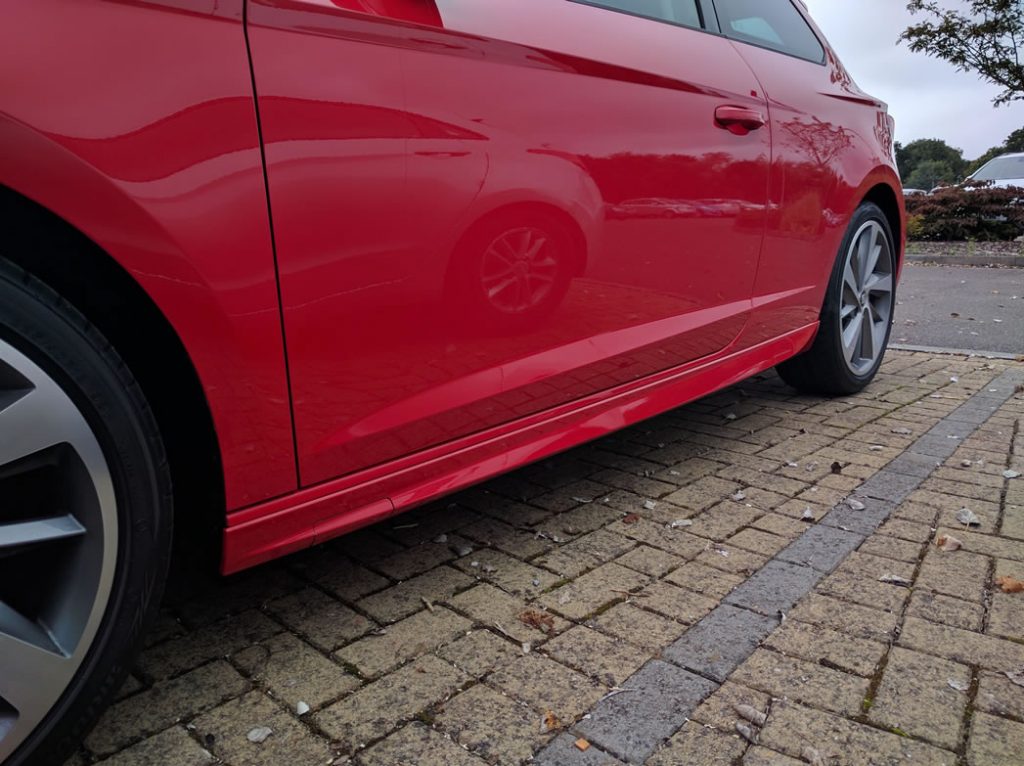 Handling
The car feels nice and nimble and great to chuck around.  Obviously, it can't match the Cupra for handling at extremes, but the FR was still able to put a big grin on my face if I decided to push it hard enough.   The ride was, as you'd expect softer than the CUPRA's and it was equally a great motorway cruiser as it was in urban environments. Very comfortable and not harsh at all along the varied conditions of Britain's roads.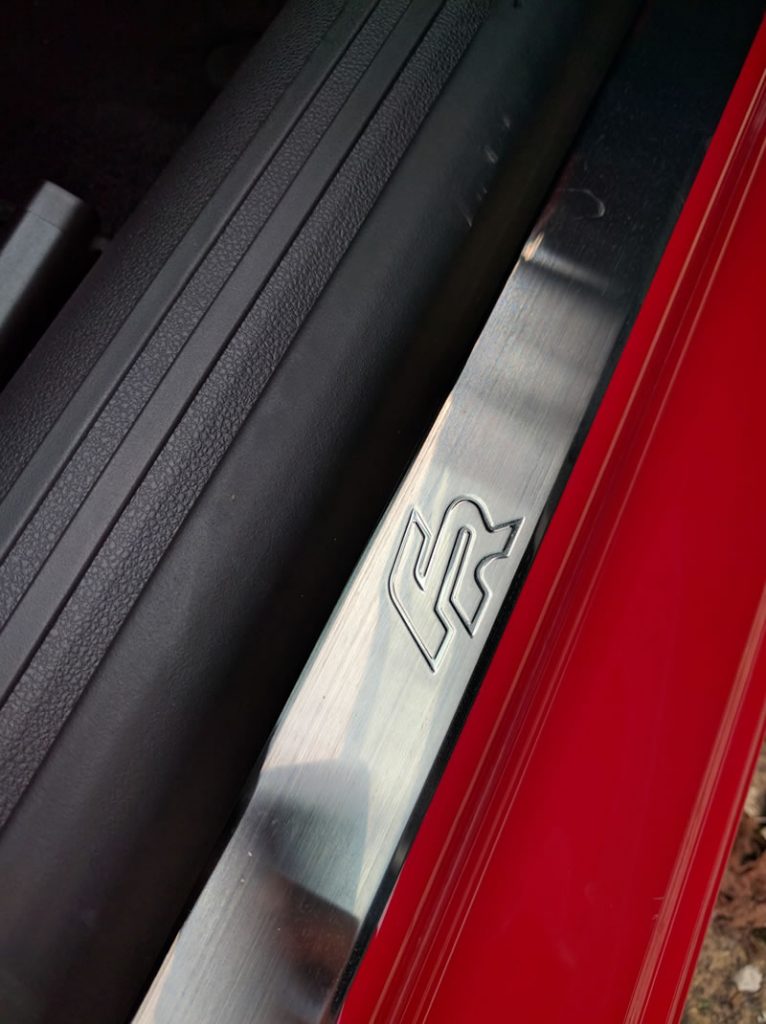 Specifications and options
As is the case with most press cars the Leon had a number of good options included.  There were as follows:
Convenience Pack Plus
Includes rain-sensing wipers, auto-headlights (with automatic coming and leaving home function), auto dimming rear view mirror and LED interior front and rear) courtesy lights, footwell, boot and vanity lights
Full Link
Includes compatibility with Mirror Link, Apple CarPlay and Android Auto
Standard equipment specific to the FR Titanium Trim over the normal FR model:
Emocion Red paint
Body side skirts
Extended roof spoiler
Functional and mechanical
Technology Pack includes full LED
headlight pack, navigation system and
DAB radio
Wheels and tyres
18-inch 'Performance' Titanium
coloured machined alloy wheels with
225/40 R18 95Y tyres
Conclusion
As the current generation Leon has ceased production and the facelift is on the way, this car is only going to be available as a second-hand buy unless you are lucky enough to find some new models still in stock somewhere.   It remains to be seen if SEAT will produce a special edition like this with the face-lift, if they do, it is likely to be introduced towards the end of the facelift's life.
I was very impressed with this car, the engine doesn't disappoint and strikes the balance of good economy with good performance.  As mentioned it is strong in the looks department as well.  A great car, highly recommended.