SEAT has officially launched 3 electric urban mobility vehicles: The SEAT MÓ eScooter125 (electric motorcycle) and the SEAT MÓ eKickScooter65 and eKickScooter25 (electric scooter).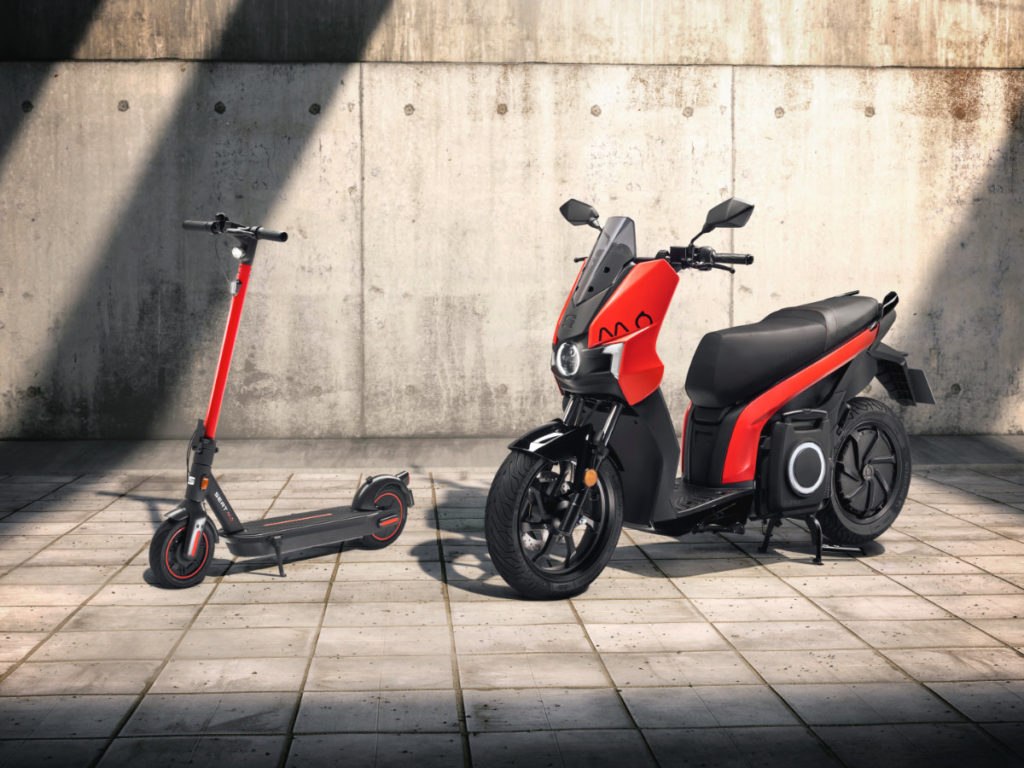 Reliant on the Department for Transport's studies into the feasibility of allowing electric scooters to be used on the pavement, cycle lanes and public roads by trialling rental schemes, such as those seen in other European cities, SEAT sees the SEAT MÓ as a solution. This is subject to completion of the trials and them being legalised. If this happens, SEAT will make these vehicles available to purchase in the UK.
SEAT MÓ eScooter125
An electric motorcycle, the eScooter125 will be available in three matte colours: 'Daring Red', 'Dark Aluminium' and 'Oxygen White'.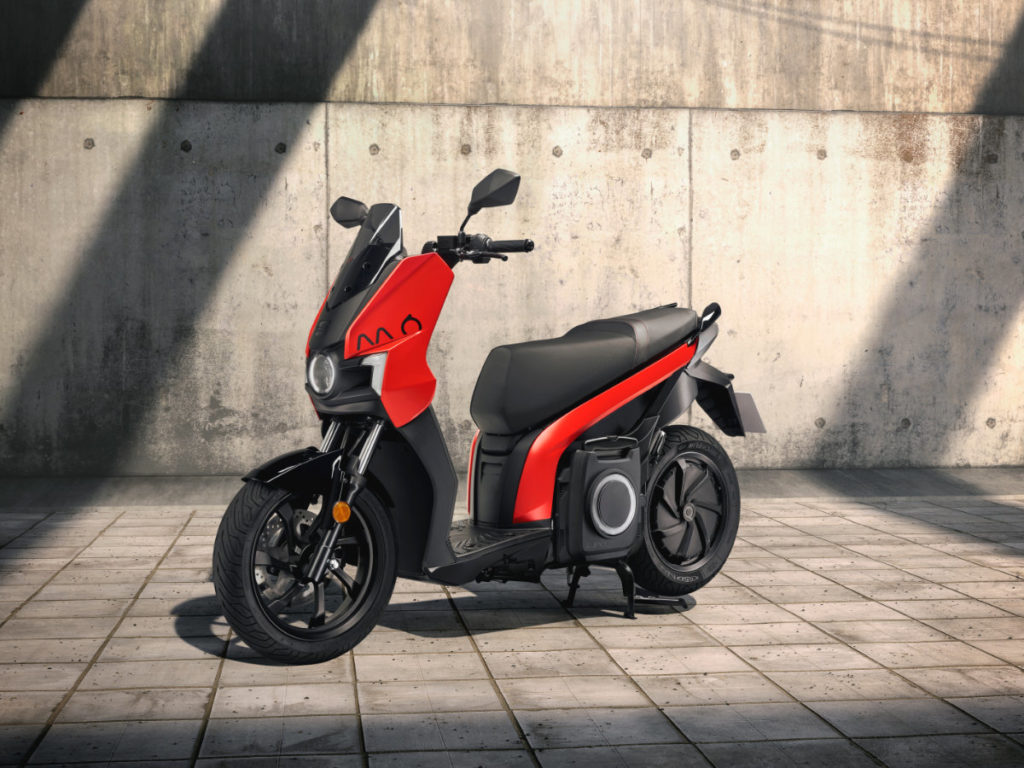 Integrated into its rear wheel is an 9kW electric motor (peak power) – equivalent to a 125cc motorcycle – that produces 240Nm of torque, giving the city electric motorcycle a top speed of up to 59mph (95km/h) and a 0-31mph (50km/h) acceleration time of 3.9 seconds.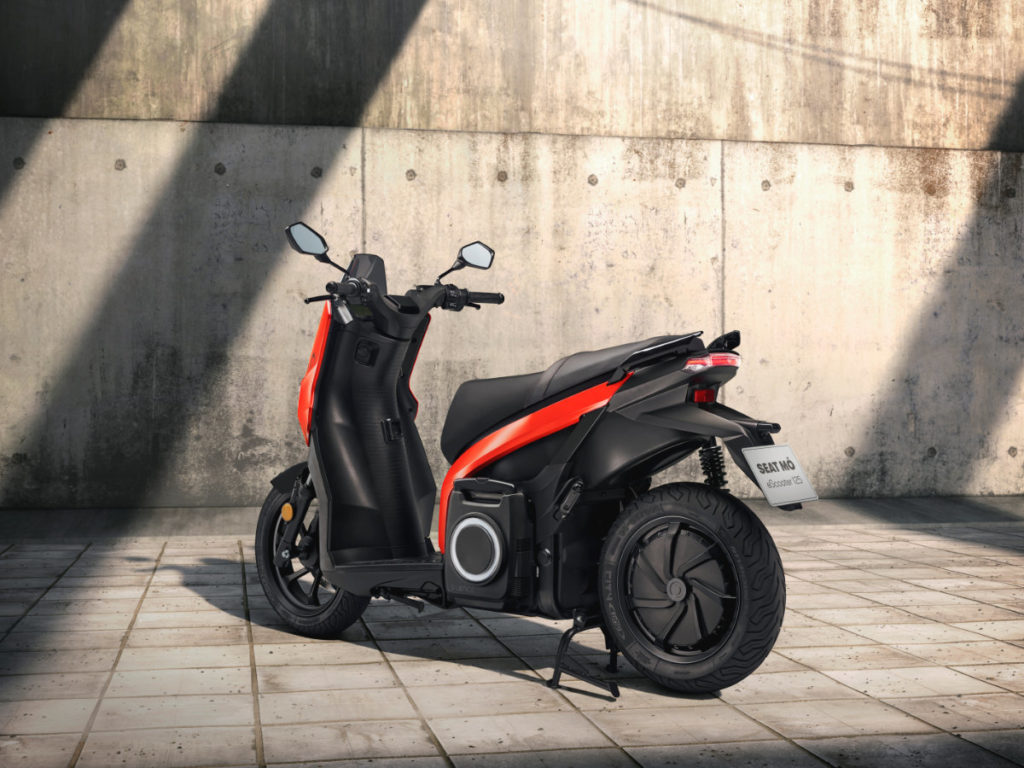 The motorcycle has three driving modes: City, Sport and Eco, as well as a reverse gear.
It has a range of up to 77 miles (125km) on a single charge of its 5.6kWh lithium-ion battery pack. SEAT estimate that, based on typical usage levels, the vehicle should only need charging once a week.
The battery can be charged when still in the vehicle at charging stations, or it can also be removed and plugged into a home power socket. Removable batteries mean they could be swapped over if required.
The SEAT MÓ eScooter 125 also offers enough onboard storage for up to two helmets under the seat.
The SEAT MÓ eScooter125 enables users to track their vehicle using a an app on their phone, giving information on position and status updates.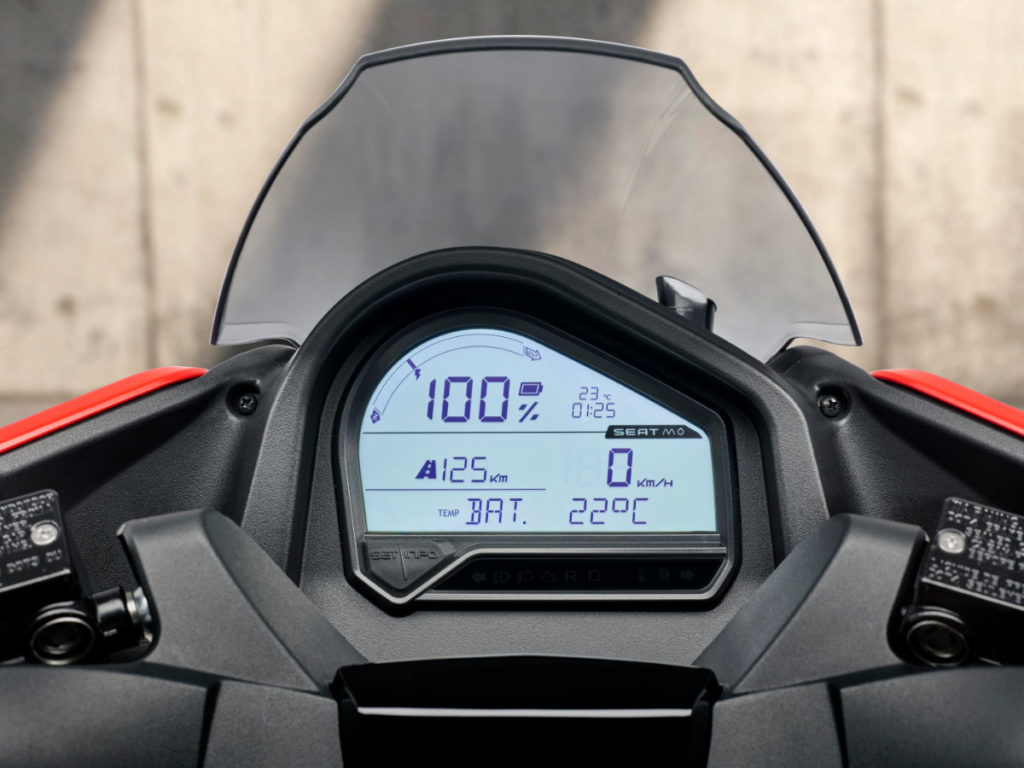 The eScooter125 will also have two USB ports to charge your phone whilst using it for navigation.
Motorsharing
In addition to the SEAT MÓ eScooter125 destined for private users, SEAT MÓ will also offer a specific version for sharing between company employees. The sharing version will build on the key attributes of the private version, with some elements designed for the shared mobility: a top box case to store the helmets and an integrated phone holder.
This version will be available in the exclusive Dark Aluminium matte paint.
SEAT MÓ eKickScooter65 and eKickScooter25
The SEAT MÓ eKickScooter65 enables longer travel across cities with a 40 mile (65km) range thanks to its 551Wh battery pack and a top speed of 12mph (20km/h). The electric scooter offers a nominal power of 350W, which is enough energy to taken on a climbing angle of up to 20 degrees.
Front and rear lights, brake light and side/rear reflectors increase visibility, while, perhaps most importantly, safety is assured with a front electronic and rear drum brake – SEAT say they are one of a very few manufacturers to include two brakes on to an electric scooter.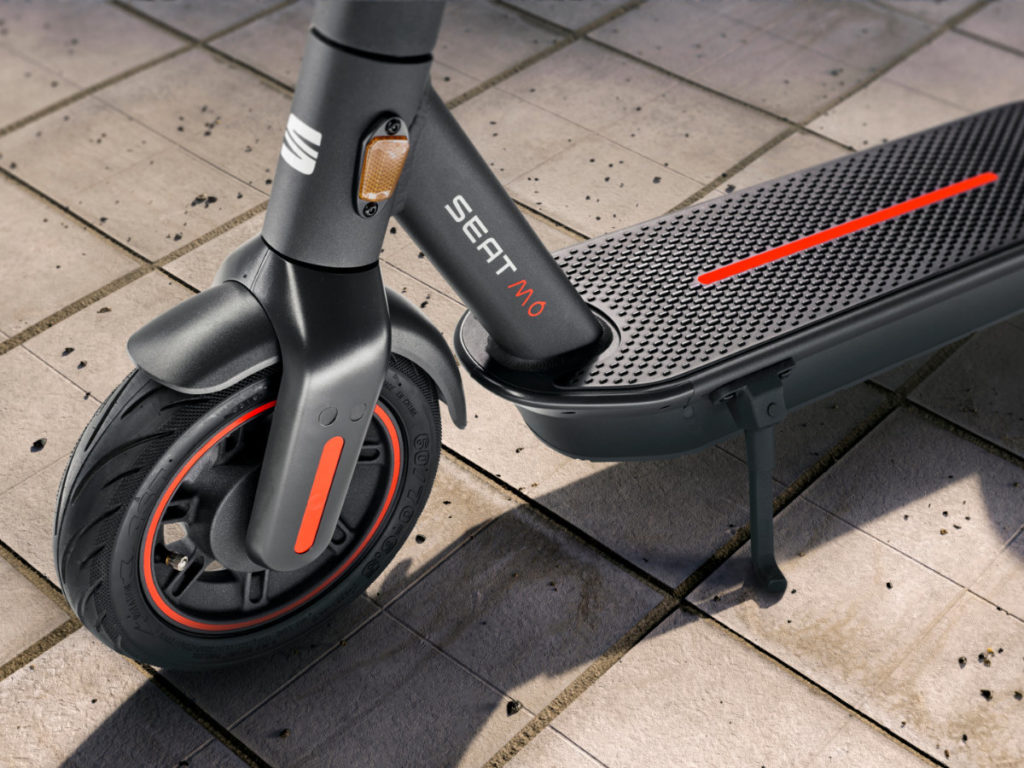 The SEAT MÓ eKickScooter65 will be available in a 'Daring Red' matte paint.
The SEAT MÓ eKickScooter 65 will allow the user to choose between three driving modes – Eco, Standard and Sport.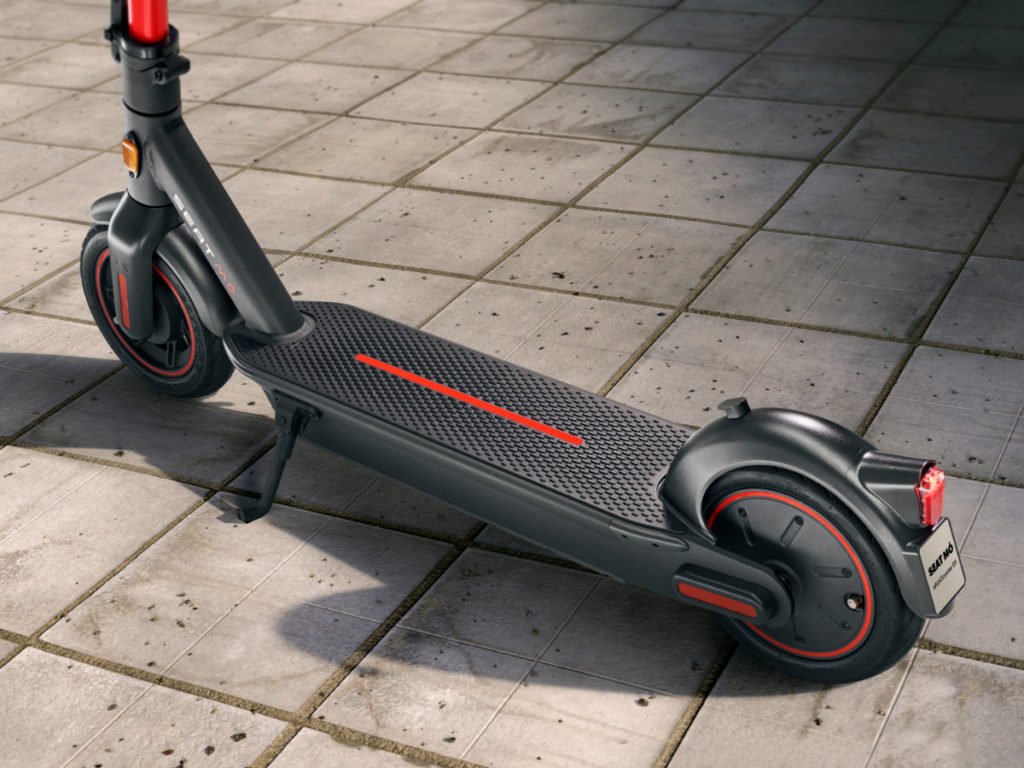 In addition to the eKickScooter65, which offers a longer range, SEAT is also offering the eKickScooter25, which has a 12-mile range (25km), aimed at commuters completing the last leg of their journey.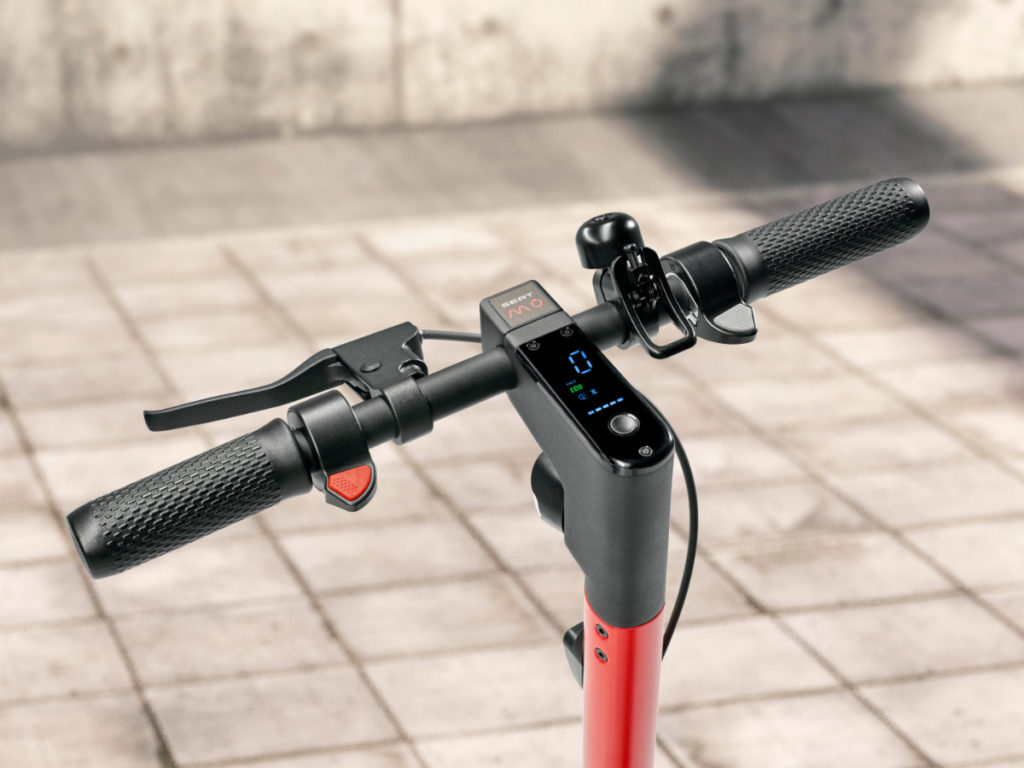 SEAT MÓ eScooter125 (for private customers)
| | |
| --- | --- |
| Engine | 7kW (9kW Peak Power) |
| Acceleration (0-50km/h) | 3.9 |
| Peak torque | 240Nm |
| Top speed | 95km/h |
| Battery capacity | 5.6kWh |
| Urban range | Up to 77 miles (125km) |

SEAT MÓ eKickScooter65
| | |
| --- | --- |
| Nominal power motor | 350W |
| Battery capacity | 551Wh |
| Top speed | 20km/h |
| Urban range | 40 miles (65km) |
| Recharge time | 6 hours |
| Climbing angle | 20 degrees |

SEAT eKickScooter25
| | |
| --- | --- |
| Nominal power motor | 300W |
| Battery capacity | 187Wh |
| Top speed | 12 miles (25km/h) |
| Urban range | 25km |
| Recharge time | 3.5 hours |
What do you think? are you interested? Discuss over in our new SEAT MÓ forums.