What is it?
This is the MK4 CUPRA Leon hatchback with the potent 300HP petrol engine. We previously reviewed its sibling, the CUPRA Leon eHybrid 245PS which didn't really hit home for all our CUPRA fans, will the performance upgrades bring it to life?
This model with a 2.0 TSI and 300PS gets from 0-60 mph in 5.7 seconds and going all the way to the standard 155mph limited top speed.
Disclaimer – this is not a UK specification vehicle and was a left-hand drive car delivered to the UK for the press. Equipment varies by market, some features are missing from an equivalent UK model, and some are optional. Here are details of the UK specification.
Verdict
Fast and fun to drive. Using the faithful 2.0 TSI engine, the new MK4 CUPRA Leon is a great hot hatch, but is it worth the higher price tag from its predecessor? I'm personally still on the fence. CUPRA really need to sort out the UK spec – if it wasn't for this European version we're reviewing we'd have to knock off a point.
What we liked
Copper Accent Wheels (not available in the UK)
Copper Brembo brake setup (not available in the UK)
Steering wheel buttons (only available on the UK ST)
Familiar and powerful engine
What we didn't like
Quad exhaust not connected to the tips – why not??
Front bumper looks a little too busy
Exterior
Comparing the looks of this spec CUPRA Leon with the CUPRA Leon eHybrid we previously reviewed the looks are night and day and I think in the right direction, on the first glace I love how the matt Petrol Blue paint changes in different light conditions, I find this option much more pleasing to the eye over the current premium Graphene Grey and Desire Red we have in the spec list for the UK market.
This being the first CUPRA Leon I've seen in the metal I was sceptical after seeing the press release photos to know if I'd like, let alone want to own one myself, on arrival in Milton Keynes to collect the car the first things I fell in love with would be the Petrol Blue matt paint and copper accents on the alloys. It is shame that both items are not on the UK spec list (let's hope UK CUPRA can get something sorted on that front as they did with the MK2 SEAT Leon Cupra R).
I set off on a 1-hour 10-minute journey to a lovely COVID safe location shared with me by a forum member, here I could really get to see the car in full.
Starting with the front it's immediately noticeable that with the darker paint choice the grey/gunmetal grill and fin surrounds pop out instead of being lost in the Graphene Grey of the eHybrid we previously had, this adds some much-needed character to the front end.
Being OCD, I do wish CUPRA had made the grills the same styles (like we have on the SEAT MK3 CUPRA) instead we have a zig-zag option which works well with the CUPRA badge, then on the lower grill, we have some rhombus type shape grill. I'm not sure they work that well together with the side fins being so straight.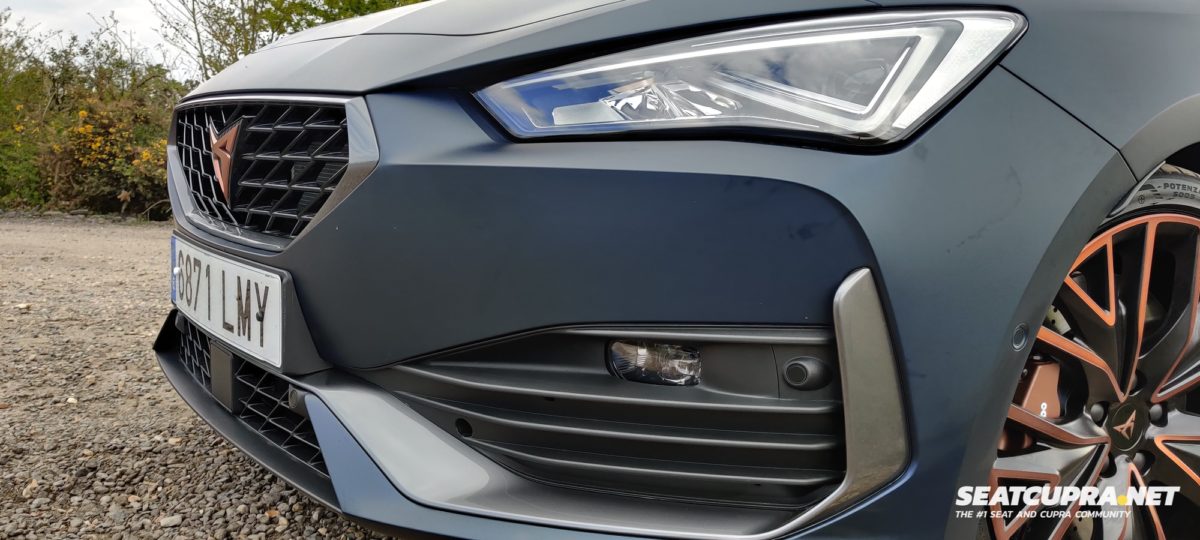 Something I've never experienced before with any car is people coming over to ask about the car, within 10 minutes of parking up I had 3 separate middle-aged couples mention how much they like the look of the car, then closely followed by "so what car is it?". After explaining the SEAT and CUPRA brand split they walked on after taking a picture or two (if you see any pictures with a lanky guy wearing one of our branded T-Shirts do let us know). But that does give me some hope that the CUPRA Leon is not just seen as some boring low-end car. I wonder how much was down to the matt paint, however.
Moving round to the wheels, I'm happy to say they look great for all you fine folk in some EU markets (maybe we should reverse Brexit so we can make friends again). The copper machined 19" alloys really set the car off but part of me thinks that if they are anything like the MK3 Leon CUPRA alloys they will be very easy to scratch.
Want more copper I hear you say? Well, again for those of you not in the UK you will have the option of getting some nice 370mm drilled Brembo discs with copper a lovely copper finish.
Unfortunately, they didn't carry the copper onto the rear calliper which is black. I am a big fan of having CUPRA lettering embossed on the callipers, and with this option, it's been swapped out for a Brembo decal on the fronts.
Looking at the CUPRA Leon from the side, you can instantly tell that they managed to sort the huge ride height gap seen on the eHybrid, the gap still won't be low enough for some but it's pretty close to my stock MK3 Leon Cupra.
Since seeing the SEAT MK4 Leon FR I've liked the side view with the nice body crease all the way from the front to rear with only a small break near the rear door. Along the bottom, we find a nice flick in the rear door lines. I do think that the LED strip for the wing mirror indicator stands out too much for me but you only see that from low down.
At the rear we find the new style rear end that came along with the MK4 Leon, the "Coast to Coast" LED light that swoops around the entire rear end. Under that we have my least favourite part of the CUPRA Leon which is the boot latch, I'm not sure why the front of the car gets this awesome badge without the background when the rear looks like an afterthought and something that's been retrofitted. Could they not put a boot button or something so the logo was a little bigger?
But I digress from the main feature from the rear of the CUPRA Leon, the exhaust. It's been a while for some waiting for the quad exhaust to appear on a hatchback, the wait is now over… Or is it? I'm afraid we've been slightly cheated as those nice tips you see aren't actually connected to the exhaust system itself, I'm not sure if this is standard for quads these days but I'd feel a little cheated personally.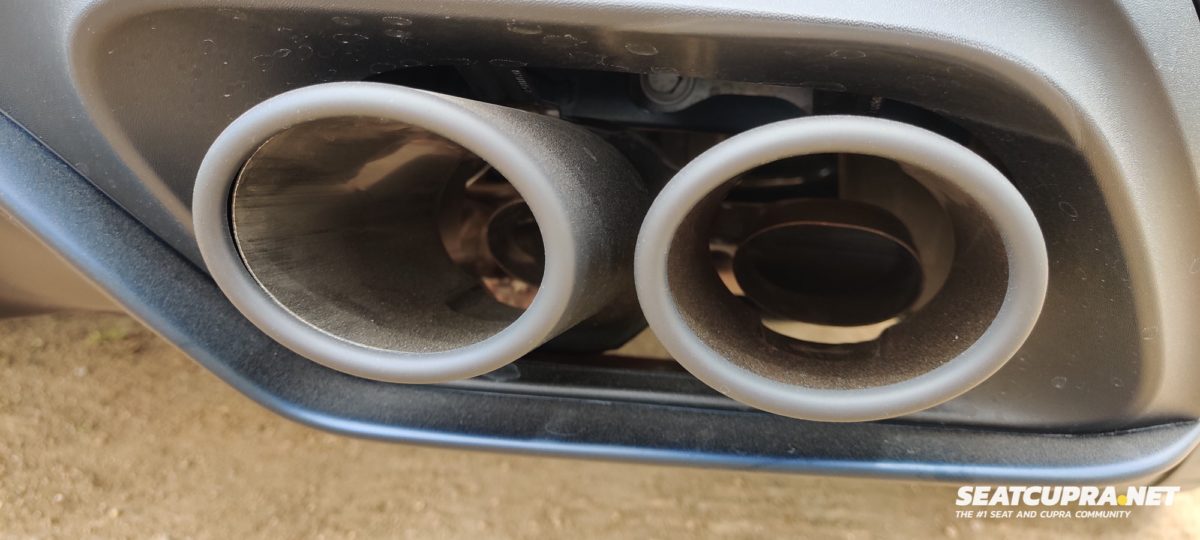 If you can get over that minor issue then may I please point you to the video of the start-up (warm only I'm afraid), note that when first started the car sounds great then things sound a little rattle like, once the accelerator is pressed in neutral and CUPRA mode we get what I can only describe as a hoover. With that said I'm happy to announce that there wasn't a rev limiter on this car (not sure if it's a UK thing), thankfully once moving the car sounds loads better but don't expect any stationary pops and bangs for those who like them.
At this point, another group of middle-aged ladies and gents turned up and wanted to take pictures of the car again, but they stayed a little longer and asked about it, taking a look inside, once I revved the engine in neutral they seemed a little underwhelmed just as I was. The main point of interest was the steering wheel buttons and paint colour, did I mention we don't get them on the UK spec list yet?
For those who like to see under the car here is a shot of some of the exhaust setup if that's of any use…
I'll finish of the exterior section with a walk round video, please excuse the camera work, the floor was far from even.
Interior
As the majority has already been covered in our previous review of the eHybrid I will keep this focused on anything new we didn't have to cover in that review.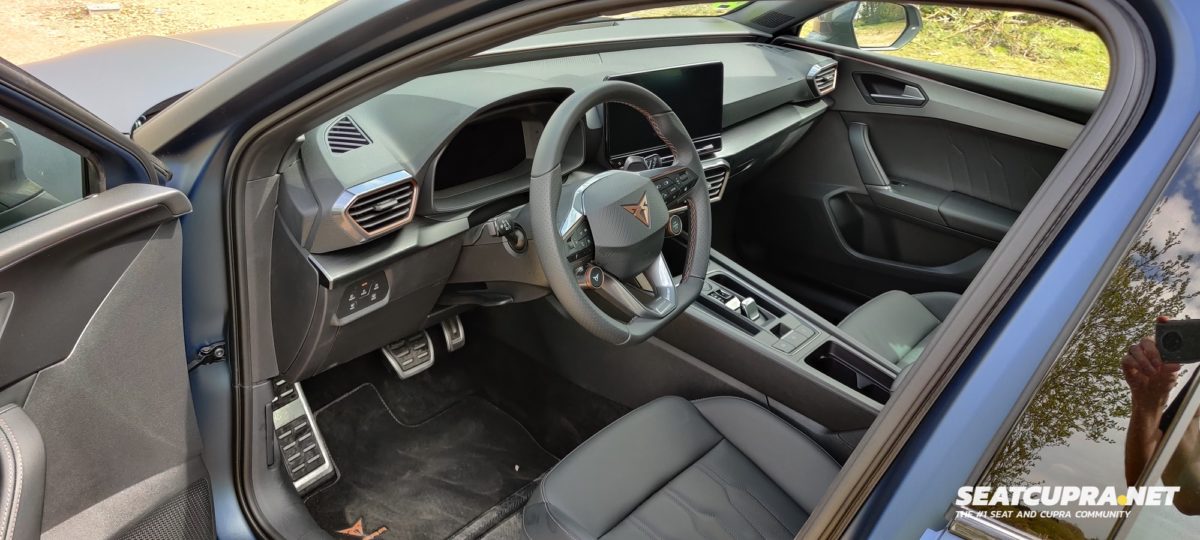 At first glance the interior shows promise, we have some very comfy leather seats with great upper body support, after a 5-hour round trip in the CUPRA Leon, I got out and didn't have a numb bum which is pretty good in my book. They remind me of the MK2 Leon Cupra R seats minus the gloss plastic backing which is a good thing. Something which I didn't notice until I took these pictures was the nice raised CUPRA logo in the headrest part of the seat which is a very nice touch.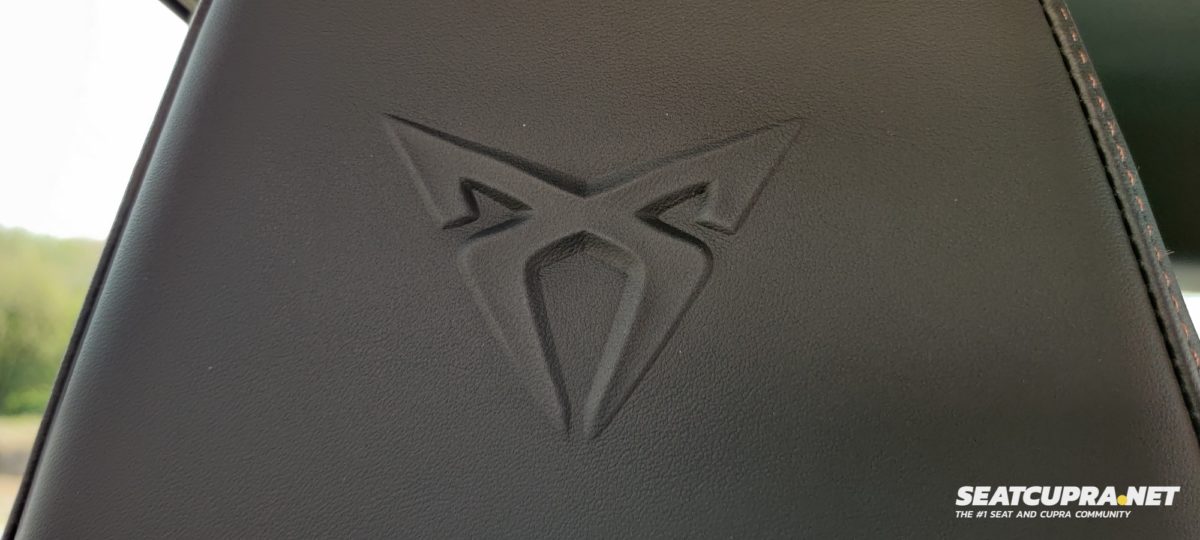 Guess what… Something new to the Leon but… yeah you guessed it, no Start/Stop and Profile buttons in the UK spec for the CUPRA Leon hatch. May I present the CUPRA steering wheel with many buttons and for those that currently don't own a CUPRA Ateca or CUPRA Formentor the Start/Stop and Profile button on the steering wheel, it's definitely something I'd want as it just looks cool right? It feels a little bit James Bond…
You'll notice that this review car has a heated steering wheel, ACC and some new style paddle shifters. The latter are most welcome from the MK3 Leon version in terms of looks and height but they feel too far away from the finger grip of a normal human (if I'm normal…), using them felt odd and almost a stretch, maybe it's just me.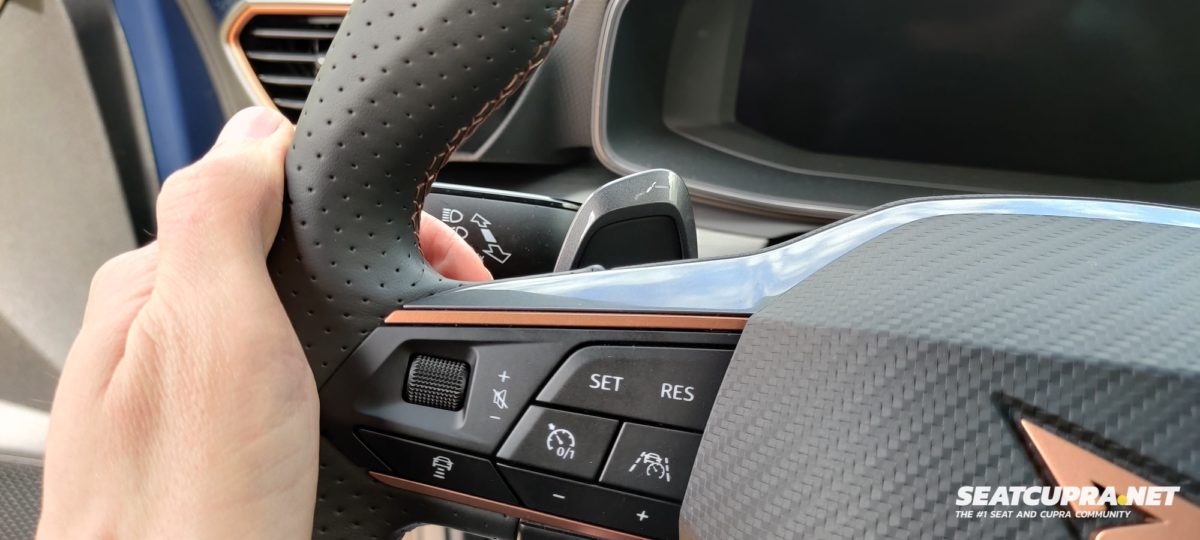 We've still got the infotainment system seen in the eHybrid and MK4 Leon which has definitely caused a ripple now there are no actual buttons for items used daily like cabin temperature and volume (for the passenger), personally using it for the 3rd time now I knew where to find everything but changing the aircon settings on a touch screen is nowhere near as ideal as turning a wheel/knob.
The subtle differences between the MK4 SEAT Leon and CUPRA models seem to be down to the copper accents in the trim, seats and steering wheel as most of the interior is the same, it doesn't seem to be set apart enough for my liking for a premium brand.
For those interested here is the infotainment system information.
For those looking to get the panoramic roof, I did get to use this in the review for the MK4 Leon FR First edition if you'd like some more info, personally, I'm not fussed if I had it or not. It does have a nice touchpad for opening and closing which we covered in the other review.
In the back of the car, you'll be happy to know that as a 6ft 2 guy I can happily sit behind the driver's seat when it's set to my ideal driving position in the MK4 with plenty of room to spare.
The boot has plenty of space which is great after seeing the SEAT MK4 Leon FR eHybrid boot, you even get this awesome CUPRA pouch with what looked like 2 triangles inside if you break down or get a flat as per usual these days you have the gunk kit, but space was there for a space saver if you so wished.
Driving and Performance
I guess this is the main reason you're all here, well you'll be glad to know the 2.0TSI 300PS engine doesn't disappoint apart from its cheap foam engine cover. During my 3.5 hour drive on all sort of roads I had zero (nothing, nada, zip all, 0) issues with traction even though it's FWD the car kept the power down in all modes and all normal situations that I could do in the allotted time.
During my drive I mainly stuck to the CUPRA profile unless I hit traffic in which case I dropped it to the standard Drive to help cut down on noises in the cabin. With that in mind the sound actuator, the first mod people did with their MK3 Leon Cupra is to either disconnect or turn off using VCDS, so if you were to get a CUPRA Leon is it much the same story? In a word no, the sounds I got from inside the cabin were more than ideal for myself, in CUPRA mode you get a higher pitch raspier engine noise as revs are left higher, then when you want just a nice noise select Drive and the cabin noise turns into a deep note with a nice rumble, more than happy to leave it on.
So that exhaust I gave a little bit of a grilling earlier for not having complete pipe to tip connection, well once driving that all goes away, let CUPRA mode drop the revs from 3500rpm to just under 3000rpm and you'll get a very satisfying pop and bang moment, not too much but just enough to make you smile. Some people might say I'm childish at heart and they would be right, the first time I heard it I made my own noise to match it and did it again (true story!). I guess the big question is how much of that pop and bang has been sent through the speakers and how much is real, I definitely felt the pops from the rear of the car but it's tough to tell.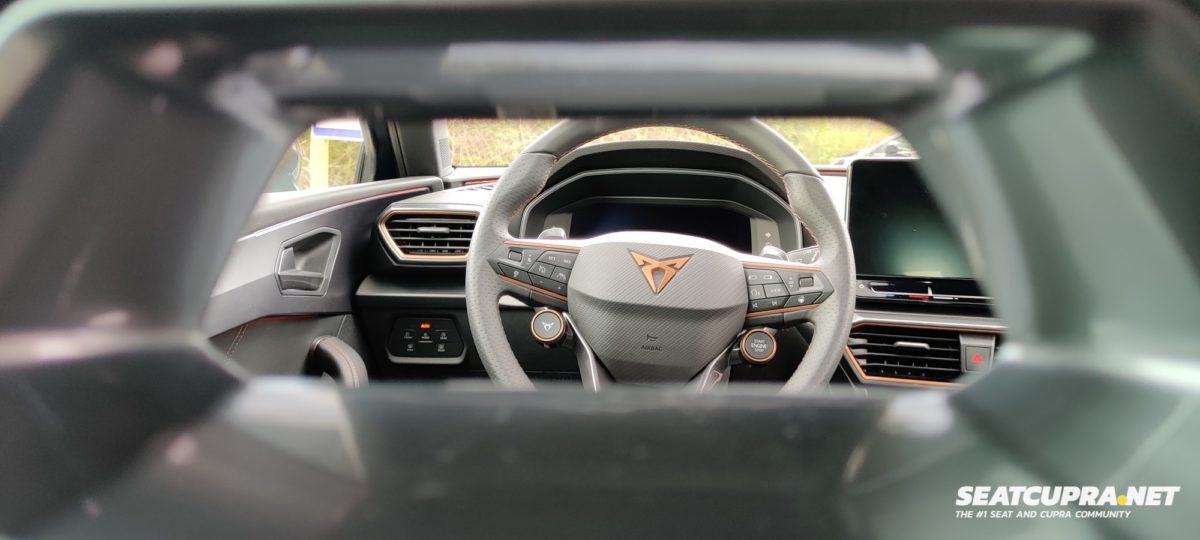 Coming from driving an MK3 Leon 4Drive ST 300 I wasn't expecting much difference if anything at all when planting my foot, it turns out taking out the big rear of the ST and a 4WD system makes quite a bit of difference along with some tinkering I assume. Dropping from S5 to S3 shunted me back into my seat and the smiles per miles began, steering is spot on, direct and firm in CUPRA mode, giving you plenty of confidence to be a little more energetic in your safe and legal driving.
I did get back in my ST and think, yeah, the power isn't the same, it's still there but it doesn't have the same feeling, is it because I'm used to my car, who knows…
I can also report that the lane assist was much better than the MK4 Leon I previously reviewed, it still struggles on our narrow country roads bouncing the car a little to stay in the lines but as it was a LHD car I'll put that down to me.
Lastly, I suppose I should mention MPG at some point, after driving in CUPRA mode for 3 hours out of the day and maybe 30 minutes in standard Drive I can report a 36mpg for 150 mile round trip with country roads, town driving and motorways which surprisingly enough is the same as my MK3 ST 300 had on the way home, weird that hey haha.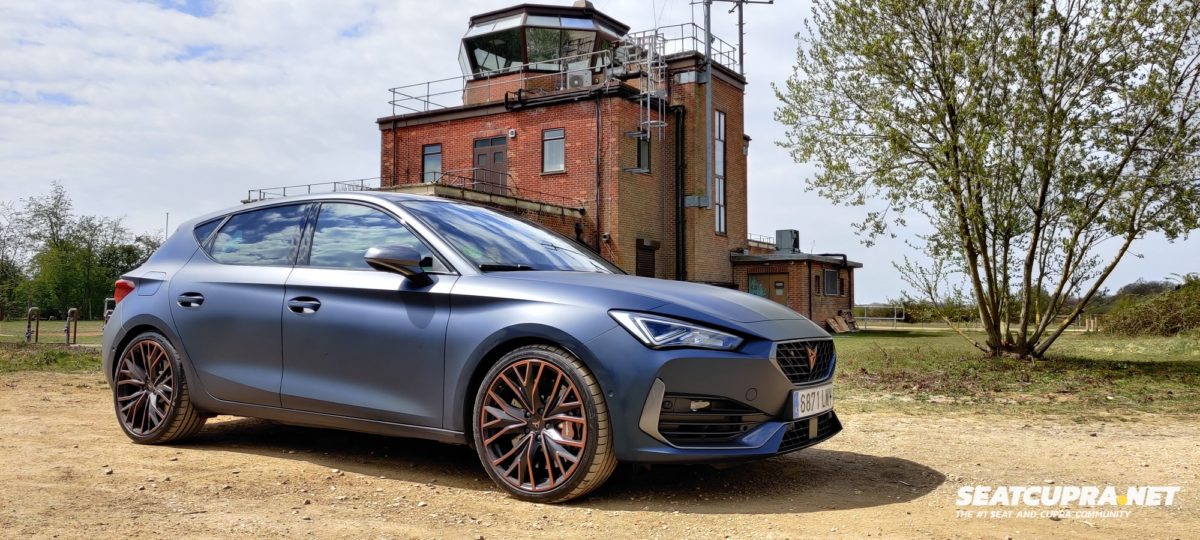 Last Thoughts
Normally I'd do a nice what's it like to live with section here but with only 5 hours I don't think I can make that call and stick to it, in the time I had being inside the car was great fun and felt like a proper hot hatch.
On the outside, taking away the issue with the exhaust tips and busy front bumper it's ok, every time I see a MK4 it definitely grows on me just like the MK3 Leon Cupra did over the MK2 Leon Cupra R I had.
If I could have that exact car in right hand drive and with the option to put a front splitter on and maybe a slightly bigger rear diffuser, I'd be a happy man, as it stands the wheel options for the UK spec is far from ideal and the options list is short or missing. Bloody Brexit or Boris, that's what I'm going with!
Hopefully, this won't be a continued trend for CUPRA Spain to treat their second-biggest CUPRA market in this way. Ahem, case in point.
If CUPRA head office are reading this, please may we have some more UK kit to do this car justice, so we don't have to keep using this graphic!… much love, (the country that helped you get to where you are now), signed the UK.
Review Car Specs
Colour – Petrol Blue Matt
Upholstery – Black Leather
Engine – 2.0 TSI
Transmission – 7-speed automatic
Max. Power: PS @ rpm – 300 @ 5300-6500
Max. Torque: Nm @ rpm – 400 @ 2000-5200
Fuel economy (mpg) (WLTP) – 35.8-37.2
CO2 (WLTP) – 171g/km
Euro standard – RDE2
0-62 mph – 5.7 seconds
Top speed – 155mph
A big thank you to the UK press team for giving us the opportunity to be one of the first to test the car here in the UK.
We will of course look to bring you a review of a UK specification right hand drive car when they are available.
---
So what do you think? Are you ordering one? If so please add yourself to the owner's register and let us know your thoughts of the review car in the comments below.