What is it?
Welcome to the CUPRA Leon VZ2 310PS Estate, the successor to SEAT's MK3 Leon CUPRA 300 ST with updated styling, 10bhp increase, newer technology and the all-important new CUPRA badge. We're not allowed to call the new one an ST (Sports Tourer) anymore as it annoys Ford apparently. Can it fill the big boots left by its predecessor now it wears a CUPRA only badge?
During this review, I may add links to other reviews we have already done for the CUPRA Leon (different powertrains / Hatchback etc) for further detail or to avoid duplication.
Review by Jimbobcook
Verdict
Practical, fast, good looking and some of the best seats I've had the pleasure of placing my butt on, this CUPRA Leon 310 VZ2 Estate made my SEAT MK3 Leon Cupra ST 300 4drive feel cheaper, unfinished, and less of a pleasure to drive. I'd say CUPRA did a spiffing job, they just need to sort out the software issues and the rear badge to be a no brainer.
What we liked
Sports bucket seats
Alloy Wheels
Steering wheel layout
Exhaust note
What we didn't like
Infotainment bugs
Lane Assist (again)
Rear CUPRA badge
Exterior
So, to start off this review of the CUPRA Leon Estate we shall have a quick nerd out at some size stats vs the MK3 Leon CUPRA ST, being just over 100mm longer which in an estate is quite a chunk, even though it states it's not as wide when reverse parking it felt wider than my MK3, I wonder if the body of the car is wider but as the wing mirrors are curved inwards this may keep the width down.
| | | |
| --- | --- | --- |
| | Mk4 CUPRA Leon Estate | MK3 SEAT Leon CUPRA ST |
| Overall length (mm) | 4,657 | 4,549 |
| Overall width (mm) | 1,799 | 1,816 |
| Overall height (mm) | 1,437 | 1,451 |
| Wheelbase (mm) | 2,683 | 2,636 |
| Boot space (l) | 620 | 587 |
So, here is the car I've been waiting for from the new CUPRA range, the successor for my MK3 Leon Cupra 300 ST 4Drive.
First thoughts as the car arrived, Urban Silver is a great colour match for the copper and silver wheel accents, I'd safely say that I'd choose this colour myself if I was to order one but more on that later, the car sounded great at low speeds as it was parked up and very happy to get the VZ2 wheels and not the plastic covered VZ3 monstrosities.
The front of the car has already been reviewed in detail during our CUPRA Leon eHybrid review but just to break it down a little taking my current point of view vs when I first saw the new shape CUPRA Leon, much has changed.
Yes, "the MK3 is better" I hear you say, I was of the same thought until I got to see it in the metal a few times, now having been with this CUPRA Leon for a week I can say that whilst some parts of the MK3 still are more to my liking (front bottom grill, lack of radio antenna on the roof and wing mirror design) the CUPRA Leon has mostly won me over.
Let's take the badge, for example, I wasn't keen on the first release but now I would pick it over the old faithful S badge, it somehow now feels like a genuine brand and not just a picture on an Instagram post with funky music showing highlighted parts in the dark.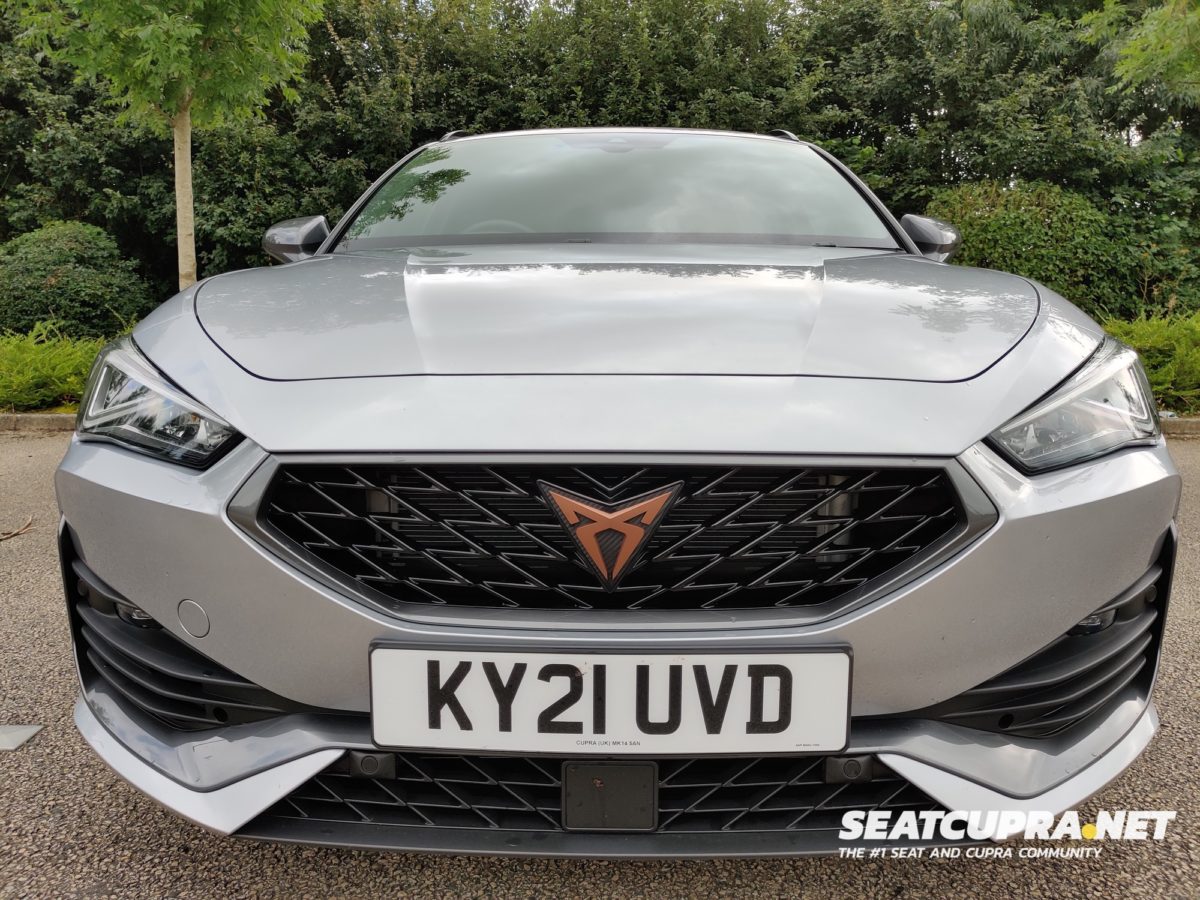 There are still bits I'm not keen on, the lower grill for example which seems out of place and the gap between the bonnet line and top of the grill seems to be on the large side (MK3 bonnet and grill pretty much sat next to each other).
Moving round to the side we have much the same details seen on the SEAT Leon FR MK4 Estate we reviewed, the only real difference being the much better-looking alloys on the CUPRA Leon Estate VZ2 and the lack of side skirts on the UK model and a lower stance. Compared to the MK3 Leon Cupra wheels the CUPRA Leon has a much less intricate style alloy, but in my honest opinion I really like them, once clean (note these are not clean in the pic, I can only apologise) they have a light metallic shimmer which goes well with the silver accents on the rim.
We've got the black callipers with the copper CUPRA decal along with the CUPRA Logo hub caps, then for tyres, we have Hankook Ventus S1 Evo 3's which from my tests held the road very well with low road noise.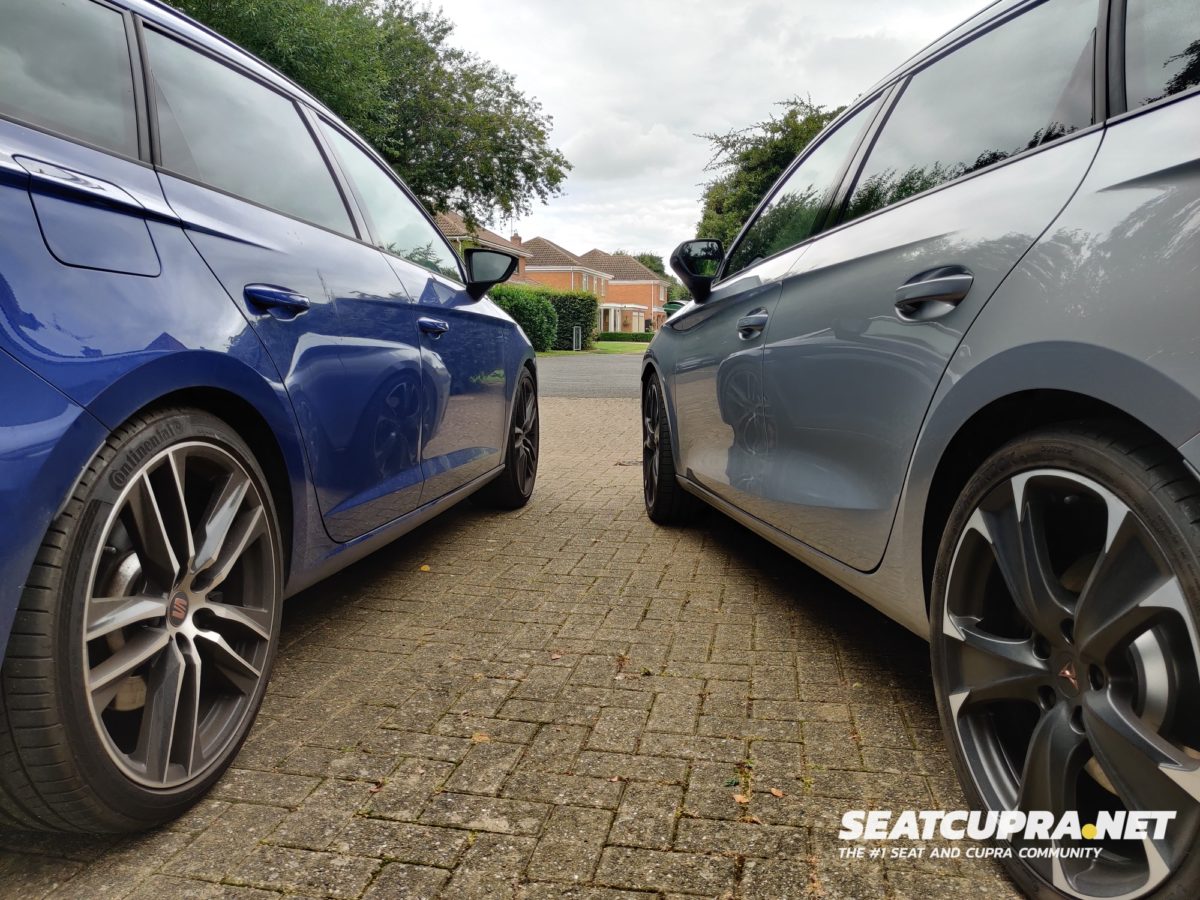 With the 2 trim levels on the CUPRA Leon Estate (3 on the hatch) they kindly decided which wheels go with which trim, this leads me to a dilemma as the VZ3 has the best spec but has the worst looking alloys, see for yourself below and comment at the end of the review with your thoughts (for the record the main car on the CUPRA Leon website at the time of this review shows the VZ2 wheels and not the VZ3, funny that).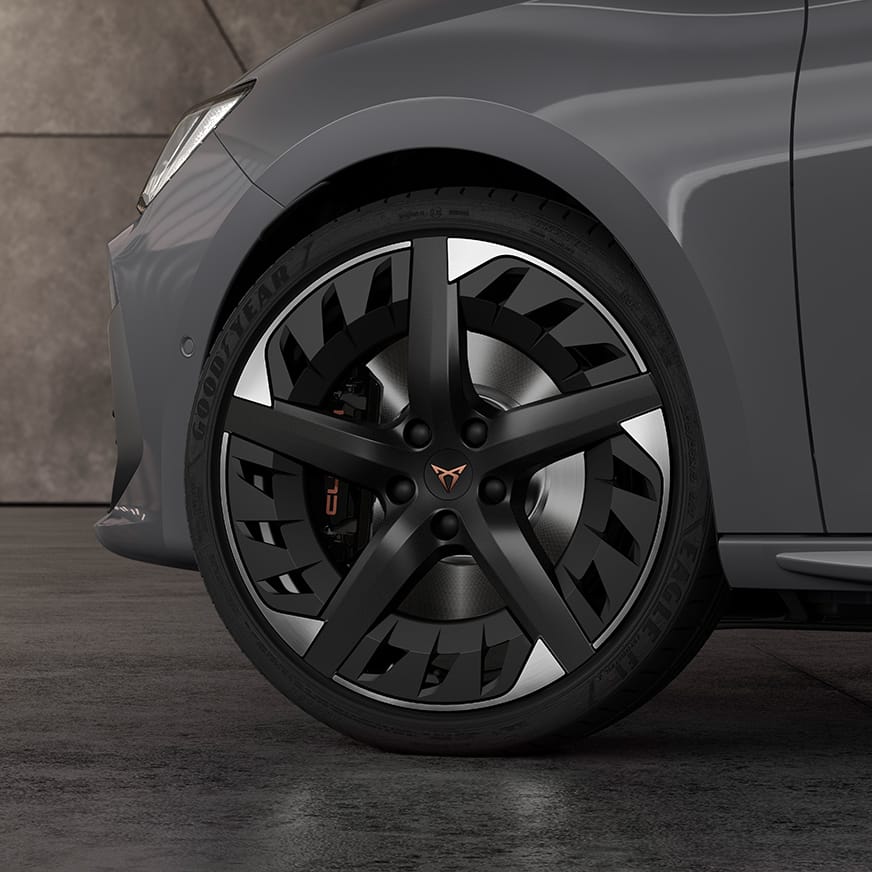 Moving on to the rear of the car which is currently my least favourite section bar the new quad exhaust system, it feels like they just didn't give it much attention over the SEAT MK4 Leon FR, even the European spec 300 hatch we reviewed recently just didn't seem to cut the mustard in terms of what could have been achieved. Here is a picture of the CUPRA Leon Estate, have a good look and then let me know your thoughts after reading the next few sentences.
So, I'll start off with the rear boot lid badge, it's a bit of an eyesore in comparison to the main CUPRA badge on the front grill, it still looks too small and doesn't fit in with the rear of the, then we have the rear diffuser which seemed to of been put on inside out, as what we have here is somewhere to put my sunglasses or a large cucumber.
Also regarding the boot, I did find the closing a little harder over my MK3 Leon ST with uprated struts (for auto-opening), it's hard to explain as the boot closes with ease but I assume the lid itself is heavier as it just felt tougher than it should, once it was in the hands of gravity, it dropped nicely and without issue, maybe it's a sign that I need to start going to the gym after this COVID working from home era.
On the plus side, unlike the CUPRA Leon 300 hatch we reviewed this CUPRA Leon 310 Estate has a fully connected quad exhaust system instead of the fakery we're starting to see a lot more these days. For those who would like to see what under the car looks like here are the best pictures I could get without ramp access so apologies in advance.
I can say that with 100% certainty I prefer the quad exhaust instead of the MK3 Leon CUPRA oval tips, it adds character and a more aggressive profile I think which does take away from the sleeper look the MK3 Leon ST has, but onwards and upwards.
Finishing off the exterior, I'd like to know why someone decided to put the radio antenna back on the roof, when the MK3 Leon CUPRA came with a smooth roof it just looked much better (in my opinion), admittedly they have the shark fin and not a large ariel but it's not to my taste…
Interior
So, if you've read any of my previous reviews the interior is high up on my list of making a decent car with seats being at the top, something that the CUPRA Leon 310 Estate VZ2 does not disappoint. I'd count them as one of the best seats that are both comfy and sporty. They are very comfortable and keep all the human squidgy bits where they should be when you decide to give it the full beans, the bucket seat style is tall enough for a good headrest whilst keeping the premium look.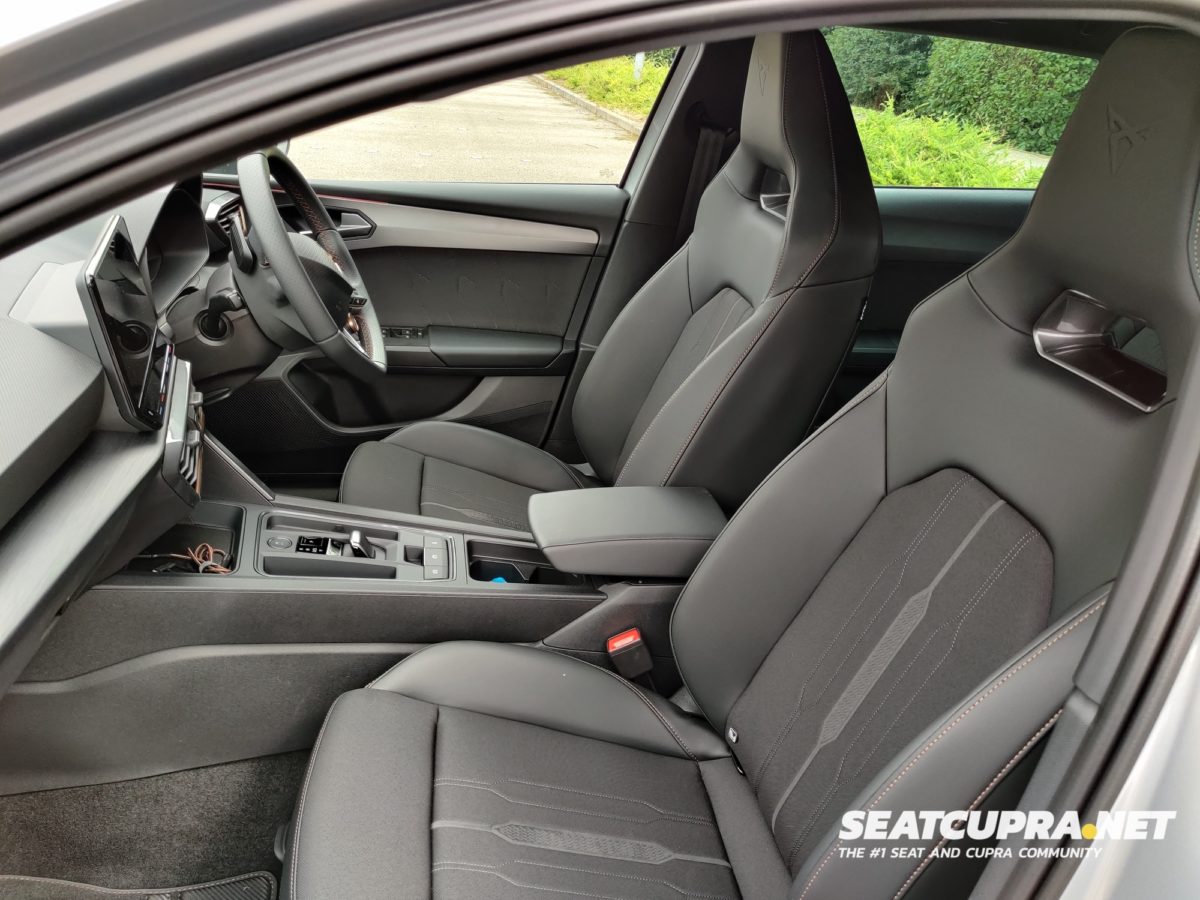 Some of the SEAT MK3 Leon CUPRA owners will be happy to know that the bolsters on the seats don't have the silly white edge which cracks after a few years, everything feels well-made and in the right place.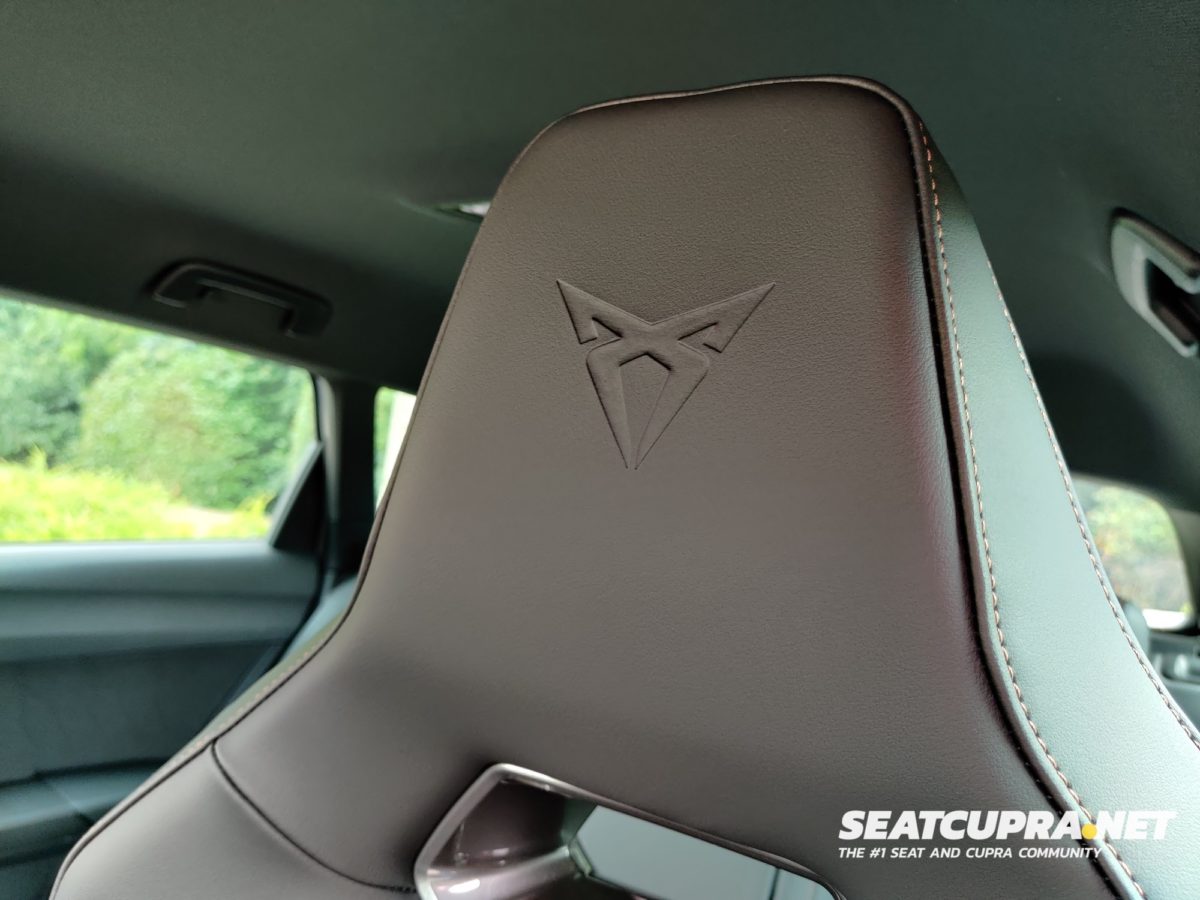 In the rear we have much of the same materials minus the CUPRA logo and sports seats, there is a comfortable armrest in the centre which drops down for a couple of drinks holders and if you need access to the boot the centre seat folds down by itself for a pass-through.
Being 6ft2 I've had many occasions when sitting in the back of cars (normally the Ford Focus) when my knee's end up being part of the front seats, much like every cattle class airline I've been on. In this fine machine, though I can sit behind myself and wave my knees around like I just don't care, this pleases me.
Who wants aircon controls for the rear of the car? Well, you got it, along with 2 USB-C charging sockets for the youth to keep on top of TikTok or whatever's cool these days. If the driver gets annoyed with squabbling kids, they can lock the rear temperature from being changed and peace will be restored.
Moving on from the seats we have the now familiar-looking dash from previous reviews on the CUPRA Leon, copper accents, stitching and the new angled air vents try and take the eyes away from the quite sparse look of the new style CUPRA's.
With no sign of any buttons coming back, it looks like we're going to have to get used to touchscreen and touch buttons for the foreseeable, although it seems like for me personally that once I've set up the car once I didn't go back into the settings or use the screen at all bar adding in postcodes for travelling, as I use Android Auto for everything (music and satnav) the bigger screen seems like a much-needed upgrade from my MK3 Leon (Facelift). In the SEAT MK4 Leon review we did not so long ago we found the Android Auto screen to be somewhat of an afterthought, well, that's now been fixed it seems, which is nice.
Onto the Steering wheel, which for CUPRA Estate owners is a big win as you get the steering wheel seen in the Formentor and later CUPRA Ateca's which holds the car profile and stop-start button just below the normal steering wheel buttons on either side. Those with the Hatch version of the CUPRA Leon in the UK will currently, unfortunately, miss out on this bit of awesome for some reason (I'd blame Ford again, but it might be a stretch). Scott shared his frustration of this omission in our video review of the CUPRA Leon hatch.
A single press of the profile button flicks between each profile (Comfort, Drive, Sport and CUPRA) but holding down on the profile button gets you straight into CUPRA mode which is pretty much where we all live right? The start/stop button takes a little getting used to as I found myself reaching for the traction control button in somewhat of a mild panic when I didn't find a key in the steering column. It's also well worth mentioning that with the Hatch version of the CUPRA Leon the Start/Stop button replaces the traction control button in the Estate which makes it a little bit of a faff to get into launch mode through the Infotainment screen (maybe a shortcut I didn't see in the Hatch).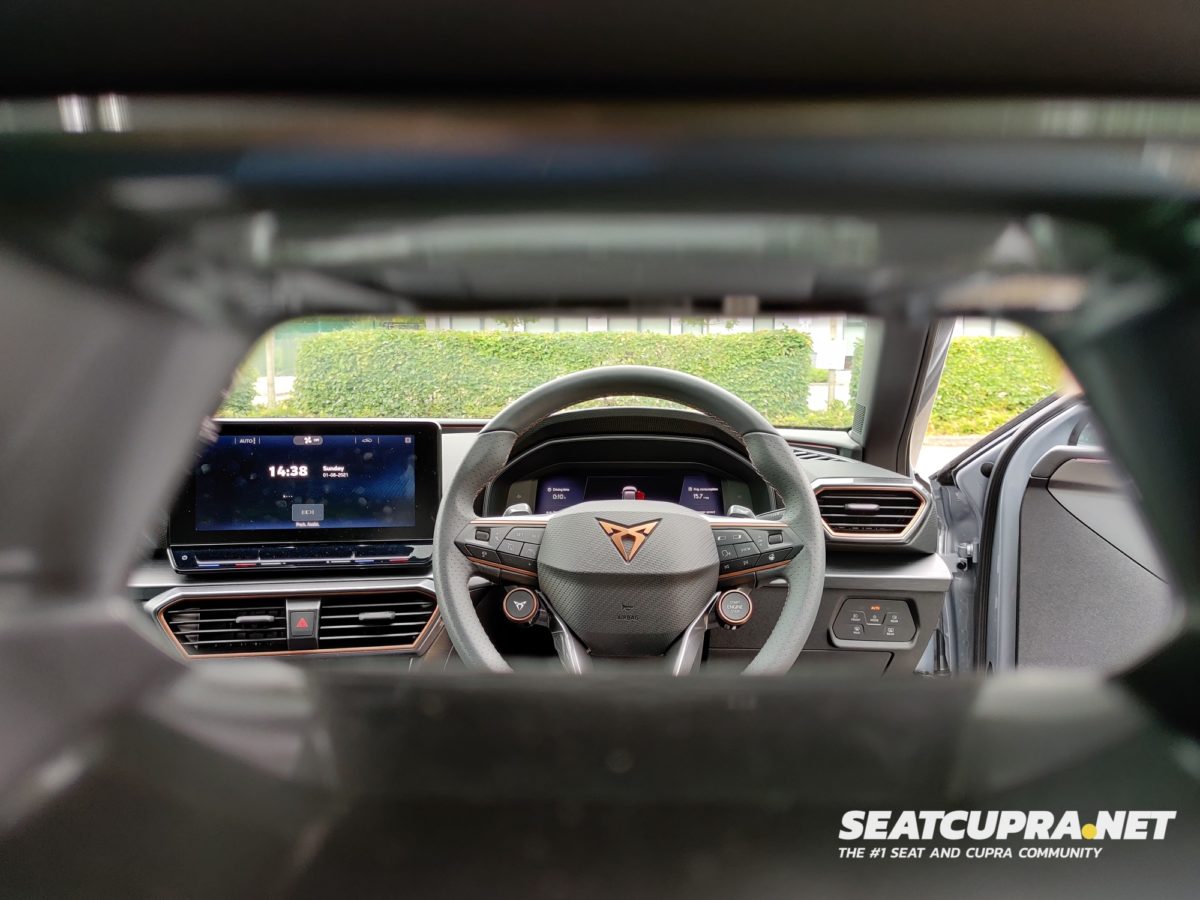 I can now let you know a few of the bad bits that you may or may not already know, cabin temperature, always a fun one whilst driving if you refuse to use the somewhat unreliable voice commands, you find yourself trying to make sure you don't (like I have many times) turn up the stereo because I run hot it's pretty much always me reaching for the "I'd like to be a popsicle" button. The only other real issue I have is the two USB-C sockets on the centre dash which unless you have a brand-new phone need a very flimsy dongle to convert to the trusty USB-A, yes, I understand it's a step forward but maybe put one USB-A next to them or something to help please everyone.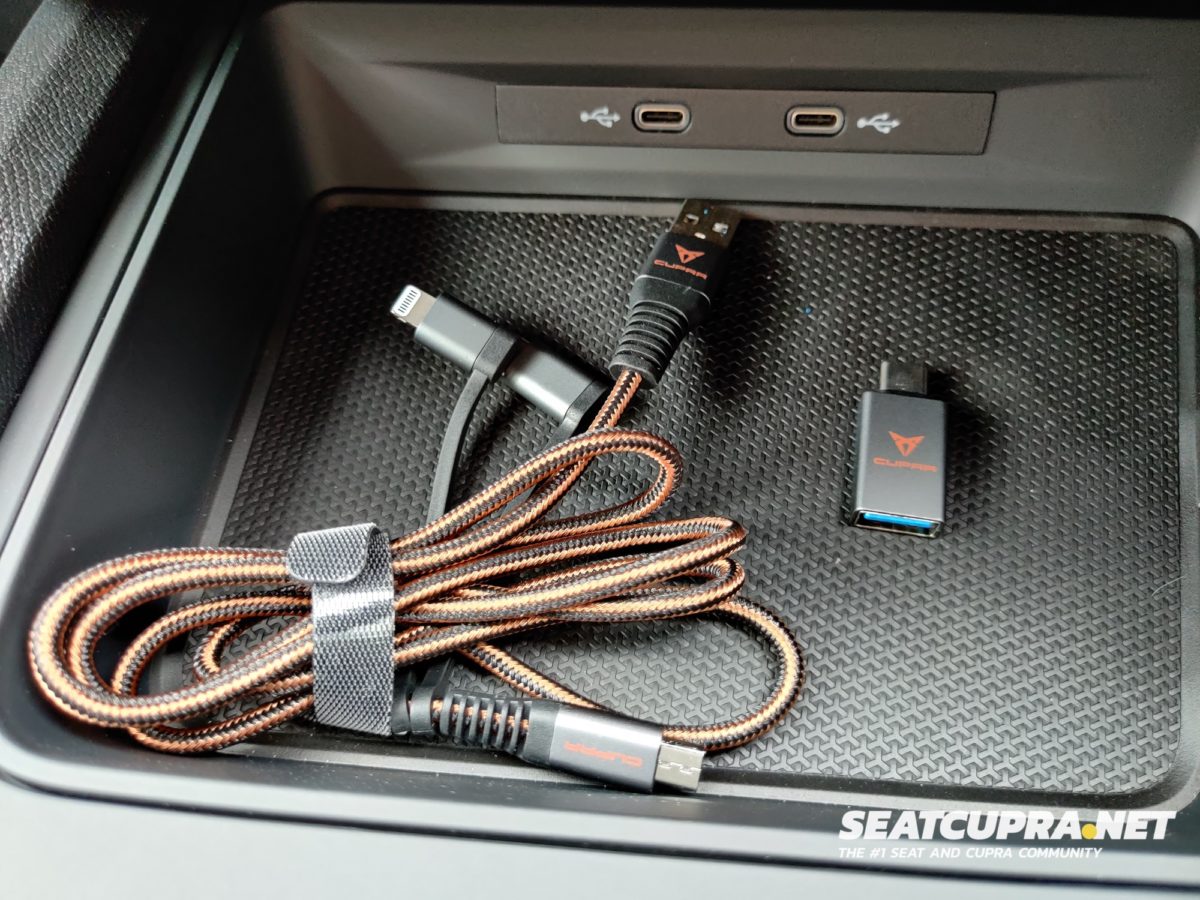 Rattles, as some SEAT/CUPRA owners know these cars are somewhat susceptible to the odd rattle here and there, unfortunately even with only 1300 miles on the clock this CUPRA Leon had developed a plastic creek from within the dash, hopefully, it will go after a while of driving over bumps etc but mildly annoying none the less for such a new car. The annoying noises also continue to the fake sound played through the speakers at engine start-up, if you left the car in CUPRA mode after turning off and then start it up again it would make a crackling sound through the front centre speaker at random, I'm pretty sure engines don't crackle on start-up.
To finish what looks like a praise sandwich (good news followed by bad then good again), I can confirm that I am a big fan of the padding on the door cards for leaning my skinny elbow on, much more padded than my MK3 Leon. I will also throw in mentions for the slightly taller flappy paddles on the steering wheel with a slightly more premium feel to them.
In the boot, we have the same two-stage height-adjustable boot floor which I'm pretty sure everyone just leaves in the lower position, we also still have the 12v supply in the top left for those who want to have a small fridge, dog-specific aircon or maybe a mobile disco ball.
Even though it's up from the MK3 Leon ST's 587 litres to 620 litres you cannot tell any difference between them even though it equals to around an extra Tesco (other supermarkets are available) bag-for-life somewhere in there. I cannot fault the space available for the weekly shop with the mother-in-law and handy access through the old school ski hatch in the centre seat for those who want to collect their front splitters or go skiing.
You'll be happy to know that unlike the SEAT MK4 Leon FR Estate this CUPRA Leon Estate VZ2 came with a spare wheel instead of that lovely gunk which is as useful as using gorilla glue for hair gel (don't try it).
Overall, I can safely say that CUPRA has done a decent job on the interior with no real issues (apart from software bugs), for the 30k-40k bracket I'd say they may be pushing it a little, I doubt anything made by SEAT/CUPRA will be allowed to be better than the likes of VW and Audi but it's all down to the individual on what they prefer or can afford, I'm a fan which may go against a few of you fine people, let us know in the comments.
Engine and Sound
So, for those with a current SEAT MK3 Leon Cupra ST the next few sections are probably up there with the most important to see if your slightly older model is faster, nimbler and has an all-around better driving experience than the new car on the block.
Well, where to start? For me, it's an easy choice, but I'm not everybody so here is my perspective. Let's start with sound, an easy win for the CUPRA Leon over the MK3 Leon due to CUPRA having an exhaust sound instead of just muffled engine noises that desperately want to escape. If you find the sweet spot on the CUPRA Leon which is just a shade over 3k revs and let it drop in CUPRA mode, the exhaust starts to sing with that familiar noise which can only be described as an AK47 in short bursts.
When the car arrived, I heard it before I saw it which I wasn't expecting at all, the car was in CUPRA mode, but it was doing less than 20mph, a low rumble exhaust note filled me with optimism. If I had to put a movie quote on the sound I heard it would be "Are you not entertained?" from Gladiator for sure. My assumed thoughts of this car's exhaust being a let town very quickly turned into "erm the MK3 Leon ST doesn't sound like that, I'd like that please".
The cold start has a nice pop and a much better sounding exhaust note in comparison to its predecessor, then inside the car even with both the MK3 and CUPRA Leon set to the default Sound Actuator levels the CUPRA Leon sounds better and more realistic, even though it was a brand-new car it still had the classic SEAT rattle (character) on a few bits and bobs throughout the week, interior noise was low and more natural if that's a thing.
Those who have seen my car reviews before will know I love a good sound test to see how things compared, we're definitely getting a good amount of results to see how different cars/engines do, as per usual these tests are done on the same stretch of road with the same decibel meter to help get more accurate results in a somewhat non-professional way as I'm sure scientists don't put their sound devices on top of a jumper to help with bump vibration noises etc.
Here is some information on some default sounds you hear for reference:
45dB – Those annoying early morning birds
50dB – Normal conversation at home (without children)
60dB – Standard Office
70dB – TV Audio
80dB – Dishwasher
Cold start
SEAT Leon MK2 CUPRA R (Stock) – 82dB
SEAT Leon MK3.5 CUPRA (GPF) – 87dB
SEAT Mii Electric – 47dB
SEAT Leon MK4 FR 1.5 eTSI – 82dB
CUPRA Formentor V2 1.5 TSI – 71dB
CUPRA Leon 310 Estate – 95dB
50mph Comfort
SEAT Leon MK2 CUPRA R (Stock) – 74dB
SEAT Leon MK3.5 CUPRA (GPF) – 72dB
SEAT Mii Electric – 70dB
SEAT Leon MK4 FR 1.5 eTSI – 74dB
CUPRA Formentor V2 1.5 TSI – 71dB
CUPRA Leon 310 Estate (CUPRA Profile) – 75dB
CUPRA Leon 310 Estate (Drive Profile) – 72dB
0-60mph Heavy foot
SEAT Leon MK2 CUPRA R (Stock) – 86dB
SEAT Leon MK3.5 CUPRA (GPF) – 79dB
SEAT Mii Electric – 71dB
SEAT Leon MK4 FR 1.5 eTSI – 80dB
CUPRA Formentor V2 1.5 TSI – 75dB
CUPRA Leon 310 Estate (CUPRA Profile) – 78dB
CUPRA Leon 310 Estate (Drive Profile) – 74dB
So, a massive increase over everything we've currently tested on the cold start, I expected it would be higher due to the pops you get, if I remember correctly at one of our meets, we had a MK3 Leon CUPRA hatch on a stage 1 map with only 103dB on cold start so not far off.
It seems to make a 2dB difference on the 50mph cruise levels when you select the CUPRA profile, even though it's the loudest we've tested (just) it doesn't sound like its result as it's more of a deep tone instead of a rattle/road noise type affair, if I had to put money on which one would be quieter, I would have picked the CUPRA Leon over the MK3 Leon without hesitation.
Strangely enough, it seems the CUPRA Leon is quieter when you boot it (not launching) and to be honest I'm happy with that as internal noise is nice but if you want the proper noise, you're probably after the exhaust notes on downshifts and not a sound actuator noise. If you choose to turn the fake sound off, you'll probably hear the interior noise drop by a decibel or so I'd imagine.
Overall, I was very much impressed with the CUPRA Leon Estate in terms of sound in and outside of the car, 100% better than the stock SEAT MK3 Leon CUPRA 300 ST I've driven, after getting back in the MK3 I felt like it wasn't finished, it sounded tinny, loud in the wrong way and less exciting to drive.
As for the engine we've got the trusty EA888 engine, all be it down on 10bhp and 20nm of torque on the MK8 Golf R Estate it still has the same 0-60 on paper (more on this shortly).
The engine bay looks a little on the safe and boring side with no mention of the "Premium brand" anywhere to be seen, the new style foam engine cover is more likely there to help any potential pedestrian collision onto the bonnet which no longer gives CUPRA the opportunity to put they badge over the top of the VW one. Apart from a few bits changing slightly like the bonnet latch, which has now split to a metal latch on each side instead of the one in the middle on the MK3 Leon. I'm still annoyed that we don't have gas struts as standard, for the sake of adding £50 to the price I'm sure most people would be most happy.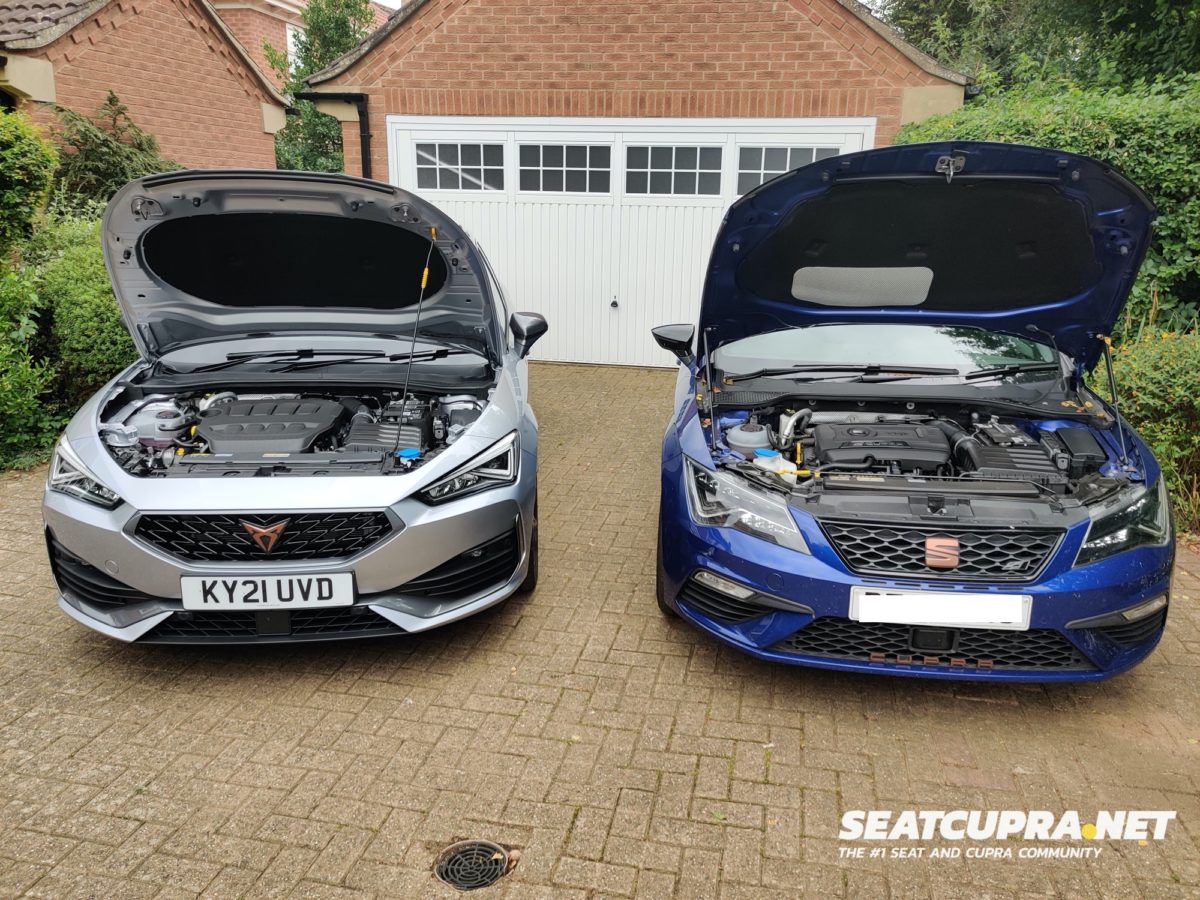 Here are some stats on the engine from the spec sheet for this CUPRA Leon Estate
| | |
| --- | --- |
| Engine | 2.0 TSI |
| Transmission | 7-speed automatic |
| Max. Power: PS @ rpm | 310 / 5450 – 6500 |
| Max. Torque: Nm @ rpm | 400 / 2000- 5450 |
| Fuel economy (mpg) WLTP | 32.8 – 34.4 |
| CO2 (WLTP) g/km | 186g/km |
| Euro standard | RDE2 |
| 0-62 mph | 4.9secs |
| Top speed | 155mph |
On the road
Are there any differences when you drive the new CUPRA Leon and the older SEAT MK3 Leon CUPRA ST 300 4Drive I hear you ask? In short yes, but are they enough to warrant an upgrade?
On first thoughts driving the CUPRA Leon Estate whilst dropping off the nice CUPRA delivery driver and having the car to myself for the first time, I was glad I had previously driven the SEAT MK4 Leon, with the new style 2-inch-tall gear selector, I think otherwise I would have been staring at it for a little bit wondering where I put my hand when I want to do a long drive. The driver mentioned that he really liked the car even though they're unable to "test" them whilst driving to customers and the more I drove around I was starting to understand his thoughts.
I must admit I spent most of my time in CUPRA mode as everything felt just better, the only time I had to drop it into comfort or sport was when the wife was with me and as we all know, happy wife happy life, it appears she's not a fan of pops and bangs as people start looking at you, who knew.
So, the stats you may or may not want to know but it's the first time we've included a real-life 0-60 (I think), it's not draggy accurate but we used the same system (Torque Pro on Android), time and location on both the SEAT MK3 Leon Cupra 300 ST 4Drive and CUPRA Leon Estate 310 VZ2 to get the fairest results, I'm sure with multiple tries on a better surface would result in better times but for the sake of this review it's a quick easy method without breaking any gearboxes on either car. Let us know below if you would any other stats like this on further reviews.
Torque Pro – 0-60mph using Launch mode (private road)
CUPRA Leon 310 Estate – 4.812 seconds
Hankook Ventus S1 EVO 3 tyres
The launch can be explained as precise, it didn't feel underpowered at all, it just felt very German. Great exhaust notes on the pre-launch when everything gets ready to dump all power to all four wheels, then on letting go of the brake pedal it goes off like a rubber dingy in high winds. This is the first time I'd launched a car and if I'm honest I don't see a need for it apart from this test Haha, although it did bring a big smile to my face.
MK3 SEAT Leon Cupra 300 ST – 4.732 seconds
Continental Conti Sport Contact 5P (stock tyres)
The MK3 was a totally different feeling when being launched, it felt raw and loud, when letting go of the brake I felt a thump of pressure on my chest as it took off, it felt so much quicker at the beginning but not as much once moving, it's only 0.08 seconds quicker than the new CUPRA Leon Estate which to me isn't anything to turn your nose up at, maybe it's the lighter MK3 that helps it during this test.
As for normal driving conditions the CUPRA Leon Estate feels very grown-up, normally grown-up feels boring, but I think this day and age especially for myself I like the idea of a comfortable sports car with power on tap if needed and a nice seat to put my bony butt. The ride is more comfortable than the MK3 Leon even in CUPRA mode, the steering feels more fluid, and power seems more progressive which takes me back to when I reviewed the MK3 Leon, when owning a MK2 Leon CUPRA I said the same thing, so things are moving on in the same manner for sure.
Under cornering everything feels sturdy and I'm sure I didn't take it even close to its limits for cornering ability, I do think that even though the CUPRA Leon Estate seats are amazingly comfy the SEAT MK3 Leon sports seats hold me in slightly better as the bolsters seem a little closer to the body.
One thing that had me a little flummoxed is the braking, after driving the CUPRA Leon for 3 or 4 days without being in my MK3 I went out for the 0-60 launches, I took the CUPRA Leon first and everything felt normal and I was a happy boy. I then took the car back to pick up the SEAT MK3 Leon ST and when I pressed the brakes I nearly went through the windscreen, I wouldn't have expected such a difference between the 2 cars but the initial contact is much more aggressive in the MK3 for sure, the brakes stop you easily in the CUPRA Leon as I never had any issues whilst driving it but the difference felt like going from the MK3 Leon to my wife's 1.0L Fiesta.
One thing I can confirm with this CUPRA Leon Estate is that the more I drove it, the more I wanted to keep it, the one thing you really don't want as a reviewer when the car you're reviewing is better than your normal daily car.
As for MPG, after 3 days using it in what I'll call the honeymoon period I was getting 26mpg but that did include some extensive wait in traffic (1 hour of stop-start motorway), the best I got just touched on 40mpg but that didn't hold for long so I imagine once the car is bedded in properly it would easily get 40+mpg if you so wanted to.
Technology
Ok let's start off with that we've seen many issues on the forum with the newest style of infotainment seen in the SEAT MK4 Leon, CUPRA Leon and CUPRA Formentor etc. I'm not sure it's with every car these issues arise but some users use bits that others don't etc but I didn't have anything near as many issues using lane assist with this CUPRA Leon Estate as I did with the SEAT MK4 Leon Estate or SEAT MK4 Leon FR First Edition Hatch in a previous review.
I'm hoping that with some updated software things have been fixed, this review car had the following system stats to compare to,
Software – 1803
Display unit/control panel hardware – H39
Display unit/control panel software – 3074
Navigation database – 20.3
Media Codec – 3.1.4
Radio database – 1.30.24
Even though most of the gremlins had gone (for this car), I did have an issue with the dreaded Lane assist when driving around the countryside as I did in the reviews above, first is when entering/exiting some towns near me they kindly place road narrowing bits from the edge of the road (40mph limit), the car fails to see these so when avoiding them it tries to steer you back in which isn't good. The second is when I went from a single lane A road to dual carriageway, so a white line just splits the road it just steers you left thinking you're unhinged and want to crash, both these things which I got every time got boring very quickly.
In terms of differences between this and the reviews above on the SEAT MK4 Leon, I don't think there are many at all, the only one from the top of my head is that you get a nice CUPRA logo on the profile choice screen which in the Estate you won't ever need as you just press the profile button on the steering wheel (sorry hatch fan club).
So far so good? Sort of, I did get some gremlins pop their head when trying to pair my phone (OnePlus 7T) with the car for Android Auto to work, it took me four attempts with two of them being where the phone didn't even charge when plugged in (multiple cables), but once things had paired correctly, I didn't seem to have any further issues after so user error? Or just a "feature", who knows.
Another minor annoyance on this CUPRA Leon Estate was the intermittent state of the Keyless entry and key fob itself, it seemed that at random times (not in a fob frequency blocking cover) the keyless entry just didn't want to unlock or lock when the key is less than 20cm from the door lock, in the end, I had to get the fob out which wasn't without issues, again randomly the car wouldn't lock unless you were within a few metres which isn't great as I'd be at the end of my drive and have to walk back to the car to lock it (once right in front of my neighbours so they either thought I'm a little bit of a muppet or the car isn't great).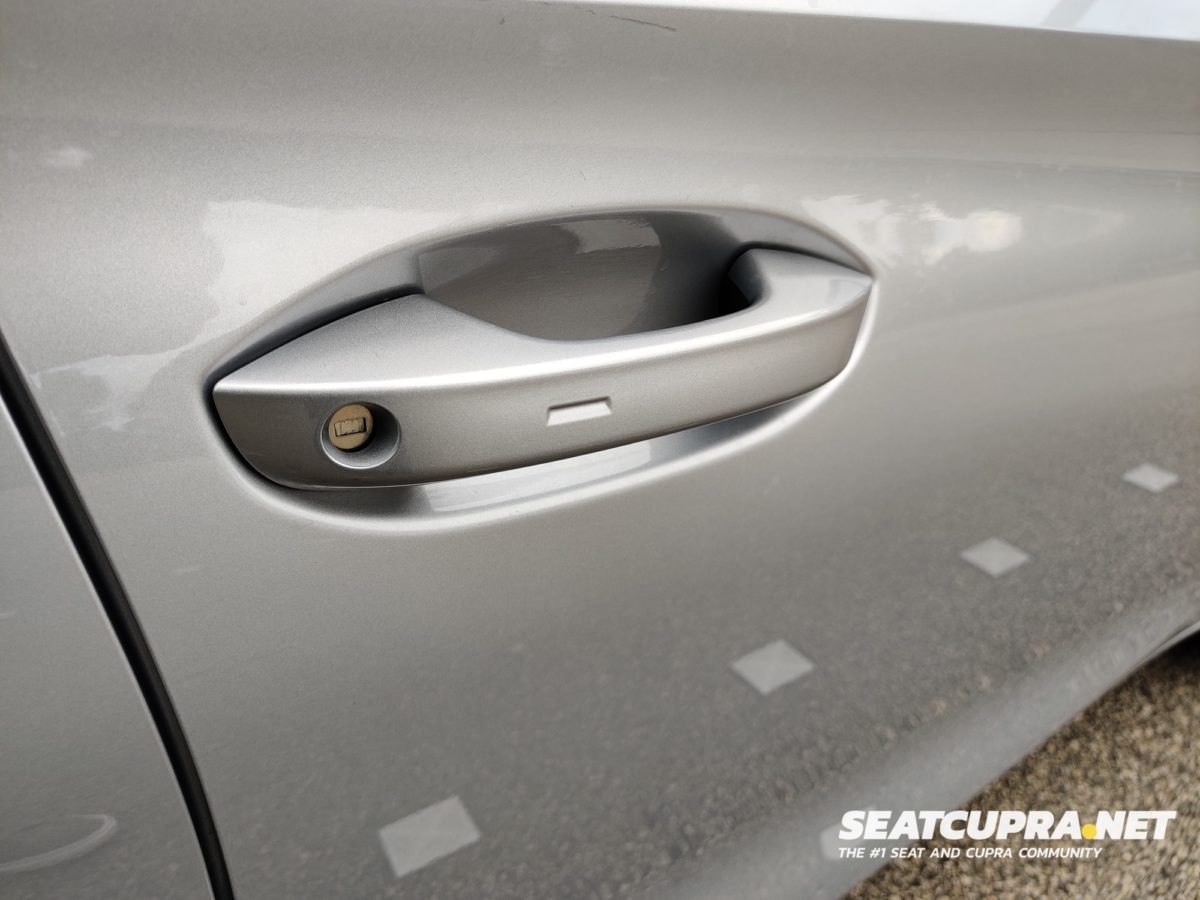 Some honourable mentions in terms of upgrades from the MK3 Leon Cupra ST include the audio quality, both myself and my wife noticed a much better quality of music, admittedly I'm not an audiophile so take this with a pinch of salt but my music tastes (Heavy Metal) and the better half's Radio 1 on DAB both had a better tone with much more noticeable bass notes coming through, yet another thing that annoys me about the SEAT MK3 Leon was the quality of the non-SEAT Sound speakers.
What's it like to live with?
The CUPRA Leon Estate is a comfortable, fast, spacious, practical party piece. I feel that driving around I'm not really noticed as much as a CUPRA Formentor for example but I'm happy with that, I've always loved the underdog look of the SEAT MK3 Leon CUPRA ST over other cars, it's something people don't expect when you do get to give it full beans.
Ride comfort is much better than its predecessor in my opinion (also confirmed by my wife), everything feels more refined with what feels like less clunky gear changes in the lower gears etc (could be a placebo), so it depends on the style of car you're after.
I'm pretty sure you're not buying this car for its good MPG but I'm sure with bedding in, this car will easily hit 40mpg on longer runs or 50mph single lanes for a few miles. It's still got the 55-litre fuel tank so if you use V-Power in the UK it's possible for a £70 fill up which gets you between 300-400 miles so not too shabby.
Power is there on tap when you need it and with a quick flick of the gear selector, you're in sport (ish) mode for those quick overtaking manoeuvres. If you want a nice quiet ride, just drop it into comfort/drive and enjoy life, or if you need to get that Domino's pizza back before it's cold then CUPRA mode gives you some rough and ready gear changes and that sweet, sweet exhaust notes.
Practicality is way up there as you've got that 620-litre boot which fits approximately 10 Tesco bag for life shopping bags, easily enough for mine and the mother in law's weekly shop. Plenty of space in the back with the ability to sit behind me with swinging knees.
The technology on this review car didn't cause many issues bar the times when the road is made narrow for entrances/exits for some towns near me, the infotainment system hasn't caused me any issues this time, but I was mainly using Android Auto for travelling longer distances so once the car was set up, I don't need to use it again. I would like to see the touch sensitivity a little lighter as it felt I had to push fairly hard for a touchscreen for it to know what I wanted.
Would I buy one?
Yes, simple answer for me, after driving it I feel it's what the MK3 Leon ST should've been, better exhaust, more premium interior, better tech (for the most part) and just a better all-around experience. I'd swap without a 2nd thought even after driving the MK3 for a week after. Would I buy it outright is a slightly tougher question as the price is somewhat more than my MK3 when new (Nearly +4k), but yes, I think if I was in the position to buy an estate this would the car I'd want or in the top two for sure as I've not driven every other estate available.
Specifications of the model in this review
Paint – Urban Silver
Trim – VZ2
Engine – 2.0 TSI
Transmission – 7-speed automatic
Max. Power: PS @ rpm – 310 / 5450 – 6500
Max. Torque: Nm @ rpm – 400 / 2000- 5450
Fuel economy (mpg) WLTP – 32.8 – 34.4
CO2 (WLTP) g/km – 186g/km
0-62 mph – 4.9secs
Top speed – 155mph
Length – 4657
Width (Including wing mirrors) – 1799
Height – 1437
Wheelbase – 2683
Boot space – 620
Fuel tank – 55
Kerb weight – 1640
Towing capacity with brake 8% – 1900
Recommend Retail – £38,570
Metallic Paint – £540
As tested – £39,110
Benefit-in-kind rate – 37%
Insurance group – 33E