This thread covers development of my Leon
Cupra
over five years.
It was supplied by the original dealer from new with the optional Carcept full bodykit. I'm the second owner of the car.
Click for the
Silver Machine Slideshow
- or many pics through this thread. Thanks for viewing - comments welcomed.
Thread Index
.
Superleggeras fitted
MiniLeon
Neuspeed Rear ARB
RamAir and 4" CAI
Dual Exit Blueflame Turboback
Neuspeed Front ARB & Powerflex Wishbone bushes.
Croft Trackday April 07
Eliminator Install commences
The Full ATP Eliminator GT28RS Install thread
LCR Front arrives
A bit of Blue Silicon
KW Coilovers fitted (guide)
Porsche Big Reds
Tidied bay
On Awesome's Rollers
Customising an FR rear Bumper
The Rear Spoiler Debate (Photoshops)
Dieselgeek Shortshift Set
325bhp - at SCN v UKMKIV RR Day
362.3bhp - Motoscope Northallerton RR day (Dastek dyno)
Cadwell Park Trackday Nov 09
Water/Methanol boot tank and Safety system install
Fitting Powerflexed TT Quattro front suspension with new Neuspeed front ARB
Bare bum - the rear spoiler taken off
Dismantling commences
Bare-naked shell
Latest pictures: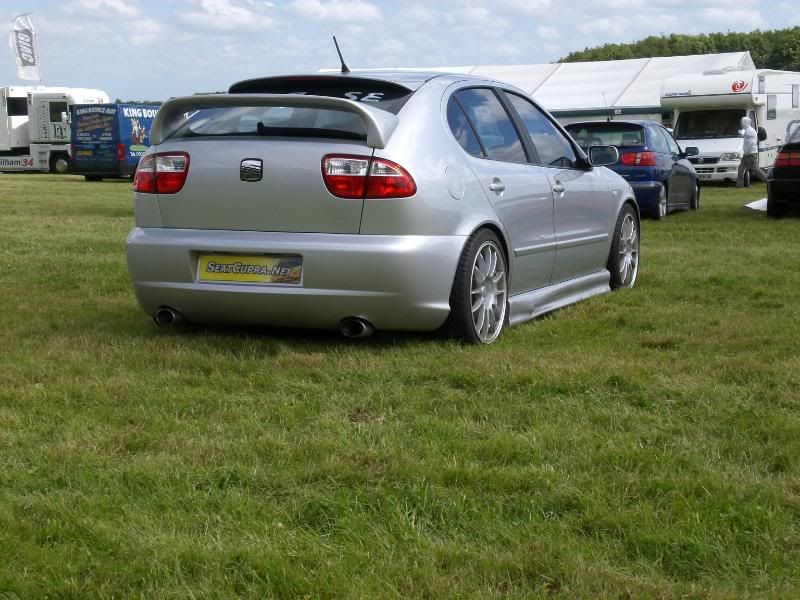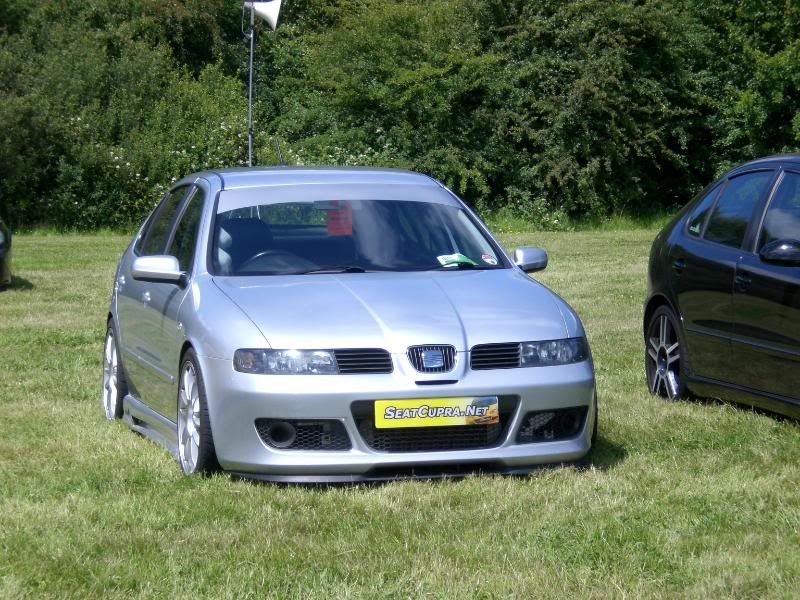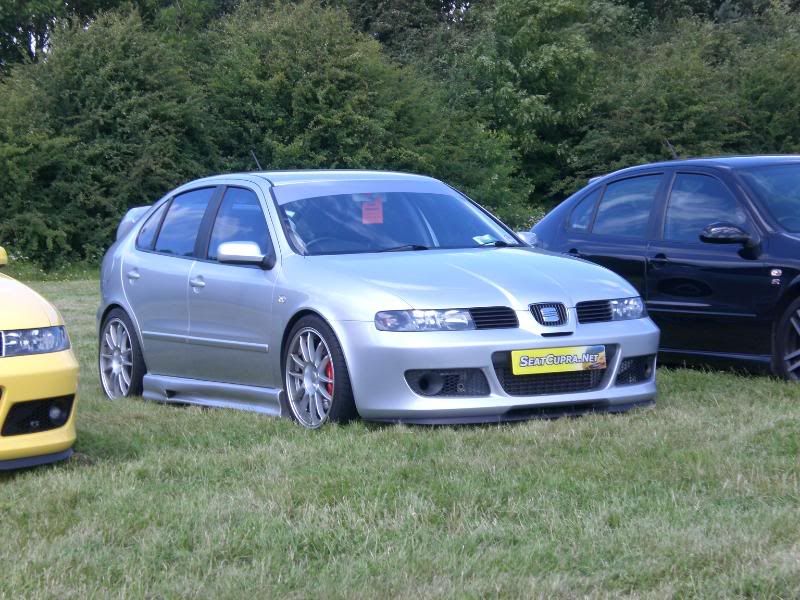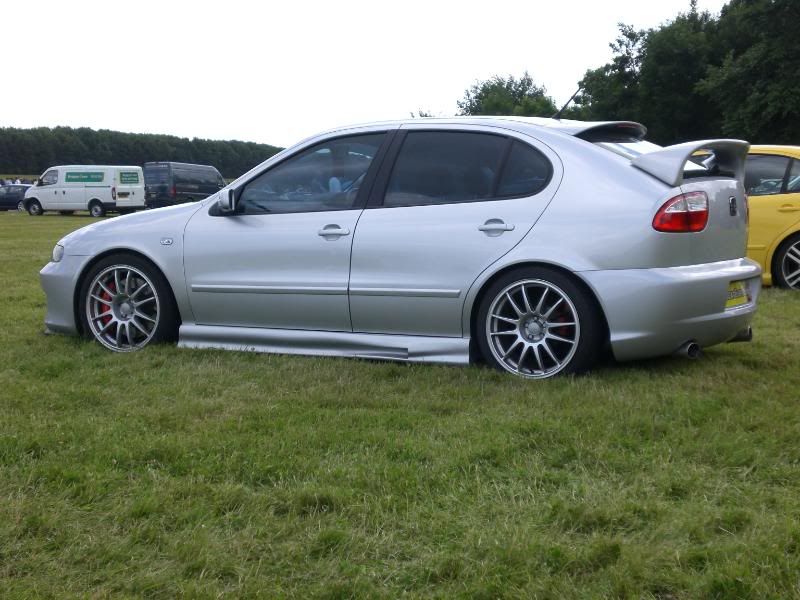 Current Spec:
2002 Seat Leon Cupra 1.8T 20VT 6 speed
Exterior:
Originally Carcept fully body kit, but now with Leon
Cupra
R front bumper and Customised FR Rear bumper.
OZ Superleggera 8 x 18 wheels with Toyo T1-R 225/40 tyres.
Tinted windows
S2 aerial
Fabia rear wiper
Aero front wipers
Dubmeister pressed plates (no longer permanently fitted)
Interior
Standard black leather interior with electric seats
Nomad Pillar
Garrett boost gauge
Motor Meter oil temperature gauge
CG Lock
Suspension & Handling
TT Quattro Front hub assemblies (
lower
bottom balljoints)
TT Quattro wishbones
TT Quattro droplinks
Neuspeed front and rear ARBs
Powerflex front suspension bushes.
Powerflex steering rack bush.
S3
lower
front brace
S3 upper strut brace
KW Variant 2
Coilovers
Hughes Engineering rear strut brace
11mm spacers behind front discs
15mm Eibach Pro spacers rear
Density Line Track density motor, transmission & dogbone mounts.
Braking
Porsche 993 Twin Turbo 'Big Red' front brake Calipers
341 x 32 grooved front discs
Goodridge braided hoses
Galfer Tuning rear discs with Galfer 1055 pads.
Motul RBF600 racing Brake fluid
Engine & Transmission
Metal impellor water pump
ECS Tuning Ultimate 1.8T Timing Belt Kit
Forge 007 recirc valve (reversed)
Genesis 550cc injectors
NGK BKR8EIX plugs
Walbro inline additional fuel pump
ATP GT28RS Eliminator turbo (
Clicky
for the self-installation thread )
ATP
exhaust
Manifold
Custom 80mm Turbo Inlet Pipe incorporating (own design) 'TeaPot' insert
Jetex open cone filter.
LCR MAF housing with LC MAF element
Custom (own design) 'Omega' shifter cable bracket (bridging tip)
Forge LCR single pass intercooler
Customised Proalloy/Forge intercooler pipework
Snow boost controlled water/methanol injection
Pipewerx custom 3" downpipe with 100 cell cat.
Blueflame custom catback SS
exhaust
with dual exits.
Revo Stage 3 remap
Manual boost controller bypassing N75
Secondary Air system removed and resistored
N249 removed and resistored
PCV removed and resistored
EVAP removed and resistored
Servo Vacuum hose rerouted.
Dieselgeek.com Sigma 6 speed Short Shift Kit (front-back and side-side)
Motul 300V Power 5W-40 Racing lubricant
Last edited: