****************************************************************************************
Can we keep this thread as a review of product tested, helpfull links and News etc.

If you have tried something add it to this link

Any general Questions just start a new thread
****************************************************************************************
I get a fair few questions on this subject and thought I would post / re-post my suspension review / investigations.....It may be of use to someone

I have since sold this car to a fellow SCN'er who is enjoying the benefits while I get to drive around in a nice Diesel Audi A3 company car
........any questions please PM me.....
Suspension LCR – Ruddmeister
The following article was originally written in Autumn 2005 and updated in 2006 and is Steve Rudd's research, findings and opinions.
I chose Bilstein PSS Coilovers, Neuspeed 25mm Front and 28mm Rear Anti-roll bars and an Audi S3 strut brace for my 2003 Seat Leon Cupra R. The following article was written to explain to people my thought process' and findings.
Research
If you're spending a few ££'s it's worth having a read on a bit of background and although this article is based on other VW's the theory is interesting…..
http://www.geocities.com/MotorCity/1108/shine.html
Suspension (Available Kits)
Kits are available from a fair few big names and basically there is the choice of Coilovers or replacement springs and dampers.
Coilovers
Coilovers offer a perfectly matched set of springs and dampers and have a few other benefits too (ability to fit wider wheels, height adjustment, rebound adjustment, ability to tune your set-up etc etc depending on the kit selected). Luckily my budget allowed Coilovers and this is where I focused my search.
When selecting my kit it didn't escape my notice that the Seat Ibiza Cupra R was available with optional Sports suspension from Seat dealers. This factory/dealer approved kit got rave reviews from some Ibiza drivers, however no upgrade was ever offered on the Leon Cupra R. The Sports Suspension for the Ibiza was I understand a Bilstein kit and having heard of the German suspension giants I did some research on the web regarding their products and decided the PSS and PSS9 kits fitted my requirements.
The PSS kit is height adjustable with the PSS9 being fully adjustable for rebound etc, not having a clue how to 'tune' my suspension once fitted I opted for the height adjustable PSS. I also searched SeatCupra.net for reliability issues on the Ibiza users (with sports kit) and with the exception of one user (Bill aka Ibizacupra) and a dodgy damper replaced under warranty AFAIK the feedback was positive.
The market is full of alternatives though and I compiled a list of those that interested me and I added known users of other kits (on SCnet). I'm sure any of the people below would be happy to give personal reviews / opinions on these products.
RobDon originally bought a lower spec FK kit later replaced with a KW kit. If buying the Eibach kit speak ZBoyd first..
http://www.seatcupra.net/forums/showthread.php?t=45156&highlight=bilstein
Replacement Spring and Dampers
Keeping the OE dampers and replace the springs or new matched springs and dampers is another alternative, although as stated I didn't research this area too heavily. Here are some of the reasons why…
Spring and Damper kits are cheaper and can be just as good as Coilovers provided you get a quality matched set. The one thing that concerned me was finding a kit that lowered the car only 15-20mm as this was my desired level, the LCR is fairly low already and I have scraped the splitter numerous times. Lowering an LCR 30mm+ would scare me as I would be worried about cracking the sump.
Lots of kits are made for the Mk1V Golf but it's worth checking that the manufacture recommends the LCR as the LCR has an S3 front end and Golf Mk1V rear end. Some kits have been fitted only to discover the carriers for the front ARB are wrong or missing etc.
As stated before Coilovers offer a perfectly matched set of springs and dampers, I saw plenty of kits with different makes of spring and damper units and I really wonder how much testing has been done with say Tein shocks and Apex springs???. It appeared to me some of these kits have been thrown together by manufacturers to gain the biggest margin possible (yes I am cynical ;-)).
One alternative from Awesome GTi (amongst others) is also the Koni FSD
KONI FSD: Frequency Selective Damping. A revolutionary new technique whereby the benefits of both types of ride are combined in one perfect shock absorber. Banishing the disadvantages of the past.
• Ends the compromise between comfort and handling
• Can be integrated in conventional damper layouts
• No need for sensors, cables, or other electronic devices
• Creates an additional variable in fine-tuning the car's behaviour
• Quick and easy to develop for existing suspensions
• Damper cost efficient
• Can be used with existing springs or aftermarket ones upto a drop of 35mm
The advertising above seems positive and Sie (Yermother on SCn) has a set fitted with Eibach springs and early indications are very positive.
Anti-Roll Bars (ARB's)
ARB's have transformed my car more than any other single modification.
With a standard exhaust system fitted on your LCR the only ARB's that will fit the rear of an LCR are from Neuspeed. These ARB's have to be bought seperatley and are available from Awesome GTi.
H&R and Eibach do ARB kits front and rear for the LC / LCR but unless you have an aftermarket exhaust with a smaller rear box the rear ARB in the kit scrapes the exhaust when fitted to an LCR.
Any Anti Roll bar added is supplementing the existing set up at the rear of the car, the std suspension is a torsion type bar inside the rear beam (see Piccy). Rear Beam is what the Neuspeed Anti-roll bar in the picture below is clipped to in the picture below. The ARB then connects back to two drop links at the base of where the damper sits.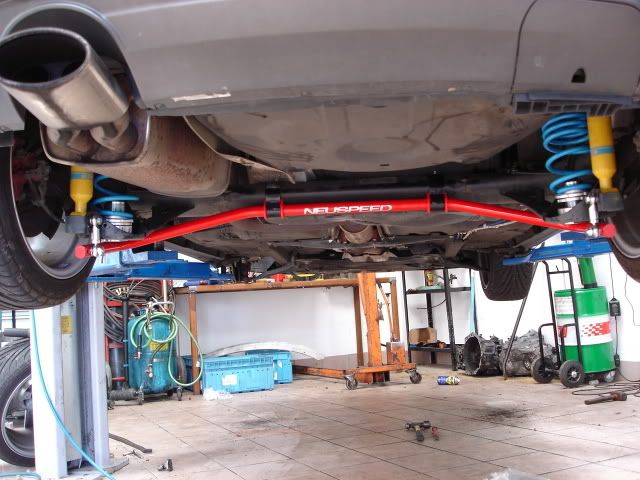 ARB's available are from Neuspeed come in 32mm, 28mm and 25mm thicknesses, these kits fit perfectly and have the drop link and clips included.
Front ARB is also available via Awesome GTI and they do a 22mm, 25mm and 28mm ARB option, I am also told that the Golf R32 front ARB should fit and I believe is 22mm thick (although the R32 is much cheaper, you will need to do some research into this).
Neuspeed kit is fantastic quality, but its bl00dy expensive for what it is. I chose the 28mm rear and 25mm Neuspeed front for my car .
I have said elsewhere that upgrading ARB's should be done in pairs, front and rear and if you are in any doubt read this (highlights the reasons why)
http://www.seatcupra.net/forums/showthread.php?t=63003&highlight=bilstein
Other things to consider
I would seriously recommend the following
Front Strut Brace – I would recommend a trip to your local Audi dealer to buy an S3 top strut brace. I believe it is about £58+fitting and really helps turn in and steering feel. On the near side suspension turret the bonnet lifter and the strut brace are a tight fit but the strut brace will go on without modification. The above cost excludes fixing bolts. I also believe it's worth having this item fitted professionally unless you are comfortable about drilling your suspension turrets.
Dog bone engine mount, do a search on SCnet for details. Reduced wheel hop, makes the car feel 'connected' and means less work for the TCS system.
EIP Short shifter for the gearbox, I know it's not a suspension item but its great VFM
Again not suspension but this will affect the handling, stop using Pirelli tyres switch to Goodyear Eagle F1's or Toyo T1-R's next time you change.
Phasing the Elements
When I first did my car I did the rear ARB only (plus Coilovers) not the front or the top strut brace, in retrospect this was a bad move.
If you want to phase the purchase I would recommend changing the OE suspension (coilovers / springs and damper) and then getting the ARB's (Both of them at the same time though) done, then get the strut brace and other items.
Conclusion
The above are my findings as at Autumn 2005 plus a few updates in 2006 and new products may well be available by the time you read this.
My set up is used for a daily driver (98% road and 2% track use) and the kit suits me fine, I really like the set-up on my car although it is a daily driver (20,000miles per year roughly) the set-up is what I'd call fast road. A more compliant set-up could be achieved using smaller (thinner) ARB's. That said I have transported 4 adults and luggage to the local airport in comfort without a single scrape or complaint from the mother In-law!…..so it can be used as family transport.
I was one of the first on SCnet to try suspension mod's on an LCR so it was trial and error for me….I had been told that a big front ARB would result in a car that understeered badly however I don't believe my car does and I concur with the 'Shine' article linked at the very top of this review.
Comparing Std LCR to Modified LCR Suspension
I was also able to do an interesting comparison on my car and a standard LCR with CoxW, his car had 100% standard suspension and my car was fully modified at the time.
The route included dual carriageway, A-road and B-road and we drove each others cars. Over the trading estate road ripped up by big lorries the standard LCR crashed through potholes, on less severe road the standard cars suspension is quite well damped though. On a deserted roundabout doing several laps the standard LCR rolled very badly and the lift off oversteer was catchable although the car 'snapped' to oversteer rather than a progressive breakaway.
Comparing this to my car the suspension is stiffer but over the ripped up estate road it was less severe than the standard LCR due to it's better damping and rode the potholes surprisingly well. On the same deserted roundabout with TCS switched off the car turned in better, held a tighter line at higher speed and rolled about 50% less. The car understeered less (which was a surprise) and oversteer was very progressive to the point that we began to provoke the car turning in and lifting off. The back end was caught with minimal opposite lock and felt very balanced and secure.
The A-roads proved that long sweeping bends also felt better in my car at the same speeds with a tighter line being held and far less roll. The only time that my car felt more uncomfortable that the standard car was a fast undulating section of A-road, over these camel humps the car felt a little choppy and you knew that car was riding on a stiffer set up.
Just to clarify things my car's suspension is not harsh, in fact my wife notices no difference from the standard set up. I do notice the difference but it's a small compromise for the pay off in my opinion.
If you want other peoples view on how my old car handles a few other SCnet members have driven it and none have said the ride is harsh or that the car understeers, these SCnet members include xJib, Feel, CoxW, Jackal and Yermother all of which would probably give you their opinion if you ask them.
Neuspeed now do a 32mm rear ARB, not sure if this is a 'race' part but IMO it would be an 'extreme' modification. I would also recommend the 25mm front ARB over a smaller front ARB as I find this gives the car a really planted feel in the twisties.
Pictures Below
Before Lowering (picky is a bit dark but the gap at top of wheels to Arch is big)
After Lowering (this was the look I wanted, wheels fill the Arch's)
Bilstein PSS Coilover Kit
Neuspeed rear ARB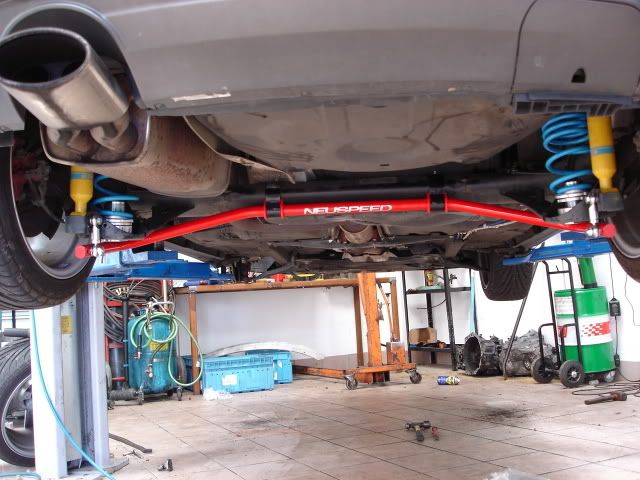 The final look………