I wasn't very sure where best to make this post because it's about a tool rather than a car, so apologies if I'm in the wrong place with it.
It's a tool I became aware of maybe 10 years ago or so when we were going over to visit our daughter and family regularly in the 'States when they were living there. I saw it whilst wandering around one of the massive tool stores they have over there situated in an equally massive mall while my wife and daughter were on a shopping spree - I'd "lost" them! The tool was part of a video feature being displayed on a screen and I could immediately see a use for it - if it actually worked. (I've long been a fan of the "extended tapping" method of freeing seized fixings) I'd never seen it over here and would go back to drool over it each time we visited. Then finally, in 2019, I came across it being advertised over here by a local "tool van" chap, considerably cheaper than I'd seen it in the U.S. and I couldn't resist. Here's a video which shows it and how it's used (hope I'm not breaking any forum rules by posting this link?):
The big "secret" about how it works lies in those special sockets. You can see from the video how shallow the hex section is? It's this which allows the vibrations to be directly applied to the fixing. Take the example of that bleed nipple. Used with the included "special" socket, the vibrations will be transferred into the nipple directly which in turn will cause the threads themselves to be "jarred" by the vibration and it's this which will ultimately loosen the fixing. It works very well indeed on stuff like the bleed nipple (I actually haven't snapped one since I bought this tool - and I work mostly on older cars) also on almost anything screwed into a casting, like for instance water pump or thermostat housing bolts. Where it's not so good is the sort of situation where you've, perhaps, got a bolt holding two components together with a nut on the other side. You can hammer away as much as you like on that bolt head but it's not going to do much by way of slackening that nut on the other end.
The other thing to take on board is that it's the vibrations which do the loosening. If you apply the tool, pull the airgun trigger and immediately expect to be able to undo the fixing you'll probably end up just snapping it. You need to let it vibrate for a while against the fixing whilst at the same time applying only moderate pressure to the lever which is turning the socket. Be patient, sometimes it will take a few minutes of hammering before it'll slacken and that can seem like for ever. A good clean up with a wire brush and a liberal squirt of Plus Gas - or whatever your release oil of choice may be - helps a lot too. If I know I've got a "dodgy" one to do I usually apply the release oil the night before and then give it a second spray before I turn my compressor on and get my tools ready.
Once you understand how the tool works and, maybe more important, what it won't work very well on, you can start getting quite inventive with what you can tackle with it. I bought it primarily to do bleed nipples as I really don't like applying vast amounts of heat to calipers and brake cylinders as is the "traditional" way to get this sort of job done, But the first job I tackled with it was when I had a rear caliper to renew on my daughter in law's Jazz (2008) IDSI. The handbrake cable outer sheath is held in a very substantial steel bracket which is bolted to the aluminium caliper with two substantial bolts unfortunately the threaded holes in the caliper are "through" holes so the threaded end of the bolt is open to the elements. An almost perfect recipe for corrosion, aided by the electrolytic action between the steel and aluminium with some road salt added in for good measure. I'd been warned by a chap I know who runs a wee Honda indy garage, that I could expect a "fight" so I soaked them well the night before and "attacked" them with the Vibroshock. They were both out on the workbench within about 5 minutes. and I'm very sure they would have snapped off if I'd tried to simply unscrew them.
Since then I've had great success with bleed nipples in particular but also some other slightly "left field" jobs. The latest being yesterday when my oldest boy rang up to say his O/S/R brake light wasn't working. He was sure it was just a bulb but he couldn't get the bottom screw out of the rear lamp cluster - "Sorry Dad", said he, "I'm afraid I've made a bit of a mess of the screw head. Could I come round when I've finished work"? The screw, A pozi headed machine type screw, was quite well "mangled" mostly because he'd been trying to use a smallish DIY quality (so read "soft") Phillips screwdriver on a screw designed for a Pozi3 bit. I cobbled up this:
Which, when assembled to the air hammer, looked like this:
and after about 2 to 3 minutes of hammering the screw, quite easily, gave in and unscrewed. The bulb change went well and the screws went back in with a wee "dod" of ceramic anti seize paste, which should make future "undoings" easy. Although my brain was shouting "No!, Leave well alone"! I did actually remove the two screws on the N/S unit, clean them up and give them a bit of anti seize too. They actually came out just fine but then I remembered we'd replaced that light unit about 4 years ago (
LED
taillights so you can't just change the bulb when a taillight fails!) I hadn't put any anti seize on them though. If you've been following me you'll understand that this was a good candidate for the Vibro tool because the vibrating force was being applied from the tool directly down the axis of the setscrew where it could act directly on the thread/socket interface. The only thing that worried me slightly is that the thread is an insert - like a Rivnut - (installed like a pop rivet in the sheet metal of the body) and I worried the vibration might just slacken the insert rather than jarring the corroded threads loose. However this didn't happen and because, although the centre part of the screwhead had been damaged by the, too small, Philips screwdriver the outer part of the four grooves was still intact so the "proper", larger diameter of the Pozi3 bit was still able to get a good "bite".
So there you are. A wee recommendation for an unusual tool from me. The only thing is you'll need an air hammer and a suitably "meaty" compressor to drive it so probably not a tool to be considered by a "weekend driveway grease monkey" but if you are quite seriously into messing about with vehicles and other machinery (I have a fascination for vintage horticultural machinery and elderly small engined motor cycles too) then this is a "luxury" tool with limited application but which works very well that you might like to consider.
Also, while we are loosely on the subject of air compressors and air tools? A few years ago, after some 40 years with a small capacity compressor, I treated myself to a "serious" bit of kit (3hp, belt drive 14 cu/ft - so maybe 9 to 10 cu ft free air - on a 100 litre tank). I decided to update my airlines at the same time so had to buy new connectors. The thing is the new compressor came with the newer "euro" type connectors and all my stuff was on the older "PCL" type. Here's a picture of the two: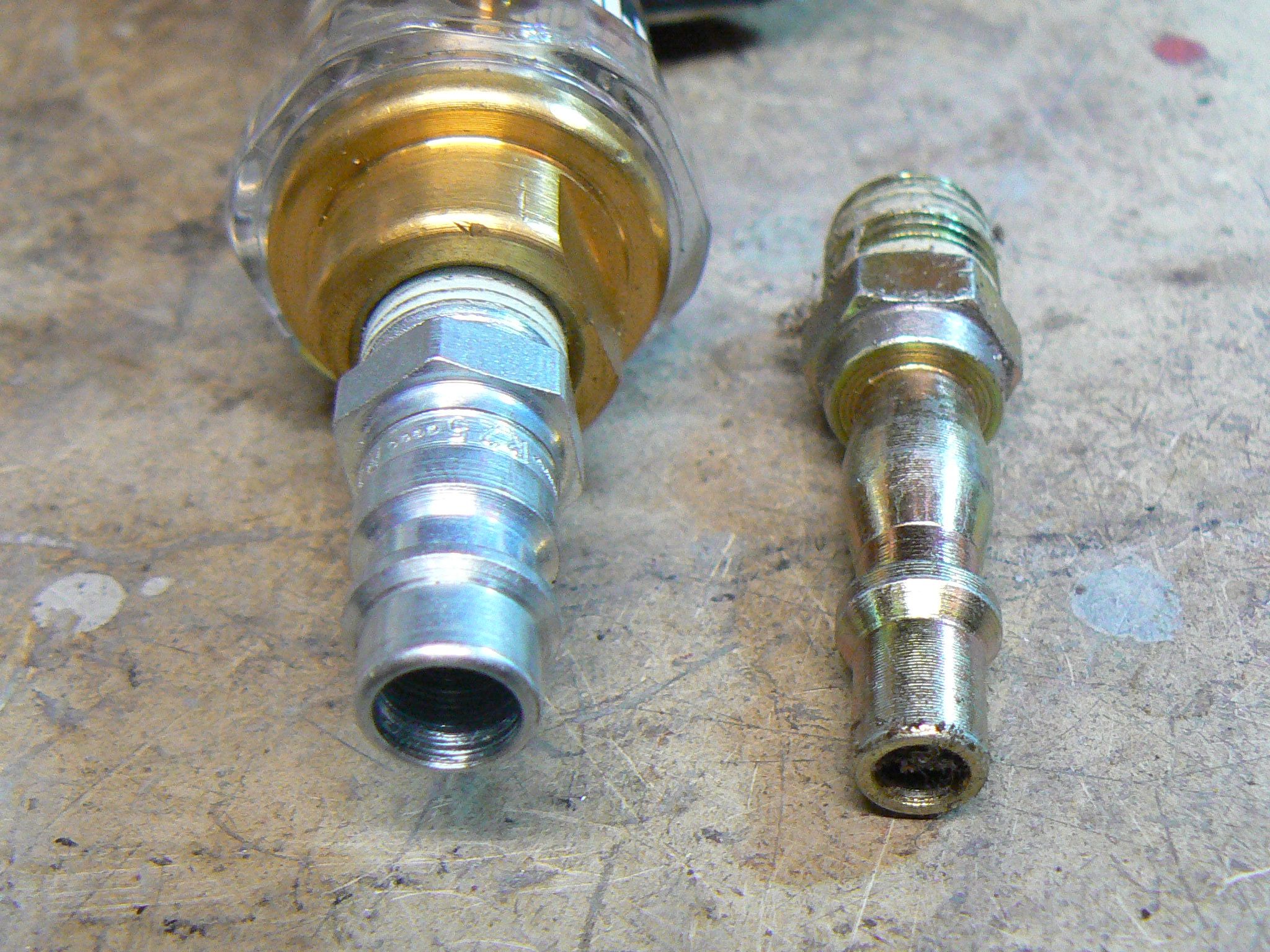 The newer connector is on the left. You can clearly see how much more air it is capable of flowing. I bought my new connectors from Pirtek, who have a depot near me. Not perhaps the cheapest but very good quality stuff which I expect to out last me! My old airline was the typical quarter inch bore stuff which I took in with me to get them to properly crimp the connectors onto. We had quite a talk about air delivery and how a hose that small on a setup with the potential I now have would limit my equipment's potential. (in particular I have a large and potentially powerful Chicago Pneumatic air gun) After a lot of thought I bought a length of half inch bore hose which connects the tank to my mobile regulator (mounted on a stand so I can move it around the workshop) and some three eights bore hose to run from the regulator to the tools. All with quick connectors so I can interchange tools quickly. The result has been nothing short of spectacular. My tyre inflating line still runs on the old quarter inc bore hose and works fine on it but everything else runs with the Euro connectors. It has quite literally turned the CP air gun into a Hooligan! So folks, if you've got air tools and a half reasonable compressor, maybe you're missing out on a lot of power and usability simply due to using too small a diameter hose? I wouldn't have believed the difference if I hadn't experienced it for myself!
Oh, and by the way, You'll find it difficult to find more sockets than those that come with the kit. Initially this disappointed me but, once you understand how the socket applies the vibrations to the workpiece you can start, very easily and cheaply, modify existing tools to work in the same way. For instance if you needed a bigger socket than was in the kit then simply using it without modification would not work: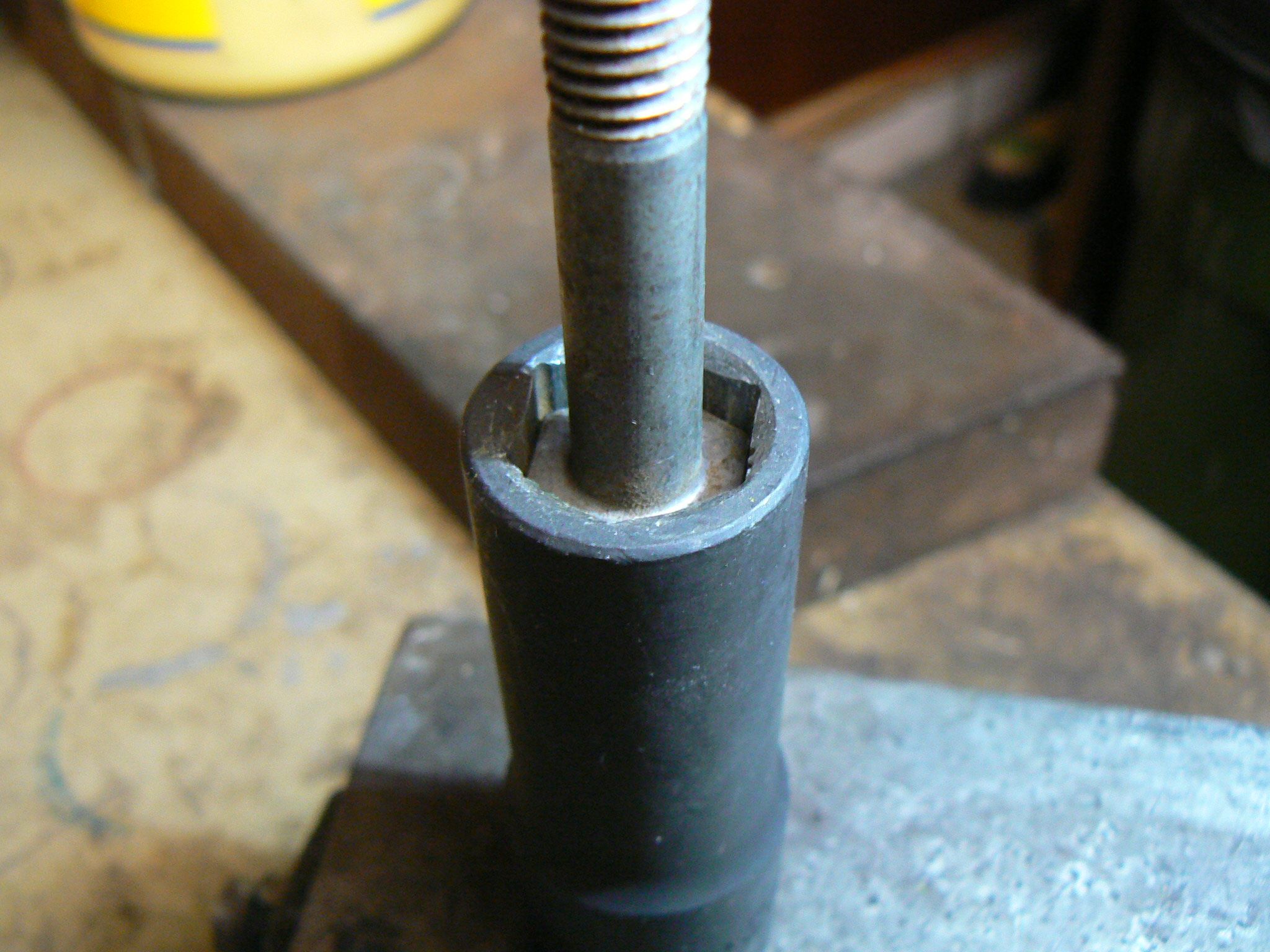 Because the head is "buried" in the socket, the end of the socket would vibrate against the casting without transferring any forces to the bolt itself and so it wouldn't be "jarring" the corroded thread. However, stick a nut, or other distance piece in the end of the socket:
and now the forces will be applied to the end of the bolt:
Once you get your head round this you can apply vibro forces to lots of situations.
Hope you all enjoyed that. I'd be very interested to hear of other applications if anyone else is using kit like this.