New 265 PS SEAT Leon SC Cupra available for just £265 per month on PCP deal
More powerful Leon SC Cupra 280 from just £285 per month
All Cupra PCP deals include £1,000 deposit contribution from SEAT
0% finance available when a 50% deposit is placed
Cupra available to order now for first deliveries from 4 March 2014
Leon Cupra 280 is the quickest, most powerful SEAT production car ever
SEAT UK: Press Release.
In a staggeringly serendipitous meeting of finance and metric horsepower, the new SEAT Leon SC Cupra is available from just £265 per month, on a PCP finance scheme.
The 36-month deal includes a £1,000 deposit contribution from SEAT UK and interest at just 4.9%, making the new Leon Cupra as financially judicious as it is phenomenally fast.
The SEAT Leon SC Cupra boasts a 265 PS engine capable of propelling the car from zero to 62 mph in just 5.9 seconds, pushing it on to a 155 mph top speed.
It's stacked with kit too, with a standard equipment list that includes 18-inch alloy wheels, full-LED headlights, rain-sensing wipers, DAB radio, and Cupra-specific styling details including a perforated leather steering wheel, sports seats trimmed in Alcantara, and Cupra-branded sills.
The SC Cupra underpins a family of Cupra models that gives buyers a broad choice; the new Leon Cupra range offers two body styles (three-door SC and five-door hatchback), two transmissions (six-speed manual and DSG automatic) and two power outputs (265 PS and 280 PS).
The Leon Cupra 280 DSG is the quickest and most powerful series production car that SEAT has ever made, boasting a 5.7-second 0-62 mph sprint made possible by the combination of a 280 PS turbocharged engine and a twin-clutch DSG gearbox, shifting through the gears in milliseconds. In addition, the standard fit mechanical front axle differential in every version of the Cupra model helps ensure maximum traction at all times.
The Leon SC Cupra 280 DSG is also the most efficient of the range, with average fuel consumption homologated at 44.1 mpg, and CO2 at 149 g/km. Using the same PCP finance deal that bags an SC Cupra 265 PS for £265 per month, the 280 PS DSG model is just £305 per month.
All SEAT's Leon PCP deals benefit from a £1,000 deposit contribution paid by SEAT UK. If a 50% deposit is placed on a Leon Hire Purchase deal (£1,000 of which is paid by SEAT UK), 0% APR finance is available on every car in the Leon range.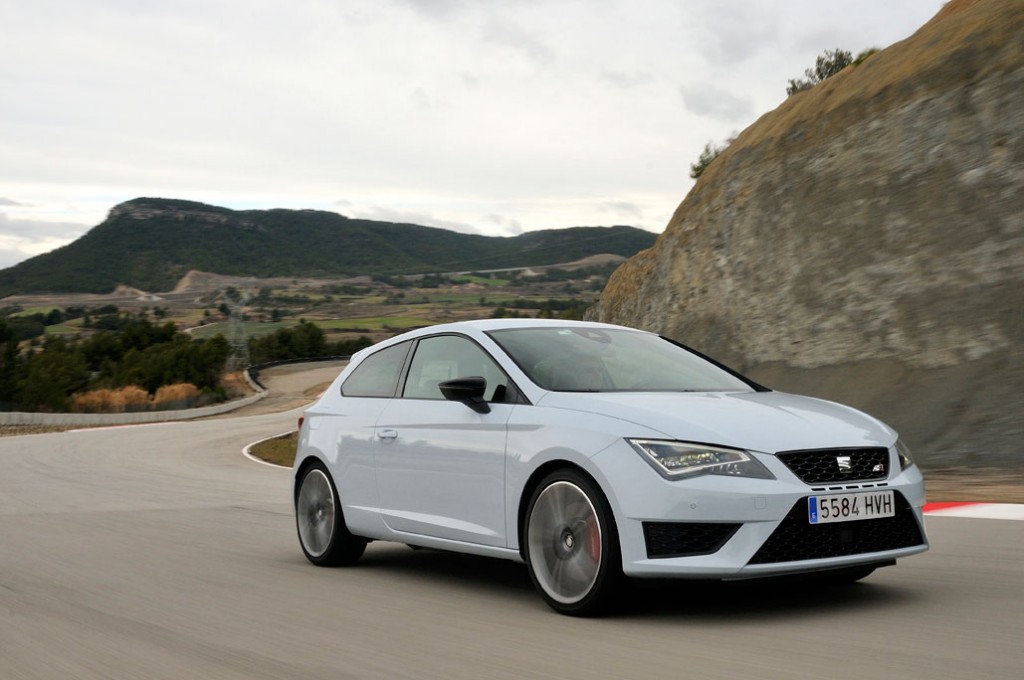 This finance deal also means that a Leon 2.0 TDI 184 PS – the most powerful diesel production car that SEAT has ever made – is available in SC form for just £199 per month. All deals are based on a 10,000 miles per annum contract.
Syphon drove the new Leon Cupra last week in Barcelona, his report including exclusive pics and video is here.