Nine o'clock in the morning, on a day like any other, Nikki Jeffreys was driving to work after dropping off her two sons at school in Swindon, in the south-west of England. Traffic was normal, not too heavy, when out of the blue her car, a SEAT Altea, travelling at some 60mph (100kph) hit another car that had spun out of control on to her side of a dual carriageway. "I was on the verge, with four or five people around me telling me not to move. I could feel my toes, I could feel my hands, so I knew everything was still OK, but everything in between just hurt. Everything was blurred and I was very confused", she relates about one of the most frightening moments in her life.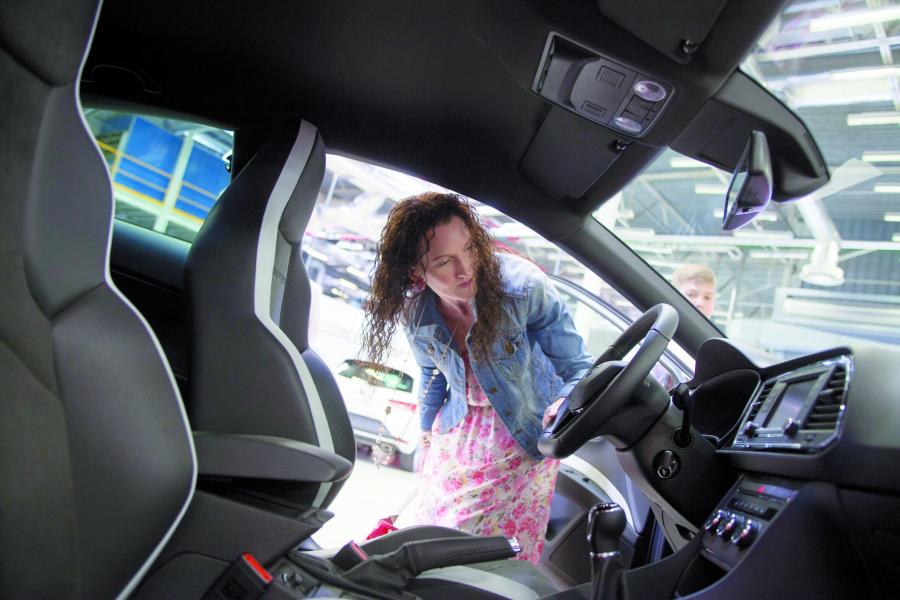 Her husband Glen was travelling a few kilometres behind her, on the same road where the accident happened. Concerned that his wife might have been involved, he tried to call her several times on her cellphone, but without success. He finally got to the accident scene, and saw his wife's totally wrecked car. "When I saw his face, that's when I knew that I was hurt badly, because his face gave it away", she recalls, tears welling up in her eyes.
The impact left Nikki with serious injuries – cuts and bruises all over her body, two broken ribs and a seriously collapsed lung. "I had the mark of the safety belt clearly visible on my body", she explains. On seeing the seriousness of the collision, and that Nikki had survived, a policeman said he was "very surprised", because in his experience, "in other accidents where cars weren't as badly damaged, there had still been loss of life". "You survived thanks to your car", the policeman and a paramedic told her.
While recovering, Nikki could not stop thinking about what had happened, and about just how lucky she had been, so she decided to send a message via Facebook to SEAT to describe what had happened and thank the engineers for the work they had put in to guarantee safety in their cars. "I wanted them to know that I feel very happy. I survived thanks to the car, and my boys still have their mother", she adds.
When they got the message, the SEAT Technical Centre's safety team decided to invite Nikki to see for herself all the tests carried out at Martorell to guarantee safety for driver, passengers and pedestrians. Nikki, her husband and two sons, were witnesses to all the tests that head of passive safety Mario Hurtado and his engineering team provided for them. SEAT's Technical Centre carries out more than 200 development tests a year with the aim of reducing the probability of injury for the occupants of cars as well as pedestrians. Among other tests, they saw how low- and high-speed (sometimes more than 60 kph) crashes were carried out. At the end of the visit, Nikki expressed her amazement, saying that she never imagined that "so much work went on behind the scenes".
"When choosing a car, I normally let myself be guided by design, but now it is clearer than ever that the most important thing is safety. You never think about it, but after my accident I can see it's crucial for it to be there when you need it", says Nikki.
After the accident, and aware that she could have died, Nikki says that now her outlook on life is different. "I certainly appreciate what I've got. My boys. My husband. My family, everything", she concludes.