Nürburg 20/09/2015 – Alex Morgan (Baporo Motorsport) secured his first victory today in the SEAT Leon Eurocup. The British driver got his best result of the season at the Nurburgring after leading from start to finish. Mario Dablander (Target Competition) crossed the finish line behind Morgan in second. The Austrian drove consistently and followed in the wake of Morgan throughout the race, but in the end failed to snatch victory from the British competitor. Jordi Oriola (Target Competition) was also on the podium in the fifth round of the international series and Lucile Cypriano (JSB Competition), was the top Ladies Trophy participant, as she continues to dominate the category with authority.
With very different weather yesterday, the sun welcomed the drivers onto the grid for the tenth race of the 2015 SEAT Leon Eurocup. Alex Morgan got a great start to take over the lead as the race got underway. On the first lap the safety car took center stage after an incident between Pol Rosell (Baporo Motorsport) and Shane Anthony Williams (Wolf-Power Racing). The incident left the Spanish driver out of action, completing a difficult weekend for him.
If yesterday it was Paulsen who dominated the race, today it was Morgan who took control from start to finish in the second race of the weekend, held at the German track of Nurburgring. However, Dablander would not make it easy for him. The Austrian closely followed the Briton throughout the race, but ultimately had to settle for second place and thus took his second podium of the season.
In turn, Oriola (Target Competition) clinched his second podium of the season, in the tenth race in the series. After an intense battle for third with compatriot Fran Rueda (Monlau Competición), the driver from Barcelona emerged on top, having provided a great spectacle for the fans.
Meanwhile, Cypriano sneaked into the top ten again. The French driver, who started 15th, managed to gain six positions to cross the finish line in ninth place. For the sixth time, Cypriano took to the podium as the highest finishing female, thus defending her lead in the Ladies Trophy.
The SEAT Leon Eurocup standings are getting very interesting after no points were scored by Rosell and Paulsen, who was unable to finish the race after an incident with Mikel Azcona (PCR Sport). Paulsen still leads overall with 63 points, with Rosell second (58) and Azcona third (50).
The next round of the season will be on the weekend of 3rd-4th October at Monza. The Italian track will host the 11th and 12th races of the European single-brand series.
Alex Morgan, Baporo Motorsport, 1st place in race 10 of the 2015 SEAT Leon Eurocup, 5th in the overall standings: "It was a very difficult weekend, especially because of the weather. After the first practice, I was quite far behind, so I never thought the weekend would end like this. I gave it everything to finish eighth in the qualifying session and to give myself a chance in the race. Yesterday was a tough day and we were very unlucky. But today, after a good start and maintaining a high pace throughout the race, we got the first win of the season. I am really satisfied!"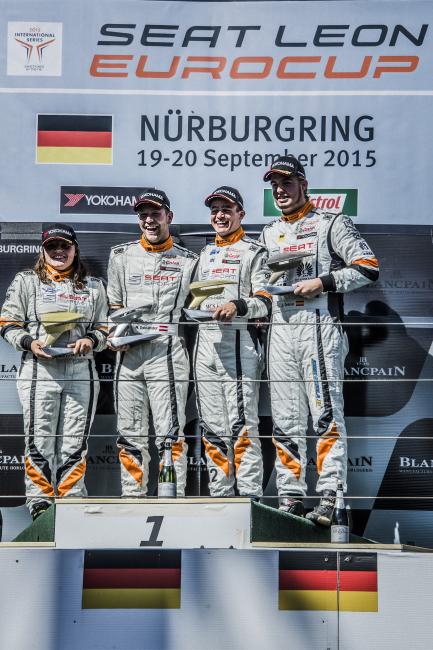 Mario Dablander, Target Competition, 2nd place in race 10 of the 2015 SEAT Leon Eurocup, 6th place in the overall standings: "I am very pleased to have achieved this podium. I saw that I had a good pace and with Alex [Morgan], we had to push hard to open a gap, which then allowed us to drive together throughout the entire race. For us, it has been a very positive weekend overall, with the fifth place yesterday, adding important points overall. At certain points I thought about attacking, but was aware that we would be taking too many risks."

Jordi Oriola, Target Competition, 3rd place in race 10 of the 2015 SEAT Leon Eurocup, 9th in the overall standings:"From the first session been up there, though qualifying did not go as well as I hoped. Anyway, Nürburgring is a circuit I like and where I feel very comfortable. We had a good pace, the same as the top drivers, and although Fran [Rueda] did not make things easy for us, I gave everything I could to get a podium which is very important to us. Hopefully in Monza we can continue in the same way. I am very motivated and looking forward to getting back in the SEAT Leon Cup Racer."
Lucile Cypriano, JSB Competition, 9th place in race 10 of the SEAT Leon Eurocup, 1st in the Ladies Trophy category:"I'm satisfied with the race we had today. After struggling a lot yesterday, we made some changes today which paid off and which allowed us to improve our performance. We will go into the Monza race highly motivated after the race today and I hope that we can again find the feeling that we are looking for."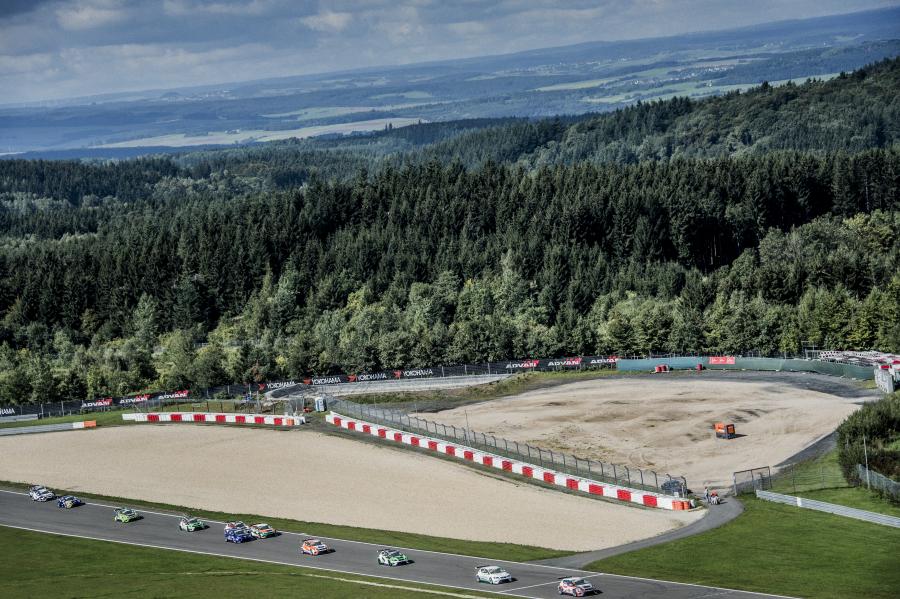 Jaime Puig, Director of SEAT Sport: "It was very exciting! It was a really intense weekend. Nürburgring is a tricky circuit where the weather always plays a part and this weekend it was the same. After these two races the overall standings have got really interesting because today both Paulsen and Rosell were unable to score points, meaning the next two next races will be really intriguing battles."
Results – Race 10:
1. Alexander Morgan (#22), Baporo Motorsport; 27'14.486
2. Mario Dablander (#61), Target Competition; +0.239
3. Jordi Oriola (#33), Target Competition; +1.384
4. Fran Rueda (#28), Monlau Competición; +1.821
5. Shane Anthony Williams (#8), Wolf-Power Racing; +9.355
6. Mikel Azcona (#6), PCR Sport; +9.436
7. Mauricio Hernández (#10), Target Competition; +10.408
8. Lourenço Beirão Da Veiga (#20), Liboro Racing Team; +11.832
9. Lucile Cypriano (#9), JSB Competition; +12.312
10. Jürgen Schmarl (#11), Target Competition; +12.849
11. Thibaut Mourgues (#5), Thibaut Mourgues; +13.266
12. Manuel Gião (#2), Baporo Motorsport; +13.667
13. Andrina Gugger (#24), Target Competition; +14.009
14. Attila Tassi (#19), B3 Hungary KFT; +16.207
15. Guillaume Mondron (#45), Guillaume Mondron; +16.790
16. Julien Briché (#3), Julien Briché; +17.548
17. Stefano Zanini (#23), Stefano Zanini; +17.742
18. Marco Pellegrini (#67), Marco Pellegrini; +23.437
19. Pierre Etienne Chaumat (#16), JSB Competition; +23.886
20. Jean-Laurent Navarro (#77), Jean-Laurent Navarro; +25.759
21. Jaume Font (#4), Monlau Competición; +27.740
22. Marie Baus-Coppens (#21), JSB Competition; +28.892
23. Finlay Crocker (#88), Finlay Crocker; +35.548
24. Edina Bús (#87), B3 Hungary KFT; +41.273
25. Stian Paulsen (#34), Stian Paulsen Racing; + 1 lap
DNF:
Pol Rosell (#1), Baporo Motorsport

SEAT Leon Eurocup 2015 standings:
1. Stian Paulsen (#34), Stian Paulsen Racing; 63 points
2. Pol Rosell (#1), Baporo Motorsport; 58 points
3. Mikel Azcona (#6), PCR Sport; 50 points
4. Fran Rueda (#28), Monlau Competición; 34 points
5. Alexander Morgan (#22), Baporo Motorsport; 34 points
6. Mario Dablander (#61), Target Competition; 33 points
7. Julien Briché (#3), JSB Competition; 32 points
8. Shane Anthony Williams (#8), Wolf-Power Racing; 24 points
9. Jordi Oriola (#33), Target Competition; 24 points
10. Mauricio Hernández (#10), Target Competition; 16 points
11. Loris Hezemans (#50), Target Competition; 13 points
12. Jonathan Cocker (#8), Wolf-Power Racing; 11 points
13. Lucile Cypriano (#9), JSB Competition; 11 points (LT)*
14. Norbert Kiss (#15), B3 Hungary KFT; 5 points
15. Manuel Gião (#2), Baporo Motorsport; 4 points
16. Thibaut Mourgues (#5), Thibaut Mourgues; 3 points
17. Andrina Gugger (#24), Target Competition; 2 points (LT)*
18. Jürgen Schmarl (#11), Target Competition; 1 point
19. Lourenço Beirão Da Veiga (#20), Liboro Racing Team; 1 point
20. David Cebrián (#4), Monlau Competición; 1 point
* Ladies Trophy
For more information on the SEAT Leon Eurocup, visit www.seat-sport.com/eurocup