SEAT and Ducati have signed a year-long agreement to jointly participate in the MotoGP World Championship. The 300 PS SEAT Leon CUPRA, the most powerful model in the history of the Spanish brand, will be the official car in the upcoming season of the Ducati Team in MotoGP, which consists of three-time world champion Jorge Lorenzo from Spain and Italy's Andrea Dovizioso.
In addition to the historic first of featuring the Leon CUPRA as the team's official car, the agreement also includes placing the brand's logo on the front of the Italian manufacturer's motorcycle, as well as on the racing leathers of the riders and team member uniforms.
SEAT and Ducati are part of the Volkswagen Group and share values such as "dynamism, passion for design and commitment to innovation and technology", according to SEAT Sport Head of Strategy, Business Development and Operations, Antonino Labate. "These values are a mainstay of the SEAT Leon CUPRA which will be making its debut as the official car of the Ducati Team in March at the night-time race on the Losail circuit in Qatar," he added.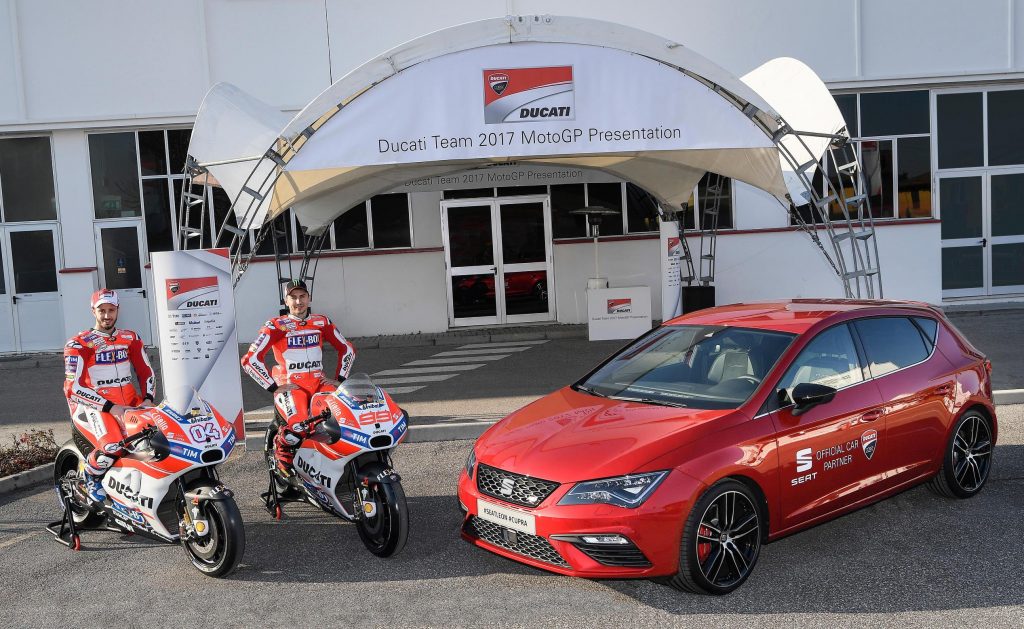 Another thing both brands have in common is a successful track record in competition racing. Since 1970 and with the expert guidance of SEAT Sport, the Spanish brand has won two World Touring Car Championships (2008 and 2009), more than 25 rally titles, and has successfully organised several single-brand competitions worldwide. Likewise, the Italian brand has been competing in MotoGP for 14 years, winning 33 races, and 24 seasons in the Superbike World Championship, conquering 17 manufacturers' world titles, and is present in several other national championships. In 2007, the team won the MotoGP World Championship with Australian racer Casey Stoner.
Sporting Director of the Ducati MotoGP team Paolo Ciabatti said: "We are very happy to welcome SEAT as official team car for the 2017 MotoGP championship, in what is going to be a very exciting season for Ducati with Jorge Lorenzo and Andrea Dovizioso. The SEAT Leon CUPRA is a very sporty model and we are sure that our riders and team members cannot wait to have the chance to drive the new car very soon."
The official Ducati Team car, the SEAT Leon CUPRA 300, is the most powerful in the history of the Barcelona-based brand. It is also the fastest, as it accelerates from 0 to 62 mph in just 4.9 seconds. The new model, which is set to reach dealerships in March, represents the values of the SEAT brand by combining attractive design with cutting-edge technology.
The MotoGP World Championship, which is scheduled to make its season debut on 23 March in Qatar, will feature a total of 18 races in 15 different countries on four continents, and will be watched by over 2.6 million spectators at circuits throughout the world.