SEAT Leon Cupra 280 DSG laps Nordschleife circuit in 7:58.4 minutes
Cupra 280 becomes the quickest ever front-wheel drive production car around the 'Ring
Premiere of Mii by MANGO alongside Leon Cupra at the Geneva show
Leon Cup Racer, set to star in one-make Eurocup, also on display
SEAT sales up by 10.6% in 2013
The SEAT Leon Cupra 280 has smashed the Nürburgring Nordschleife lap record for a front-wheel drive car. With an astonishing time of 7:58.4, it becomes the first FWD production model to dip below the eight-minute barrier.
The car used to set the amazing lap time was a production-specification Leon Cupra 280 DSG, equipped with an optional Performance Pack* that includes Brembo high-performance brakes, specially designed 19-inch alloy wheels and Michelin Pilot Sport Cup 2 tyres.   *The SEAT Leon Cupra Performance Pack is not yet available in the UK, an announcement will be made in the due course.
Formally announcing the record at the Spanish company's Geneva Motor Show press conference, SEAT S.A. President Jürgen Stackmann said: "Our ultimate expression of the successful Leon formula is the all new Leon Cupra. It is the fastest and the most powerful car we have ever built and yet is a comfortable family car. The Cupra is our new icon."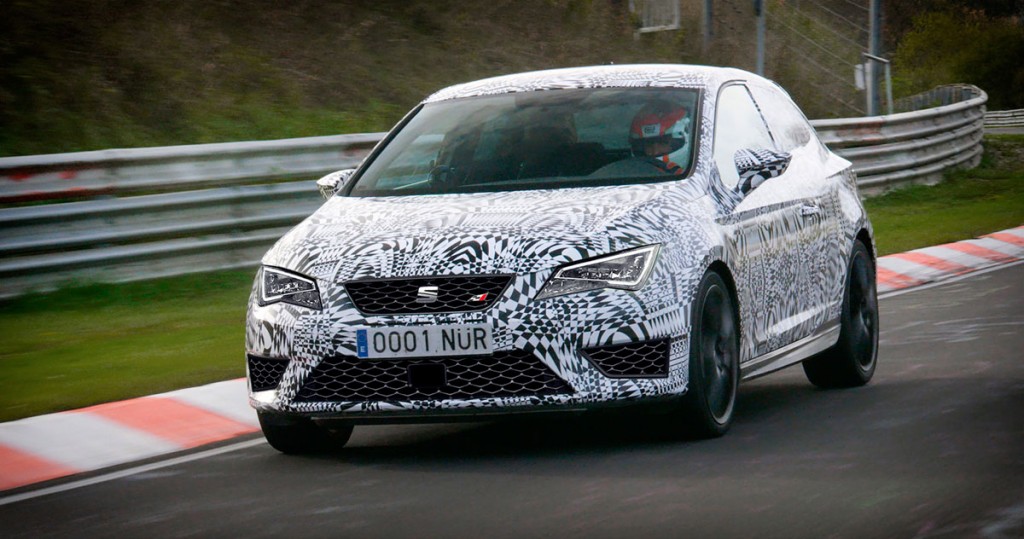 Sticking with a high-preformance theme, SEAT is also putting the new Leon Cup Racer – the competition vehicle developed and built by SEAT Sport – on display in Geneva. The Cup Racer forms the basis of the Leon Eurocup, beginning in May 2014 and which invites private race teams to compete on some of Europe's most iconic racing circuits.
Another attraction on the SEAT stand is the new Mii by MANGO, a new range-topping, design-driven edition of SEAT's city car created in collaboration with the famous design label MANGO.
SEAT's soaring sales
SEAT is currently demonstrating impressive performance in its sales figures. With 355,000 vehicles delivered worldwide, the Spanish manufacturer achieved growth of 10.6% in 2013, in a market that shrank by 1.8% in Europe. In Germany, for instance, SEAT achieved a market share of 2.8% following growth of over 22%, placing it in the top ten. In the United Kingdom, registrations of the brand increased by around 17%, and close to 8% in its home market of Spain. The new Leon family made a major contribution to this success: no less than 102,000 new SEAT Leon models were registered in 2013, 44% more than in the previous year.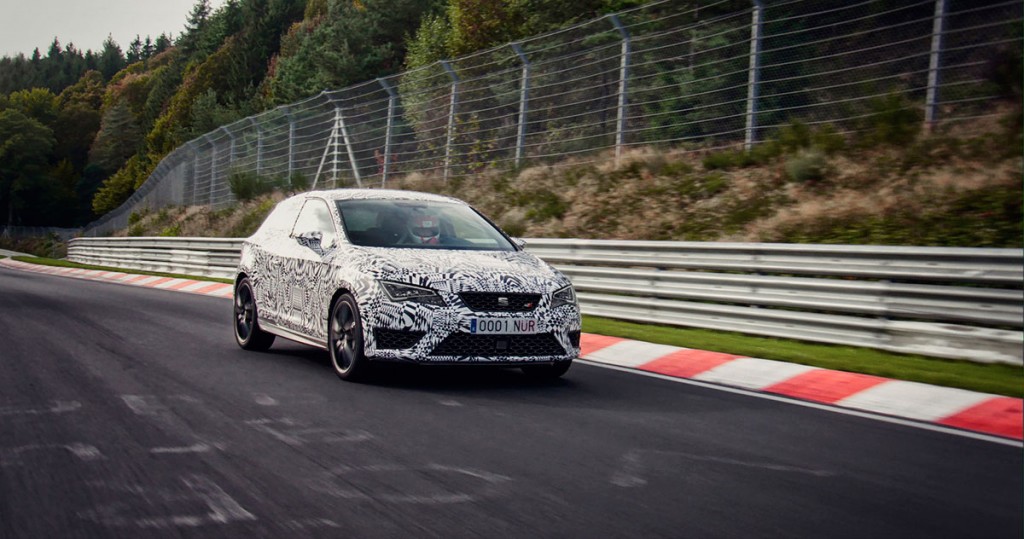 "SEAT clearly has positive sales momentum. The new Leon family is a key contributor to this growth. We are about to create a second strong pillar of business next to the Ibiza family. We expect to continue this success with the new Leon ST launched in the past months. First customer reaction is very positive, with over 20,000 factory orders already since launch period. We have momentum and plan to continue our growth path in 2014," says Jürgen Stackmann, President of SEAT S.A. "SEAT is a young-spirited brand made in Barcelona. This young spirit is defined by two dimensions: we are design-driven and we are dynamic."
The new SEAT Leon Cupra
The new Leon Cupra embodies SEAT's brand values in the best possible way: state-of-the-art technology and stunning design, coupled with compelling performance and excellent everyday usability. With up to 280 PS, the new Cupra is the brand's quickest and most powerful series-production car, and is the most dynamically engaging car SEAT has ever produced – while remaining comfortable day-to-day. With its extensive equipment and excellent quality, the new Cupra represents exceptionally good value-for-money. This new sports icon for the SEAT range will be offered from launch as a five-door and as the Leon three-door SC.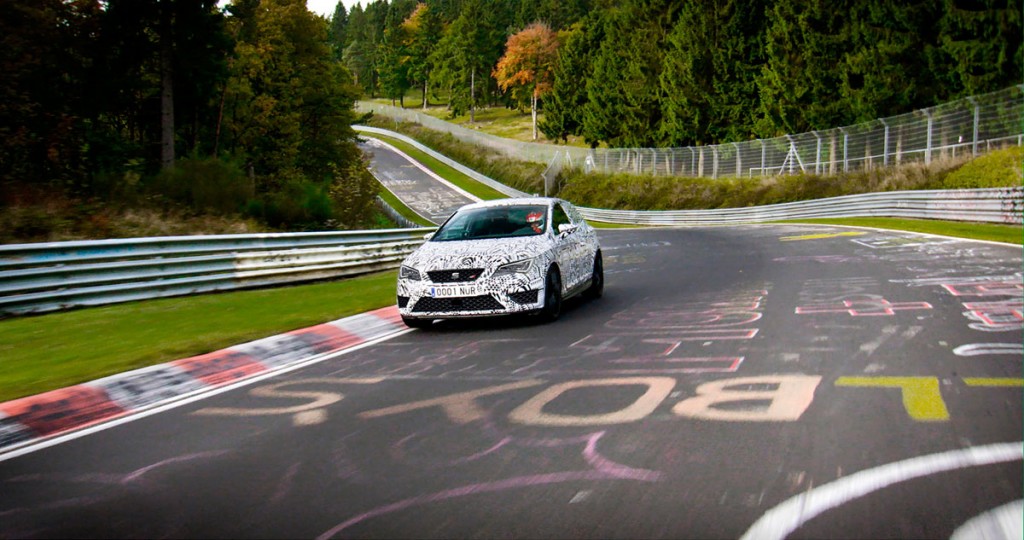 Impressive record on the Nürburgring
The new SEAT Leon Cupra has demonstrated its phenomenal performance in the best possible way, with an impressive record on the world's most demanding racetrack. The record time achieved (7:58.4 minutes) was possible thanks to the technological precision of the Leon Cupra, equipped with the optional Performance Pack* including Brembo high-performance brakes, specially-designed 19-inch alloy wheels and Michelin Pilot Sport Cup 2 tyres.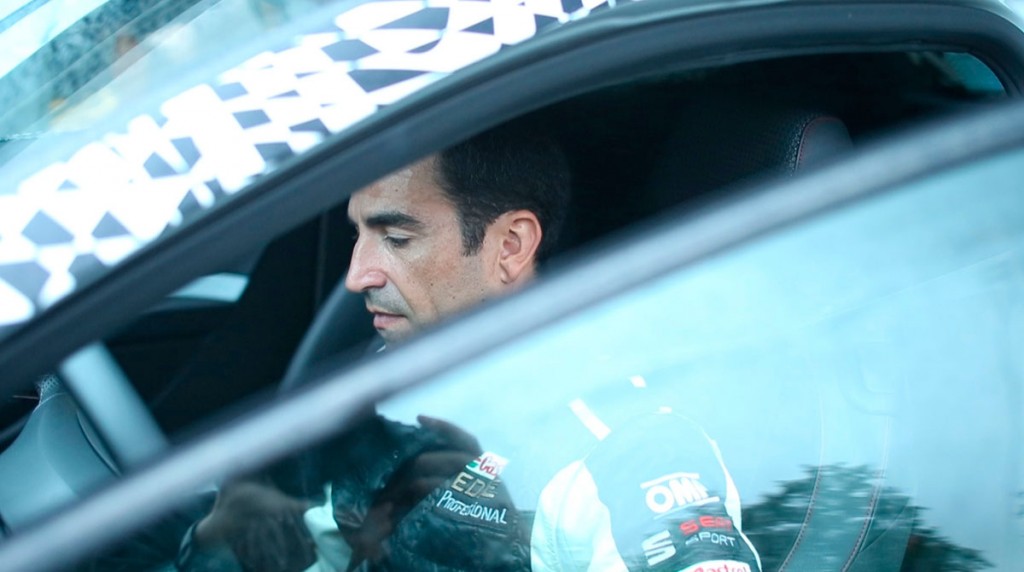 The average speed was 96 mph, with a top speed of 150 mph on the Tiergarten section of the circuit. The circuit surface was dry, with an ambient temperature of 10ºC and a track temperature of 8ºC. There is no doubt that such an outstanding record time was achieved not only because of an exceptional car, but also thanks to a driver who was equal to the situation. Sitting behind the wheel of the Leon Cupra 280 was the Spanish driver Jordi Gené, official SEAT driver between 2003 and 2010 during the European Touring Car Championships (ETCC) and World Touring Car Championships (WTCC), among other events. He was also a member of the Leon Cupra development team at the Nürburgring.
Leon Cup Racer
The new Leon Cupra delivers the basis for an impressive, professional race car, presented by SEAT at the Geneva Motor Show ready for its first season on the racetracks of Europe. This 330 PS car will have its debut in May at the start of the new single-brand championship, the SEAT Leon Eurocup, to be held over six race weekends in six European cities and with attractive prize money.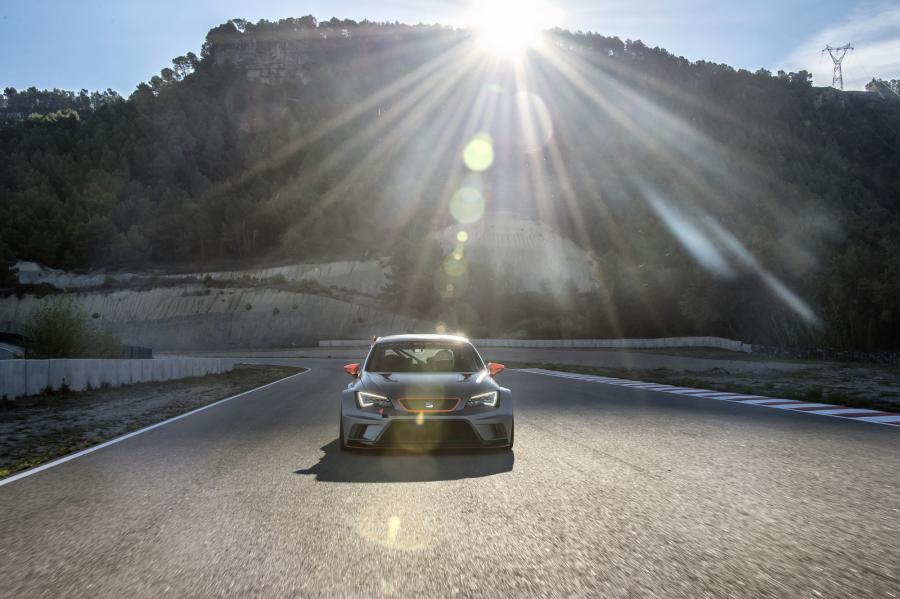 Mii by Mango

The new Mii by MANGO is a special edition of SEAT's city car designed in collaboration with MANGO, the world-renowned fashion label from Spain. With a raft of features that set it apart from the standard version, including an exclusive 'Nude' paint colour and Alcantara upholstery, it's a stunning way to top the Mii range.
Available with three- or five-doors, its standard equipment list includes ESC, ABS, front- and side airbags for driver and front-seat passenger, head and chest airbags, deactivation of front-seat passenger airbag, Isofix anchor-points with Top Tether on the two rear seats, air conditioning, CD/MP3 radio + aux-in, hill start assistant, remote-control central locking, a 12V socket in central console and electrically-operated front windows.