SEAT UK recently ran a secret competition for a number of lucky winners to experience the new Leon Cupra.  Entrants did not know what the prize would be other than it was to do with the new Leon Cupra.
It had our members baffled along with the strange competition entry criteria, namely height, weight and location restrictions.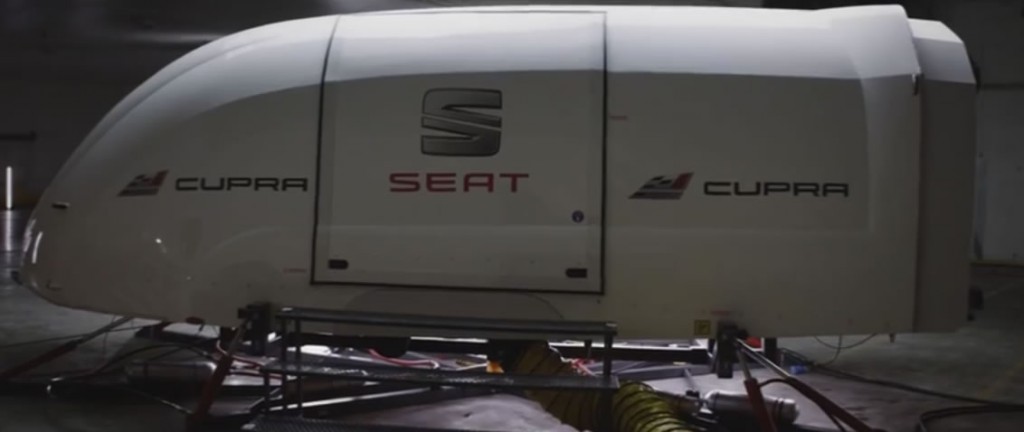 SEATCupra.net were offered two entries for our members and we ran the competition on our website.  In total 187 SCN members entered and our two winners were drawn and notified.  As you can imagine they were pretty excited to win, even though they did not know what the prize was at the time.
The day turned out to be an exhilarating experience and in our opinion one of SEAT's best PR videos to date.
Our winners, Jason (jc_boc) and Michael (JU5 2 SLY) have kindly written about the day's experience from their own individual perspectives.  You'll find the end result in the video at the end, which features both Jason and Michael from our site. The guys took some pictures from the day as well which you will also find at the end of the article.
Jason's account…
"Cab picked me up at home and took me to the Abbey Hotel in Sheerness. Had a light lunch while waiting for the production company to come and collect us.  Apparently the previous guys before us had been waiting for a very long time but they were eventually collected, this left us to wonder what exactly was in store for us.  After an hour or so they came and collected us and took us to the port in Sheerness, proceeding to put us in another room, more conspiracy theories abounded while waiting for them to return.

Eventually they came and collected us, explaining that we would be involved in the testing of a new simulator that their technicians had been working on for something like two years.  Although initially disappointed  by the fact that we would not actually be getting to drive the new Cupra, I consoled myself with the fact that I would at least get to see it in the metal. So we arrive at this warehouse and get taken in where we finally see the simulator. We were then told that we would be wearing helmets with earphones, for better sound effect, noticing the two people that had just stepped out of the simulator animatedly chirping about how good it was.

So as we get our helmets I look inside the simulator and mention the fact that I can actually see the rear end of the Cupra in it, thinking to myself this is a nice touch to make it feel as genuine as possible, and thought no more of it.  Put on the earphones and helmet at which point I was led to the "machine" and proceeded to squeeze myself into the bucket seat that was fitted. So all I could see at this point are the two bucket seats, two screens, cameras all over the place and some grab rails strategically placed.  At this point I started getting even more excited with anticipation of what this simulator would perform like, half expecting it to be not much different to others I have been in before.

Once strapped in we were advised of the grab rails and NOT TO TOUCH THE DOOR HANDLES at any point in the simulation. You obviously think that makes sense because you will be inside a box that is gyrating all over the place. They then shut the doors and a video presentation began to roll, giving the usual run down on the Cupra's specs etc. all the while we could feel the simulator moving around, assuming it is preparing for the demonstration.  So video finished there is suddenly a count down, butterflies in my belly, and then picture……..

We are in a warehouse, the engine is revving, dump valve making the sweetest noise I have ever heard and out of nowhere screeching tyres and this red Cupra comes sliding into shot and drives straight up to us. I was just thinking to myself, damn that Cupra looks insane!!!! Next minute the red one start reversing and I am thrown back in my seat as we start following it, the red one does a 180 handbrake turn and we almost go into the back of it, swerving at the last minute.  By this point I am smiling like a kid on Christmas day that has just got that gift he has been lusting after all year, you know, that present every kid on the block is gonna hate you for having. So we are chasing the red car, I am laughing and thinking to myself at the same time, you know, they have done a damn good job with this as it feels pretty realistic to me.


It is strange to explain but because you cannot see outside of the windows the movements do really feel "simulated" and we are crashing through water and holes and handbrake turning every where.  Going round obstacles, through warehouses and out onto the harbour front, i even spot a helicopter on the screen flying along side us.  Impressive I think, they really have thought of all the details with the video presentation too.  We eventually come down a ramp to the harbour edge where the red Cupra has nowhere to go.  We screech to a halt almost thinking the car is going to bail into the water but we stop, perfectly. All I can see is an amazing sunset and I am thinking this was fantastic!!!!!

So the door opens where I climbed in the first time and I suddenly see it is really bright, then I spot the red Cupra standing there and slowly it sinks into my head, I HAVE REALLY BEEN TAKEN FOR A RIDE IN THIS CAR!!!! My door suddenly opens and I am taken out the car to see this helicopter hovering over the water, the red Cupra standing there, the production team with cameras, our car with this massive camera on the bonnet and an Audi RS4 in matt black (chase car). We were asked all these questions about whether we knew it was real or not and I was just speechless.

So not what I expected at all and it made the wait perfectly worth it!  We were taken back to the warehouse, in the same car being driving like it should.  Arrived to all the crew clapping and cheering. We were then introduced to Andrew McGregor who had a few questions too and then took us to another white 5 door 280 so we could have a poke around it. Asked a few more questions and got a general feel for the inside of the Cupra.  Took a few pics, started it, revved it, pushed buttons etc. We stayed for a while and watched the next two guys go for their experience and then sadly had to leave.

All in all one of the best days I have had in a long long time and I am honoured that I was fortunate enough to experience this.  Will not easily be forgotten."
and Michael's account…
So getting into a taxi that you have no idea where it's going is strange and so was the Isle of Sheppey. Having no return taxi back home booked made me think what are we in for? I briefly had my hopes up that we might get a Cupra to drive home in 😀 We arrived at the first destination, The Abbey Hotel where Jason spotted me. No SEAT reps there to greet us but there was a tab open for us at the hotel so me and Jason got a bite to eat and get to know each other. Seems that we've both been at the same events throughout the years but just missed each other by attending different days. We were kept in the dark the whole time and nobody knew what was going on. Waiting in anticipation for the phone to ring or for someone to collect us. 3 hours later a Transporter appeared and picked up 2 guys from PistonHeads and said that they would be back for me Jason in an hour. True to his word he back exactly 1 hour later. We left the hotel, it was a 5min drive which ended up at the Docks. Issued with visitor passes we were dropped off in an empty room in a quiet building and asked to wait. 30mins later 2 SEAT reps appeared like FBI agents equipped with earpieces and we filled out some media forms. Then we were driven to a warehouse.

We walked in and it looked like a music video shoot with light tubes everywhere but with some sort of structure in the middle of the room. Still no sign of the car! SEAT said that this was 2 years in the development and it became obvious to us that it was a simulator and then I noticed a mock up of a Leon in the simulator. That was the moment they asked us if we had any heart conditions, back problems or the possibility of us being pregnant ;-). We were being filmed the whole time. We saw a pair that had just come out of the simulator and we thought to ourselves 'how did these guys manage to queue jump?' as we hadn't seen them before. So we were asked to put on some earpieces to feed us the audio and then the helmets went on and before we knew we were getting into the simulator. This seemed like a slick operation. When we got in the simulator we had a bucket seat each. The only resemblance to the Cupra was the door trim apart from that I just believed we were in a purpose built simulator with a monitor and a camera to record us. We were given one piece of advice… if you feel like you are going to be sick, stick your hands up to the camera.

So the simulator started with a promo video of the Cupra. I could feel the simulator moving but it wasn't that impressive. There was a scene that the Cupra hit the rumble strip on track and I could feel that the simulator sort of got that right at least. So I wasn't expecting much from what we had just experienced.

Then the movie stopped, we could hear an engine start and rev in our earpieces. A red Cupra launched itself in front our screen. All I remember thinking was 'Hmm'…. 'Looks good in red'. The red Cupra rapidly reversed and we were thrown back in our seats and it became clear that this was a car chase simulator. I was finally grinning as this was way better than the start up video. The red Cupra 'J' turned and we were so close to hitting it. The picture quality was very clear and every thing felt so real like they had really nailed the physics on this simulator! I kept thinking throughout 'Wow, they really did spend 2 years developing this and it was worth it'. The chase was awesome and like being in a James Bond scene, weaving in and out of obstacles, hand brake turning and pushing the car hard. I could feel every paving block we drove over and the attention to detail from the force feedback was insane. I even saw a pothole that we were approaching and I clenched and 'boom' right on cue as we drove over it. These guys were wizards. The cornering physics were great, the car would point, grip and go, this was too good to be true. The chasing was insane with a few near misses and it was coming to an end as the red Cupra was heading into a dead end. We were coming down a ramp and I could feel the car lift over the crest and then some hard braking. I thought that we were going into the sea. I actually hoped that we were going to fall into the sea so I could feel what the simulator would do in a splash crash!

So the screen went black again and I was grinning with amazement, that was the best simulator I have ever been in. Then the door opened, I saw a quick snapshot…Daylight!?! What? I look to my right and see a red Cupra and clocked a helicopter in the sky! I turned to Jason in disbelief and said something that came naturally to me. We got out of the car and we were bombarded with cameras, I was still in shock of what had just happened. I can't remember what I was saying at the time when SEAT interviewed us as the reality of what happened was just settling in… we had been truly punk'd. And I'm grateful that neither of us had to put our hands up to the camera as this is one of those once in a lifetime experiences.

In the background we could hear the crew talking and saying 'That was the one'. We were interviewed some more and we congratulated both drivers; Paul Swift and one of his academy drivers. We got back in the car, which was still blacked out, but now we knew we were in a car and could talk to the driver. So we kindly asked him to put his foot down when returning back to base. Which he did nicely throwing in a few more hand brake turns. Acceleration, grip and power delivery of the Cupra is awesome.

When back at base we actually got to admire the Cupra as well as being interviewed some more and meeting the people that put it all together. We stuck around some more, enough to see the actors go for a test run in the Cupra, lots of fake smiles there and playing to the camera, the actor looked like he was bricking it and the actress eventually put her hand up to the camera for that very reason which SEAT had told us. We were behind the scenes of what looked like a movie set viewing the cameras in real time as the action happened out in the docks. We left the set late and were told not to speak of it until the video was out.

Seeing the video online was magic! Really well edited showing an insane chase. I though that it would be a mash-up of all the people from the day but it seems that our SeatCupra.net chemistry prevailed and we just enjoyed ourselves! Love the video!

It was a fantastic experience I will never forget! I didn't care that we didn't get to drive anything as what happened on the docks of the Isle of Sheppey was far superior! Thank you SEAT and SeatCupra.net!
Below is the finished result. A great video by SEAT that we know has already resulted in a few CUPRA orders going in.
https://www.youtube.com/watch?v=dNH3vx4ugH4
Here are some of the pictures the guys took on the day.