SEAT is presenting some unique classics in hall 7 of this year's "Techno Classica" (15 – 19 April) in Essen. Throughout its history, the Spanish carmaker has built not only popular series-production vehicles, but has also ventured into some very special products. One of these rarities even has a Papal blessing.
For the 27th "Techno Classica", international trade fair for classic and prestige automobiles in Essen, SEAT has dug deep into its archives and pulled out a couple of historic one-offs. Under the heading "Technology Tradition – 40 Years of the Centro Técnico", SEAT is making a few very special automotive conversions undertaken by its technical centre (Centro Técnico") the focal point of its display. One of the one-offs in question is the "Popemobile". The SEAT Panda Marbella conversion was engineered in 1982 specifically for the visit to Spain of Pope John Paul II. But the history of special vehicle production at SEAT goes back much further.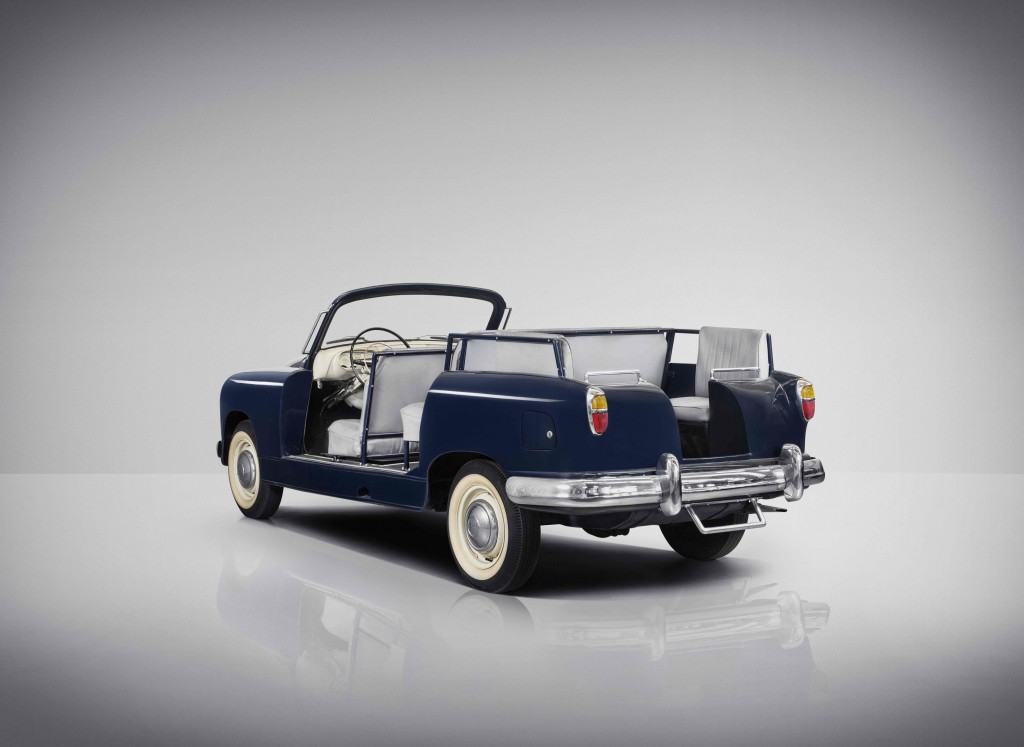 SEAT 1400 Visitas – the visitors' car for government representatives
As far back as 1954, high-ranking visitors were able to explore the SEAT production halls in Barcelona's Zona Franca in a very special vehicle. The SEAT 1400 Visitas would hardly have been suitable for use in normal traffic as it had neither doors, nor a roof, nor seatbelts. Handgrips on either side of the windscreen and on the front seat backrests, as well as steps along the side of the vehicle were all that was required to allow passengers to step quickly in and out at key points along the production process. With two generously sized benches and additional seating integrated into the rear, it even offered space for up to seven people. An engine output of 44 PS was more than enough for touring the SEAT factory.
An Even More Comfortable Ride through the Factory with the SEAT 600 Savio
The SEAT 600 Savio was devised by designer Pietro Frua, who created some stylish bodyshells in the 60s. With its large windows and three rows of seating, the somewhat tub-like vehicle with blue paintwork was predestined for conversion into a visitor car. A removable hardtop enabled an even better view of machines and workforce alike. This was accompanied by smaller wheels, which were ideally suited to manoeuvring among the narrow production lines.
From the SEAT Panda Marbella to the "Popemobile"
Pope John Paul II made his first visit to Spain from 31 October to 9 November 1982. SEAT's contribution to this important event was one of the most peculiar of car designs. The Spanish carmaker created the custom-made "Popemobile" in just 15 days, using the SEAT Panda Marbella as its basis. It had no roof and no windows, with a handrail mounted instead on a pickup-style rear end. Pope John Paul II used the "Popemobile" several times, including his entrance into the Estadio Santiago Bernabéu in Madrid and his arrival to celebrate Sunday mass at the Camp Nou Stadium in Barcelona. According to reports, the Pope transferred from his usual vehicle to the SEAT model because his official "Popemobile" was too high for the entrance into the football stadiums.
These relics of remarkable SEAT creations can be examined in detail on the 160-square-metre show stand in hall 7 of the "Techno Classica" in Essen from 15 to 19 April.