SEAT UK's new 'Store' retail concept, complete with on-site test drives, is first for SEAT in city shopping centre environment
In association with an existing franchise dealer partner, Group 1 Automotive
SEAT Store at intu Lakeside boasts several innovations using technology to enhance the customer experience, along with guaranteed seven-day car delivery from point of order (subject to finance) and unaccompanied test drives
Relaxed, no pressure retail and 'Experience Centre' environments also offer no-haggle pricing, staffed by 'SEAT Experts'
The way that British consumers research, test and buy goods is evolving daily. So, SEAT UK has taken the bold and exciting step of launching its first "Store", in association with long-established franchise partner, Group 1 Automotive, at one of the UK's largest shopping centres, intu Lakeside in Essex.
Opened officially on 1 September, SEAT Store, the firm's first store concept gives the Barcelona-based brand further coverage in the highly competitive London and M25 area, as well as access to intu Lakeside's 26 million annual customers.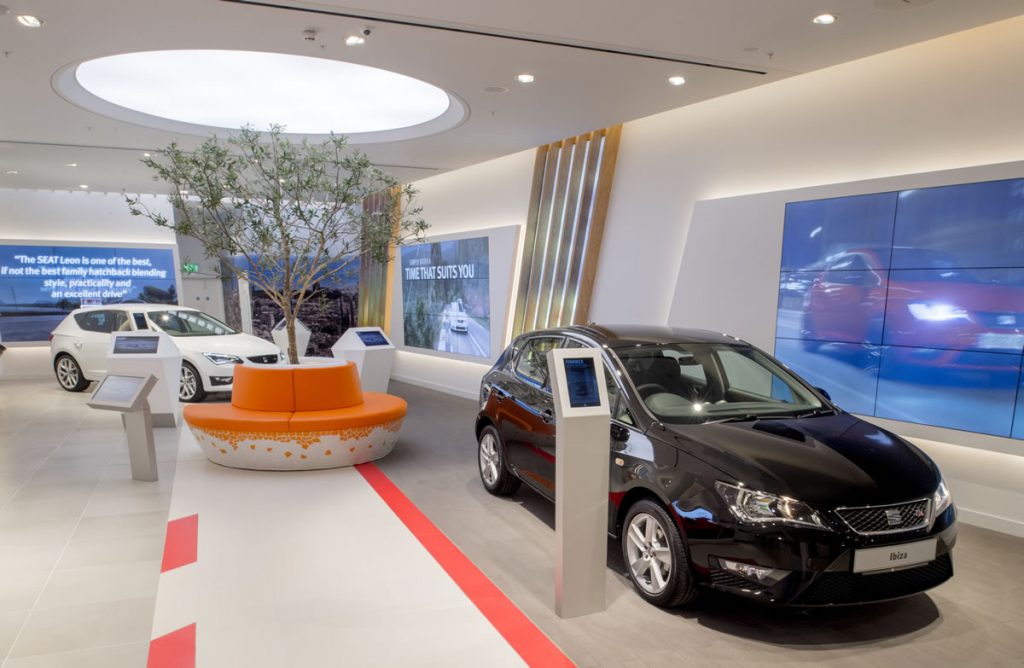 Commenting on the latest SEAT innovation, Richard Harrison, Director, SEAT UK, said:
"Our new store is a world first for us, and I'm delighted to be working with Group 1 Automotive to deliver such an exciting venture. We are passionate about finding ways to make it even easier for people to discover and fall in love with our award winning range of cars. With a great team of product experts on board, a stunning new store and experience centre, and the all new SEAT Ateca also launching next week, I am sure the millions of shoppers visiting intu Lakeside are in for a real treat!". Darren Guiver, Deputy Managing Director at Group 1 Automotive, added, "We're really excited to be the first car retail store at intu Lakeside, and working closely with the SEAT team to deliver this exciting new concept."
What SEAT Store offers
The new SEAT site boasts a stunning 150m² store with three display cars, complete with an outdoor Experience Centre housing an additional 16 SEAT models to be explored and test driven. The store's arrival has also led to the creation of 13 permanent, full-time local jobs.
Richard Harrison concluded, "The inspiration for the Store design builds upon our dynamic new dealership corporate identity, which is already half way through a plan that will refresh the look and feel of our entire dealer network across the UK." This has been further amplified with the theme of 'spirited spaces and warm welcomes', using natural materials to give the feeling of a relaxed space, combined with with Mediterranean-inspired colours. Topping off the Barcelona vibe, there's even an olive tree taking pride of place in the centre of the store, with in-built Gaudi-style seating for weary shoppers. This, together with the latest interactive and connected technologies, creates a relaxed space for the customer to discover SEAT.
In keeping with the traditional relaxed and browsing-oriented retail environment, customers can choose to do as much, or as little, of the buying process as they wish. They have the option of researching their perfect SEAT through eight 22-inch digital info "hubs", where they can also configure and explore financing options, arrange test drives for that moment, or for a future point in time, and even get their trade-in car valued. There are also a number of 70-inch ultra HD screens, highlighting the brand's latest award wins, enticing offers and exciting product features. Or, they can seek SEAT Expert help as soon as they come into the Store.
But if you're desperate enough on how can i get a loan with very bad credit, you might feel that if a company is dumb enough to loan you money despite your bad credit, it's better to take the money and ask questions later. But it's actually better to ask questions now. Here are some common bad credit loans – and why it's better to stay away. Visit https://nation21loans.com/ for further info.
In another interesting break from the norm, test drives can be taken unaccompanied, allowing customers the opportunity to really get under the skin of their potential new SEAT, possibly with friends and family on board too, in a relaxed way.
Crucially, for those who aren't keen on waiting several months for their new pride and joy either, SEAT Store will have a number of models available for delivery seven days from the time of order (subject to finance approval).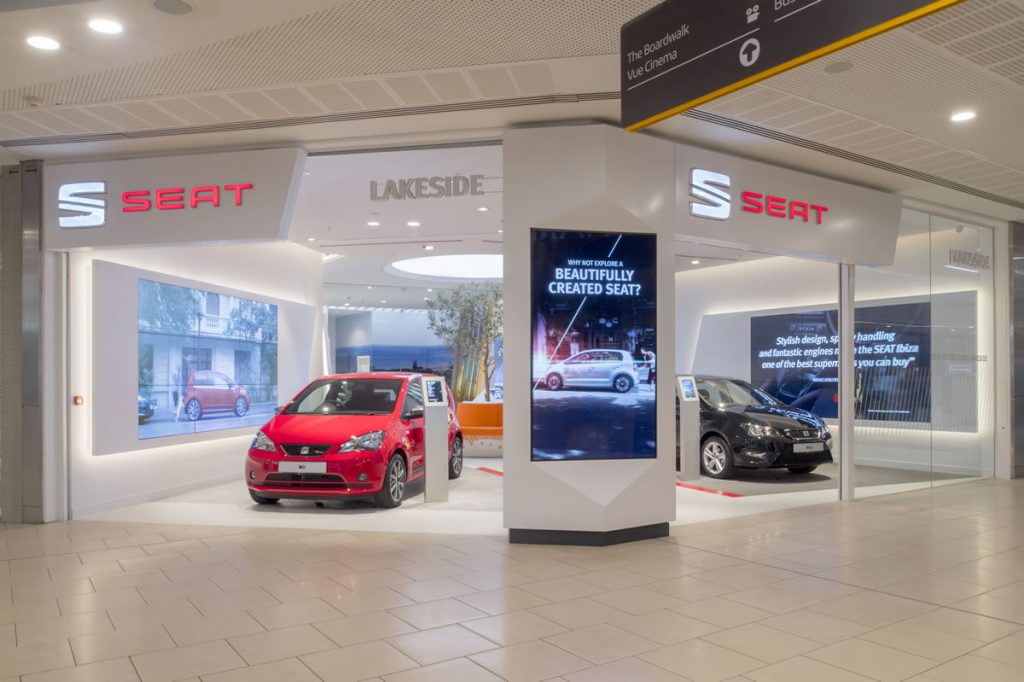 The new SEAT Store Team
Last, but by no means least, are the new staff manning the Store and Experience Centre. The 13 highly-trained SEAT Experts are approachable, knowledgeable and with exemplary customer service at the heart of everything they do, each have completed an intensive SEAT training course on brand and product knowledge, plus customer behavioural and experience sessions, including an extensive induction in Barcelona – the home of SEAT.
Online touch
SEAT Store also boasts its own leading-edge website, where customers can arrange a whole host of things. Starting with browsing real-time stock, they can also pre-book test drives, reserve a car online and even apply for finance and complete a personal quotation. Ensuring the process is as easy and transparent as possible, they can also receive a part-exchange valuation, by simply entering their car details (age/mileage/condition) and the price will be honoured with a 30 day guarantee.
In keeping with the rest of intu Lakeside, SEAT's latest venture will also be extremely convenient, with long opening hours 10am-10pm Mon-Fri, 9am-9pm Sat, 11am-5pm Sun. Shortly after launch, SEAT Store customers will also be able to service their cars too.
Full details are available at www.seat-store.co.uk/Lakeside or by visiting SEAT Store at intu Lakeside.