Hello everyone in 'SeatCupra.net'. I have been logging in a few times since I found the site some months ago.
My entry into the 'family' is as a result of the 60th birthday present to myself in June last year.
I am the very proud owner of a Cupra Ateca C&S plus Design in Rhodium Grey and couldn't be happier.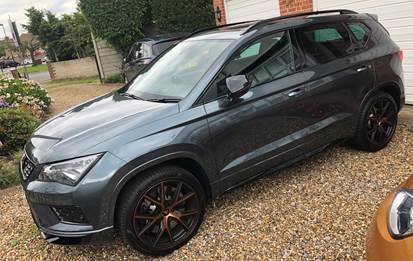 Having missed out on the 'hot hatch' era, call it late mid-life crisis, I decided I wanted something different to the mundane family saloon and later largish SUV's.
Obviously I don't have any experience of anything similar to compare performance wise, but the near 300 horses are mind blowing.
Only downside is kerbing one of the wheels, any ideas where I can get some copper touch-up?
Regards
Steve