Blue... Oh go on then
Staff member
Moderator
I'm back reviewing after doing the
review
for my beloved Cupra R...
As before this is a simple man's
review
with no massive tech knowledge so anything you see that seems a little flash is possibly from Google. I'm open for any questions you may have.
Also note that I'm not a professional photographer so the pictures I have are taken from my OnePlus 3T phone and with the amount of lights above there maybe quite a few shadows on pictures etc.
I was very fortunate to be asked to join the SEAT UK press team on their trip to see the unveiling of the new Tarraco in Spain, the location was a nice little arena with a couple of hundred people in attendance.
After some mingling we got a nice big video showing of bits of the car and we were invited in to the rear of the arena to sit down, we had a few speakers before we actually saw the car.
I got a very poor video of the entrance of said car if you'd like to see it please click on this fine link I have provided
Here's a few pictures of the 2 examples they brought out both models were the Excellence model with one 5 seater (grey) and the 7 seater (blue)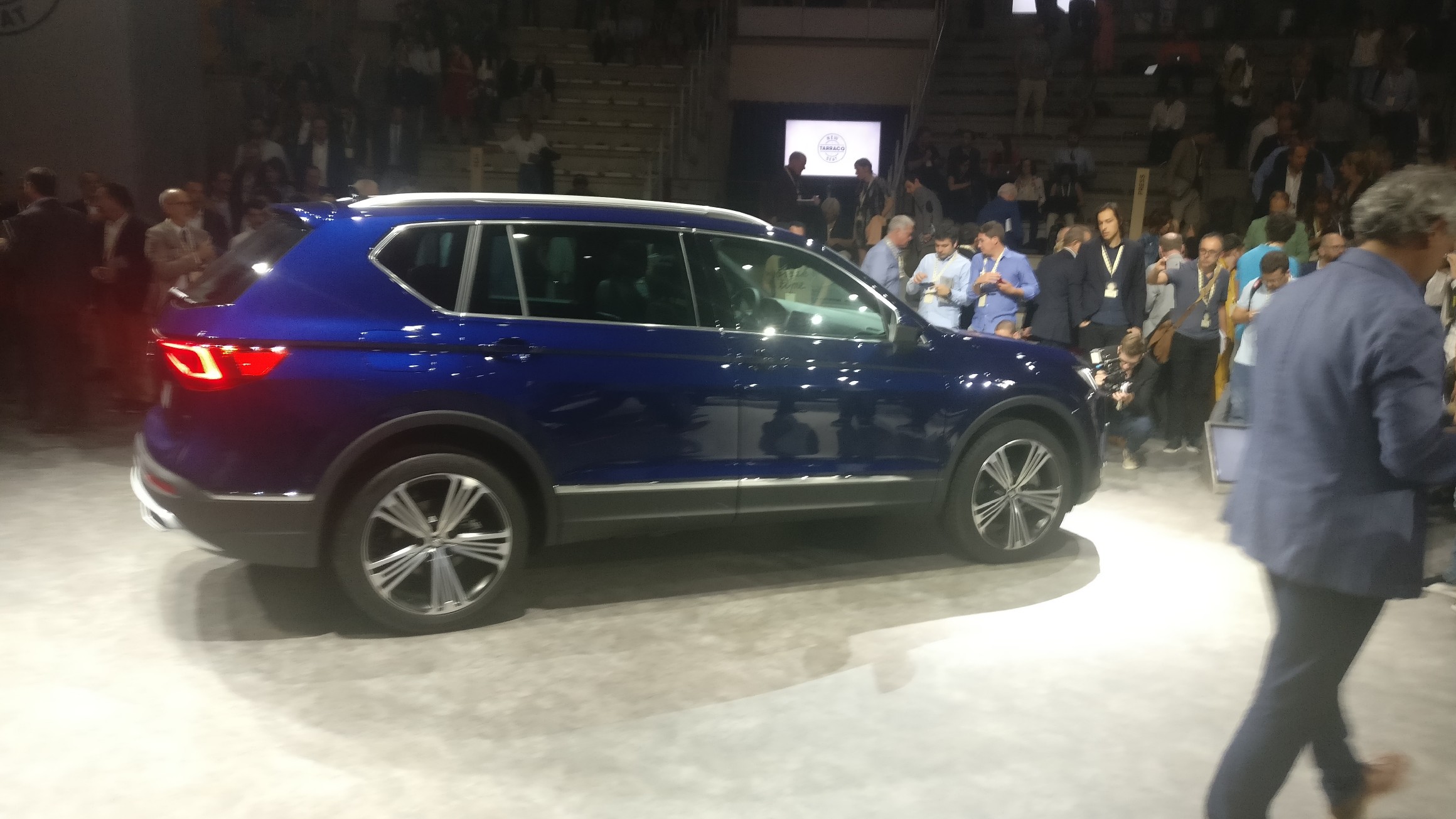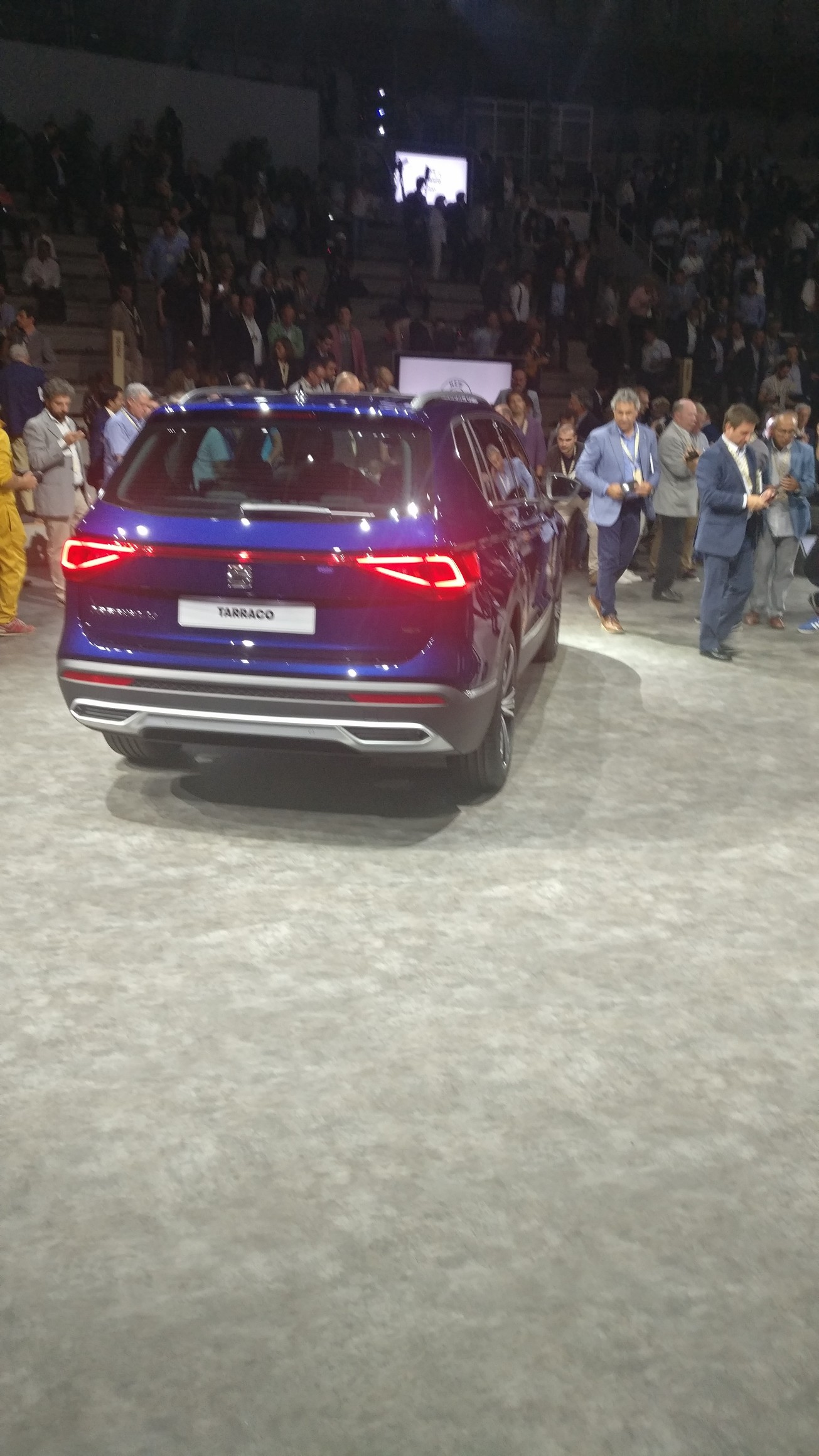 Now to go over a few bits from a car user point of view...
Exterior styling
Obviously we had all seen the computer engineered photos and the camouflage version of the tarraco before this press release and I wasn't sure if I would like it or not, I can safely say that in person the car alot better looking!
The front of the car is a lot flatter than what we've accustomed to and for some that may look a little pug like but they have added some nice touches like the little bits of bodywork that go over the front of the lights which gives the front a meaner look.
The LED lights have slightly changed shape but nothing too drastic whilst keeping the triangle look that previous models have. I also had to keep telling myself this isn't a 265bhp pocket rocket like I'm used to driving so being harsh on the lack of sporty features was hard work.
The wheels are a nice 20 inches which seemed to fit the arches quite well, I even liked the shape of the rims considering this isn't even the FR model which we didn't get to see.
One thing I did notice is that they may be a pain in the butt to clean with them little slots.
The rear of the car was all new to me after not really paying a massive amount of attention to other SUV's in the SEAT range.
Note the car has an LED that goes in between both light clusters, whilst this was mentioned in the presentation I didn't see it in action when the car braked during its entrance so I'm sure that's something to come and will make people happy if they can code it to do something awesome using OBDeleven etc.
The boot has automatic opening for the lazy people inside us so you no longer need to put them bigger gas struts in to push it up.
One thing that did bother me was the Tarroco name
badge
is to the left and not centre mass like im used to but looking further into it there doesn't seem to be much space for it once the number plate is on. That's only a small issue for me but I'm glad they didn't move the reg to the left to achieve it.
Last edited: