Review courtesy of community member Jairm88
What is it?
Introducing the all-new Seat MO 125 E-Scooter – SEAT's newest addition to the motoring world!
Verdict
I was very impressed by the SEAT MÓ. It exceeded my expectations, I was shocked at how much I enjoyed riding the MÓ on a daily basis and on the last day, I was actually gutted to be handing it back.
What we liked
Great balance making it simple to ride
Fast and easy to charge
Decent amount of under seat storage
Higher top speed than claimed
What we didn't like
Headlight beam and brightness not great
Cheap fit and feel to plastics
Firm suspension
Unnecessarily bright charging light
With a claimed range of 85 miles, how does it work in the real world?
Exterior
The styling is rather inoffensive and given it's a step-through scooter it stays true to the modern-day SEAT's sharp angular styling.
The SEAT MÓ is available in 3 colours and we got our hands on a rather bright "Darling Red" scooter. The other 2 colours are "Dark Aluminium" and "Oxygen White Matte". Darling Red is certainly the colour to have on a safety aspect as it's fairly easy to spot on the road. Personally, I like my things a little darker and given the choice Dark Aluminium would be my pick.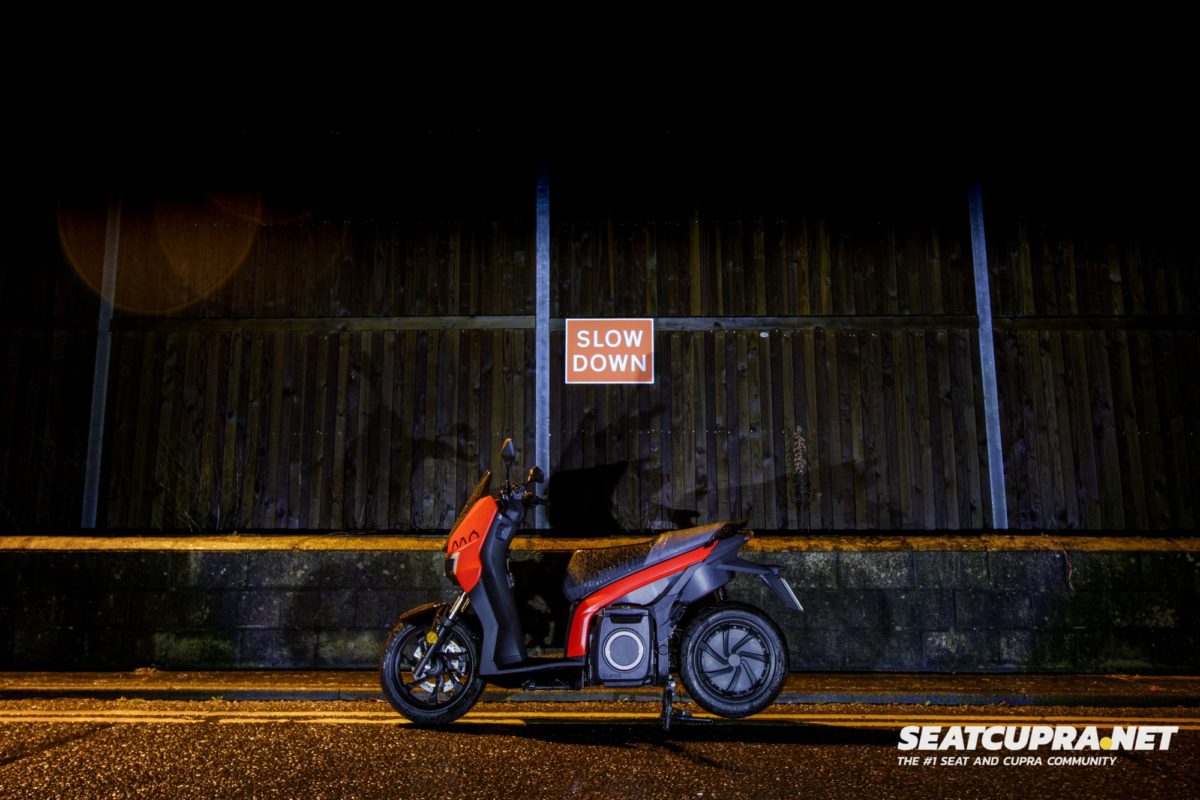 With a single-sided swing arm from the left side, you could be forgiven for mistaking it for a top of the range Ducati, especially on the red variant, but the focus from this angle is the battery pack with its extendable handle and white ring making it look like you're riding a stylish portable boom box.
The battery is of course removable very easily which I think is an amazing feature for added security, given the unfortunate rise in scooter thefts in and around the big cities.
When the battery is removed 4 little wheels drop down from it making the weighty 40kg battery a breeze to move around.
Not quite as fancy from this side but it has all the important components like the motor, rear shock absorber, brake discs and a red ring to mimic the battery pack.
You'll find a wide rear light unit with integrated tail, brake and indicator lights and a fairly long number plate mount extending the plate passed the rear wheel, as per regulations.
Lights
The SEAT MÓ is equipped with some rather bright day running lights helping you stand out whilst filtering through the rush hour traffic.
The headlights were, unfortunately, a tad underwhelming, motorcycles have always suffered from less than adequate lighting.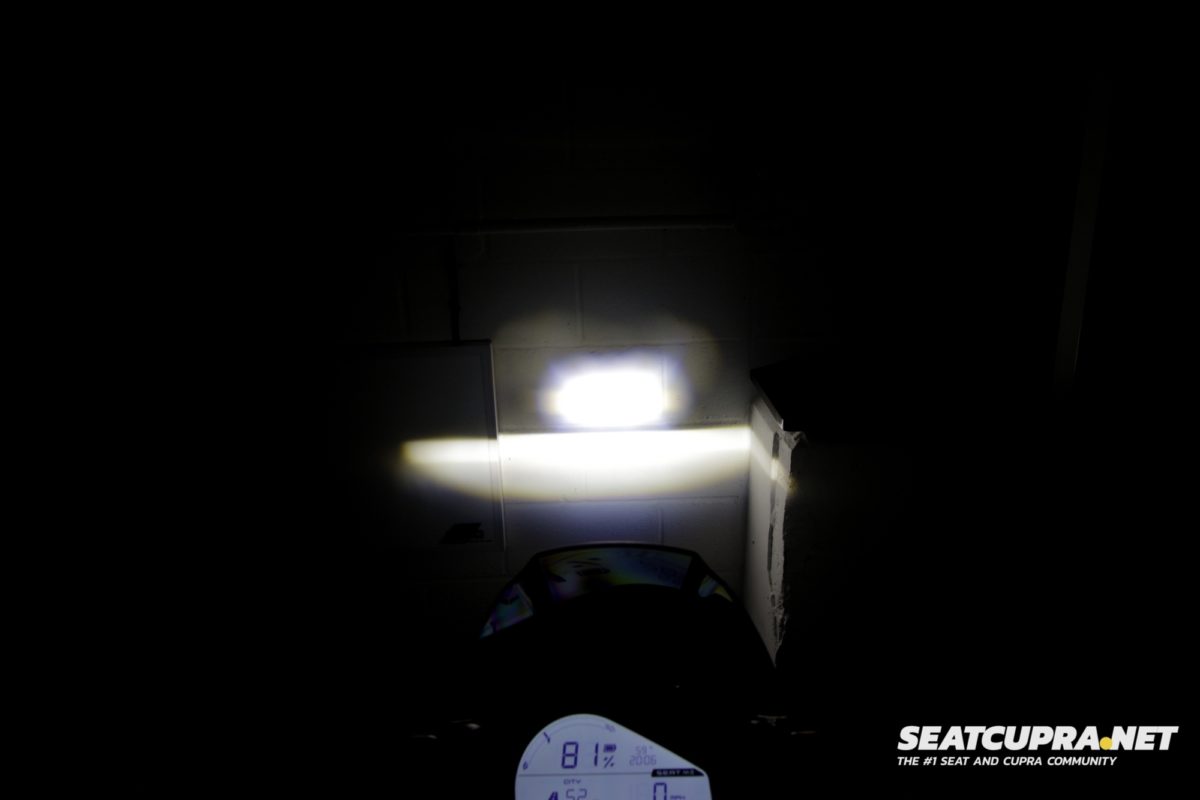 But this is obvious to see why………
Hint: they have half the amount of forward-facing lights. Given the scooter has a fairly hefty 5.6kwh lithium-ion battery on board, I was expecting the lighting to be extremely dazzling, to be honest.
Around town driving the headlights are perfectly fine as most of the road is illuminated by street lamps and other road users, but my rural journey to work was rather eventful as one of the roads is completely unlit.
Although, luckily for me, I was up on my carrot intake for that particular day, so I made it home through the darkness.
As the headlight unit is a sealed LED component it is not possible to change the bulbs for something more powerful, I wonder if it's possible to increase the light output with some dealer diagnostic equipment?! As I feel this is something that would require some attention.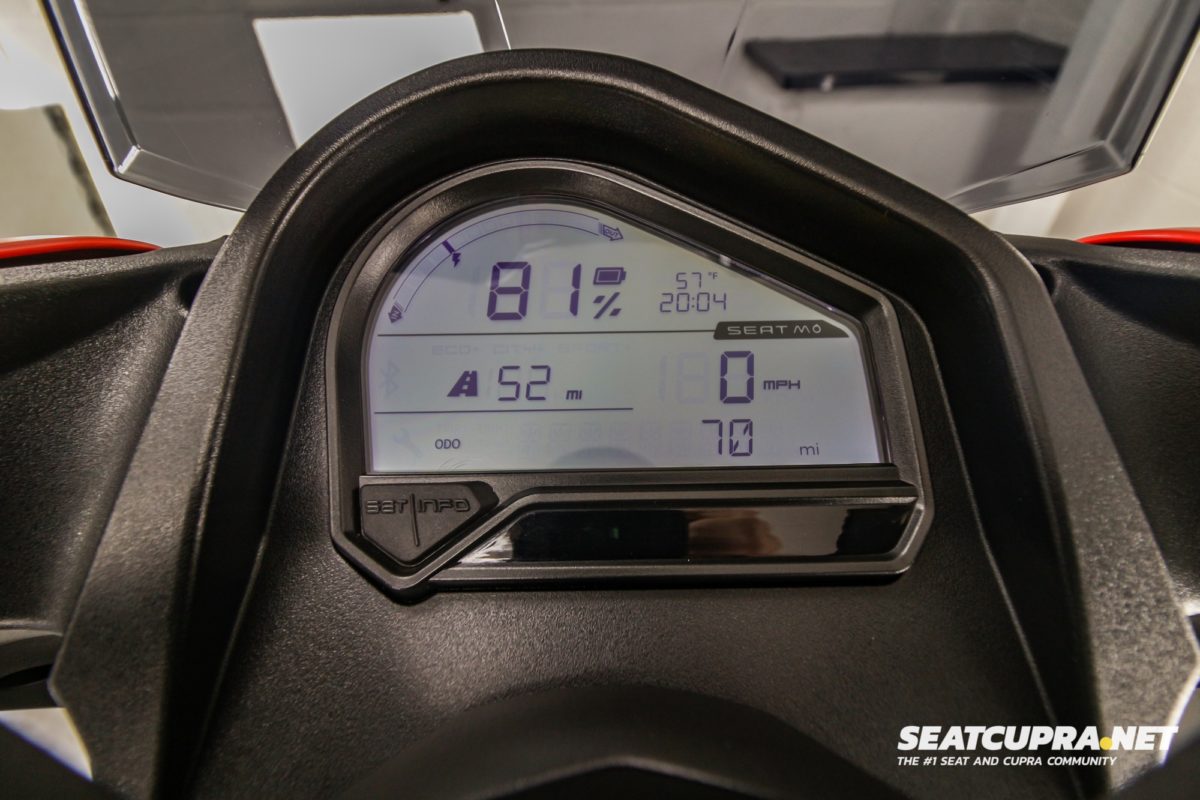 On the road
The MÓ is powered by a brushless electric motor paired with a 5.6kwh lithium-ion battery, giving this scooter an impressive 9KW and 240NM of torque!
It has a claimed top speed of 59mph/95kph in sport mode, I'm proud to say that that's an underestimation as I personally managed an eye-watering 64mph/103kph!
That paired with the 0-31mph in 3.9 seconds makes for a vehicle with more than adequate performance to hang with modern-day traffic.
I was actually very surprised at how well the MÓ handled. With the weight down low, it's extremely stable making low-speed manoeuvres and filtering through traffic very manageable.
I found the suspension to be quite firm though not causing many issues when being ridden through town. However, on the longer rides, it became a bit bouncy.
The front and rear disc brakes paired with the regenerative braking make for a more than adequate braking set-up.
Storage
Storage is one department in the MÓ that doesn't come up short! Space for 2 helmets under the seat or just essentials like bread and milk!
There is also a bag hanger under the handlebars for the extremely essential items like chocolate and coffee!! I used this hook to carry a Milwaukee Drill/impact driver combo kit to work.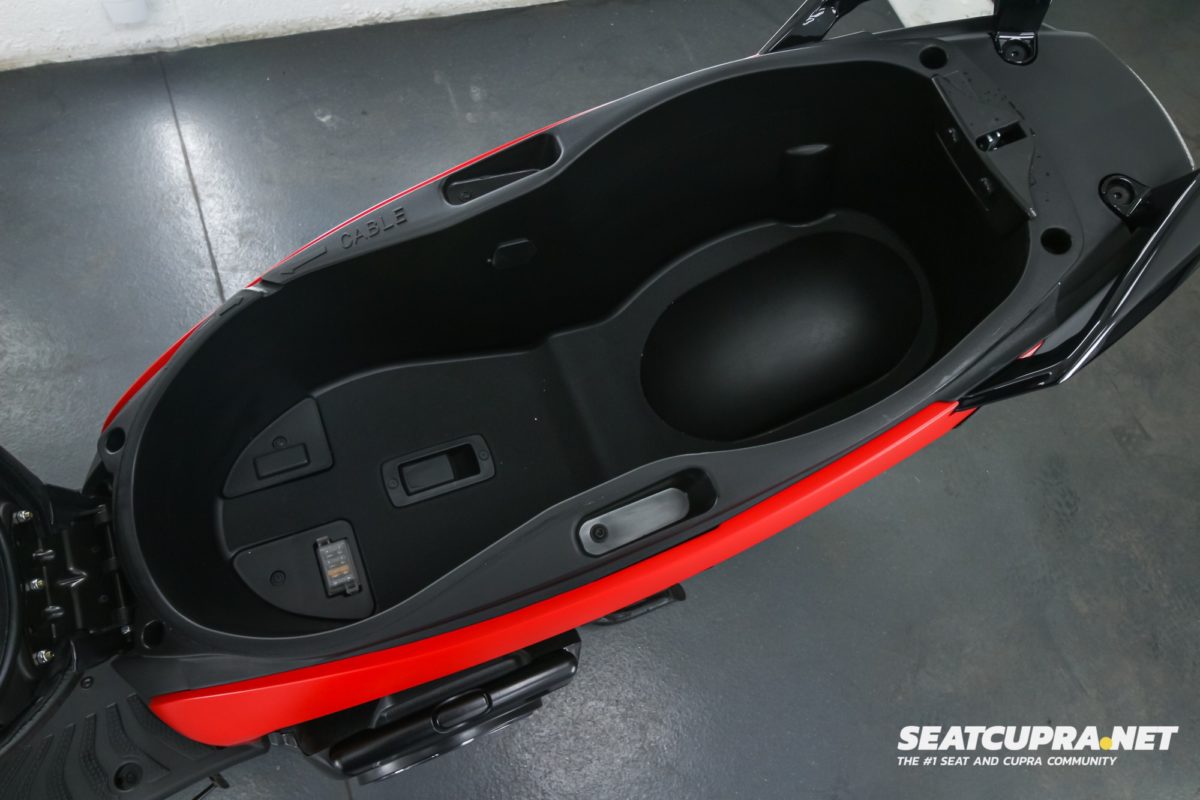 The information that is displayed uses a basic looking LCD screen it does the job but with modern-day technology, it would have been nice to see something a little fancier. The screen displays speed, range, temperature, time, and trip as to be expected. Personally, I think a night mode would be a great addition as the screen, even in its dimmest mode is dazzling on the darker rural roads.
LCD display shows speed, state of charge, remaining charge, temperature, time, and trip recorder.
Charging and ownership costs
This is a very easy process, I opted to charge the MÓ in my garage, so I didn't need to remove the battery pack. On the left-hand side of the scooter, there is a rubber cap, this can simply be removed where you can plug in the 3-pin charging lead. if you were to remove the battery for charging, the rubber cap is on the rear of the battery and uses the same lead.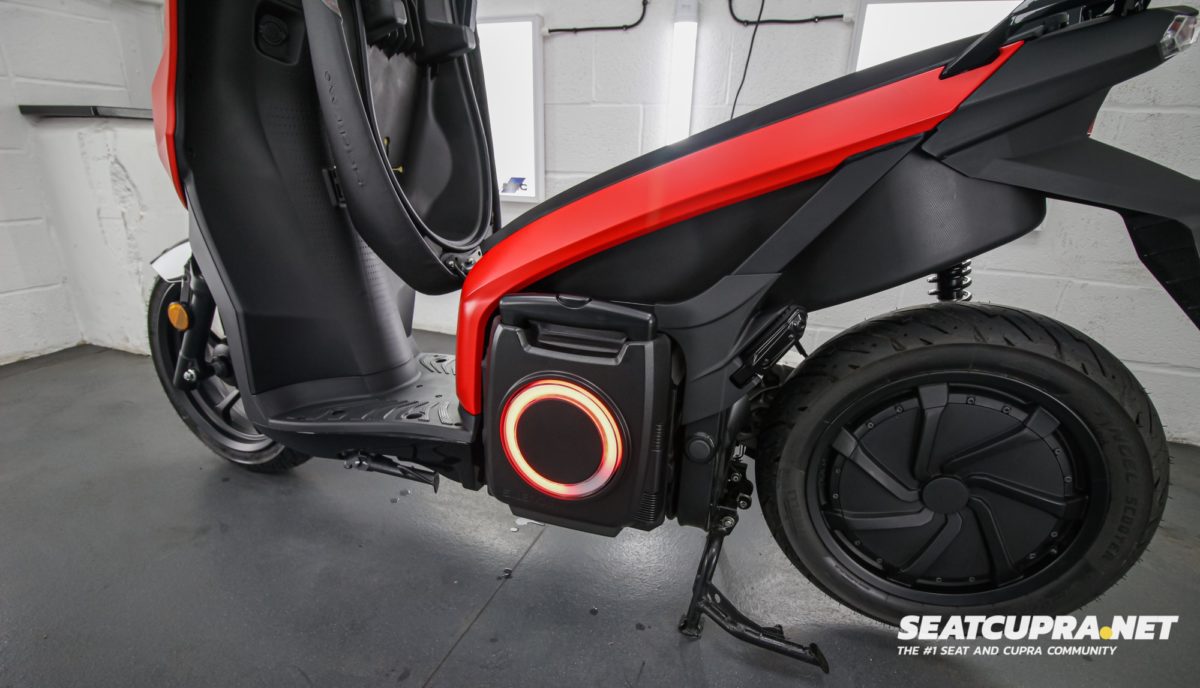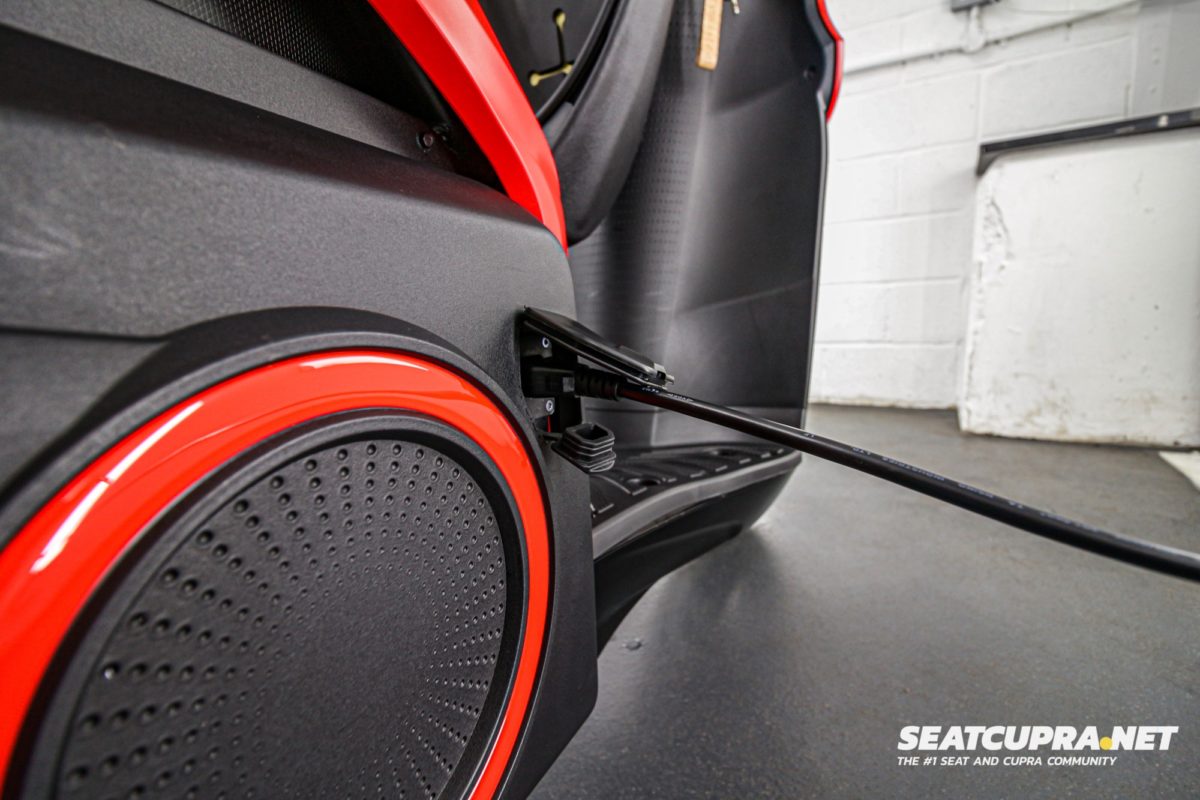 Whilst charging, the battery level is indicated via an LED red ring on the battery pack, this is visually pretty cool but it's a bit unnecessary and gimmicky, the constant red flashing lights in my garage kept the security camera in my garage busy sending me motion alerts through the night. These were easily muted of course, but if you are required to charge the battery pack in your house, I believe the bright red lights would get very tiring and potentially invite a UFO to land outside your window!!
Recharge times vary on your plug output, but the claimed time is 6-8 hours from empty, meaning you could use most of the range to commute and easily charge it up overnight. My commute is a 6-mile round trip costing me an estimated 30 pence a day; that's certainly cheaper than I'm used to with my 420bhp Leon Cupra costing a whole lot more!
The Seat MO 125 will set you back a touch under £5000 RRP including the Office of Zero-emission vehicle (OZEV) Deduction.
Of course, there are several accessories to bump that price up a little if of interest to you.
Insurance on the MÓ was more than I was expecting. I am a 33-year-old male that lives in a quiet cul-de-sac in Berkshire with a full bike licence and 1 year's motorcycle NCB. Even with the MO being insured to be kept overnight in my garage and used for social, domestic, and commuting, the cheapest quote I received was £354!
To put things into perspective, my Suzuki GSXR600 with the same cover is £244 per year. Given the performance differences, I was expecting the MO to have been cheaper to insure than my GSXR!
Tyre costs on the MÓ are relatively cheap, it came fitted with Pirelli Angel Scooter tyres. Exact replacements will cost you £55.85 for and 120/70/15 front, and £64.25 for a 140/70/14 rear.
Conclusion
Cutting to the chase, would I buy one?
In my current position in life, no! I feel what it would cost me in depreciation, insurance etc wouldn't be cost-effective for me, however, I can see it working for someone that lives in London having to navigate traffic-heavy streets and zero charges to pay on a daily basis. I can also imagine a company like Uber eats running a fleet of these taking advantage of the quick-change batteries!
Overall, I was very impressed by the MÓ. I started the week with low expectations, but I was shocked at how much I enjoyed riding it daily, it was nippy enough to see off most cars from traffic lights paired with its manoeuvrability, my journey to work was halved and the silence was a good way to really enjoy the ride and clear my head.
Thanks for reading! Are you considering one yourself or have one? Let us know in the comments below.
Review courtesy of community member Jairm88