Hi, I'm new on this forum, but I'm reading it for a while now and decided to make a post of my car.
In october 21' I bought 5door leon
cupra
300dsg. When I was looking for cupras I wanted one with performance pack (brembo brakes and seats), but in our country there was not even one on sale at that time, so I bought one with no PP.
So far I'm very happy with my car and I must say it's so good for daily driving. When you drive it for day to day stuff you culd never tell it's 300bhp car. But when you floor it, it just goes like a rocket. No turbo lag. I love that. Back in time I owned clio rs 172, 182, megane r26, 2x impreza sti and all this cars were lazy in low rpms, and
cupra
really suprised me with fast response.
So at first when I bought
cupra
, I had in mind to swap all the parts from PP to my car. I was searching on ebay and other markets to find brembos and seats but I had no luck. I started searching for other aftermarket parts to compensate with PP parts. I found new recaro sportster cs seats with airbags and carbon look, like the stock seats have. The weight of recaros is less than -0.5kg per seat compare to stock ones. So there is almost no advantage in weight at this point.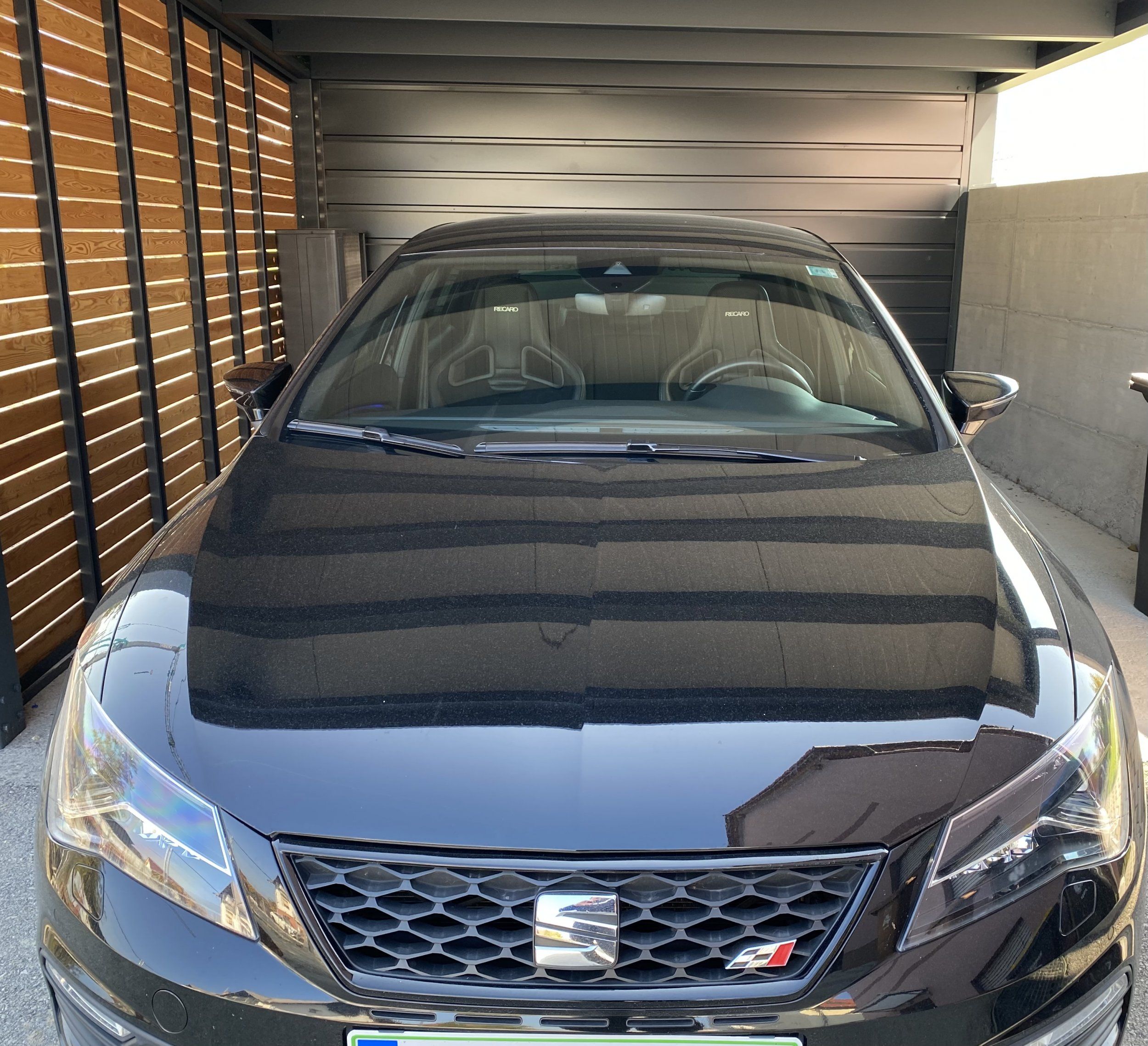 It was coming the winter time, so I needed some 18" wheels and winter tyres. I bought some used OZ leggera HLT wheels. They are very light compare to stock wheels. The difference is around 3kg per wheel.
In december I also found 1 year old big brake kit from Racingline. Stage 3, 6piston monoblok calipers, 380mm 2piece discs, braided front and rear lines. Discs are 0,1mm used and pads are also as new, but I will change them with ferodo ds1.11 front and rear. When instaling bbk on car I will put castrol srf oil in, which I found to be very capable on track.
The whole bbk setup is around 6.5-7kg lighter than stock one.(both sides)
Unfortunately this brakes can't go under 18" wheels, so I'll have to change them with 19". When I was searching for some lightweight and good looking 19" wheels, I found this picture on google:
I really like the whole look of this car. The bronze
badge
, bronze motec wheels and a bit lowered.
I just got badges (front and rear) last week, on next wednesday I will recieve
cupra
R bumper inserts and rear maxton diffusor. In the and of january I will order motec ultralight wheels 8.5J ET43 19" and kw height adjustable spring kit. All the parts will be instaled in middle of march when it comes the time for summer setup. Can't wait!!
It's fast car already and I can definitely enjoy it's potential with stock power. So the engine, transmission and
exhaust
will remain stock until next winter.
Best regards to all of you