The site has a
media gallery
where members can add pictures of their cars and we post official stock photos of SEAT and
CUPRA
models .
1. Check you are an "Active Member"
Only "Active Members" can post in the media section. This is to protect our community from spammers.
Read the criteria to become an active member
.
2. Prepare your pictures
We advise blanking out your number plate before sharing pictures.
You can do this in most photo editing programs, including free ones such as
Pixlr.com
.
Also consider your security by not showing your property number/street/place of work.
Ideally try to post images no wider than 2,000 pixels and in JPG format (80% compression). Although the site software will automatically compress your images to keep file sizes down.
3. Go to the media section
You can find it in the top menu (top on desktop, left hand side "hamburger" on mobile as shown below).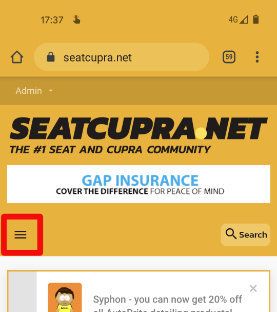 4. Click on the red "Add media" button
Select the add media button.


5. Create a new personal album
Scroll to the bottom of the screen until you see the link "Create personal album..."
Should you not wish to create a personal album, and instead upload to our member's galleries which are sorted by model, instructions will follow.
6. Upload images to a personal album
This page should be self-explanatory but here is where you give your album a title, a description and choose its visibility to members. We suggest leaving it set to "registered members".
You can need to select "Upload files" to upload your images to the album.
7. Upload images to a model specific gallery
As well as the option to upload images to a personal album you can upload them to one of the model specific galleries.
The process is like step 5 above, but you select one of the SEAT or
CUPRA
models from the list as shown below
You will then be presented with the page allowing you to choose the album name, description and upload your files.
Visibility, ratings, and comments
Your images will appear across the site in the media section as they are added. They can also be accessed from your profile as shown below.
People will also be able to give your albums star ratings as well as comment so keep an eye out for notifications and be sure to share your gallery on your social media accounts if you want to.
Last edited: