So, I've finally hit the milestone of 15 posts and am finally able to create my Readers Ride Thread, complete with pictures! A few weeks ago, I was finally able to hand over the cash and become the owner of my first car! It's a 2005
Seat Ibiza
Sport with a 1.9TDi Powerplant that produces around 99bhp. Now I know many are thinking that a 1.9 Turbo Diesel will surely be a bit much on the insurance front - and you'd be right! However, the insurance costs really aren't too bad in comparison to a lot of cars on the road! Anyway, it does look pretty good and really looks nice in Platinum Grey - however, does need some work which is to be expected for a car with 123,000 miles. But first, some photos from during the buying (and slightly after) process!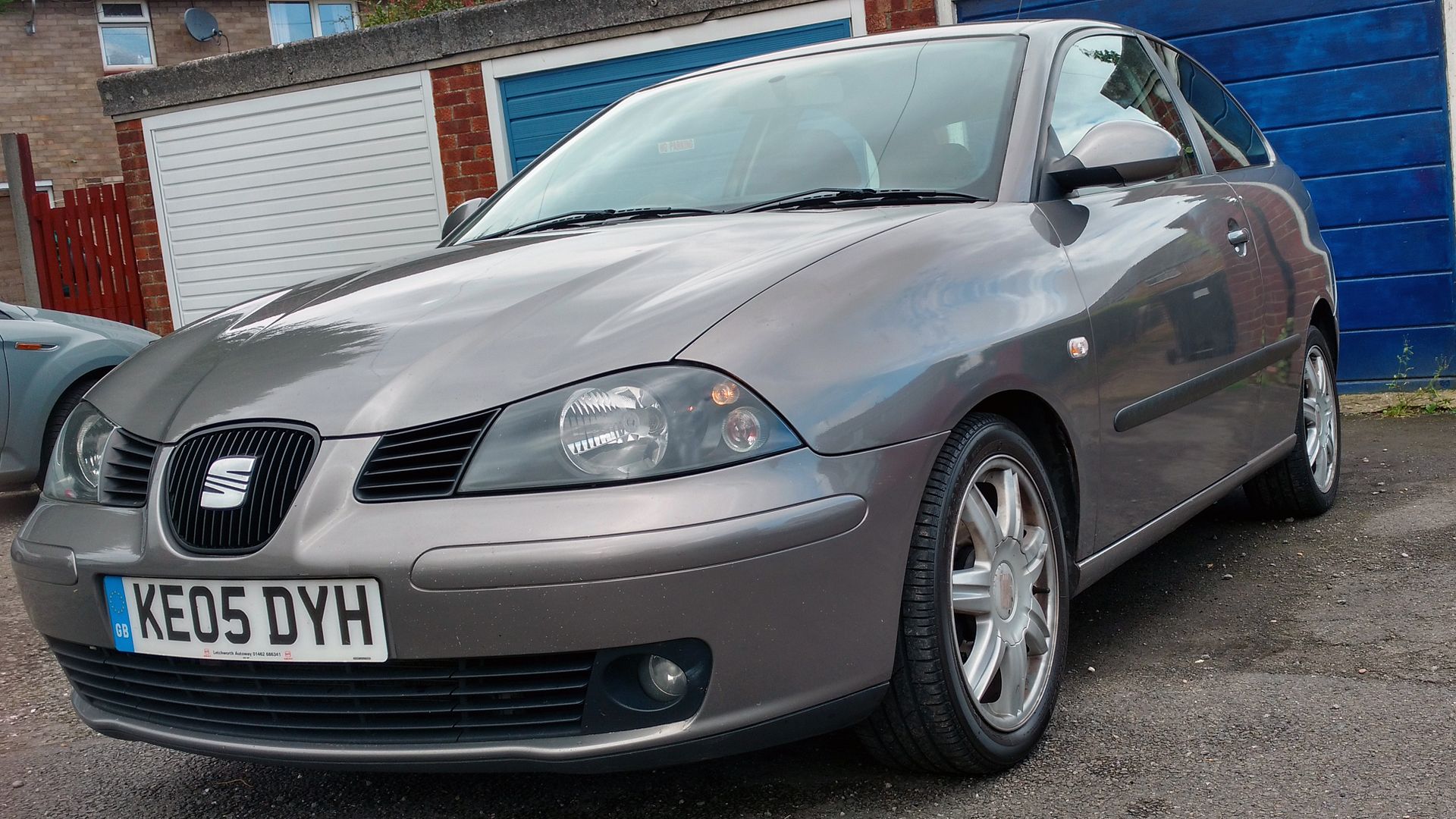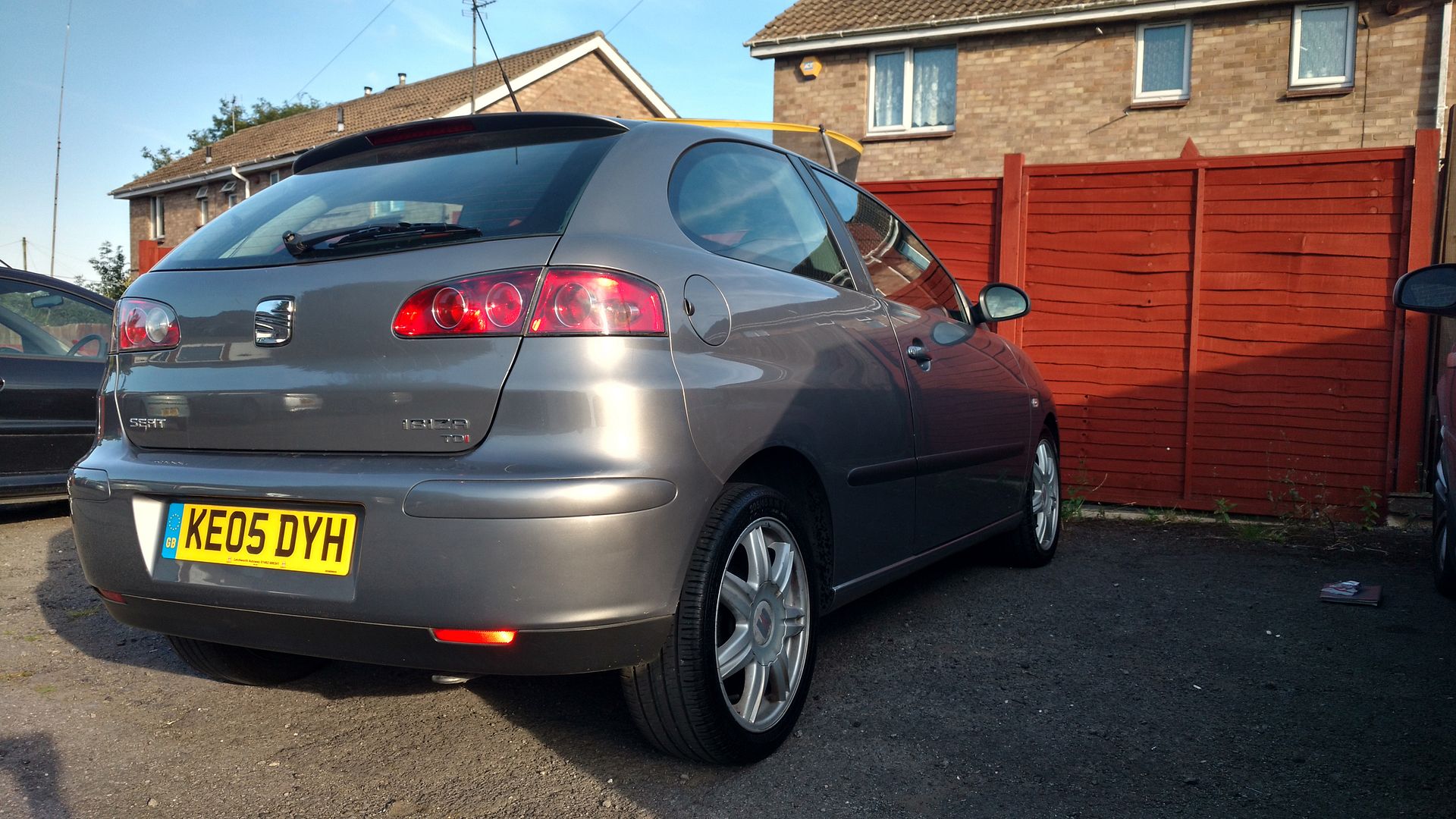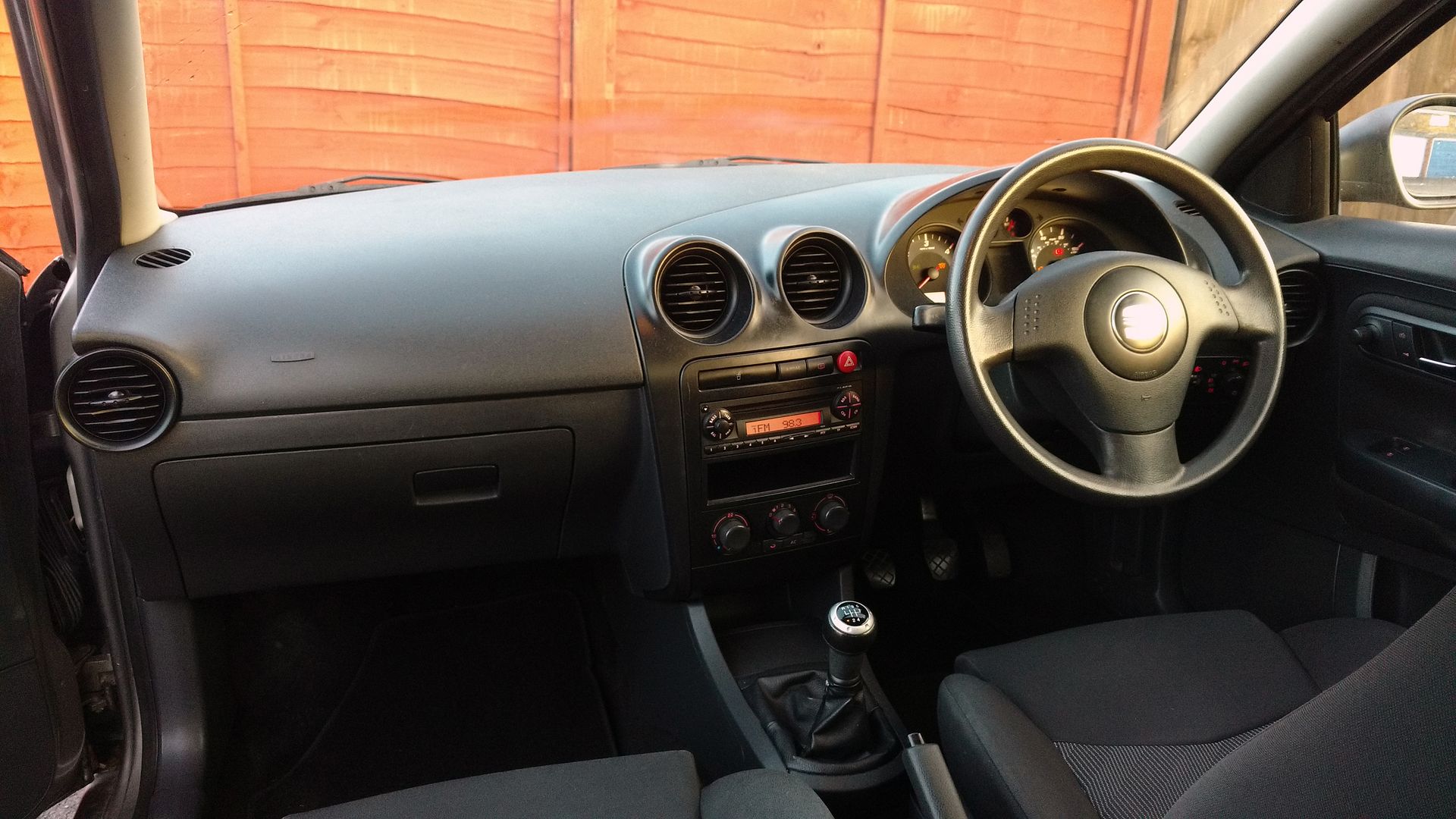 There are several issues with the car which include strange water marks on the Drivers Seat, Missing Trims on both Driver and Passenger Seats, Cracked Front Fog Lamps, Rusting Front Wings and the list goes on! So, there's quite a bit to do! I'm going to add two lists which will change over time and show what work needs to be done, and what mods are yet to be done, or are completed (however, for a good while at least, most Mods will be out of the question due to Insurance being so ridiculous for a driver of my age)!
Current Work Required (UPDATED: 27/11/16):
- Replacement Trim for Driver & Passenger Seat
- Replacement Gear Knob (current one is very worn)
- Untwist Passenger Seatbelt​
Desired Modification List (subject to change, some modifications could be several years off):
- Seats from a Higher Spec Model (the current Driver Seat has very little foam on the left bolster which makes it a little uncomfortable after a while)
- Chrome Surrounds for the Dash Gauges
- Chrome Surrounds for Air Vents (subject to change)
- Front Seat Radiator Grille with Chrome Surround
- Honeycomb Radiator Grille (grille next to Headlamps) (Done!)
- Facelift Front Headlamps
-
Cupra
Front & Rear Bumpers + Sideskirts (most likely will be a year or so down the road)
- FR or
Cupra
Alloy Wheels (subject to change, most likely will be a year or so down the road)​
--------------------
A few days after buying the car, I decided to embark on a job with the
Ibiza
. The Roof Lining was far from anything to be desired and was in desperate need of some love - and I simply couldn't wait until the entire car got its first detail. Here are a few photos to show the sheer horrors that laid within this
Ibiza
...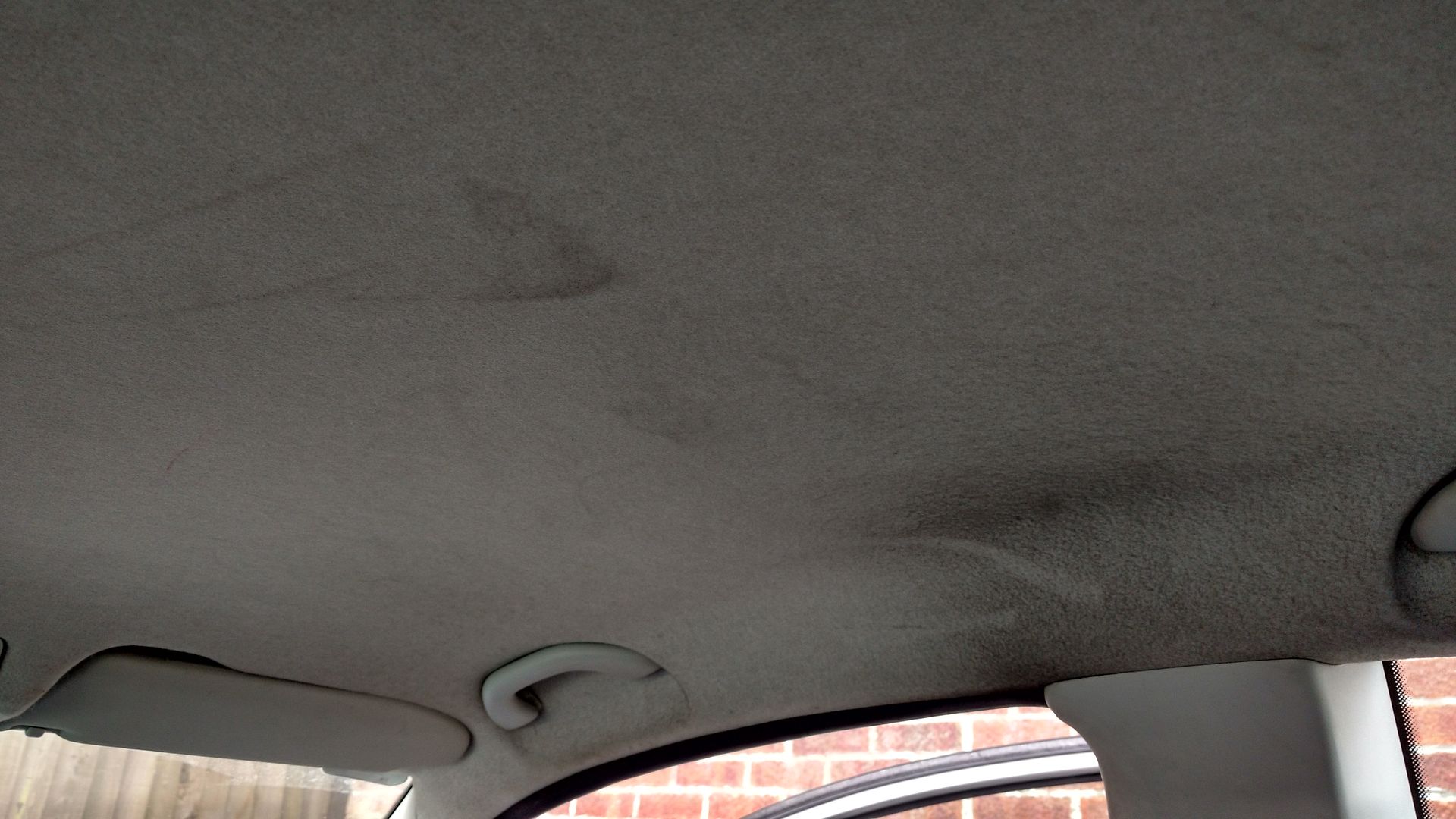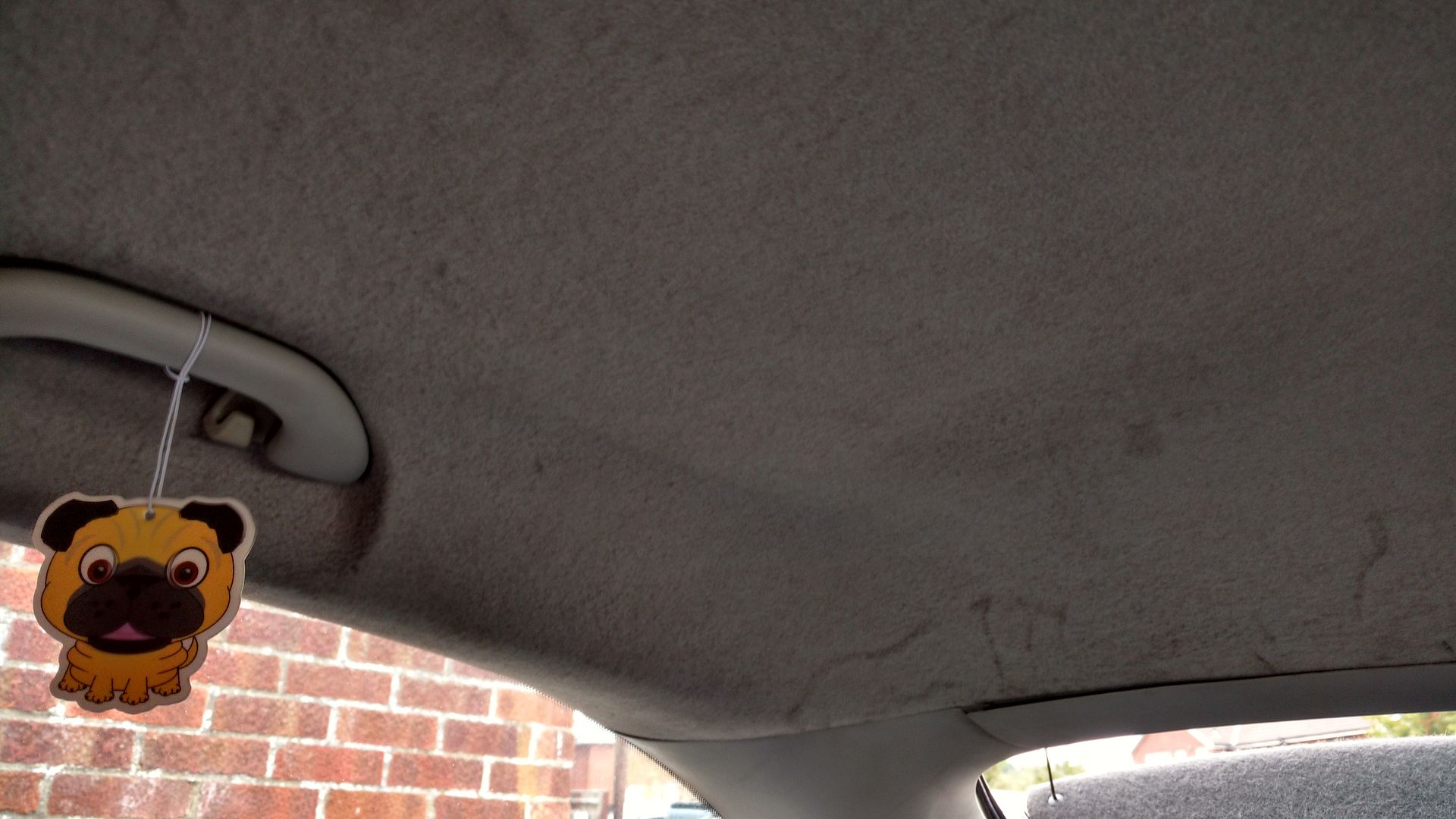 Several people recommended a multitude of products to try and tackle the grime-fest which was, of course, the Headliner, but because I'm impatient, I decided to go for some some options from the local car accessories
store
and Halfords - with a stiff brush being from the Accessory
Store
and Halford's Upholstery Cleaner being enlisted for the job. Although Halford's Own-Brand products aren't always ideal for the job, I wanted something cheap just to see if there could be some level of improvement. In the beginning, I started work using the brush I had picked up, but found it to be way too damaging to the fibres - essentially tearing them out of the roof, as you can see here.
So, I decided to break out the good old fashioned Microfiber Towel and do it that way, and it certainly did work well! After several runs and an entire bottle of upholstery cleaner later (I was pretty liberal to say the least), almost an hour of sitting in the car with the heaters on full blast was required in order to try and dry out the interior a little bit based on the fact it had started raining, typical Britain! And yes, I know the car is low on diesel which of course, is not something to be pleased about!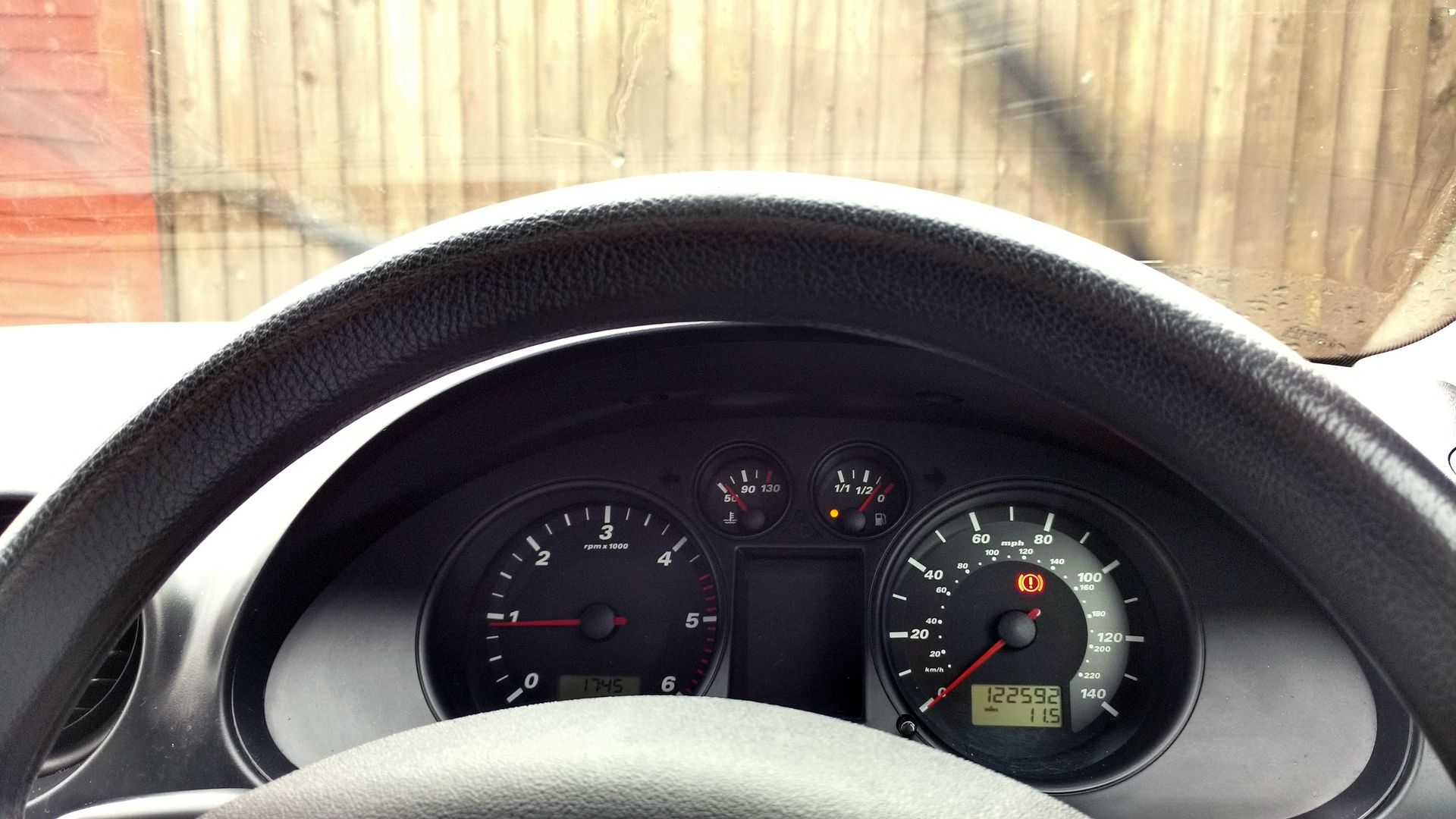 I will most likely give it another clean when I fully detail the car and hopefully that'll bring it up even more, but I couldn't seem to shift these weird marks, they look almost like rust marks - and no matter how much rubbing with the solution, brushes or microfiber towels, they wouldn't shift. But again, I have had some products recommended to me. However, any of your own suggestions would be highly appreciated!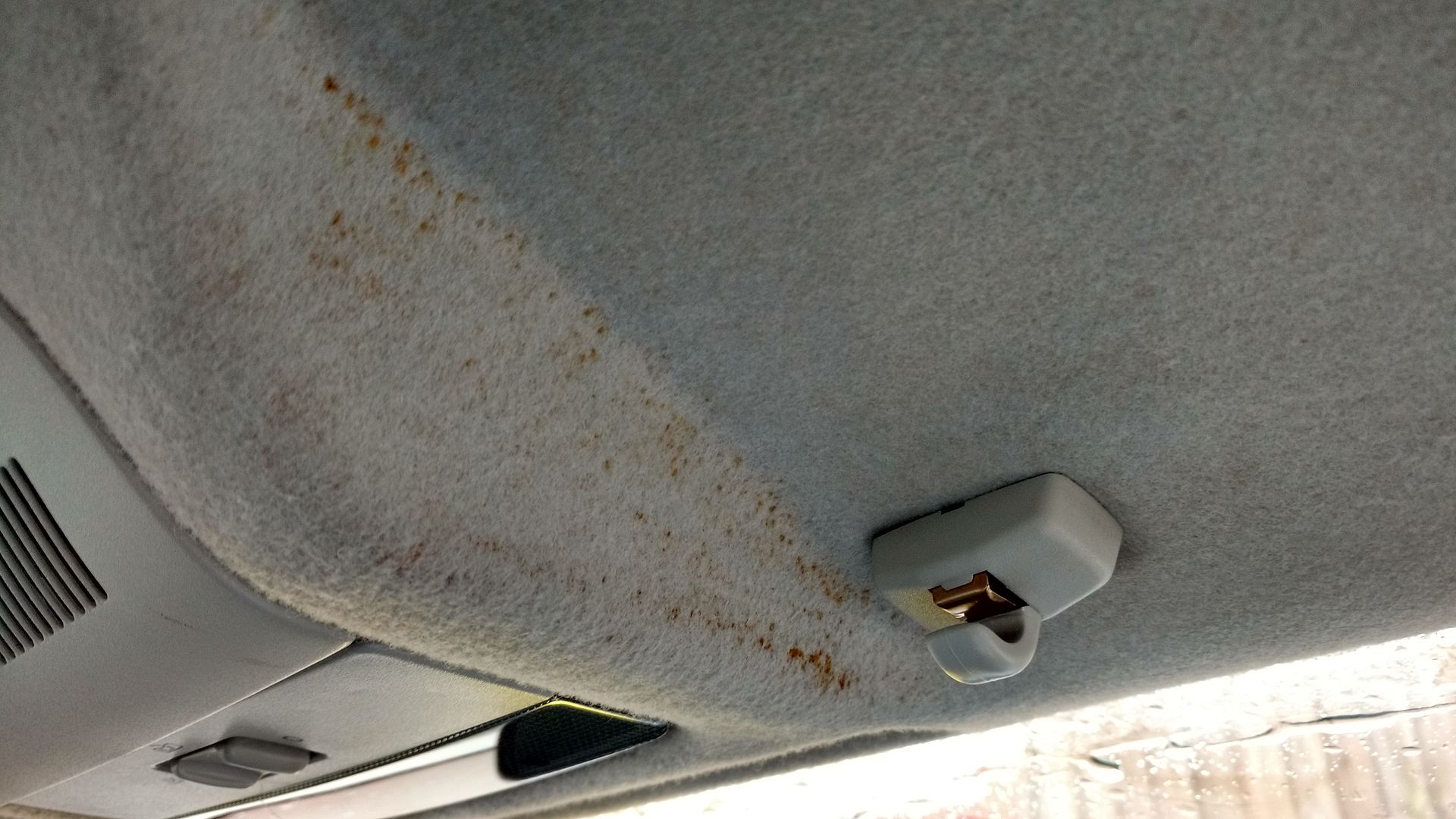 Although the interior isn't quite fully dry yet, I was still able to refit the Sun Visors and Grab Handles and am letting the interior dry overnight with the windows very slightly ajar to let some air flow through. Even though it's not perfect, it's much, much better than before and the pictures really don't do it justice (apologies for some blurry shots, my phone doesn't enjoy anything other than good lighting situations)!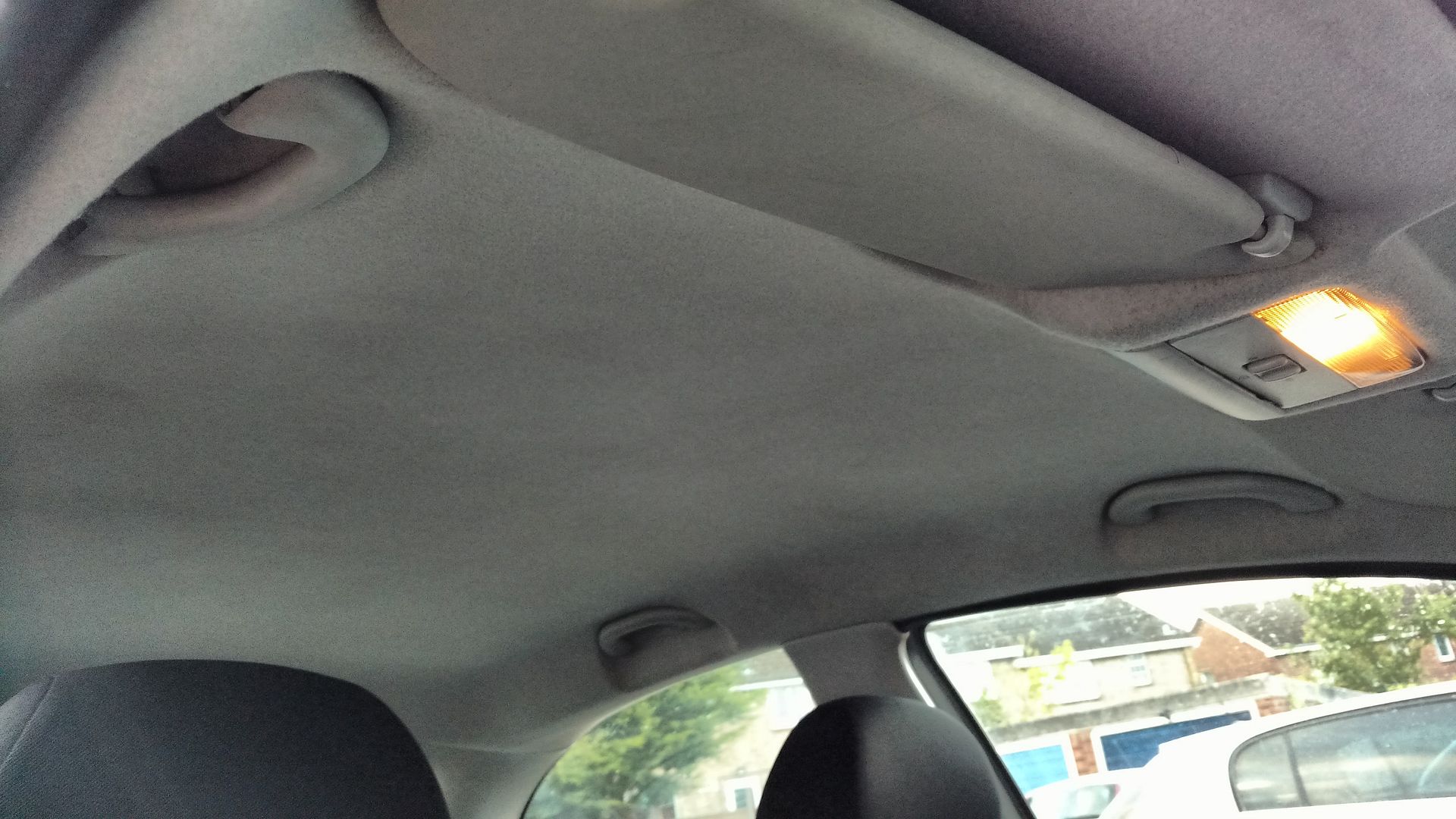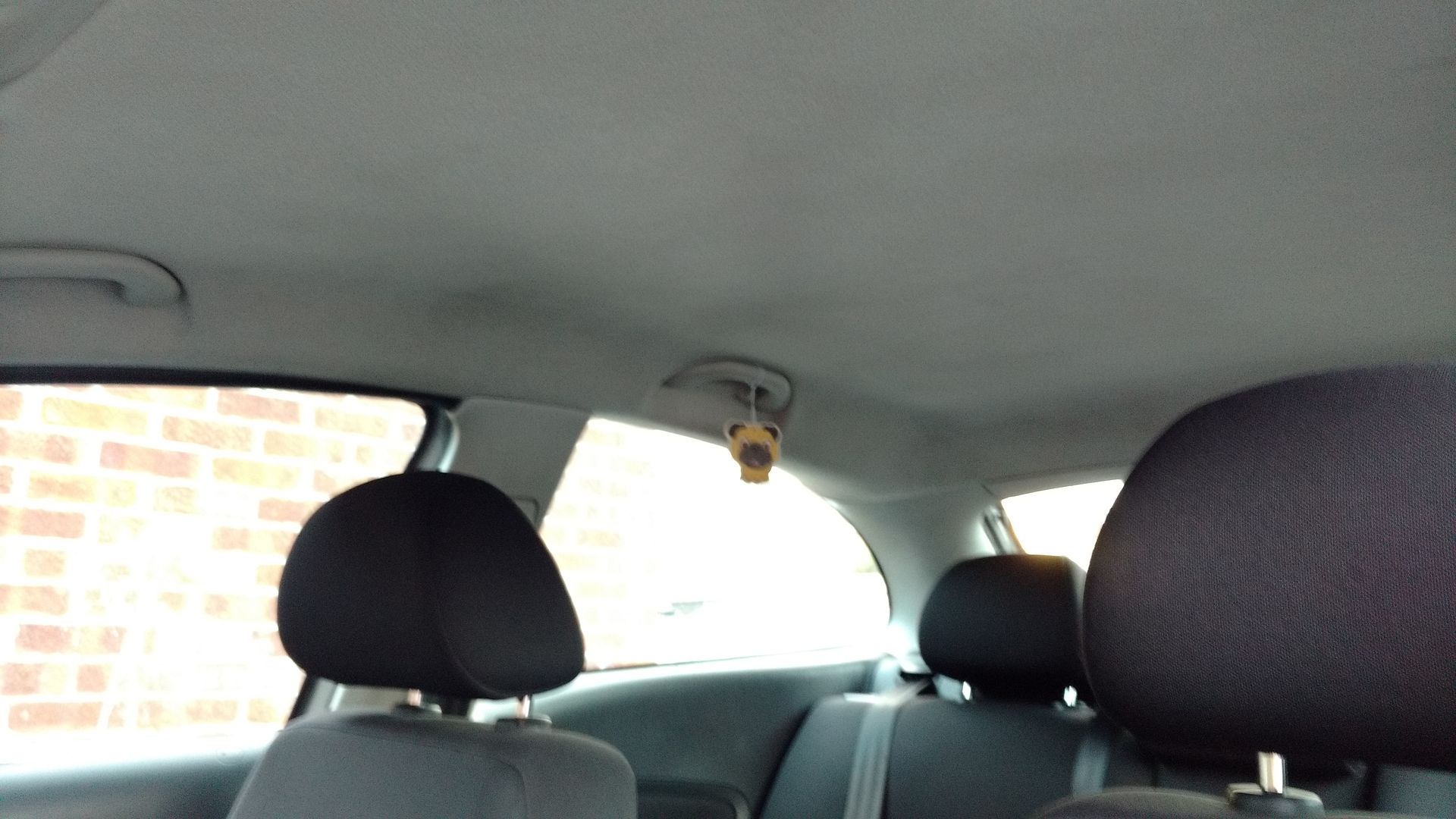 --------------------
A few days later, after putting a can of Tyre Weld in the Spare Wheel Compartment, I spotted a small amount of water, which after further investigation turned out to be a lot of water. AGH!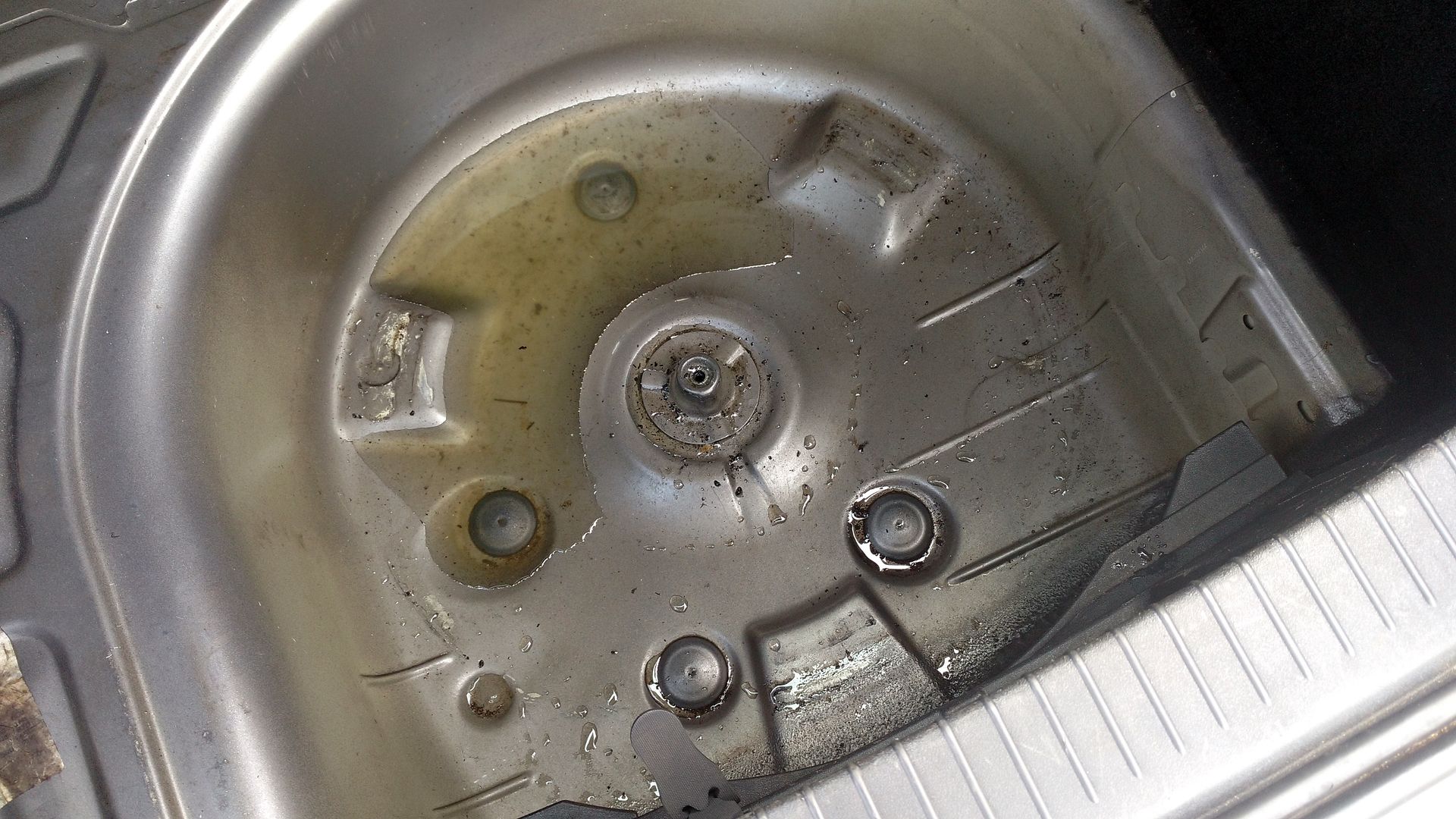 As for any car owner, water here is never a good sign. Although water here was checked for when I went to buy the
Ibiza
, this water seems to have been sloshing around for some time and just was in the far edge of the tyre's storage space. So, I have a feeling that I'm the proud owner of a pretty leaky little
Ibiza
!
The car had been driven in the rain since and there wasn't any leaks to report of or signs of water ingress so far, so I decided to move it down to my Mum's garage (nearer to the house), and break out the hosepipe to see if I could get some water seepage through the seals or by other means. After a pretty vigorous blast around the entire car (decided to check the entire car), there was no leaks to be found! So for now, the boot floor has been removed, but the Spare Wheel has been replaced (nice to have a full sized wheel, too) and we will give it a little while to see if we get any more water ingress into the rear.
--------------------
Yesterday, I noticed that the Air Conditioning System smelt pretty awful (especially when it was first turned on), so I thought it was time to do something about it. A quick trip to Halfords later, and I picked up this can of Air-Con Purifier that's designed to kill bacteria in the A/C System and also remove them nasty odours. After leaving the can to do its magic for around 10 minutes and letting the car air for several hours, the smell of the product does still seem to be there, but I'm sure that'll disappear over time!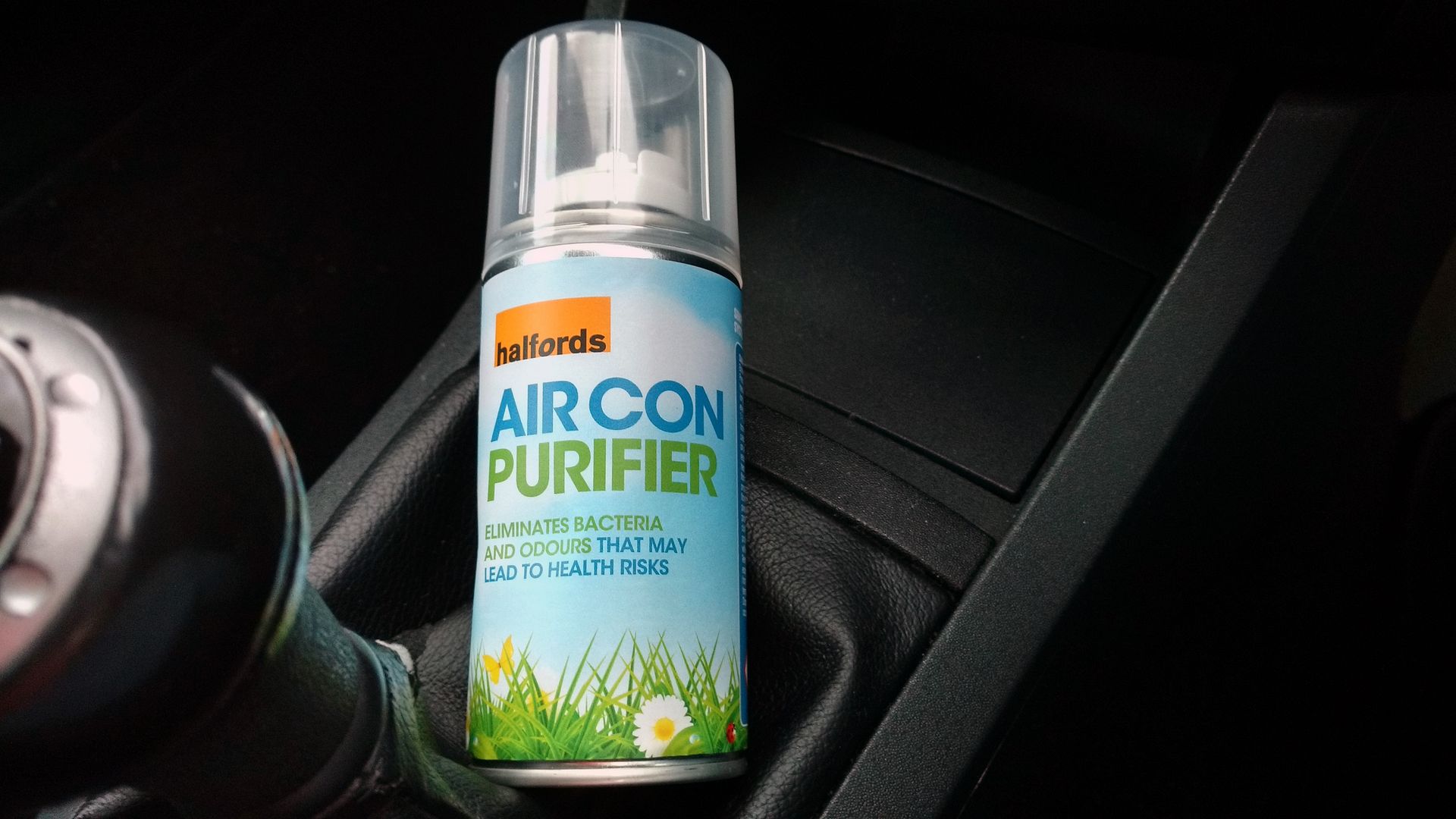 After driving the car today, the nasty smells seemed to have gone, but it's been replaced with quite a strong smell, much like if you was to spray an entire can of deodorant into your car. Even after driving for an hour or so with the Air Conditioning on maximum speed and the windows fully down (yay for Fuel Consumption), the damn thing still has the rather strong scent!
One of my next projects will have to be the Cup Holder. Although I probably won't really use the Cup Holder, it bugs me an awful lot that it doesn't work and that other passengers won't be able to use it, either. After around 2 hours of fettling, I still haven't managed to free it, so it looks like I will have to get a new one from somewhere and get it fitted into the car - it really does bug me, though!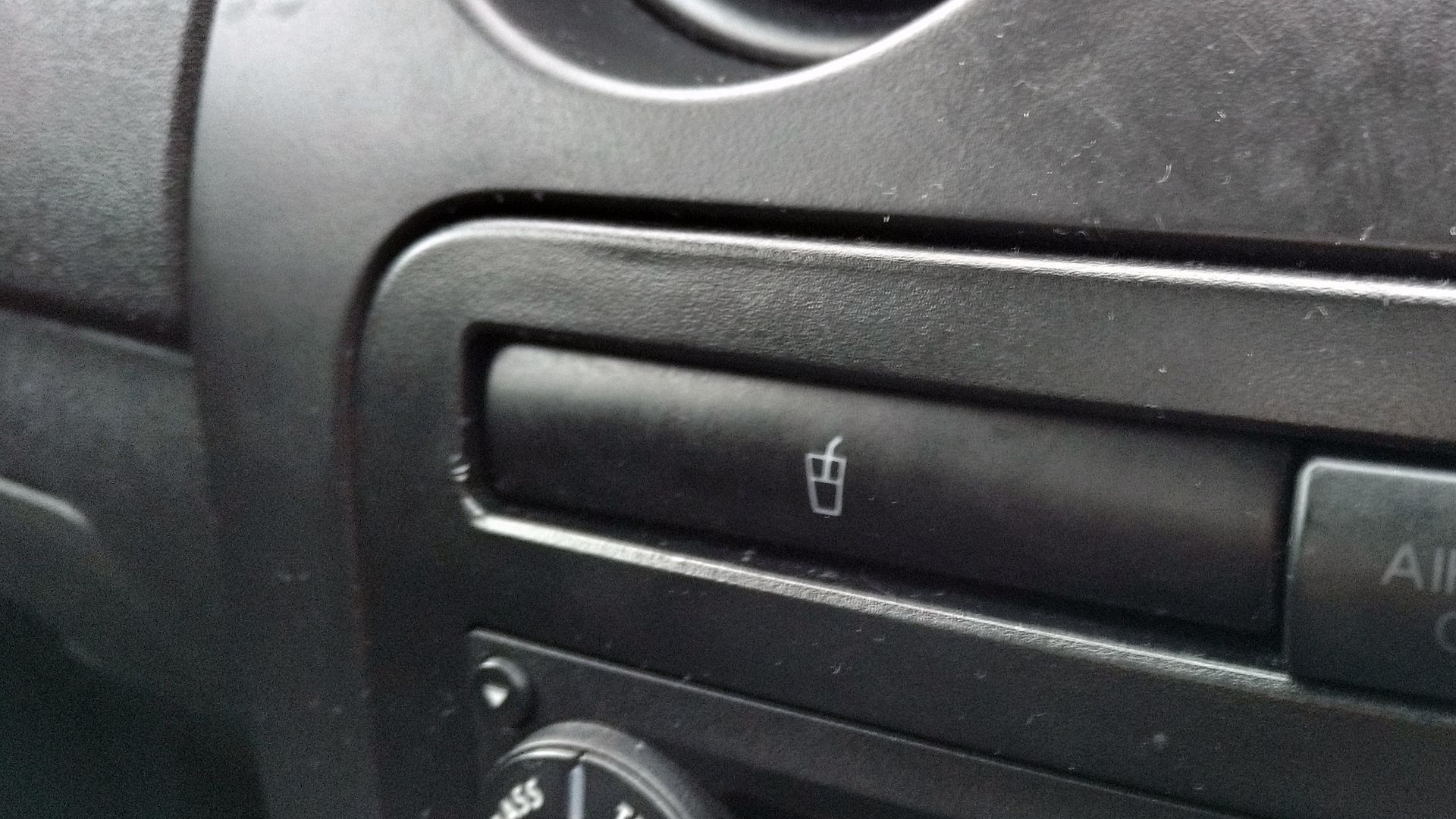 Last edited: