After my experiences in the 'tie rod nightmare' thread, someone suggested I write a bit of a 'how to' for the people who are tackling what's actually a pretty easy job, but on the outside it can look a bit scary. I'm not a mechanic and I probably made some really simple mistakes in this, but hopefully in the replies, people can either chip in with their experiences or give some better solutions to the issues I faced.
The main thing I learnt about this is that if you're doing both sides at the same time, you can have some massive differences in your experiences. I have the feeling that my nearside had been done before, and so that was relatively straightforward, but the offside was a total nightmare - but had I known before I started what I do now, it would have been much less draining.
First things first - get yourself an inner tie rod removal tool and a ball joint separator. The inner tie rod tool can come in a few shapes and sizes, but the way I saw it, if I'm only going to do this once in a blue moon, I don't want the huge pipe-style one sat around. Other tools are just your standard spanners and a 6mm (I think?) allen key. Maybe buy a spare inner boot or two - the Lemförder one's part number is 30177 02. They come with clips, but I didn't use mine.
I used this inner tie rod remover: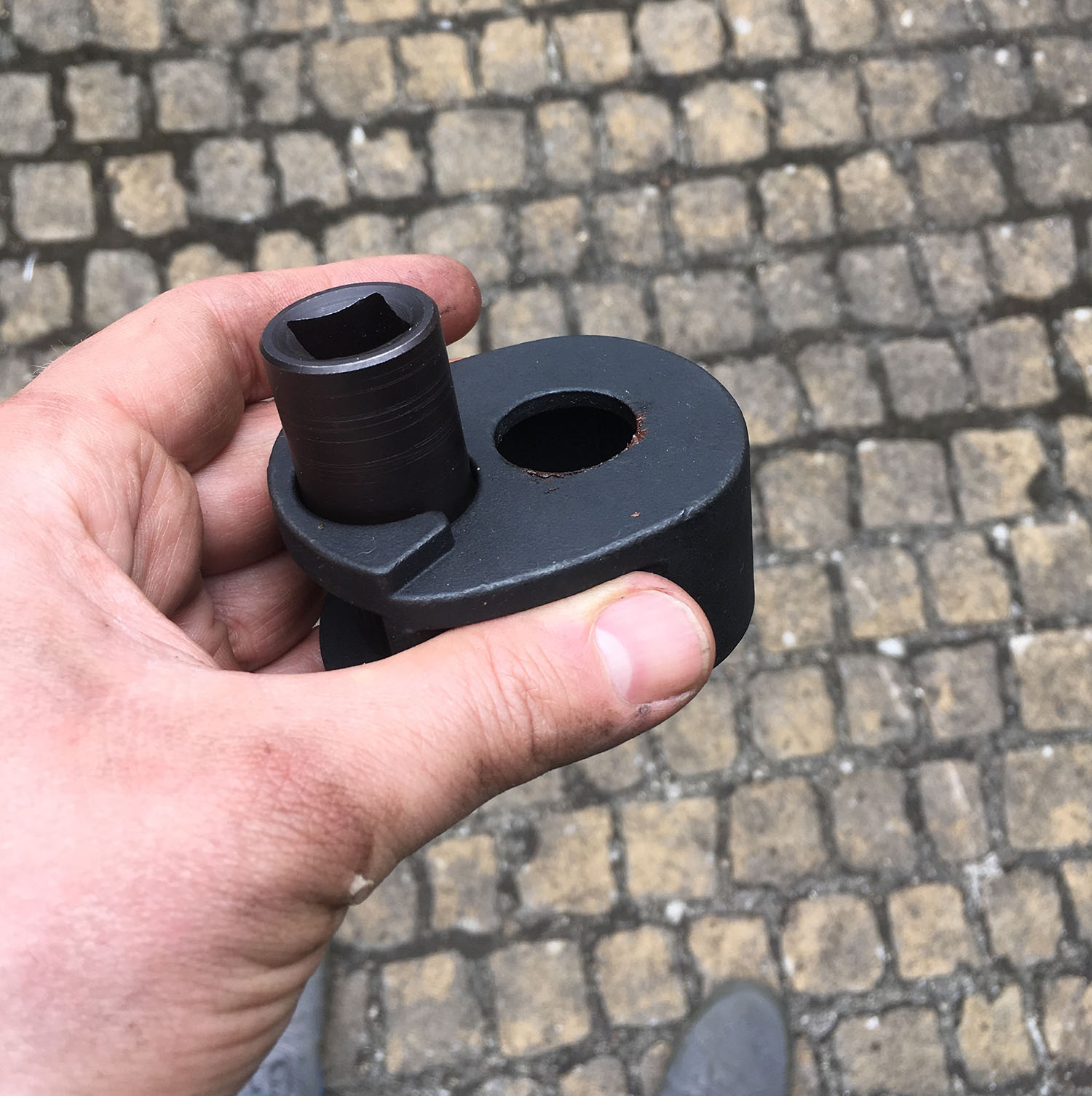 It's sold as a 'multipurpose inner tie rod tool' and the official Laser version part number is 3829. The way it works is you use a couple of socket extenders so you can get some purchase on it without being blocked by the wheel arch. We'll get onto how you use it in a second though... It was £12.99 from eBay. I was a bit sceptical, but it worked effortlessly.
This is the ball joint separator:
Available from Halfords for £7.99. Worth every penny.
I bought Lemförder tie rod assemblies from Euro Car Parts using a voucher code. Cost me £60 for both sides, inner and outer. Part numbers 605441125 and 605441135.
Get both sides of the car jacked up either using jacks or axle stands. You need to be able to turn the wheel to get better access, and if it's only jacked up on one side, access is difficult. In a pinch, you can jack it up and put your spare wheel under one side, but axle stands are cheap. Take your wheels off.
Depending on which side you want to do first turn your wheel full lock to the right to do the nearside, or full lock to the left for the offside. If you've got a wire brush, clean the threads and maybe squirt some Plus Gas in to free things up. Back off the nut that sits against the edge of the outer tie rod arm by putting a spanner on the arm, and using another to loosen it.
Here's where my knowledge of part names is a little shady. At the other end of the outer tie rod is where it attaches to the wheel/suspension/steering assembly. Underneath this is another nut. You can loosen this maybe a little, but there's a 6mm allen bolt underneath that you need to have an allen key in to stop it from spinning. Try to clean it out a bit, as you don't want to round off the slot - or your allen key.
Here's where it can get messy. On one side it came off clean - on the other it was absolutely stuck fast. I managed to undo it a little, but no more than this before the nut started rounding off, as well as the allen bolt. I had to hacksaw off the lower part. This isn't an issue if you're replacing the outer tie rod too, but obviously you'll need a new one if you have to do this.
At this point, sometimes the outer just pops out. Sometimes you need to hit it with a hammer a little. Sometimes this doesn't work, and you can hit it with a hammer for hours and nothing will happen. Don't panic. Because it's tapered where it goes in, hitting it with a hammer won't do anything - save your energy. Get your ball joint separator and tap it in with the hammer below the rubber seal, with the flatter part at the bottom and the angled part at the top. It'll pop out after about six or seven hits.
Nice and easy, hopefully.
Unscrew the outer tie rod and count the turns as a guide for when you put it all back together. Mine was about 17 turns on both sides. Unscrew the nut too, as you'll need it to get the tool on in a bit.
Ahh the boot. Such fun. There are normally two single use clamps. I understand there's a special tool that gets these off, but they're expensive. Since they're single use, I used tin snips to get mine off. The major issue here is the lack of space. You can barely get your hands into the gap here, so I used a thin screwdriver to lever up the edge of the clamp so I could get the snips in. Then I used a thin screwdriver to lift the end of the boot to slide it off. Pull hard and it'll come - but there's often a bit of a vacuum effect, so it can be tough.
Slide the inner tie rod tool over the inner tie rod so the socket attachment is on the left and turn it with your finger anti-clockwise until you feel it bite. Then attach your socket and turn it anti-clockwise to loosen. It'll come loose with a clunk and you can then do it by hand.
Take the replacement inner, put some blue thread lock on the thread and screw it in by hand, before using the tie rod tool, this time with the socket attachment on the right hand side, turn it clockwise until it bites, then use your socket to tighten. You'll feel when it's tight enough. If you can torque it, brilliant, but you should be able to feel when it's tight enough.
Now slide the boot on, making sure it's seated properly over the far end. It can be tricky if you're using a new one as it can be a tight fit. Here's probably the most contentious bit - you can use either a new single use clamp (which normally comes with new boots), a jubilee clip, or a zip tie. I got fed up trying to tighten the clamp, and so just used a zip tie on both parts. Someone will say this is wrong. They may be right.
Put copper slip on the threads and put the nut on the end, before screwing the outer rod on. If you've got both sides and can't remember which is which, the outer tie rod is curved towards the back of the car. Remember the number of turns you had to do to get it off. It's good as a guide, but not all manufacturers are the same, and some are longer or shorter than the OEM one. Push the end through and tighten the nut, using the allen key to tighten it off properly. The new parts make this part so much easier.
Turn the wheel to opposite lock, and do the other side. Then get your wheels aligned.
I'm sure I've got some of this wrong, or there are easier ways of doing things, so please do chip in if there's anything that could make it easier - or to let me know the proper names of the parts! The key thing here is to remember not to panic, and to recognise that the older the car is, or the longer it's been since it was last done, the harder this is likely to be and the more likely things are going to be seized. Some of the how-to guides make this look super straightforward - sometimes it isn't.
Oh, and if you're anything like me, it'll hurt the next day. Lots of crouching, getting up, lying down, standing up, sitting down, reaching... Be prepared for that...
Last edited: