What is it
Welcome to the 2020 SEAT Leon e-HYBRID FR First Edition 204PS DSG, the successor to the popular MK3 Leon, we find a new shape, plug-in hybrid system and updated interior. How does it stack up against the previous SEAT MK3 Leon? We've reviewed the estate, now it's time for the hatch.
Verdict
The FR First Edition Leon e-Hybrid brings harmony between the innovative technology and driver, along with the advantages of being a plug-in hybrid. This MK4 Leon is a great car, its only real downside is the lack of boot space introduced by the battery.
What we liked
Updated technology
New style Interior
Battery usage
Panoramic roof
What we didn't like
New style Leon badge
New style key
Lack of boot space
Before we start, during this review we will be referencing the basic information already covered in our previous 2020 SEAT MK4 Leon Estate eTSI FR 150 review so please check that out as well.
Exterior
Here are some measurements between the MK3 Leon and this MK4 Leon for those looking to upgrade.
| | | |
| --- | --- | --- |
| Five-door | MK4 SEAT Leon | MK3 SEAT Leon |
| Overall length (mm) | 4,368 | 4,282 |
| Overall width (mm) | 1,800 | 1,816 |
| Overall height (mm) | 1,456 | 1,459 |
| Wheelbase (mm) | 2,686 | 2,636 |
MK4 Leon dimensions compared to the MK3
After being with the MK4 Leon Estate in Desire red for a week I did find the Magnetic Grey to be underwhelming. But in hindsight, it works very well with the alloys and front grill. This makes for a better blended front bumper bottom lip which would stop the temptation for some owners to wrap it black to match any front splitters added.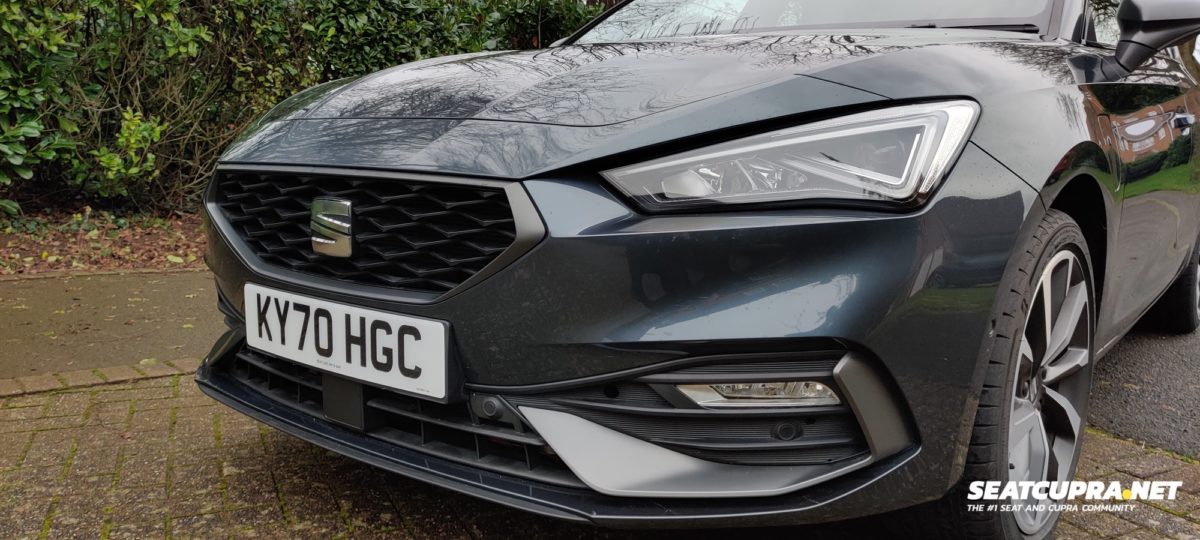 The front and side profile are much the same as the MK4 FR estate we recently reviewed bar the body being a hatchback and plug-in charge point on the passenger side. All the body lines still flow from front to back and the MK4 has been given an extra bonnet crease line from the previous MK3 Leon, this with the angular front end makes the bonnet look much better in a mild OCD manner, which pleases me.
Finishing off the front section of the FR First Edition with some machined performance alloys, this model is rocking 18' wheels instead of the FR 1.5eTSI estates five spoke 17's.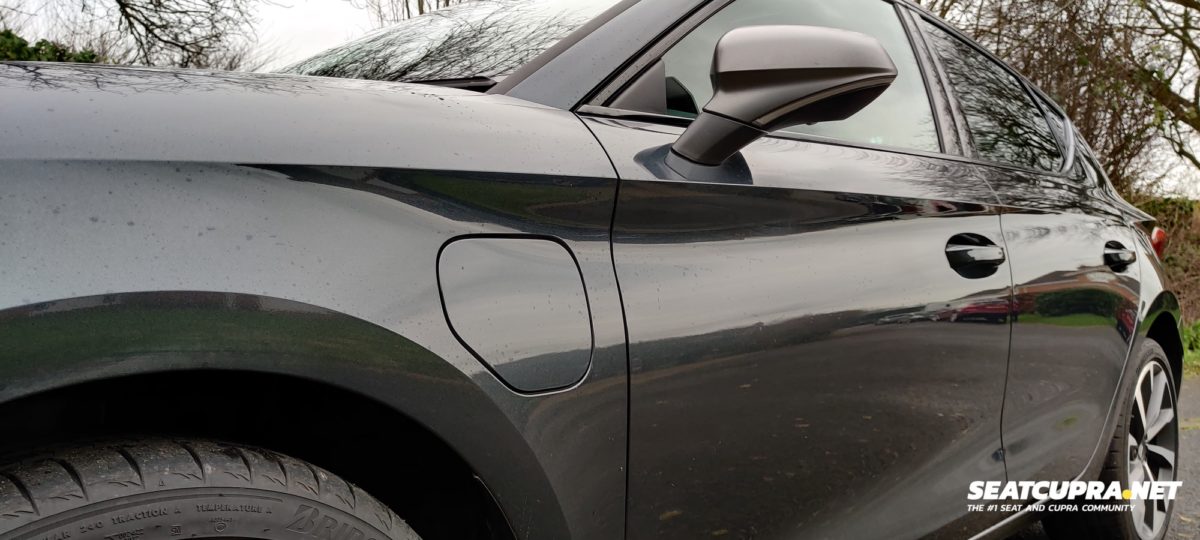 Moving round to the back of the car we again have the similar story from the MK4 estate with the full width LED bar just under the rear window, there's slight changes to the boot lid with less space between the Leon badge and the bottom of the boot which is expected going from an estate to a hatchback setup. This being the second week having a MK4 Leon on my drive I can say that I'm getting used to the new shape, I like the little things in life and the rear LED just makes it look right without being too loud on the eyes (even the wife didn't say it was too boy racer), who doesn't like this next image, I mean come on.
One significant difference on this model over the previous MK4 Leon Estate review car is the addition of a panoramic sunroof, personally I've never been a fan of sunroofs, back in the day they just used to leak after a while (although that was an R reg FIAT and 51 plate Mitsubishi), I'm hoping todays quality is much better as the added light from the roof is a great addition to the driving experience.
To open the sunroof, SEAT have kindly given us a touch/slide button. The slide direction denotes if it opens or closes (see gif below), the motor and general sound of the opening is quiet and looks/feels smooth to operate. Once open a wind barrier pops up at the front to help with keeping air coming into the cabin, whilst driving it's noticeably noisier but nothing over the top.
One tiny extra on this FR First Edition is the rear reversing camera, I was hoping that SEAT would take on the design of a camera behind the SEAT boot latch which lifts once in Reverse gear but unfortunately, it's the standard little camera just above the number plate. After having a lot of experience with these getting filthy after short journeys most of the time during winter or any wet weather, I find them near un-usable for reversing.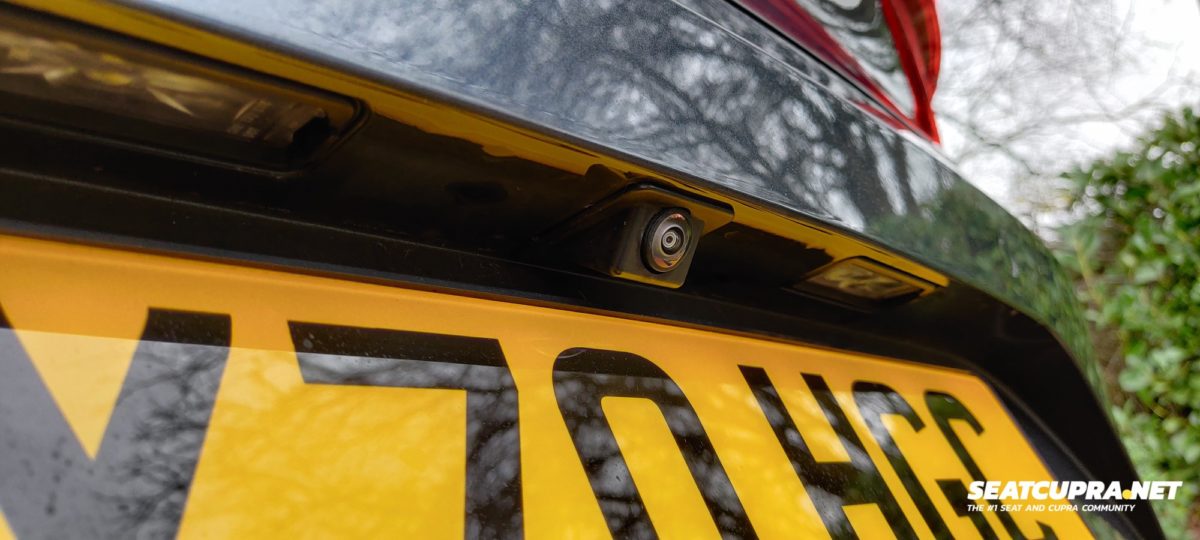 Interior
This MK4 FR Frist Edition uses the same interior design as our previous review MK4 Leon, so there isn't much to go through in terms of things not already discussed. I do have a nice image of the Interior at night-time with the sweeping LED set to red (my favourite colour).
We do have one of the most important tests for buying a car if you're mildly tall (I'm 6ft2) and would still like people sitting behind you to be comfortable. So, can I sit behind the driver's seat which is setup for my use?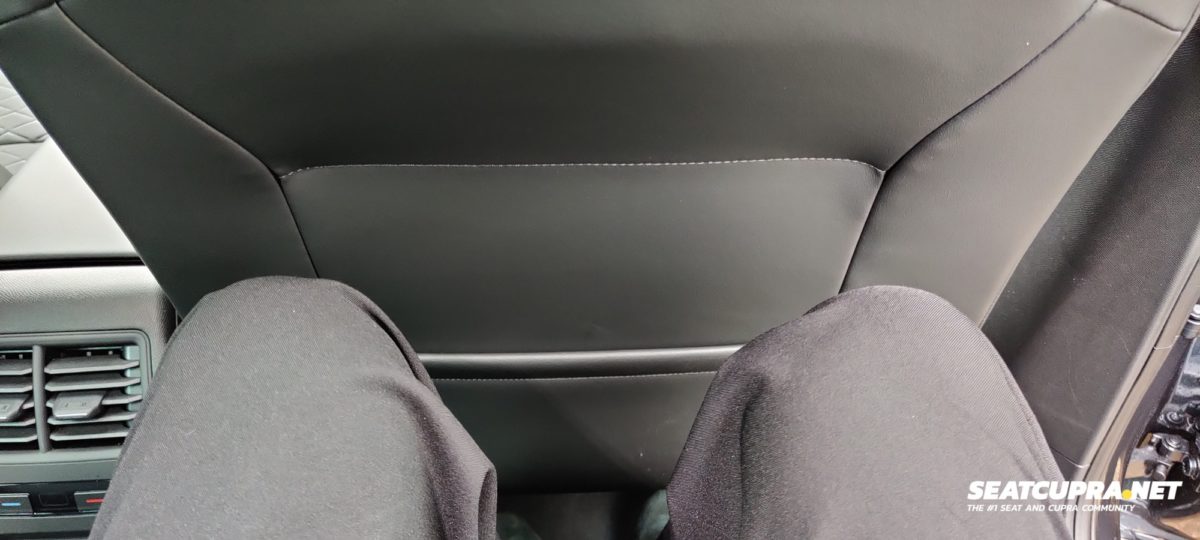 The answer being yes, very happy with the space given in the new MK4 Leon's that's I've sat in, gone are the days of having to sit with your knees rubbing the sides of the seat in front of you.
The rear seats have the more of the same two-tone grey colour scheme with Lava red stitching which looks good and possibly a better option than the MK3 Pre-FL Cupra seat trim which tended to fade after a few years of getting in and out. I'm surprised and happy to see the hatchback also gets the ski hatch behind the middle seat arm rest to help with trips usually involving either wood, ski's or even more genius, a clever way to get access to the awesome food your parents left in the boot for when you arrive at your holiday location.
Boot
After looking at the outside of the car and being the same or slightly bigger than the previous MK3 I expected a normal sized hatchback boot, what I found was a slight downer on what was currently on the way to be a great car. Space now is at a premium with this plug-in hybrid with only the height of a Tesco bag for life to work with its not the smallest boot I've seen but it's far from ideal. The standard MK4 Leon hatchback boot is 380 litres but with the battery pack being placed in the boot that shaves off 110 litres which leaves the owner 270 litres of boot space.
I'd expect that with the boot size you would be unable/struggle to fit some prams in and if it did, you'd get a pack of Hubba Bubba chewing gum down the side and that would be about it. To put it in perspective a Ford Fiesta has around twenty litres more space at 290 litres of boot space, this for me is a big issue if you have more than four bags for your shopping.
It's also worth noting a lack of dedicated space or under tray storage for any of the charging cables that you may want to take with you on your travels (when we're allowed), there is a pouch for each of the two cables but it's still not ideal considering the boot space available. Under the boot lining we find the culprit of the space hoarding.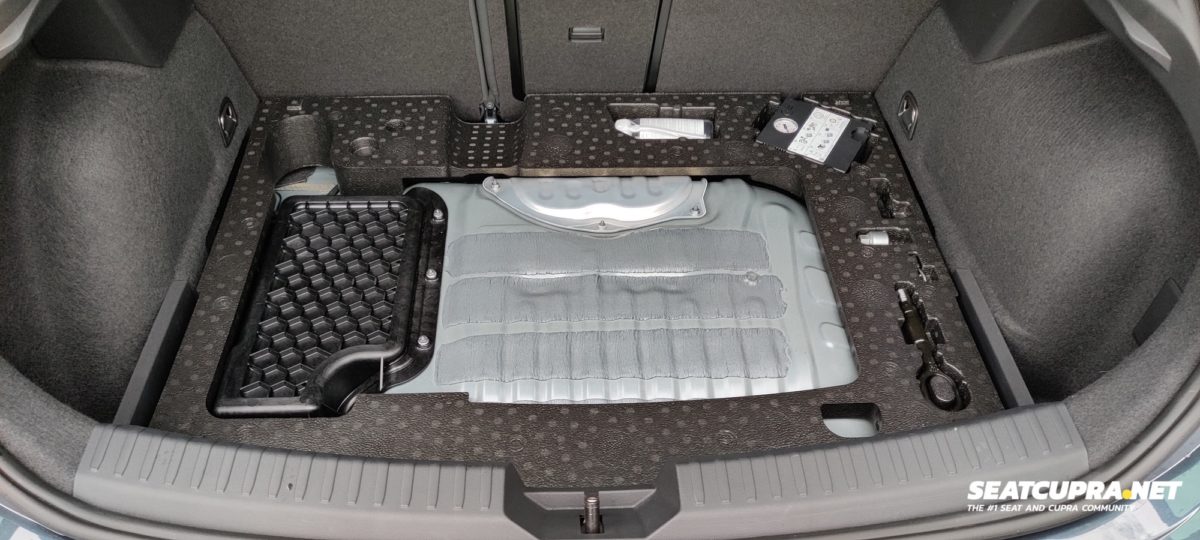 Driving and Sound
Now here is one packed engine bay holding the fine 1.4TSI engine and a 12.8kWh (usable) battery motor setup totalling a respectable 204PS and 350Nm of torque.
The car starts off in battery mode until either you run out of juice in the battery, hit the user set minimum battery reserve or you press the accelerator enough to max out the battery power. At this point the 1.4 engine kicks into life with no real sound difference (even without sound proofing under the bonnet) or feel to the driving experience. This may sound like a negative but as the transition is so smooth, that to me is a shout out to good engineering from SEAT.
Once again after coming from a MK3 Leon Cupra, starting, and moving a battery powered car still takes me a while to get used to, the "have I broken it already" type silence and with the low-speed grunt that you just cannot really get with a normal petrol or diesel engine.
Speed is instant, addictive and accompanied by a low volume motor noise which I prefer to complete silence, although once moving above 30mph the tyre noise drowns it out. I did find out that sometimes if you let your foot off the accelerator in battery mode going over 30mph you get a whine noise that sometimes catches me out as it sounds like an ambulance siren in the distance.
Using the 1.4TSI by itself doesn't feel under powered at all considering the weight gain I didn't feel I couldn't overtake if I needed/wanted to, just enough power but not enough to need new pants!
Using the 1.4 engine alongside the battery, you do see the car really come alive, the power is smooth and full of lovely torque, at full beans this car has the same torque as a MK3 Leon Cupra 290 which is pretty impressive.
Even though the car weighs in at 1,614kg which is nearly 200kg heavier than the MK4 1.5 TSI estate we had in for review and just over 110kg more than a MK3 Leon Cupra 300 4Drive, which came in at 1470kg, this car is still easily quick enough for most keen drivers who like a little spirited driving every so often.
With the MK3 Leon Cupra ST 4Drive, MK4 Leon FR Estate and this MK4 Leon FR First Edition PHEV all in this review I thought I'd treat you to some BHP per tonne figures. The MK4 Leon PHEV comes in at 126.39 BHP/tonne, the MK4 Leon Estate 1.5 eTSI is 106.38BHP/tonne and the MK3 Leon Cupra ST is 204.08.
If like me your location of work or place of shopping pleasure is within a 20 mile round trip, you could try and use just battery power, while I thoroughly enjoyed going around my local town in silence it did have one drawback, it still seems that people use their ears over their eyes to cross over my main road. This meant I had a few close encounters, including two middle aged people who started to walk out into the road whilst I was doing 20mph within around 10m of them. It was easy stop but I feel that it may become more of an issue in busier areas due to other noises which further masks an electric car.
With the drawback out the way, I must say that to live and work in the same town I'm a lucky guy, even with the smaller battery I would still be able to go to and from work all week on one charge which is massively cheaper and more fun than using a Petrol or Diesel engine (no one cycles to work these days right… Ok good). Obviously if your town trips are heavy footed off the roundabouts you may find yourself kicking in that 1.4 TSI sooner than you'd hoped, so let's talk mpg over my time with this car.
So, town driving with just battery power on the first day we got the car I drove for approximately 3.5 miles and on my return, I was down to 86% and 20 miles left, admittedly I was using the accelerator more than if I had owned the car for a month or so.
We then tested a nice long 300-mile drive using the hybrid system (fully charged battery), most of this journey was motorway driving but did include around 15 minutes of town driving (stop start), so I'd say this is best case scenario for a normal human. The first half of the journey the car had ACC set to 70 mph on motorways, Normal Profile and Hybrid from the beginning, this takes me (the squidgy bit) out of most of the decision making to get the best result with the current traffic. On arrival it seemed I have achieved 50.6mpg over 160 miles with 14% battery remaining and just over half a tank left.
The second leg of the journey on the same roads (coming home) ACC was off the whole journey, still in Drive (not sport), Hybrid (14% battery) and the Normal profile but this time I was in control of speeds and how quick I got to them, I tried a little more spirited driving with a few overtakes but still sticking to 70mph max. On returning home I plugged the car in and took the image below showing a 46.6mpg, a nice 4mpg drop from the journey there and the battery showing 7% left and less than a quarter of a tank of fuel remaining, I won't lie I'm quite happy with that. Yes, I did forget to zero the counter before my second journey home, so we've only got an overall (I'm only human).
As with our previous review of the MK4 Leon Estate , this FR First edition has the firmer sports suspension (15mm drop over other MK4 Leon trims) which makes the ride a lot like a MK3 Leon Cupra.
It could even be possibly worse due to the extra weight, myself, and the better half both thought the MK4 FR was a harder ride but comfier if that makes sense, the seats are great and much more comfortable than the MK3 but the suspension is harder, so it sort of evens out if you don't drive on cobble stones all day holding a tray of water.
One of my favourite tests during these reviews, the sound test. Each test is done using the same sound meter, location, time, and roads to keep it as fair as possible, with that in mind this is only to be used as a guide and not proven results. Here are some random noise markers for reference.
45dB – Those annoying early morning birds
50dB – Normal conversation at home (without children)
60dB – Standard Office (no loud people) 
70dB – TV Audio (without the £1000 sound system)
80dB – Dishwasher (nothing catching on the spinney thing)
Cold start
SEAT Leon MK2 Cupra R (Stock) – 82dB
SEAT Leon MK3.5 Cupra (GPF and Soundaktor on) – 87dB
SEAT Mii Electric – 47dB
SEAT Leon MK4 FR 1.5 eTSI – 82dB
SEAT Leon MK4 e-Hybrid FR – 46dB
50mph Comfort
SEAT Leon MK2 Cupra R (Stock) – 74dB
SEAT Leon MK3.5 Cupra (GPF) – 72dB
SEAT Mii Electric – 70dB
SEAT Leon MK4 FR 1.5 eTSI – 74dB
SEAT Leon MK4 e-Hybrid FR – 73dB
SEAT Leon MK4 e-Hybrid FR (battery only) – 71dB
0-60mph Heavy foot
SEAT Leon MK2 Cupra R (Stock) – 86dB
SEAT Leon MK3.5 Cupra (GPF) – 79dB
SEAT Mii Electric – 71dB
SEAT Leon MK4 FR 1.5 eTSI – 80dB
SEAT Leon MK4 e-Hybrid FR – 78dB
So, it turns out that this model is quiet without an engine being on for a cold start, who knew. There's not much in it for the 50mph cruise even with just running on battery (2dB less than with the engine on), it's a winner over the Leon range for the 0-60mph heavy foot section being 2dB less than the 1.5 eTSI and 1dB less than the GPF SEAT Leon Cupra.
Battery
What's the first thing you think of when you own a battery powered car? Charging, I thought so. After the nice long run above I charged the battery from 7% at 3:50pm using a normal 13amp socket, after an hour it had reached 26%.
At 7:14pm it had reached 59% and finished charging at 8:52pm, in total a nice 5 hours and 2 minutes to go from 7% to 100%.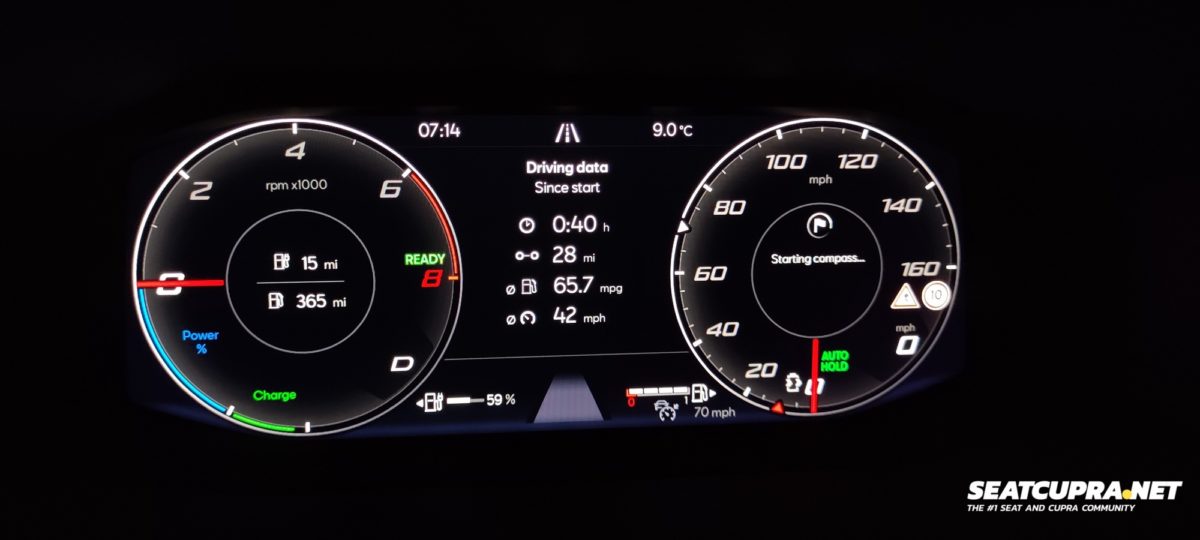 It's on average at about 14p per kWh here in the UK to charge your car at home (average of a few searches), so for this car that's about £1.79 to get 25-30 miles of battery power. To put that into perspective a MK3 Leon Cupra costs about 18p per mile with a 32mpg average (using V-Power), this Plug-in hybrid gets it at around 6.5p per mile using full hybrid.
Not that I need to big it up much more but whilst I'm here, the MK4 Leon PHEV only has a 40-litre tank and as the 320-mile journey went smoothly we still had 65 miles left in the tank. So let's say 350 mile give or take for a 40-litre tank with the hybrid on.
Here comes another MK3 Leon Cupra comparison, I got about 320 miles to a 55 litre tank in the MK3 before this review (just let that sink in…), 15 litres less in the MK4 and about the same miles in the end. I don't want to be the party pooper as I love the MK3 Leon Cupra and these cars shouldn't really be put against each other but it's still impressive for those not looking for the high-end petrol performance and willing to charge the car as well as fill it up with fuel.
To charge the battery it's remarkably simple, unlock the car then open the battery charging flap within 30 seconds otherwise it locks itself again, ask me how I know this, go on. Once the flap is open get the charging cable you need for the job be it a wall socket connection or a car to charging station cable, now plug into the car and off you go. The light next to the cable flashes green until it goes a solid green once full.
I never thought I'd like battery powered cars, it turns out they're surprisingly good, just not good enough (for me) to overtake petrol performance… For now.
Wheels
Wheels, in my top 2 things when I first look at a car, first being the colour of the paint. This MK4 Leon PHEV FR First edition has some machined 18 inch performance wheels with 225/40 R18 92Y Bridgestone Potenza tyres, brakes are the same as the previous MK4 Leon 1.5 eTSI estate we had in for review, they stop when needed and don't feel too soft when going slower speeds. One thing to mention is that on the MK4 estate we had issues with loud braking noises at lower speeds, in this hatchback all seems to be quiet in comparison and with many factors on brake noises I'd suggest it wasn't by design on the estate.
Technology
With most of the Technology already in our MK4 Leon 1.5 eTSI review, I will just home in on the extra bits not on that car so I'm not boring everyone by duplicating myself.
Driving aids
The FR First edition has plenty more toys over the stock FR model we previously reviewed, first being Predictive and Adaptive Cruise Control with Dynamic road sign display.
This great bit of kit worked wonders on my long journey making it a breeze to stick with traffic and loads of help towards not speeding when changing between speed zones.
It's a shame that other drivers aren't as good which led to a few interventions on my behalf.
This is the first time I've used ACC and I wasn't sure at first putting the speed etc under the cars control, but 15 minutes later and seeing the car deal with people slowly cut me up I was happy to continue using it.
The car has a changeable pre-set distance it likes to keep from cars in front which does slow brake the car if someone pulls in front of you, I did find that the normal setting for this was a little too far back, so I ended up with close (with more room to be closer still if required).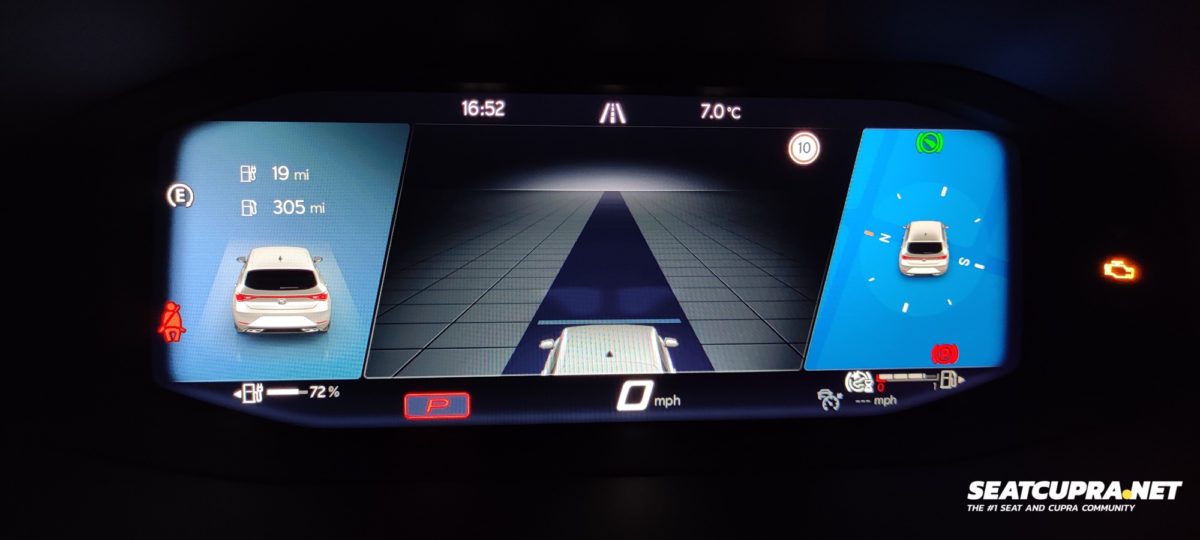 Reversing camera
As mentioned during the exterior section for this FR First Edition you are given a reversing camera which sits just above the number plate. The view is better than some cameras I've seen and helps when getting into those tricky spots, the image below is with a clean camera face, but after a 40-mile round trip in wet weather the camera was dirty and not as accurate as I'd like.
Parking assistants
With this model we see sensors placed all-round the car to aid with 3 parking assist setups. One being Rear Traffic alert for when reversing out of a space the cars notifies you of any oncoming cars to help avoid any collision, naturally I try not to reverse out when another car is coming so I didn't get to try out the latter, but the sensors work well with other sections so one assumes this carries on that theme.
Next up is the Parking Distance control which acts as parking sensors but for more of the car than standard front sensors would give. I found the sensors to be non-intrusive unless called upon, and with this aid turning on automatically at slow speeds, it's handy when parking front ways into a space.
Lastly is Park assist, unfortunately I didn't get a chance to use this option as it completely skipped my mind due to always parking as far away from other cars as possible whenever I go into a car park.
It seems after some research that the Park Assist is much better than my last try with this tech (Focus 2015). Stats show that the space needs to be 1.1m longer than the car for parallel parking and you need to go slowly for the car to see any potential spaces.
Smart assistants
Alongside the standard information in our previous MK4 Leon review, this model had some added screens on the Infotainment system to help with battery power reserves, driver aids and profile setups for turning the charging / heating on for specific times.
Battery information
With this added Battery manager section, you're able to choose between setting off in hybrid mode or Battery only power mode. You can also set any reserve battery you'd like to keep for town driving when you arrive at your destination or the next morning's trip to work. By default, the car starts in battery only mode unless 0% battery remains in which the engine would start.
Following on the battery theme in the next window with a summary page showing battery miles remaining with a potential gain if you were to drive more economically than your previous drive. The next tab across you see the energy flow of the battery with regards to power and recharging.
Lastly, we have some minimum charge options and the ability to set the AC to a specific temperature when the car is stationary (mainly when you first start the car), this can also include automatic window heating as well (used for departure times).
Departure times
A great benefit of having a battery is being able to heat the car up and choose when you charge your car (handy for those when electric is cheaper between specific times), with this screen you can do both… How about that!
You can set the time and days you want to leave on, for each one you can set if the car needs to be charged by or if the car is to reach a temperature by your departure time or both.
Heated seats and steering wheel
Heated seats are old tech but since they normally only make an appearance in the high spec trims, I sometimes miss them when I get a car. Boy I miss heated seats during winter or even when you have a tight back and just need that little TLC.
You can access the heated seat setup from the top of the Infotainment system. The heating settings go up to three and I never really went past two before feeling the need to change my underwear because it feels like you've had an accident!
Now, one of the best things in a car to help a driver could well be a heated steering wheel, that may sound silly as you'd expect the engine or a seat but once you've had a heated steering wheel it will be the one thing you miss when you change cars. It's nice and easy to access from the steering wheel using its bespoke button or in the main settings for the AC.
What's it like to live with?
Running costs
To answer this, you'll need to choose what sort of journeys you plan to do and if you have a heavy foot or not. If like myself you work and shop local this car won't cost you much at all with £2 a charge total and around £45 to fill up the petrol tank, this car can get four hundred miles with full hybrid on a normal long journey but expect around 300 – 350 with added town driving. 5/5
Comfort
Unfortunately, the MK4 Leon FR with its 15mm lower springs seems to be more uncomfortable over speed bumps and small bumps than a MK3 Leon Cupra ST. Whilst on the other hand the seats in the MK4 are extremely comfortable and more supportive for those with longer legs, as the base is slightly longer it seems. 3.5/5
Power
I think both battery motor and petrol engine by themselves are great, but together the power delivery is marvellous. Great for a mid-range hybrid whilst having a much better feel than the 1.5 eTSI counterpart when you give it the beans. The battery power around town is fun and addictive and the switch over when the 1.4 kicks in is smooth and effortless. 4/5
Cost
So, this model isn't the cheapest car in the Leon range at £36,115 RRP but after checking the MK8 Golf Plug-in Hybrid configurator and spec'd the same car as close as I could it came out at near as £40,000.
Yes, it's 245PS and has a few more gadgets but that's still quite a significant difference in my eyes, you can get a CUPRA Leon Hybrid spec'd up for £39,000 with full leather, panoramic roof and Safety and driving pack.
When you look at it like that, this car isn't a bad price if you can use all its features. Ideal for low CO2 areas and cheap to run if it's just around town then long journeys with the full hybrid in play. 4/5
Styling
Since the first day I saw pictures of the MK4 Leon I wasn't a fan, the pictures don't do it justice (classic I know), and I think in person once you get used to the new rear end, you'll be right as rain.
The front is aggressive and has plenty of lines to show off, the wheels could do with something a little more, but I assume they save all the good stuff for CUPRA cars. 4/5
Technology
I love me some tech, at first it was a little underwhelming as most of the buttons had gone, but when you go through the menus it has much to offer and the updated infotainment is quick to react and this model with the predictive ACC is a breeze to use. Slight issues with the Lane assist but that could be user error or very thin roads in the countryside. 4/5
Would I buy one?
At the start of this review, I didn't think I would, but now I find myself liking it more, the only big thing holding me back is the small boot and for me that is sort of a deal breaker, when COVID has done one I'll be taking the wife and mother-in-law shopping and I'll have to put half of it on the back seats in my brand-new Leon… Not ideal for me but it's still teasing me.
Specs of the model in this review
Total Power – 204PS
Total Torque – 350Nm
Fuel economy (mpg) (WLTP) – 217.3-235.4
Electric consumption (kWh/100km) – 18.1-19.3
CO2 (WLTP) – 28g/km
Electric range (WLTP) – 38miles
Euro standard – RDE2
0-62 mph – 7.5secs
Top speed – 137mph
Battery
Type – Lithium-ion
Capacity (kWh) – 12.8 (usable)
Max Power: kW / PS – 85 / 116
Max. Torque: Nm @ rpm – 330
Charging time AC 2.3kW (10A) 0-100% – 05:48:00
Charging time AC 3.6kw (16A) 0-100% – 03:42:00
Engine – 1.4-litre TSI
Transmission – 6-speed automatic
Max. Power: PS @ rpm – 150 @ 5000-6000
Max. Torque: Nm @ rpm – 250 @ 1550-3500
Price
Recommend Retail – £36,115
Options – £0
As tested – £36,115
Benefit-in-kind rate – 10%
SEAT pricing is on the road including first registration fee, plates, 12 months' road tax, three-year/60,000-mile mechanical warranty,
12-year body warranty and two-year SEAT Service Mobility valid in more than 30 countries in Europe and its borders