What is it
Welcome to the 2020 SEAT MK4 Leon Estate FR 1.5 eTSI 150PS DSG, the successor to the popular MK3 Leon, we see a new shape, mild hybrid system and updated interior. How does it stack up against a SEAT MK3 Leon ST?
Verdict
A gutsy engine with good low-down power, the MK4 Leon Estate 1.5 eTSI FR is a great all-round car with new styling and updated tech to usher in the new generation of the Leon ST.
What we liked
Updated Technology
New Style Interior
Boot capacity
Low speed torque
What we didn't like
New Leon badge
Lane Assist issues
New style key
Exterior
Before we get into the detail, here are a few stats that show the size differences between the MK3 Leon ST and the MK4 Leon Estate.
| | | |
| --- | --- | --- |
| Estate | MK4 Leon Estate | MK3 Leon ST |
| Overall length (mm) | 4,642 | 4,549 |
| Overall width (mm) | 1,800 | 1,816 |
| Overall height (mm) | 1,448 | 1,451 |
| Wheelbase (mm) | 2,686 | 2,636 |
| Headroom row 1 (mm) | 1,043 | 1,042 |
| Headroom row 2 (mm) | 977 | 972 |
| Boot space (l) | 617 | 587 |
First the substantial changes from the MK3 predecessor are the styling of the front and rear of the car, the front is a slightly meaner on the MK4, less rounded and with an angular front grill with added lines within the bumper just above the fog lights, even alongside a SEAT MK3 Facelift Leon Cupra 300 ST the MK4 Leon FR does have an angry streak.
Within the new light clusters, we find full LED lights with nested indicators which are unfortunately not dynamic like the rear indicators but as usual extremely easy to see in all weathers, also sticking with a more condensed classic SEAT light shape.
The MK4 Leon also keeps the plastic fins under the fog lights much like the MK3 CUPRA, done in black, they help set off the front end quite nicely.
Moving round to the side of the FR, which for those OCD minded people like myself may have noticed the body lines didn't match up on the MK3, it seems we can now relax as the MK4 shows a singular line which fades in and out of the body towards the front and over rear wheels.
The MK4 has a new wingmirror style introducing an LED turning light that looks smooth instead of the MK3 visible stock LED lights (upgraded to dynamic on this particular MK3 Cupra we are comparing against) which showed off each LED. Unfortunately they didn't make it dynamic on the new Leon, so it still stays as a solid flashing line which is a shame. This is shown in the comparison animation below.
The rear of the MK4 is easily the biggest change between the MK3 Leon and new MK4, the general shape has moved on from the rounded boot with a third break light in the spoiler lip to an awesome car width LED above the boot release which pleases me greatly! I challenge anyone to be unhappy that their car on unlocking in the dark does this…
The rear indicators are now dynamic on this review MK4 FR which is great news for those looking enviously at Audi's and VW's that have it.
The SEAT badge which now protrudes from the main boot shape flows into the slope hosting the new Leon badge, which personally I'm not a fan of at all, it doesn't seem to match the rest of the car with sharp angular lines and the more aggressive front end.
With the boot closed you'll notice the MK4 lid now sits flush with the rear bumper instead of the previous MK3 Leon which sits a good three inches further out creating a loading type area that normally holds all sorts of dirt and rain so this should be easier to clean.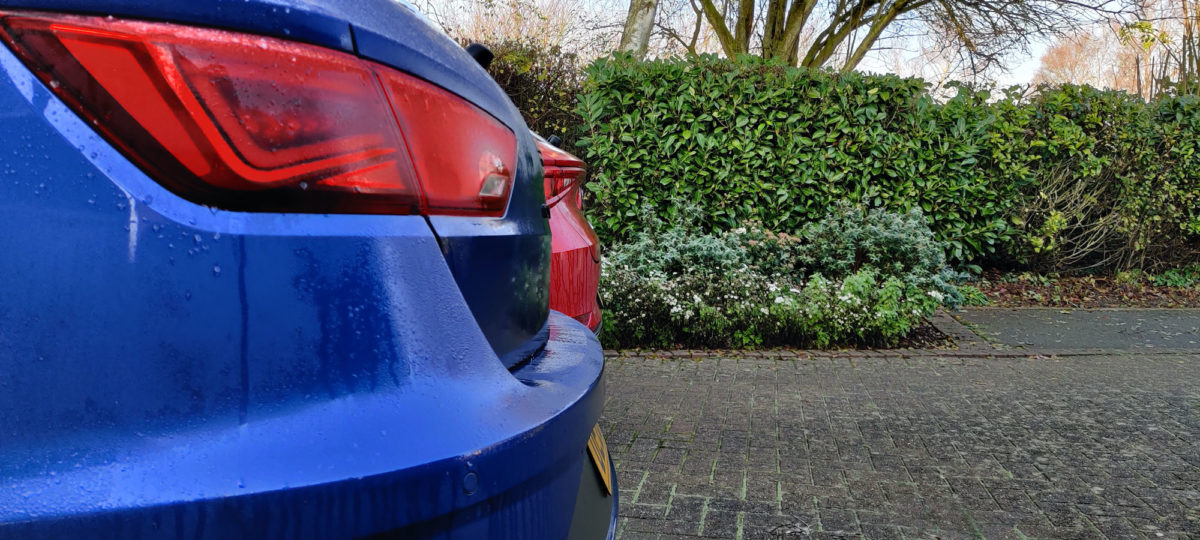 A few people may be happy to know that this MK4 FR has a colour coded section behind the number plate which matches the car instead of MK3 Leon standard black which is a popular mod for owners.
The exhaust is last on the list for the exterior of the MK4, from a distance we see two nice looking exhausts, which remind me of a Mercedes (which isn't a bad thing), unfortunately upon closer inspection with this FR model they are only for show as the real exhaust sits behind the left exhaust vent out of view.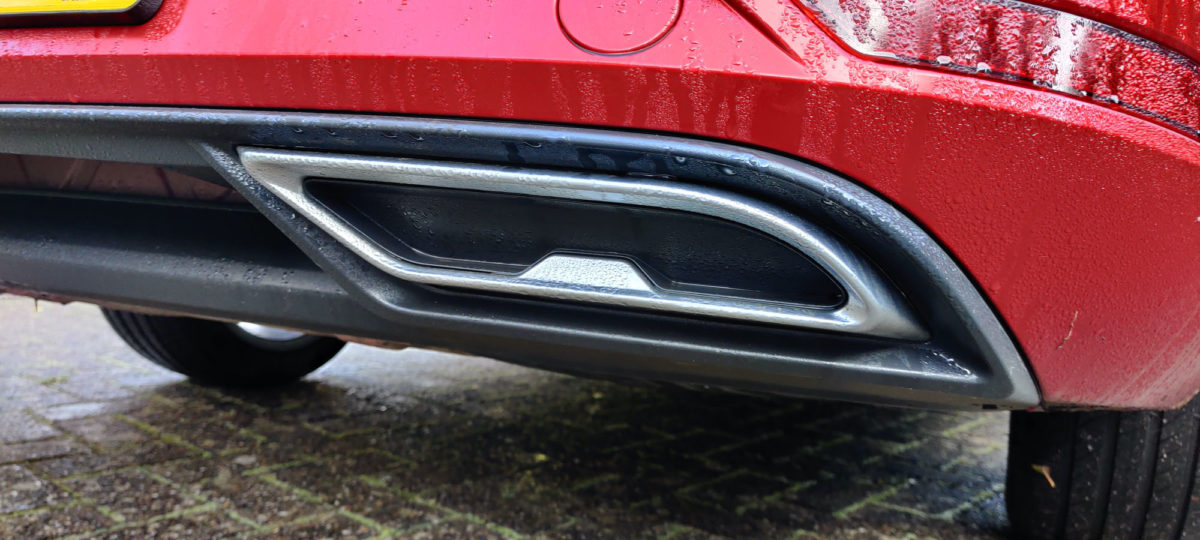 Interior
After owning a MK2 Pre-FL Leon FR, MK2 FL Leon Cupra R and a MK3 FL Leon Cupra the interior is a much nicer place in the MK4 Leon with the help of modern style vents, bigger infotainment screen and lots of touch sensitive buttons. I've always thought that whilst SEAT/CUPRA have great looking exteriors the interior sometimes lost some finishing touches that would have really set it off, with this MK4 FR it looks clean and straight to the point with the air vent surrounds keeping the same sort of shape as the front grill, finished in an aluminium style plastic. They feel well made and sturdy.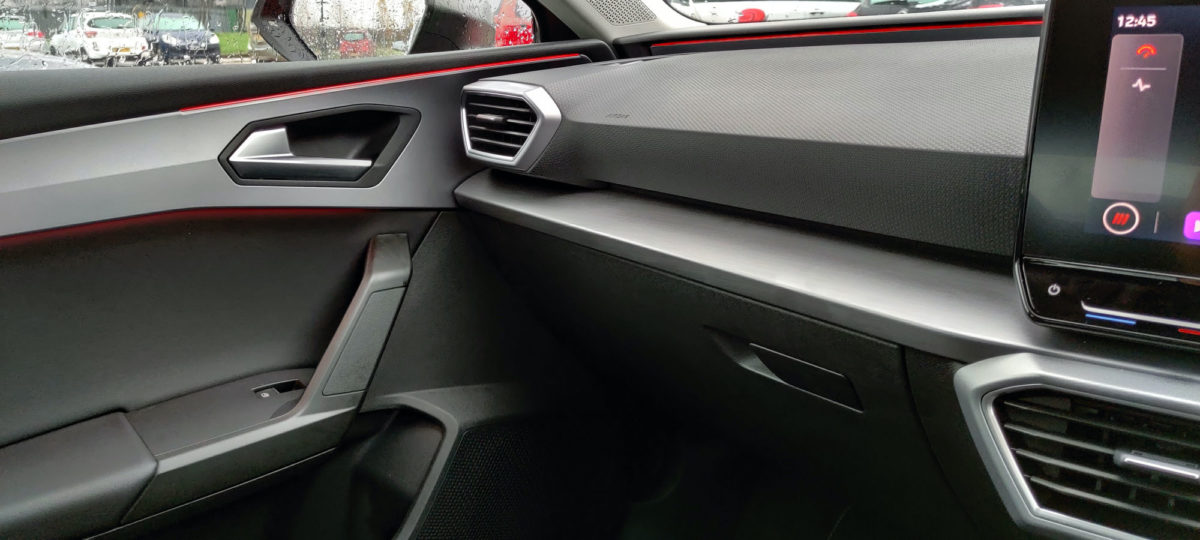 Under the passenger air vent, we find a long-brushed slightly angled metal effect shelf to help set the middle mark for the front interior leading all the way under the new infotainment screen. This has now been enlarged to 10" over the MK3 Facelift 8" screen, with this increase in size we now see SEAT expect us to use touch/gesture controls for all options in the infotainment system, so no more buttons on each side of the screen, it looks the part.
For those with the SE Dynamic and FR, the age of analogue cockpit has ended, and the digital age has arrived, with this being in my MK3 Leon Cupra I don't see much difference between the two models apart from coolant temperature, fuel, and indicator lights either in or around the latest version. I was once strongly against a digital cockpit as I liked to see a proper needle sweep going up in the speedo/rev counter, boy I was wrong! With customisation options for three sections on most views it is easy to find a view and setup to suit most people's needs.
Let's talk steering wheels, I wish SEAT would stop moving the skip track buttons between each side of the steering wheel, if I remember correctly the MK2 Pre FL has the skip track on the right-hand side of the steering wheel, the MK2 FL was on the left, the MK3 was also on the left and now the MK4 is on the right. Just pick one side please SEAT!
In terms of comfort, it does not seem to be up there with my MK3 Cupra steering wheel, but it's comfortable and I had no issues over longer drives.
There are quite a few extra buttons that I'm not used to for Adaptive Cruise Control (ACC) and lane assist distance among them. Further down I'm happy to say that this FR had an opening for your fingers to fit through if you're a fan of holding the steering wheel at the bottom whilst driving (not that it's a recommendation!).
To finish off, the FR badge is sitting pretty at the very bottom, which is something that's missing from my MK3 Cupra, the FR is a decal and not a raised badge but it's there at least.
Now the centre console from the bottom of the infotainment system to the centre arm rest seems a little sparse, mainly due it seems to the much smaller DSG selector, which is now a mere 2 inches tall (I won't quote what the wife said about the small gear knob/stick/selector), whilst strange to start with it's very easy to use with no buttons to click in before moving between selections, I'd happily have it in my Cupra if it was a choice. What I wouldn't have is the gloss black plastic section for the park button, there is no worse substance that catches fingerprints which makes the inside look dirty after a few pushes no matter how clean your hands are.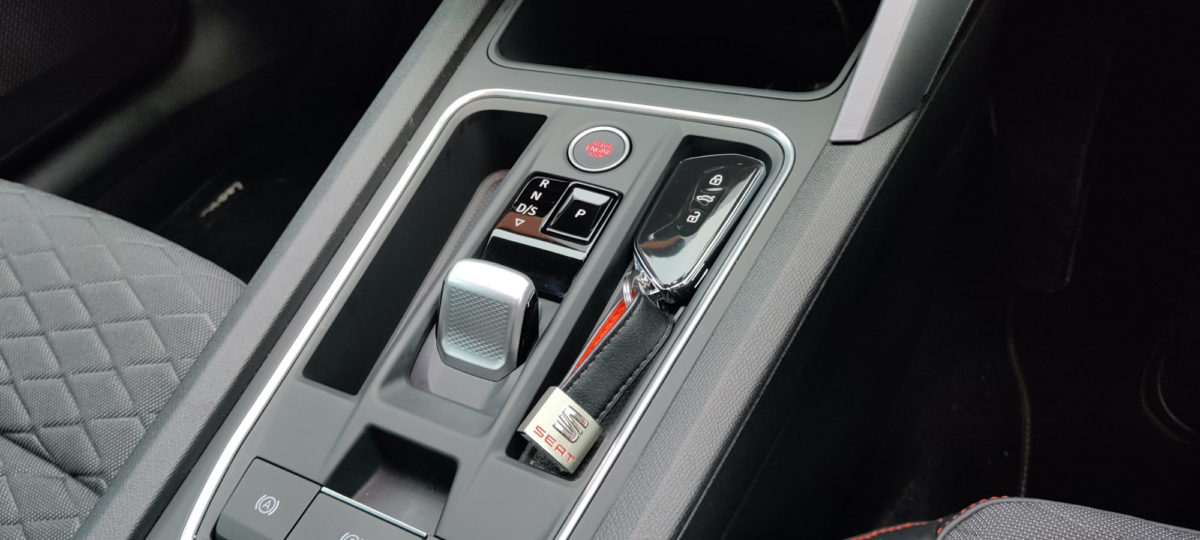 A nice feature within the Start Stop button is the pulsating LED when the electrics are on but the car hasn't been started which looks great in the dark.
As usual we have some random shaped trays for bits and bobs to fit in, with the Fr I had keyless start and I'm not sure if I'm the only one who just leaves the key in my pocket instead of placing them in the designated tray which seems a little pointless as you may as well just put a key in an ignition then.
One cubby hole that did make me happy was the wireless charging bay which is normally home to the useless junk you couldn't find a home for.
If you've seen any of my previous reviews the driver's seat is an important thing for me, it's a lot like getting home after a long holiday and sitting on your own favourite armchair, you need to sit in your car and think yes, this is my happy place.
With a fair bit of seat experience in SEAT Leon's (MK1 Cupra, MK2 Pre-FL FR, MK2 FL Cupra R, MK3 FL Cupra) I can confirm that these MK4 FR seats are extremely comfortable with enough support for the car's performance, not once after being in the MK4 did I get a numb bum or any form of fatigue.
When asking my wife about the seats she mentioned that the bottom of the seat goes out further towards your knees which makes it feel comfier for the longer trips, overall, the better half (wife) much preferred the MK4 FR seats to the MK3 Cupra. I on the other hand prefer a little more hugging from the seats to know I'm not going anywhere, so I'd pick the MK3 Cupra seats over the MK4 FR.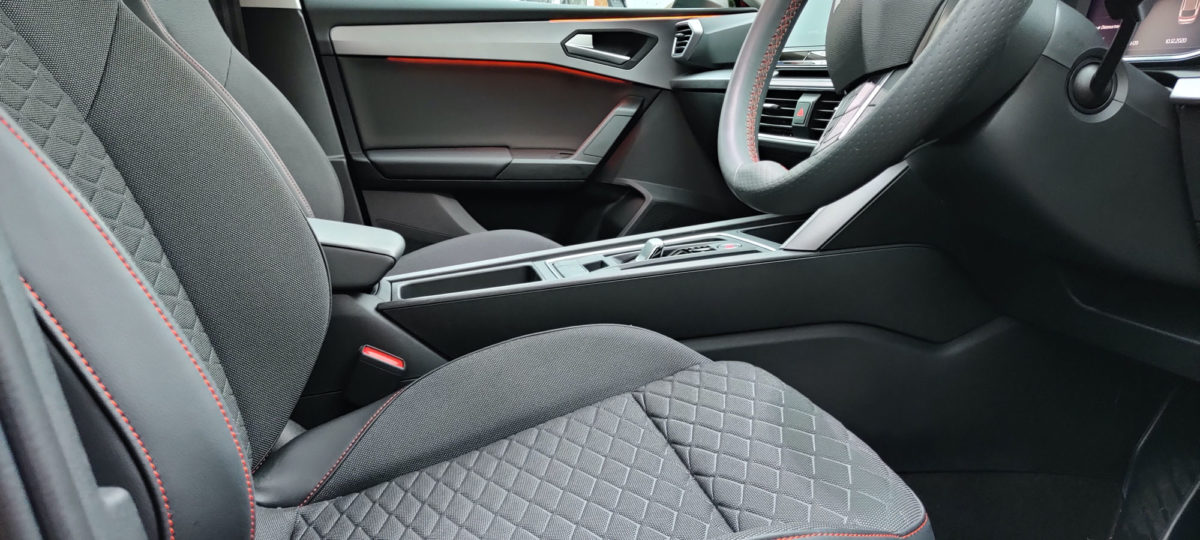 Further back, and to the sides of the front seats we have the armrest which does what it says on the tin, rests your arm. The design is much like the MK3 Leon with it lifting freely until you stop then it holds until you lift all the way up and back down again to reset. This design works great so no issues here.
Inside the armrest we have a nicely placed 12V connector but no USB's which may have been nice to hide away a USB stick with music if people still use them?
On the back of the central armrest, we have a welcome sight of two more USB-C charging sockets and a digital climate control readout for the rear passengers.
Now some people may not look at the glovebox much, but it seems you can now fit more than a screwdriver and the car manual in which is handy.
Moving to the back of the car we have the standard three seat arrangement with a fold down centre arm rest which includes cup holders and a welcome ski hatch (for those with skis or anything long and thin to fit in from the boot without taking the main seats down). The rear seats are comfortable for long journeys (so I'm told by a family member) and easily fit myself (6ft2) behind the driver's seat that's also setup for me.
It's nice to know that your passengers aren't sitting in the back like cattle class on a flight with someone leaning their seat back for the entire trip.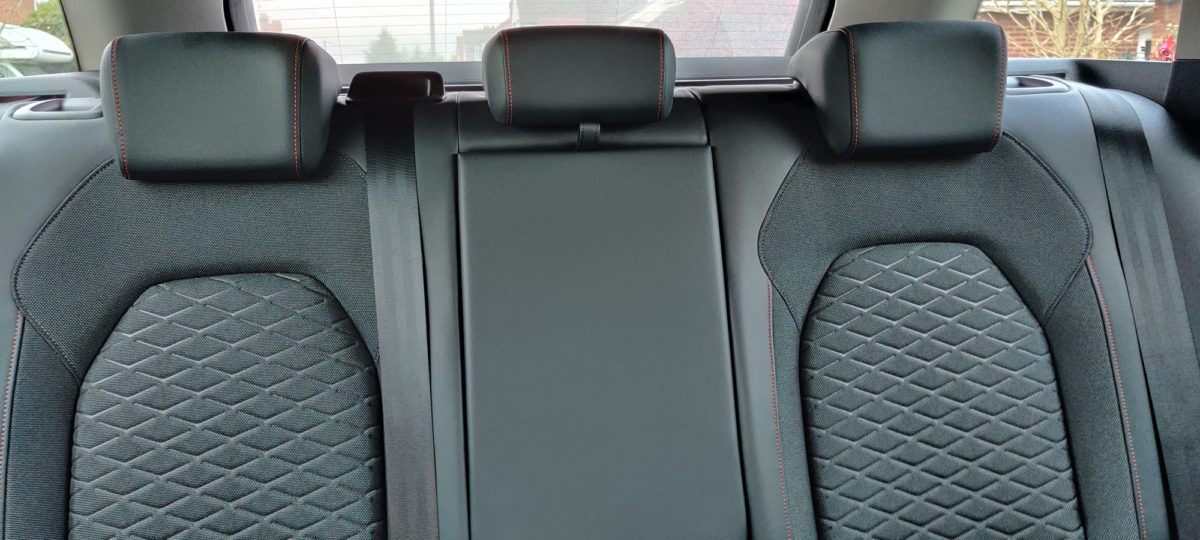 I can hear everyone asking about door cards, no? Oh well. Starting off on the front driver's side we have adjuster knob for heated wingmirrors, folding mirrors and the usual left and right movement options at the top, then electric window controls for the rest of the car and a window locking button for those children and dogs in the back.
All four doors have the new style aluminium handles mimicking the front vent style, in the front we find LED's going halfway across the door just above and below the handles which look great in the dark, the top LED being dual purpose as it seconds as an orange light for when a car is in your blind spot (if you have that option).
In the front you get the large storage space which was usually filled with sweets and generic breakfast bars but now probably has face masks and hand sanitiser, Damn you COVID!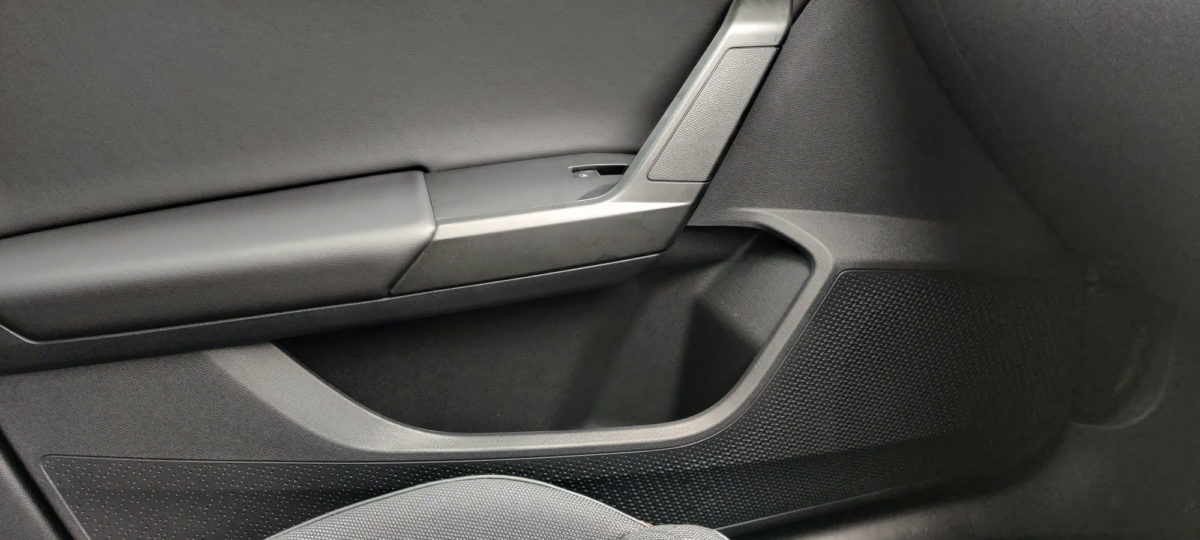 In the rear of the car, we have the smaller storage spaces and an electric window button as well as a speaker and tweeter.
Boot
Most people looking at this type of car need that extra boot space that a hatchback doesn't provide day to day, with that in mind as we have access to a MK3 ST to compare it to, here is our breakdown.
Appearance
In terms of looks between the MK3 and MK4 things seem quite drastic going from the rounded boot lid on the MK3 to a shape that can only be described as a backend that got hugged by a long armed human whilst the metal was still cooling. I guess it could be described as concave between the LED and bottom of the boot lid. I quite like the lack of the boot lip/loading area underneath the lid that the MK3 has, now it's level to the rear bumper making it a straighter cut from the rear window instead of adding three or four inches after the boot lid.
There's no doubt that at night-time the MK4 boot looks amazing when unlocking and locking with the full LED doing it's sliding Knight Rider type effect; it almost looks like Christmas with the car in Desire Red.
One big criticism from me is that awful Leon font they used for the rear badge, if I were to own this car it would be the first thing to go without a doubt.
Measurements
I bet you are all wondering how different this MK4 boot is to the MK3 ST, well here at SEATCUPRA.NET we have you covered. As we had both MK3 and MK4 next to each other we measured the boot opening and boot space with the use of a good old tape measure. As a reminder from the earlier table, the MK4 boot has thirty litres more capacity than the MK3.
| | | |
| --- | --- | --- |
| | MK3 Leon | MK4 Leon |
| Boot top | 87cm | 89cm |
| Boot middle | 109cm | 104cm |
| Boot bottom | 100cm | 98cm |
| Boot top bottom | 80cm | 82cm |
| Boot depth | 88cm to lip, 100cm to seat | 88cm to lip, 103cm to seat |
| Boot width | 100cm between plastic | 98cm between plastic |
| Lowered base to boot cover | 52cm | 52cm |
As it seems there's not much in it between the 2 cars but here is some picture of the MK4 and MK3 both with the boot slide on its lowest setting.
It is also worth mentioning that the boot lid is taller when open by quite a large margin for those with low roof garages, here is a picture of the two side by side.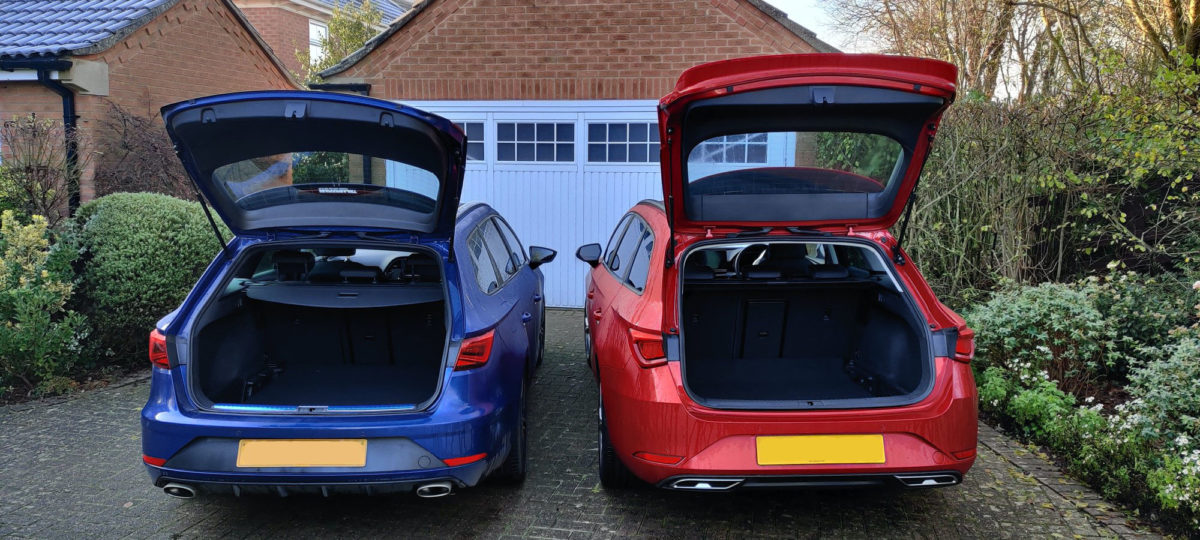 Under the boot cover
When we got the MK3 Cupra ST I was happy to see it came with a spare wheel, the MK4 FR? not so much.
Under the boot we find the hole for said wheel but there nothing but an awful gunge filler which destroys your tyre even for the smallest of punctures.
A quick look at the configurator doesn't shed any light either, even the Lux comes without a jack and with the emergency repair kit.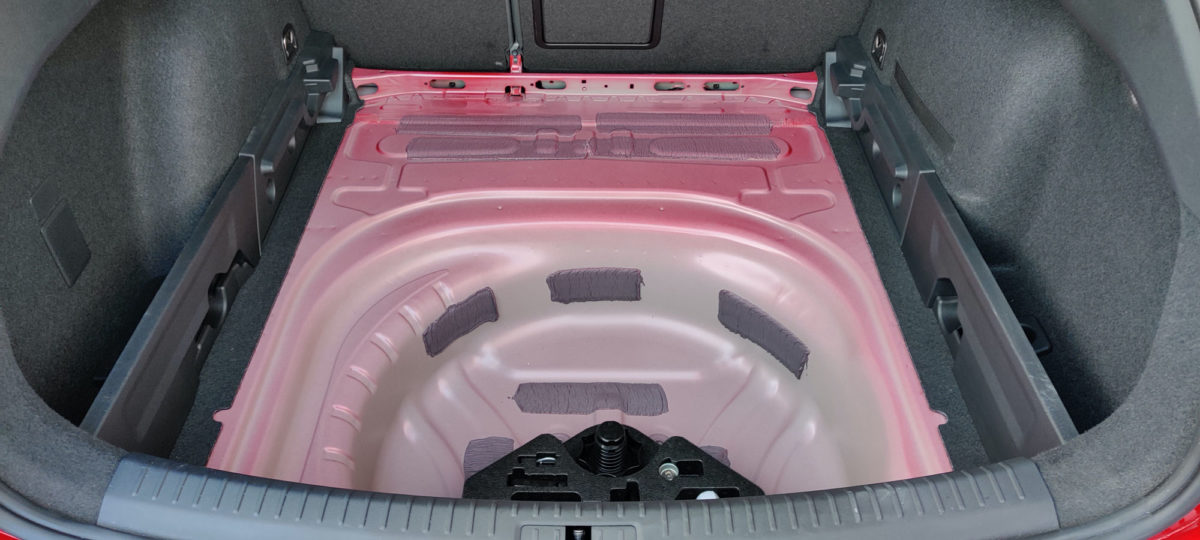 Features
Boot features you say? Well, I found three things that I like about the boot area specifically, first is the quick seat release lever, one of my favourite things second only to the front seats, purely down to the fact that it's a breeze to fold the rear seats when you need to do so. Once you give the catch a nice tug the rear seat on that side just springs down and with the massive amount of leg room, you'll never hit the head rest on the front seats unless the driver is Shaquille O'Neal.
Next is the handy 12V in the back left, there isn't not much else to write about a 12V socket, sorry.
Lastly is ski hatch which I mentioned during the interior section, I first saw this notable feature in an old Saab 93 (feels like an age since they were around in greater numbers) which my friend owned. He had some wood to take home with four people in the car, which for a normal car would have been a pain, but he dropped his ski hatch, and the wood went from the boot and through the centre seat and all was well in the world, since then I have the upmost respect for the ski hatch. Not a fan? When you need it, you will be!
Engine and Sound
The stats of the engine for all the numbers people are below, but I normally express my thoughts in either smiles per miles or 0mph to needing new pants just to give you a heads up.
Engine – 1.5-litre eTSI
Transmission – 7-speed automatic
Power: PS / BHP – 150 @ 5000-6000
Torque: Nm / lb ft – 250 @ 1500-3500
Fuel economy (mpg) WLTP – 44.1-47.9
CO2 (WLTP) – 133
0-62 mph – 8.7secs
Top speed – 135mph
Please forgive me if I try to use a MK3 Leon Cupra as a comparison to this MK4 Leon FR 1.5 eTSI but it may give you a decent insight to some things that I didn't expect.
First off have we a lovely picture of the engine bay whilst it was quite clean, we seem to have lost the SEAT badge on the engine cover which I miss as SEAT just stuck their badge over the VW one and said thanks very much for the R&D.
I'm not a mechanic so there's not much I can help with in this regard, but it looks nicely packed out and neat, one thing SEAT seem to skip is the gas struts for the bonnet, something so easy to put on for the sake of £20 for them it seems like a no brainer.
Another favourite of mine doing reviews, is the sound test. This has been done in the same manner for each car using the same sound meter but as you all understand it's not a perfect science.
The tests consist of a cold start (morning) with the decibel meter on the floor, level with the rear of the car. Then it's the 50mph cruise with minimal acceleration over half a mile on the same road then finishing off with 0-60mph with a heavy foot but not flat to the floor wheels spinning.
The cars in for comparison are my old stock 2010 MK2 Leon FL Cupra R, a stock 2020 MK3 Leon FL Cupra ST 300 4Drive and a 2020 SEAT Mii Electric, lowest number is best, here are some examples to give you an idea of what the numbers are comparable to.
45dB – Them annoying early morning birds
50dB – Normal conversation at home (without children)
60dB – Standard Office (no loud people)
70dB – TV Audio (without the £1000 sound system)
80dB – Dishwasher (nothing catching on the spinney thing)
Cold start
SEAT Leon MK2 Cupra R (Stock) – 82dB
SEAT Leon MK3.5 Cupra (GPF and Soundaktor on) – 87dB
SEAT Mii Electric – 47dB
SEAT Leon MK4 FR 1.5 eTSI – 82dB
50mph Comfort
SEAT Leon MK2 Cupra R (Stock) – 74dB
SEAT Leon MK3.5 Cupra (GPF) – 72dB
SEAT Mii Electric – 70dB
SEAT Leon MK4 FR 1.5 eTSI – 74dB
0-60mph Heavy foot
SEAT Leon MK2 Cupra R (Stock) – 86dB
SEAT Leon MK3.5 Cupra (GPF) – 79dB
SEAT Mii Electric – 71dB
SEAT Leon MK4 FR 1.5 eTSI – 80dB
I always find the sound test to be interesting to see how cars progress or regress. On this occasion the MK4 FR 1.5 eTSI has the same cold start level as a stock MK2 Leon Cupra R which worries me a little as it doesn't sound as nice as the R!
The 50mph cruise showed the same thing matching with the MK2 Cupra R. Considering the R has 19-inch wheels and the FR has 17-inch wheels, that's quite a loud interior as the MK2 wasn't quiet inside.
Lastly, we have the 0-60mph with a heavy foot, I did wonder if the MK4 was louder than the MK3 Cupra when I did this test and it seems I was right (only slightly), when I planted my foot the engine bay came alive and gave some nice feedback, but the noise was way over what I expected from a 1.5L. This is likely to be a synthetic symposer.
On the road
Now with the engines covered, we can do some driving. For a first-time driver of the 1.5eTSI or 1.5TSI for that matter I was surprised to see the low-down grunt this engine has, off the mark and around town it felt like a dream engine, once I started to push the pedal more, the car had plenty of power, but it felt a little squishy which is likely due to the 380Nm of torque I'm used to in the MK3 Cupra.
When I gave it the "French beans" it did move like I'd hoped, I think smiles per miles on this model is an average five out of ten.
One issue I did have is with the DSG gearbox when putting my foot down, sometimes it would just go down 1 or 2 gears and then just stay at max (safe) revs for a second or so before changing up to the next gear, which as a driver sounds and feels wrong. As an automatic I feel it should be able to do the job quicker than me in a manual but those few occasions I don't think it would have coped.
When driving on the motorway I didn't notice or see any indication of the mild hybrid kicking in to keep the car moving with minimal use of the engine, I tried to get it to show by trying multiple things, so if it did work then it worked beautifully as I didn't notice it.
When up to speed the car is solid and could easily be a cruiser for very long journeys, one thing myself and the better half noticed is that the suspension in this MK4 FR (15mm lower than other MK4 trims) felt way harder than my MK3 Leon Cupra in sport mode, that didn't sit right with me at first but like any car you get used to it, but I don't think someone coming from a MK3 FR to a MK4 FR would find it more comfy (happy to be proved wrong).
After a brief DSG issue above I best let you know that apart from the few times it didn't switch very quickly, the gearbox is great. It keeps the drive smooth and kicks through the gears quickly when on a spirited drive
The DSG flappy paddles are still too small for me so I found myself not using them as much and kept to dropping the gear selector into sport to help with any overtaking. Even though the selector is only two inches tall it's still quite satisfying changing into sport but it's just not as good as holding onto a full-size gear stick selector in my eyes.
Cars seem to be going into the minimalist look which does makes the cabin look bigger, but I did rest my arm on it sometimes when my elbow got bored of the armrest.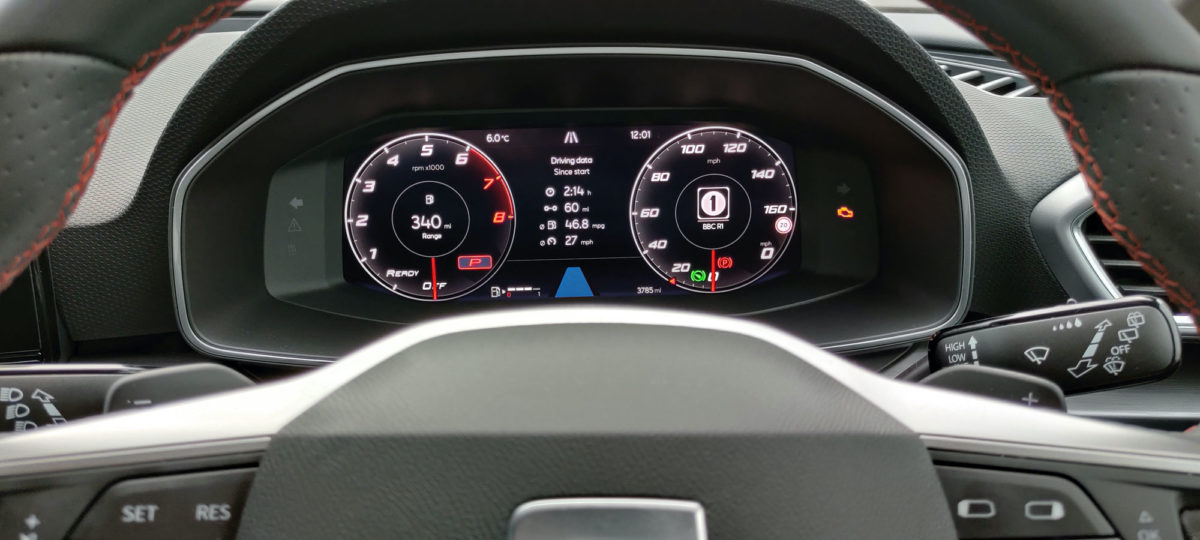 I guess once you've started driving, you'll want to stop at some point. I can confirm the brakes do indeed work, they fit in between my wife's Fiesta which are incredibly soft to the MK3 Cupra which are highly active on the smallest of pressure. With that in mind the car did sound very loud in the cabin at low-speed braking.
Wheels
Now while these FR wheels aren't much to look at in comparison to the bigger wheels, they work great with the cars looks for those who want a functional estate without some garish looking alloys. This FR came with 225/45/R17 Michelin Primacy 4 tyres which didn't let me down with grip at any point.
One thing I do like is that they didn't come in diamond cut gloss black, which is a nightmare to clean, also five spokes look good.
Overall, I'm a fan of the wheel and tyre combination for the type of car it is.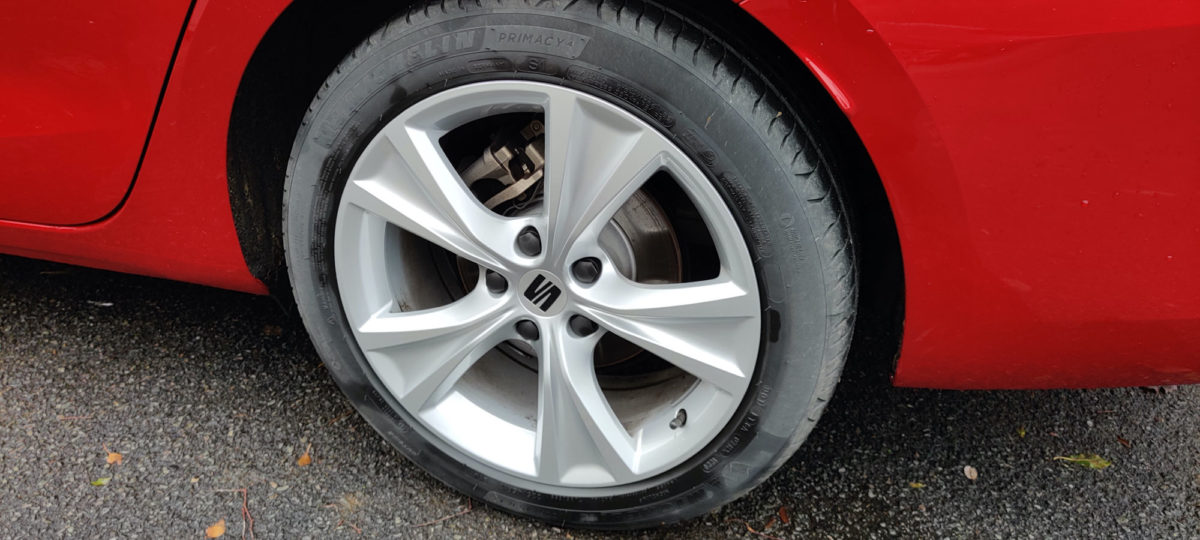 Technology
10" Media System – Screen
With the screen off it looks amazing, lots of black (all be it a fingerprint magnet) and basic touch buttons at the base of the unit which in all honesty could and should have been real buttons.
Once the screen is on it has a massive border, with current technology could we not work out a way for a bezel less touchscreen like every premium mobile phone these days. Either fix the resolution so it's fits perfectly like the MK3 FL 8" screen or make the screen fit the case you have, I've never been a fan of wasted space.
Load times from turning the car on is minimal at best so it's easy to get things up and running without much waiting around, if your phone has CarPlay, MirrorLink or Android Auto enabled whilst being plugged in it will load your last screen you used, which is handy.
If you're running without a phone, your main screen will be the three sectioned screen showing navigation, media, and general car information.
Before talking about Android Auto (let's be honest why would you have an Apple phone? – fanboy alert!), ignoring the massive border round the edge the screen is fairly decent quality, but don't go expecting 4k.
Visibility is good even if the sun is shining or you're looking from the passenger seat, pair that with the lack of physical buttons to navigate between each section you'll be glad to hear that the touch screen is above average and reacts to most presses as you would expect.
10" Media System – Screen Features
As in the MK3 Leon when you move your hand up to the screen before you touch it, the screen wakes up, this new infotainment system has the same functionality along with a new feature which allows you to use a hand gesture to move between screens. In theory it's a great idea, I used it to go between two screens and that's about it, so I personally didn't find much use for it at all.
10" Media System – Media Input
With the MK4 you do get two USB-C inputs in the front and two in the rear instead of the standard previous generation two USB-A sockets in the front that only allow you to plug something in on the third try!
You also get a 10cm+ USB-C to standard USB-A cable for those who don't have the USB-C to USB-C cable lying around.
Other means of connection for audio include Bluetooth and WLAN if you use Apple CarPlay and its setup, for Android Auto you'll have to stick to a wired connection unless you have a newer Google phone running Android 11 to use it wirelessly.
10" Media System – Car Data/Profiles/Settings
From the main screen (no phone connected) you can see generic info for mpg etc (since start and long-term information), all this information was best viewed on the Digital dash as that seemed to have more customisation ability.
If you use that fancy hand gesture on this screen you can swipe your hand from right to left over the screen and it would move you over to the next section which includes your driver profile (Eco, Normal, Sport and Individual) and air conditioning settings (also available from the top of the screen and the touch buttons at the bottom of the touchscreen).
Within the Aircon settings (main settings page) you have the option for windscreen heating (through air vents), rear window heating (heated element) and A/C on or off. At the top of the screen, you may also change the air speed of the auto setting between three options (3 dots), next selection on the left gives you the option to lock the rear temperature to stop the kids fighting over what is the right number to have (thanks SEAT!).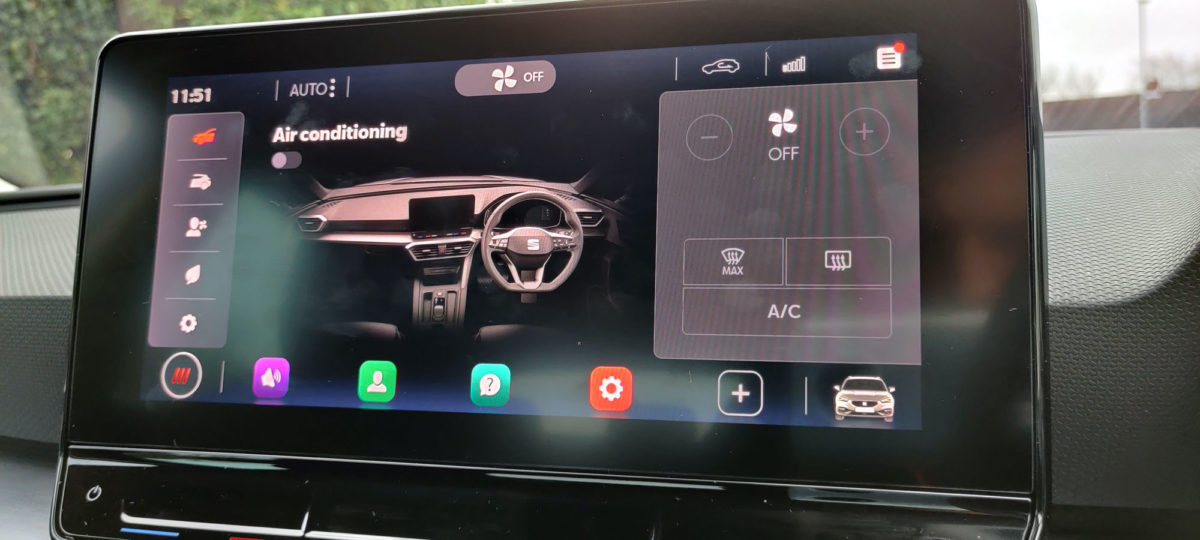 Next up is the iClimate section which I liked. It gives the user a nice easy one press range of options with a great description like "Warm my hands" (air vents), "Defog the window" and "bring in fresh air". I wish this were a quick and easy option from the main screen as I could see it being quite helpful first thing in the morning.
I must admit the next option is in the MK3 Leon, but I've never seen/used it, Air Care Clima is an option you can enable to clear the air in the car of smells, pollen, and pollution. I couldn't tell if it's doing anything as I don't have hay fever and I live in the sticks so pollution isn't so much of an issue, also during my time the farmers didn't drop any lovely smelling manure so I couldn't test this to its full potential.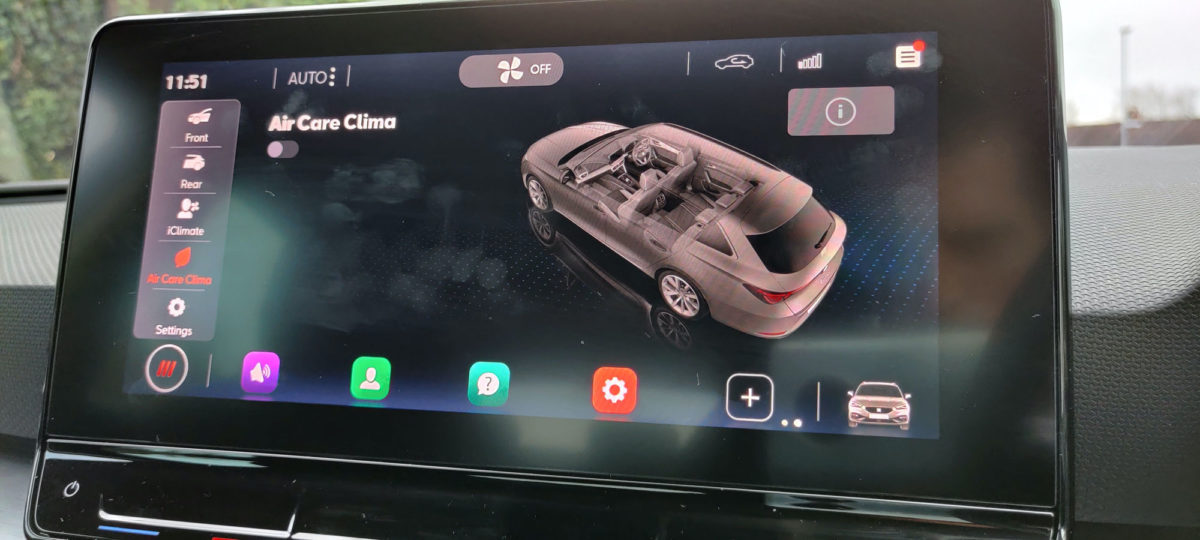 Lastly on the left is AC Settings which doesn't host a lot of options apart from turning on automatic air recirculation and how powerful you'd like your auto setting, as mentioned before.
10" Media System – Android Auto
Unfortunately, as I do not own an Apple iPhone, I could not test out the CarPlay features but Android Auto should hopefully give you an idea of what to expect. Once you have plugged your phone in via one of the USB-C inputs and setup your phone, you can then load up the application to show the standard screen to select which app you want to use.
I currently only use Amazon music and Waze through Android Auto, and with regards to Waze I'm a little disappointed with what SEAT have done with the screen size, instead of filling the screen like the stock navigation, they made it much smaller which now leaves an even bigger border of nothingness.
I didn't find any lag between any of the apps I used, and it felt much better than my MK3 setup which sometimes screws up with regards to music volumes and loading Amazon music.
Using the voice commands to play my Amazon playlists worked well but I did name them accordingly to avoid voice mistakes from the outset.
Digital Dash
Due to my MK3 Cupra having a digital dash I didn't expect much change in the MK4 version, first impressions you can immediately notice that the gauges on the sides in the MK3 are now incorporated to give the 10.25" screen room to shine. The screen itself isn't too shabby in spec's (1280 x 480 pixels, 133 dpi), it is easily readable in all weathers (which I experienced during my time with the car).
As for customisation, you can scroll through using the buttons on the steering wheel, most of the views have three sections (left, middle and right) that you can put a multitude of options on, although each section is limited so, for example you can only show the car data on the left section and media on the right with settings and nav in the middle.
I also found later with my time in the car that if you hold the view button down you can bring up the old analogue style pins (obviously still digital), this does take away the left and right-side information circles but some may prefer less information on the display.
A quick mention about the lane assist section and speed sign recognition (more info below) icon, which is quite handy. It is also worth noting that things seem to have been upgraded since I last used this technology in a Ford Focus Titanium X 2015 where every time, I drove past a lorry my dash would produce a speed limit of 110+ which is nice to see but not sure it would hold up in court.
Both options appeared in the correct place, overall a nice update to the dash from someone who thought they would never like digital over analogue.
Driving Aids – Lane Assist
After reading on the MK4 Leon forum regarding some lane assist issues, I thought I'd give them a test and see what I experienced.
First try was cruising at 70mph on the A1 and no issues to report, if I drifted slightly either way (clear road and safely) the car steered me back into the lane and the lane assist display on the digital dash showed up as orange for the line I'd just crossed over. If I started to drift near the same line by a little bit more than once in quick succession the car beeped and told me to take control of the car.
So far so good, until I got to my home town which is some-what in the sticks (countryside), with the Lane assist enabled things changed for the worst, I assume as the roads (A / B roads) are somewhat thinner or just because it's not a motorway the system constantly said I wasn't in the middle of the road, my wife can confirm by the amount of swearing I was doing whilst telling the digital dash off, this was not the case!
I also found that when your local council decide to put some concrete slabs on the sides of the road to slow people down the system doesn't know they're an issue for your wheels, being as you don't need to indicate to get past these slabs the car decides oh, you're near the line so I'll steer you back in, towards the concrete which isn't ideal!
After this issue I turned off the Lane assist which put not one but two amber error lights on the dash which for most people would be very annoying including me, so I turned it back on again and just delt with the issues.
Driving Aids – High Beam Assist
I'm a huge fan of this driving aid as around my county there is plenty of turns and hills etc which make turning full beam on and off somewhat of a pain and it's possible to accidently blind oncoming cars whilst trying to get round a sharp corner. I can confirm that the system works great, and I had no issues with the car lights turning off too late or waiting too long to bring full beam back on.
As I only did a couple night drives so I cannot be sure, but I think you also must turn on this driving aid every time you start the car. Maybe one of our MK4 Leon owning members can confirm in the comments below?
Driving Aids – Front Assist
Now it's possible that I may be mingling multiple driving aids here but hey, front assist by design looks ahead and see's if you have anything that may cause an issue for you or the car, if it gets too close it will help to bring the car to a stand-still safely (if within its speed ability). I didn't get a chance to test this function out unfortunately and I hope no one ever has to either.
On the other hand this MK4 had a lovely feature which auto brakes the car for roundabouts which made me very happy considering I do miss engine braking from using a manual instead of having to use the brakes in the MK3, at a specific distance based on the speed of the road the digital dash shows up a message for you to take your foot off the accelerator, if you do this before the message disappears then the car will engine brake itself so when you hit the roundabout you're at a rolling speed which is pretty amazing, it got very addictive knowing you didn't have to do anything for slowing down for roundabouts.
What's it like to live with?
Running Costs
With a 50-litre tank and by the driving I did you could get 400+ out of a tank with about 47mpg from what I saw with mixed roads and speeds but all in the standard driving profile. Part of me thinks that if you had shorter journeys, you would be better off with the PHEV (Plug in hybrid) to save you using the engine during the town trips. This car is clearly cheaper to run than my MK3 Cupra, but do the smiles per mile pay more than the mpg…
Comfort
This car is extremely comfortable to sit in, but once you start hitting bumps the suspension is quite hard, with this MK4 FR having a harder ride than my MK3 Leon Cupra ST, it's not the best for comfort but it's not going to break bones or give you any issues on long drives.
Power
I found the 1.5L engine great for the low-down power but it didn't feel the same at higher speeds when wanting to overtake, I may be asking too much from a smaller engine considering I'm used to more power, it didn't grab me as "powerful" but should be plenty for most people.
Cost
I think based on the MK3 Leon Pre-FL FR ST (Tech Pack) which came in at £23,900 new which is nearly £4,000 cheaper than the MK4 we had to review (£27,895), is that worth the cost for the massive jump in technology and classier interior? In a word yes, everything has come so far since the first MK3 cars came out and it's just useability and information you can get out the car.
Styling
When the MK3 Leon first came out I wasn't a fan and for me the MK4 was the same, but after staring at it for a week on my drive it's definitely grown on me, the front looks great and the lines meet on the body work to help my OCD.
As for the boot, I think if the rear end didn't have the car width LED, I wouldn't be a fan at all, but it all fits in nicely, I think. I'm not sure anything new will beat the styling of old, the MK1 and MK2 Leon are the top two in the list of past Leon's in my eyes.
Tech
Without a doubt there has been a big update on the tech front. It took a little while to get used to the button-less media system but once you've got that down it's a breeze to use. I'm not sure it needed the gesture support as I found that a little clunky.
The digital dash and driver aids work well together, even though I've not tried the MK3 driver aid tech to compare as I don't have a Lux, I feel from other cars I've had, the software works well and for once helps your journey instead of hindering it.
Would I buy one?
Currently no, I already have the same size boot (give or take) and a more powerful engine, but in the future if they brought out a 1.8 TSI for example (configurator only showing 1.4L TSI PHEV and 1.5L TSI at the point of this review) I'd be more interested as a replacement for my MK3. I would go for the FR Sport for the better wheels etc but the car itself is what I'd like in an estate.
Specs of the model in this review
Engine – 1.5-litre eTSI
Transmission – 7-speed automatic
Power: PS / BHP – 150 @ 5000-6000
Torque: Nm / lb ft – 250 @ 1500-3500
Fuel economy (mpg) WLTP – 44.1-47.9
CO2 (WLTP) – 133
Euro standard – EU6D Temp EVAP (RDE1)
0-62 mph – 8.7secs
Top speed – 135mph
Fuel tank – 50

On the Road – £27,895
Options – £0
As tested – £27,895
Benefit-in-kind rate – 29%
Insurance group – 22E
SEAT pricing is on the road including first registration fee, plates, 12 months' road tax, three-year/60,000-mile mechanical warranty,
12-year body warranty and two-year SEAT Service Mobility valid in more than thirty countries in Europe and its borders
What do you think about the car? Do you have one already? Thinking about switching to one? Let us know in the comments below.