Holla! Welcome to my readers ride thread!
Been a long time in getting round to this. Got some exciting shizz coming up soon so decided to
help
me track what's been going on, i should bring things up to speed on a RR thread and keep it updated.
I expect like most of you, I thought I would be content with stock Cupra goodness. Never planned on doing anything to it, joined the forum before making a purchase to have a poke about and what not.
So that hasn't happened!! I pretty much blame all of you for putting such ideas into my head.
Nothing too extravagant going on here!!
So far:
Cam follower
Dealership floor mats
Soundkator delete
Revo Ceramic Intake
Custom cut engine cover
APR v3.4 Stage 1
Repaired/sealed leaky bonnet strip
Ordered and returned a stubby ariel
Plastic battery cover
New OEM Cupra gearknob
Cupra R Diffuser gloss black
BCS Prestige Turbo Back System
In the pipeline:
Tyres
Springs
Stage 2 software update
Anyway, if it had not have been test driving a candy white FR CR170 and it going into limp on the motorway, doing a bit of digging on here and getting some
help
, I wouldnt have realised a derv was not for me. I probably would have bought it.
Thankfully my car is not a daily driver, and although doing a long old poke between tyne and wear and Plymouth a few times a year the Cupra, (not the R, I actively decided not to get one of those) was the one for me. Despite fancying Speed Blue, I fell in love with Furia Grey. Bit of a sleeper, not too shouty
Traveled down to Grimsby to pick her up from the dealership in May 2014.
Anyway these were the pictures I took when I got home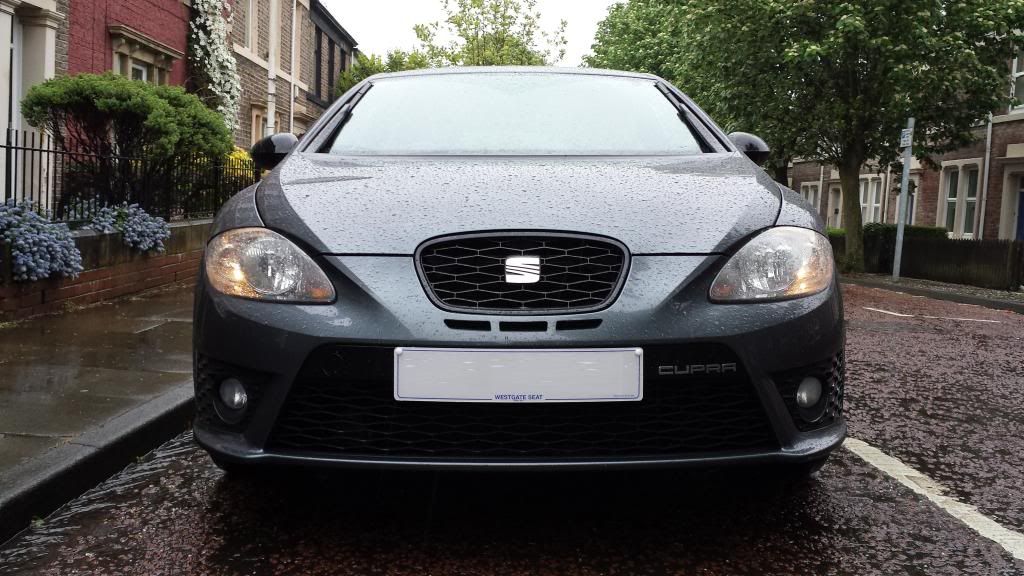 Even had a nice bunch of flowers from the dealership which the missus liked
Last edited: