here are some specs and stuff on my car:
**Engine**
Smooth airbox
3" Stainless downpipe
Stainless sport cat
2,76" / 70mm
Cupra
-R Milltek Resonated CAT-back
exhaust
APR R1 recirculating diverter valve
stage-1 software
n249 Deleted and bypass (dv)
n112 Deleted (sai)
sai pump Deleted
kombivalve Deleted (sai), blockoff plate
**Handling/Suspension**
Cupra
-R / S3 Front Wishbone
Cupra
-R / S3 Front wheel hub carrier
VW Golf mk4 R32 Front 23mm ARB with
cupra
-r droplinks
Dog Bone Engine Mount powerflex
Eibach Pro-Street-S
CoilOvers
Cupra
-R Top Mounts
**Brakes**
ATE power disc, front brake discs, elliptical slotted/grooved
Ferodo DS2500 front pads
**Wheels and tyres**
8*18" alloy wheels "lamboghini gallardo" look
225/40-18 92Y Continental SportContact 5 tyres
205/55-16 Continental TS830 Wintercontact tyres
17" Audi TT alloy wheels, Trackday wheels
**Exterior**
Front bumper
cupra
-r
Rear bumper
cupra
-r
Side skirts
cupra
-r
De-
Badge
Osram Night Breaker dipped beam/high beam/Front fog bulbs
VW Touareg front position bulbs
VW Lupo 3L front and rear turn signal bulbs
clear side indicators
VW Golf mk4 front Aero wipers
VW Touran rear Aero wiper
**Interior & ICE**
VW Passat w8 interior light
Automatic rearview mirror in black
Rain sensor
**Transmission/Drivetrain**
LCR gearbox
South Bend Stage 3 daily clutch kit
Latest RR
: 210BHP and 355NM (262 lb/ft) (dyno from 2/8-2010)
**Future mods hopefully**
Trackday Tyres 17"
audi S3 front upper and
lower
Strut Brace --waiting to be fitted--
4" big cold feed pipe to airbox --waiting to be fitted--
FMIC --waiting to be fitted--
rear ARB
rods
bigger turbo either CRT/badger5 K03 hybrid turbo or maybe Gt2860rs / HTA2868 / EFR6258
Why dont i have a Leon
Cupra
-R? here is a story of my seat leon.
In Denmark where i live, cars are more expensive than many other countries, there for not many leon
cupra
-r around here, i have been told only 2
cupra
-r's where official
sold here from the seat dealers, some more are privat imports from germany.
Thats why i only have the small 180bhp model from 2001 with an APP engine code, with its boring look of a pre-facelift leon, that should soon change
my car looked used and somewhat in poor condition from the paint and small scratches etc when I bought it.
I decided to change alot around the car and give it a fresh new look. Therefore I bought new
Cupra
-R front and rear bumpers, side skirts and all the small stuff needed to do the upgrade.
the whole car where painted in the original black metallic color but the metal in the new metalic paint i chose to change to the bigger metal, the original coler from seat is the small metal, and Im very happy that i did this choice.
When i did the car back togetter after the paint
shop
, windows in the back doors and window in the rear door got a light tinted. and a new windshield with the fitment of
a new rearview mirror with rain sensor and Automatic rearview mirror, and when i was started there i also got a VW Passat w8 interior light and cruise control at the same time.
when i got to the doors i also did a small sound upgrade/improvement for more quiet ride with Variotex mats on the metal inside of the doors and also some on the inside of the roof.
The handling of the car also had to be upgraded some, so i fitted a Eibach
coilovers
and powerflex Front Wishbone Bushes, and went from the small 16" seat alloy wheels to 18" alloywheels with Continental SportContact tires.
The story of my car i think never wil have an ending, not befor i in some future time gets a new car, and a new story begins.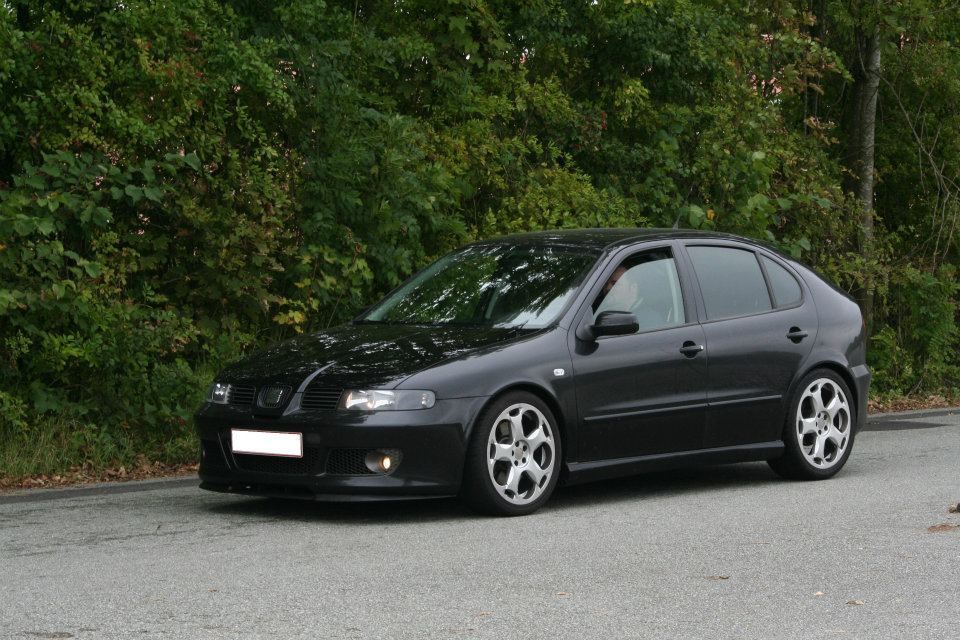 sorry for picture quality, its from my mobile phone, i dont have any better.
__________________
28/7-2010
. new Stainless sport cat and 70mm
Cupra
-R Milltek CAT-back Resonated
exhaust
from JVK-tuning.dk, fitted with some
help
from my friend that could
help
me with welding the Stainless steel togetter,
because my downpipe is from one place/
shop
and my sport cat is only a universal sport cat, and the milltek
cupra
-r
exhaust
needed a new transition to the cat other then the 2bolt
cupra
-r flange that i cant use.
nice quiet (not loud) with a nice sound when on full power.
__________________
2/8-2010
. final the dyno day after my new
exhaust
is comeplete.
last dyno befor this day was 195bhp and 343nm (253 lb/ft), now its 210bhp and 355nm (262 lb/ft). but still no useful power after 5200RPM, okay its still a small turbo.
dyno is "nat mekanikeren" in denmark. (fonny info: translated the name "nat mekanikeren" means "the night mechanic")
__________________
20/8-2010
. got some parts from INA.
density line mounts: street density engine and gearbox mount, track density dogbone mount and track density top mounts/strut mount.
today i got to fit all of them except the top mounts/strut mount. but refitted my old dogbone with the powerflex.
__________________
20/8-2011
. new parts and some upgrades.
new Steering rack, new complete trackrods, used
Cupra
-r wheel hub carrier with new bearings,
Cupra
-r/S3 wishbones with new ball joints, vw golf mk4 R32 front 23mm ARB with droplinks, new inner and outer cv joint both left and right side.
also with new 4 wheel alignment.
new brakes, ATE power disc, and Ferodo DS2500 on the front
__________________
28/10-2011
new parts.
APR R1 recirculating diverter valve, LCR top mounts and bearings.
__________________
4/5-2012
new parts from both the UK and the USA.
New low mileage LCR gearbox. Thanks to Viking on the forum for the
help
.
South Bend Stage 3 daily clutch kit.
New OEM flywheel.
__________________
27/12-2012
new parts.
New timing belt kit and waterpump.
Last edited: