Review courtesy of forum moderator Jimbobcook
Last week I had the pleasure of driving the SEAT Leon Cupra MK3 290 2019 hatchback, it's the first time I've driven a MK3 Leon and the first time I've really got to use a DSG gearbox. I currently own a MK2 Leon Cupra R which you may find in quite a few comparisons during this review as it seems the natural progression from the MK2 Cupra R to MK3 Leon.
*Please note that I am not a professional reviewer, I haven't been looking at the specs sheets for the Cupra since it came out, I'm just a normal guy with the mental age of 5 who likes cars and needs spell check at least 5 times a paragraph…*
This is the car in question, loving the Magnetic Tech colour which is my current favourite now that Desire red is being replaced with Emocion red and 3000 miles on the clock. Please ignore any dirty marks or splattered flies etc it seems near me we have an influx of farmers who don't detail their tractors and a horde of flies feasting on moisture in people's eyes…
I'll go through as much as I can to help someone like me who would upgrade to a MK3 Leon Cupra so grab your popcorn and bottle of beer…
Spec:
– 7 Speed DSG gearbox
– 290bhp with 380nm of torque
– 0-60 of 6 seconds
– 340mm front discs
– Weight 1,431kg (with driver)
– The turning circle is 10.5m
– Alcantara seats
– Folding Mirrors
– Front Assist
Exterior:
So to start with the main difference from older MK3 Leon Cupra's is the Copper badges, personally I'm a fan but not on all the colours which as always is down to personal preference, Black being the best colour to match but the hardest to keep clean which for me is a big issue. Next on the list is the new sort after black Cupra badge on the front grill which I didn't like to begin with as it took the classic red away from the brand I've known to love but it has definitely grown on me and I can probably see a few cars getting this ordered and swapping them out. The Cupra still has the 5 air slats under the front grill which my MK2 only has 3… which is nice.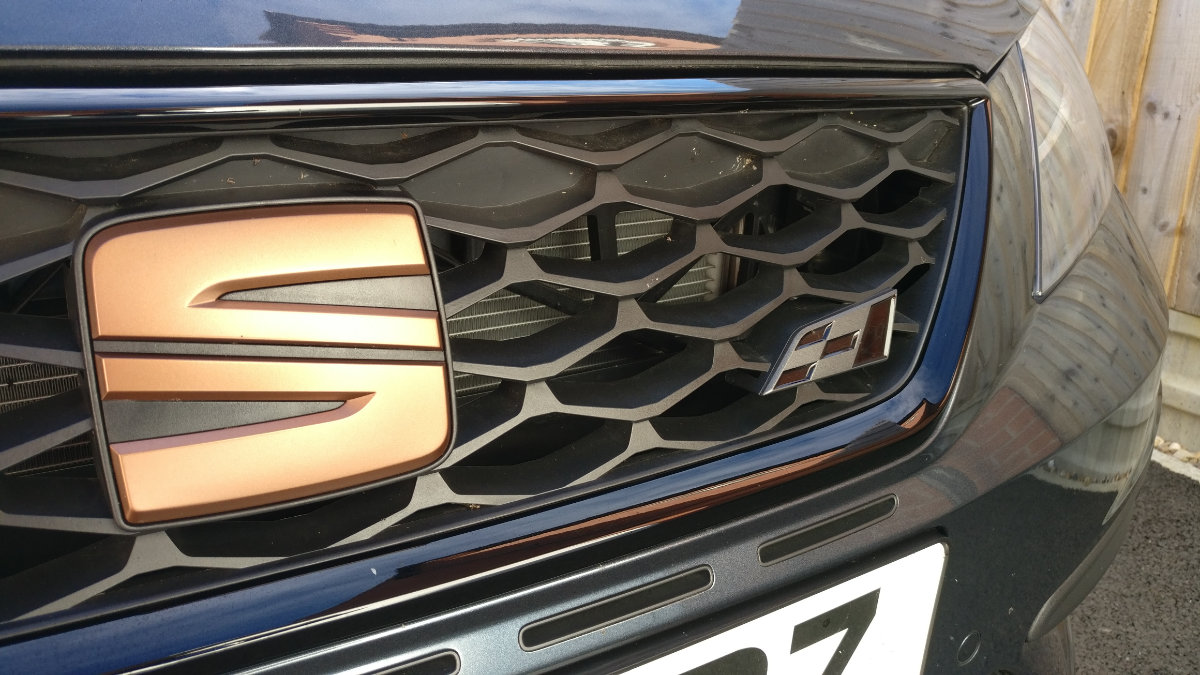 For my first comparison after giving the MK3 a good look over compared to my MK2 it feels a little German which sounds silly, but it has it does have pros and cons for me…
First being Pros, first and most important this Cupra like all MK3 Leon Cupra's it's a sleeper car, not many people understand what this car is capable of, next is it's still got the mean look without being boring like for example (my opinion only) the Golf R, the Leon has lines where they should be whilst keeping everything efficient.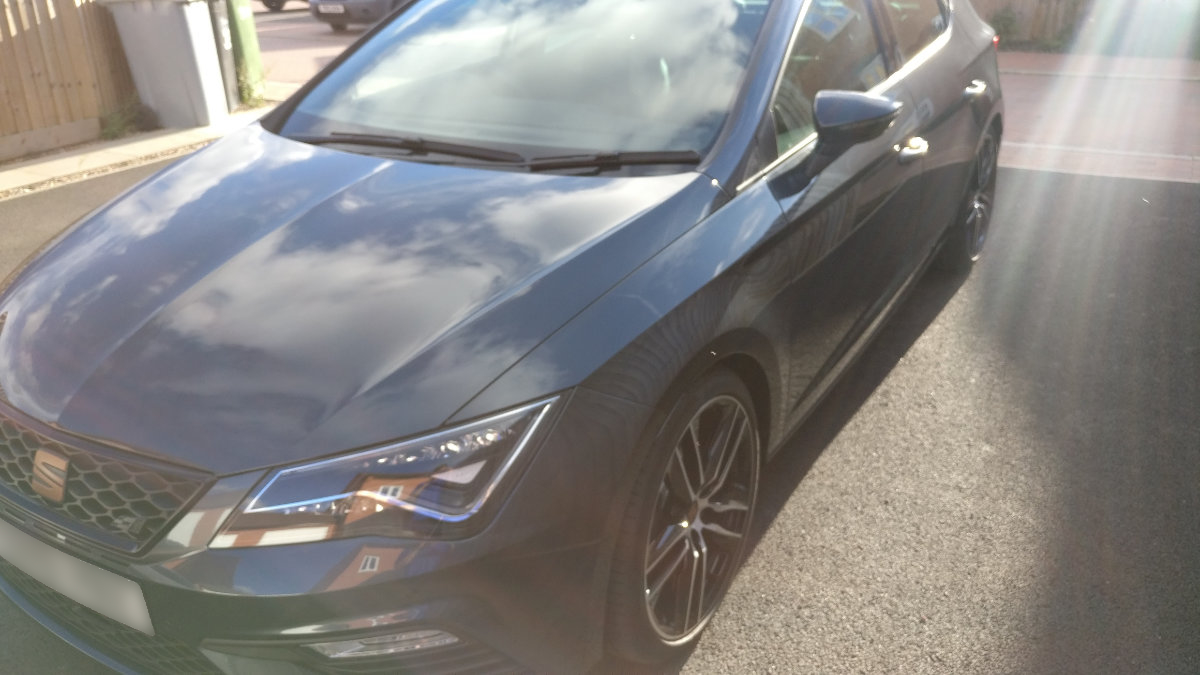 Now the Con… First is that it's a sleeper, yes I said that's a pro but in my eyes like my MK2 Cupra R they had crazy colours, big rear diffuser and styling that just felt a little more flamboyant, if I'm paying for a fast sports car do I want it to look normal or do I want it to be that little bit more looney.
You'll notice at the rear we have a debadged Cupra logo which I will miss and the CUPRA font is now in Black which I'm sure will also be a must-have mod for some MK3 Leon's who got the silver, under all that you have 2 big poo shoots which as I will explain later are a little underwhelming but perfect for me.
I'll go over the Wheels, Exhaust and Engine bay later on.
Interior:
So, the interior has always been a talking point in SEAT's with regards to things being a little boring and not well thought out, I say this because my MK2 has a slightly boring dash… Not so much on the MK3 I can say, the "it's a bit German" quote from earlier has paid off here as I personally think that the interior in the MK3 Leon is very good and things seem to be in the right place and the little things like the USB sockets have been hidden under the phone mat cubby hole thing and the SD card and CD are now in the glove box, things have been tidied up just enough! (excuse the red cable…). One thing I did notice was the lack of CUPRA badges inside the car, it would have been nice to get one just above the gearstick and maybe on the steering wheel just to show what car you'd bought…
The main feature is the 8 inch screen (more on this later) they kindly put in which beats my awesome 5 inch screen on my RNS310 in the MK2, it's nicely integrated with the centre console and I'm very glad they didn't go with the screen that sticks up out the top of the dash that looks like you should take it with you when you lock it so brownie points there!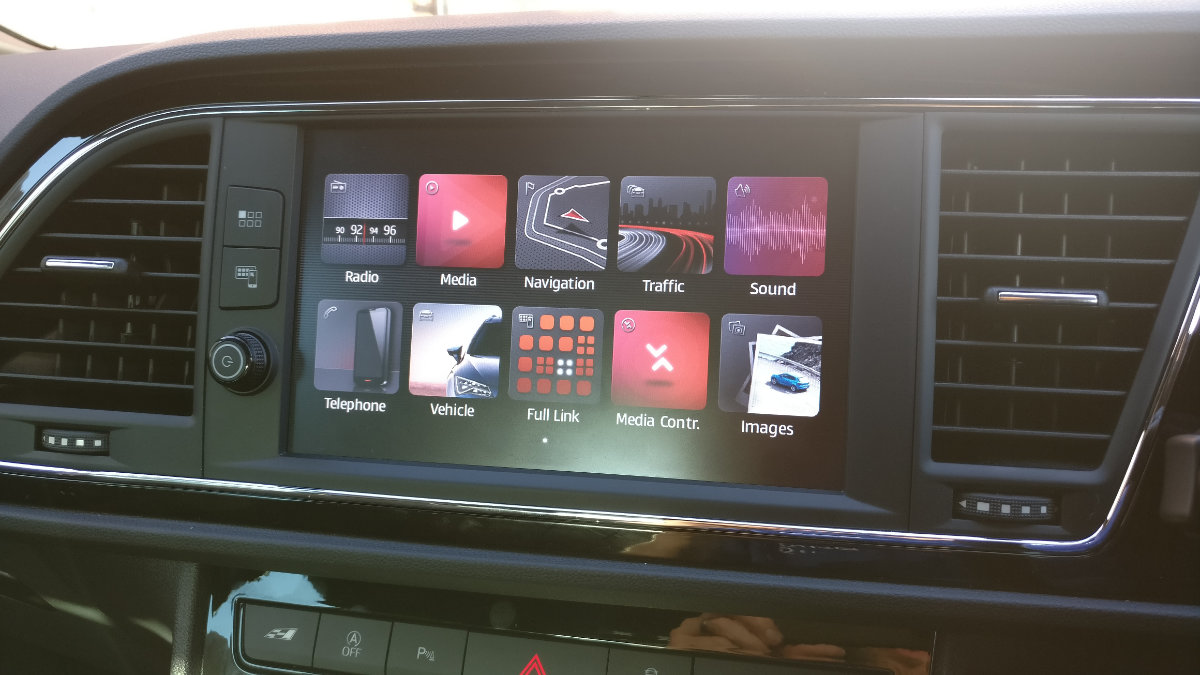 Next spot is the new Digital dash (more on this later… you get the idea) which for me is a first seeing up close, I've always been a fan of analogue dials as it felt like they just felt more real and somehow gave the car a better look, but after using the digital dash for a week I want one… It's quick, stylish and quite big, the only thing that lets it down is the fact that it's not massively tuneable to what you want but then again that's being very picky!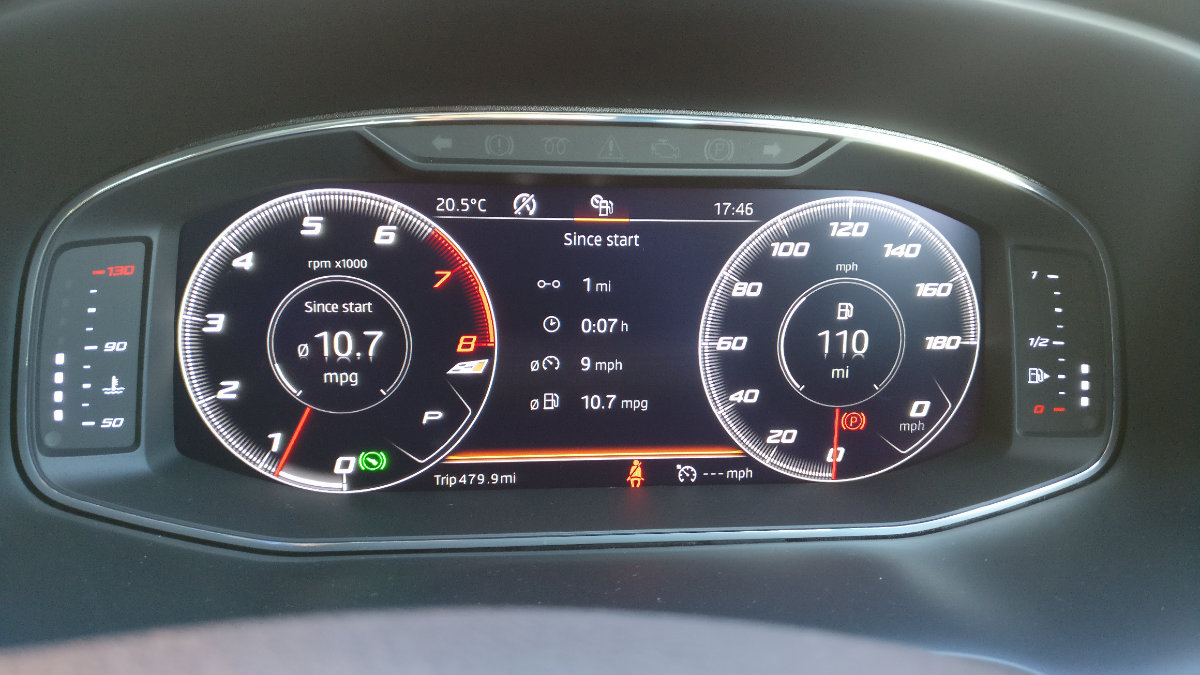 Next… The Seats…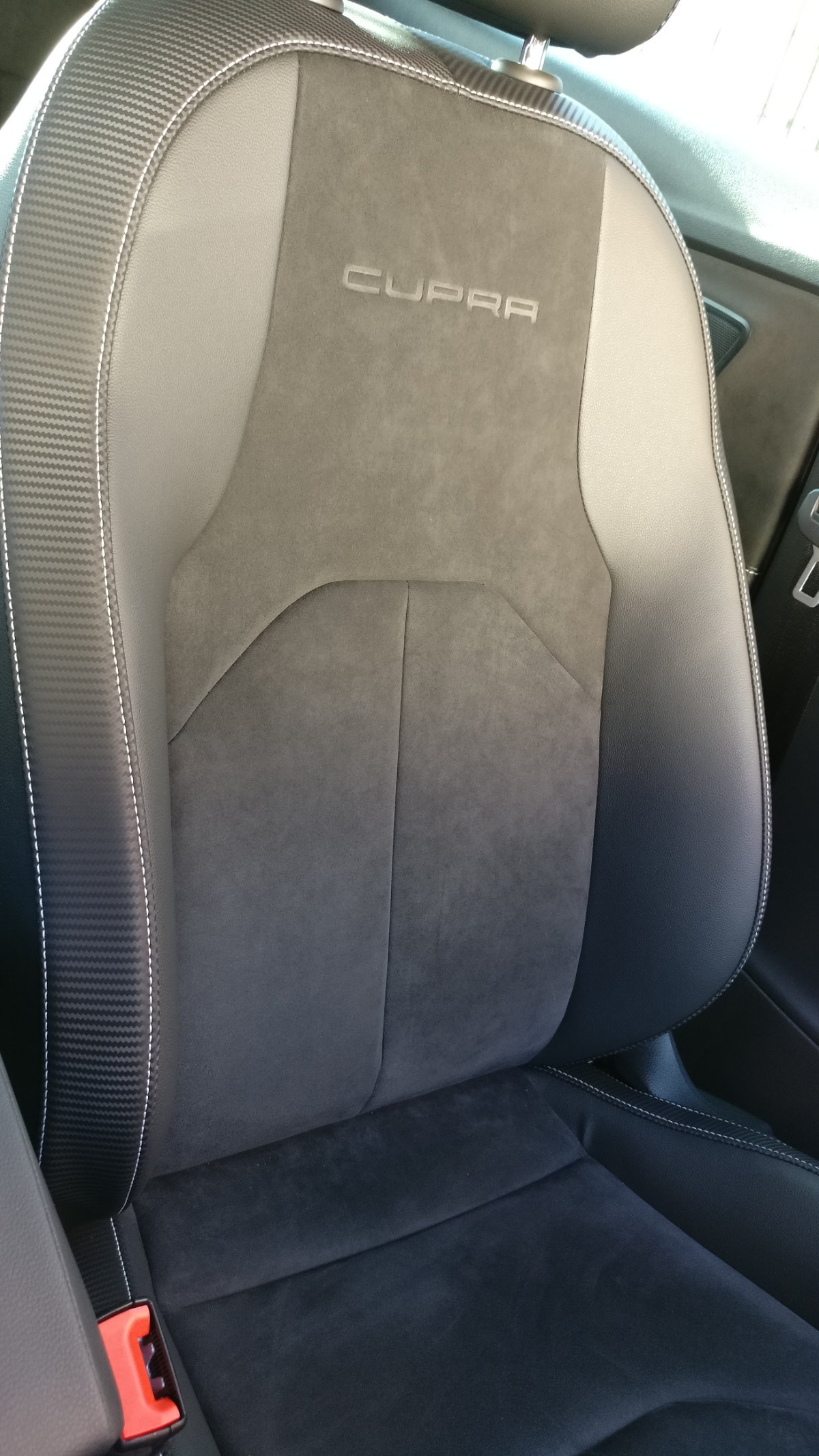 I love a good seat and who doesn't… it's like your own toilet… you sit on others and when you get home you know it's yours, after a week with these awesome Alcantara beauties it's safe to say they beat my MK2 Full leather seats for comfort and feel hands down, especially if it's hot or cold as skin on leather we all know is the extreme for the first 10 seconds when sitting down, as for looks I think the MK2 Leather seats win. These seats hold you in place, maybe not as well as the MK2 seats but defiantly enough! The car I had didn't have electric seats and I'm happy about that as I've never really got on with them on other cars, the legroom is always something that people forget… I'm 6ft2 and I can set my driver's seat up to long-distance driving position and I can still sit behind myself with loads of space as demonstrated in this picture…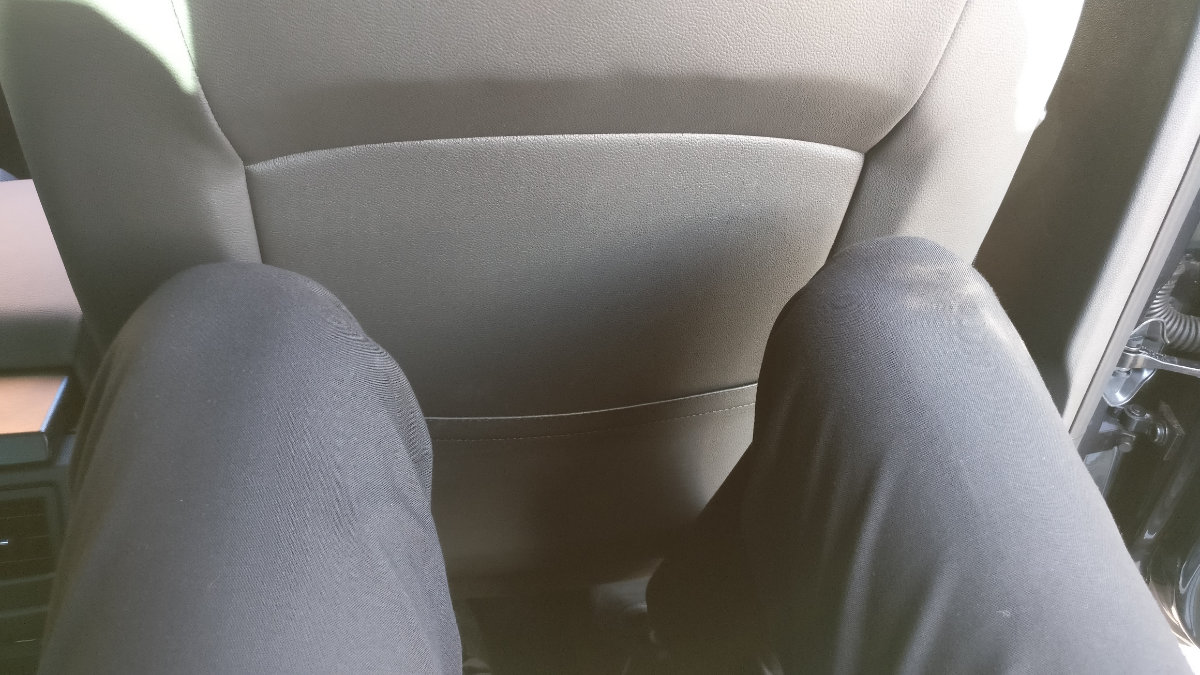 The number of cars I get into and my knees are pushed against the back of the seat gets quite annoying but like in my MK2 the legroom is great!
The Back seating area is pretty good, you even get a rear air-con unit and 2 USB sockets in the centre which for some may be a thing you've had for ages but it's nice to see for me haha the seats are very grippy unless you sit in the middle as the 2 outer ones have the Alcantara material which is very good for stopping butt slide but the middle seems to be leather which isn't so good… that being said they have managed to get a 2 cup holder in the pull-down armrest from the middle seat and a revelation is the "ski hatch" which allows you to put long things from the boot into the space of the middle seat without taking the 60 40 seats down, genius!
Engine & Gearbox:
The first thing to notice is that the engine noise inside the car is greatly reduced compared to my MK2 Leon, I did a soundcheck in both on the same road doing the same speeds and the dB meter on the front passenger seat on top of a jumper, this is what I found…
MK3 50mph cruise – 72db
MK2 50mph cruise – 74db
MK3 0-60mph heavy foot – 79db
MK2 0-60mph heavy foot – 86db
The engine bay is somewhat messy due to not having the full engine cover like my MK2 but still looks good as shown here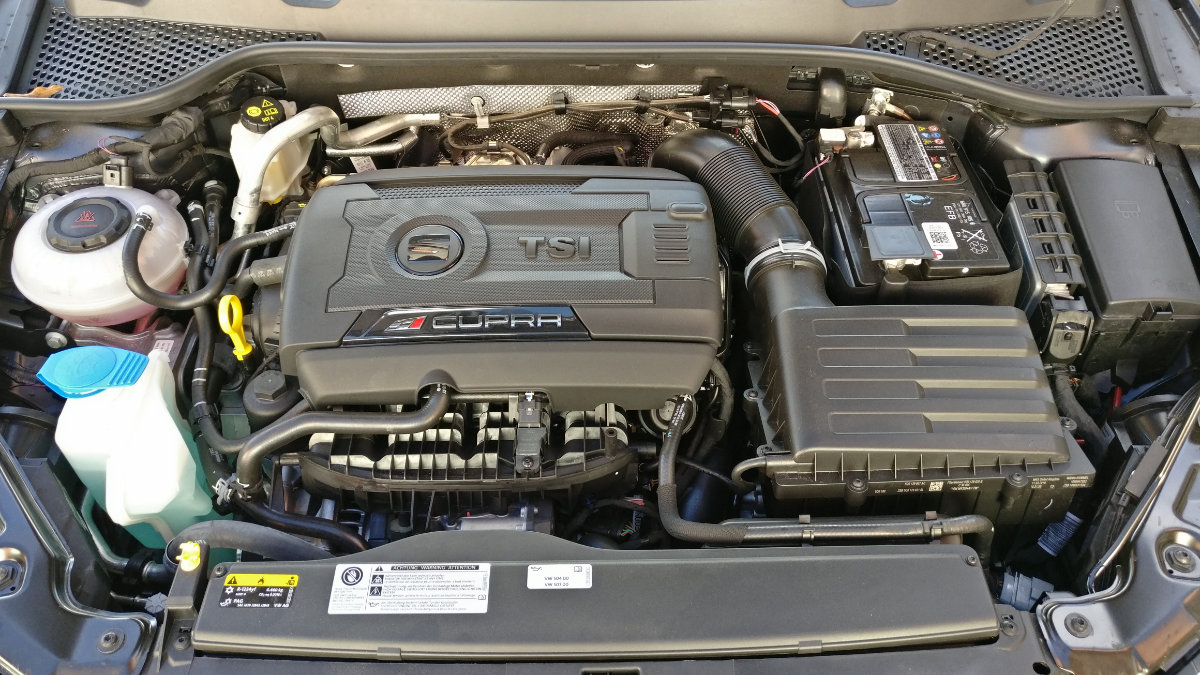 With regards to the gearbox, this is all new territory for me as I've never really given a DSG a good trial and when I did it was over 3 years ago, so a novice is what I'd call myself. Once you start the car you simply pull the gear trigger button in and select type of gear and off you go on your jolly, then if you wish to drop into sport gearing you can either pull the gear stick back and let go, move the gear stick to the left and use it as a manual, use your flappy paddles to change gear or put the car into Sport or CUPRA mode using the 8 in touch screen.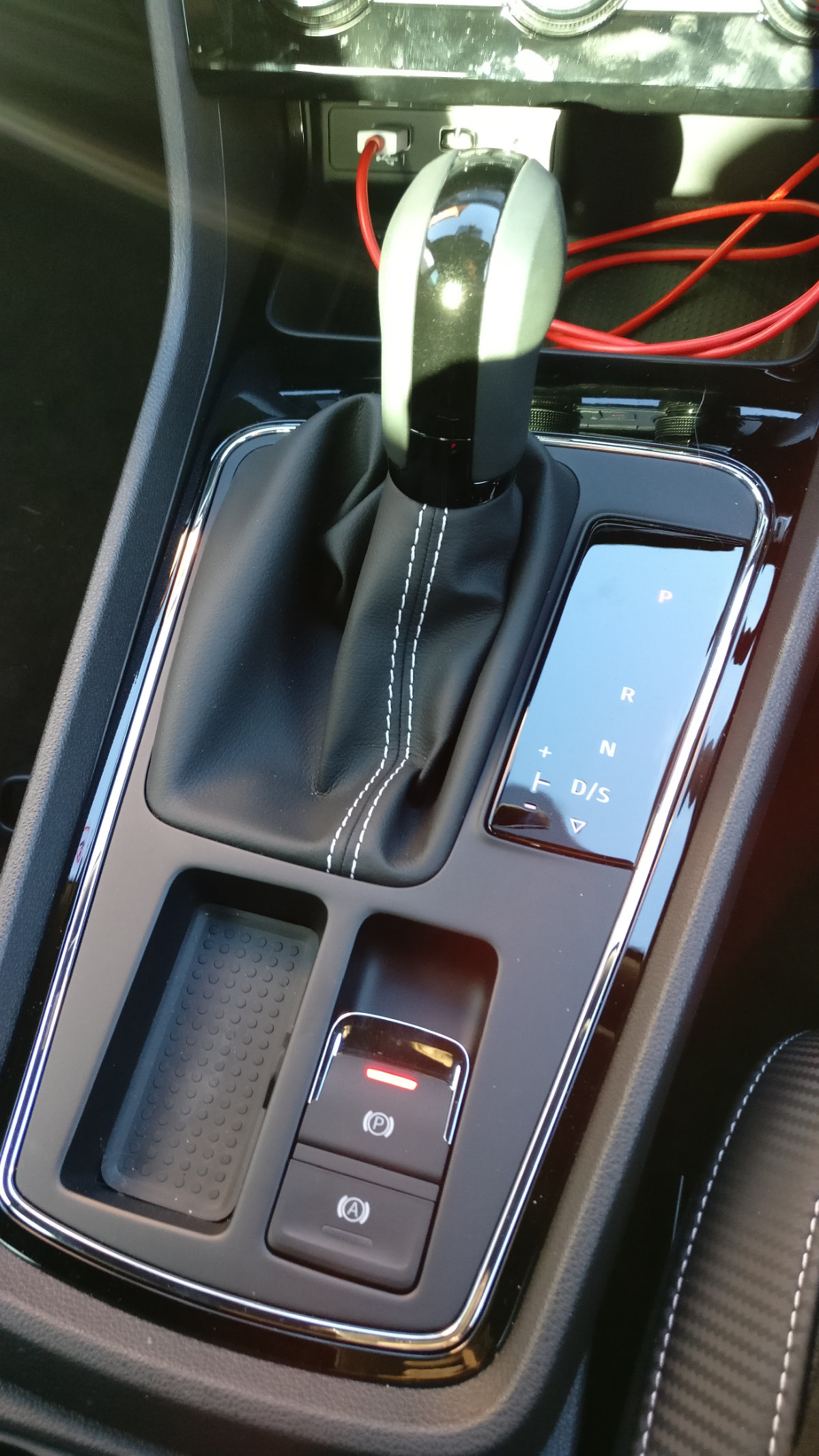 Once in sport mode on the gearing the car is left higher up the rev range with a lot better bite point ready to overtake or see off some 20-year-old Honda with a dustbin for an exhaust (this car exists), it definitely makes the car feel alive from the normal Comfort mode which is understandable. Going one further you have the option to set your individual modes for each section of the car which I will go through later in a little more detail, I did find that staying in sport or CUPRA mode got a little boring after a while as my brain wanted it to change gear but it didn't haha maybe that's the old person in me…
With regards to gear changes I found very little issue with the speed of the change and sometimes didn't even notice that I was in 7th which part of me likes and part of me didn't purely based on the fact that I felt a little disconnected from the car like the squidgy bit in the front seat was only needed to push a pedal and the car does the rest… After a long drive, I can definitely tell that I was more relaxed on arrival but maybe because it wasn't my car or because it was mainly A1 driving…
Exhaust:
A big point with the new SEAT Leon Cupra's once fitted with the GPF (and before to degree) is the exhaust being very quiet and not as aggressive as people wanted…
So, the inner Mythbuster in me set out with the decibel meter and got a cold start test done with the MK3 and my MK2 Cupra R with a stock exhaust… dun dun dunnnn
Max reading from 30 seconds
MK3 cold start – 86.9db
MK2 cold start – 82.6db
Didn't expect that from the reviews but it is what it is and having them both on after the test I could tell that the MK3 was louder…
If my memory serves (people may correct me) but at our last meet, we did some cold start sound tests and we got the following
Max Reading from 30 seconds
MK3 Leon Cupra 300 Stock – 89db
MK3 Leon Cupra R Res delete Stage 1 – 103db
MK3 Leon Cupra 300 ST res delete Stage 1– 101db
So as you see the res delete does make a massive difference but I think for me personally it would be too much noise on a day to day lol I'm still getting used to the AK47 type noises coming from a DSG with the pops and bangs mod which is another reason why I wanted to stay manual.
On driving the car it has a nice bassy tone all be it this is with the Soundactor on its default setting, but I did open the windows a few times and the exhaust is pleasurable without being noisy if that makes sense, I wouldn't need to change the exhaust for me… but I seem to be the minority it seems. After you've cruised and you want to put your foot down the exhaust goes into beast mode and from inside it sounds awesome with the windows down and even with the GPF you still get them glorious and smile making DSG Farts… that or the curry…
Wheels:
Now the wheels is something that defines a car in my eyes it could be an amazing engine but if the wheels look like a Pog from the '90s then it's a no go from me, I can say that even though I'm a big fan of my MK2 Cupra R wheels these are pretty good… not as good but pretty good. The 19's have a very clean, aggressive look to them with the diamond cut and I've seen that they could be a big hit to your bank if they need a repair, with that in mind I'd still have a set on mine if I order one (I know they come standard).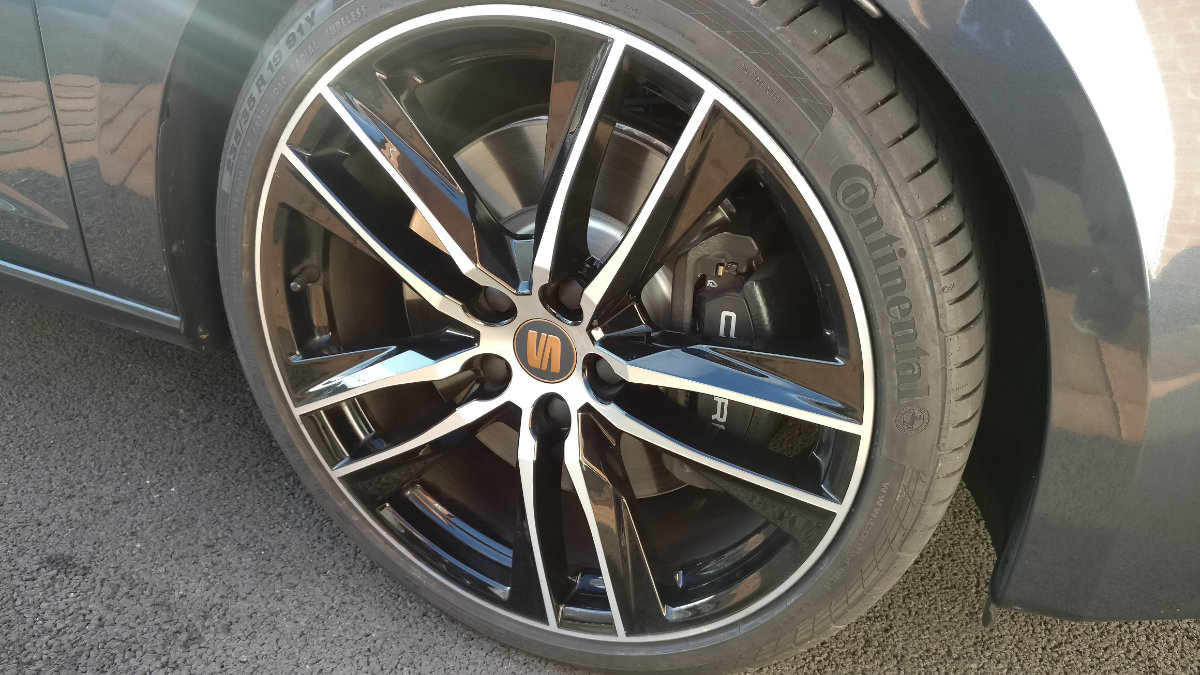 Underneath the wheels we have some Black callipers (should be red like old previous Cupra's in my eyes) with a nice big CUPRA decal on in white (front only), it set of the wheels nicely and maybe the red clashes with the copper but I'm still not sure.
With regards to brakes, you get 340mm ventilated discs at the front and 310mm solid at the rear, they seemed a little soft for my liking but that may be because the MK2 Cupra R brakes are a little savage, to begin with… The brakes did stop well on normal traffic use but with the DSG gearbox, I found myself using them a lot more due to not having near as much engine braking as I would normally have used a manual without manually dropping down gears which turned into a chore more than anything.
Tech:
I'll split this down into the SEAT Media system, Digital Dash, Android Auto and Generic Electrics.
So, the media system, it's a massive upgrade from my RNS310 with a nice 8-inch screen which is fully touch-enabled, it hosts many things from Full Link, Nav, G sensor readings, Track timer, Car settings, Traffic, AC and a few more. The usability is very smooth and when moving between apps it's a very nice place to be. The Navigation is pretty good but made better by the digital dash (in a minute), the traffic seems as accurate as you'd expect but I found myself using Waze most of the time.
Digital Dash, first time for me seeing this but I must say I'm impressed… I was set for hating it but I didn't, the dials look like they should be there and with a few different configurations it's nice and handy, the best bit if you do use the Satnav on board that you can display it as a full map on the dash still showing speed and gears etc in the corners… it's definitely easier than staring at a screen in the middle of the car.
After using Android since I had a smartphone I wasn't sure what to expect and it came out with mixed results… I thought the app selection was meh (ok) at best and when you loaded an app it was slightly sluggish, now I assume that my phone has something to do with that as it's effectively running the app from there… I won a OnePlus 3T which is nearly 3 years old and I've never had an issue with it doing anything till using android auto… it just felt a little sluggish when switching between apps.
Note that Android Auto seems to only allow wireless connections to the display if you have a Google phone like a Pixel etc… Please see this from the Android Auto FAQ – https://support.google.com/androidauto/answer/6348019?hl=en-GB&ref_topic=6348027
Most of the time I kept Waze on which was another first when it told me about an upcoming pothole I knew it was a winner! Then for music I streamed from Amazon music constantly using online playlists, in the end, I had used about 1.7gb of data in a week and as you can imagine I drove quite a bit maybe 500 miles tops…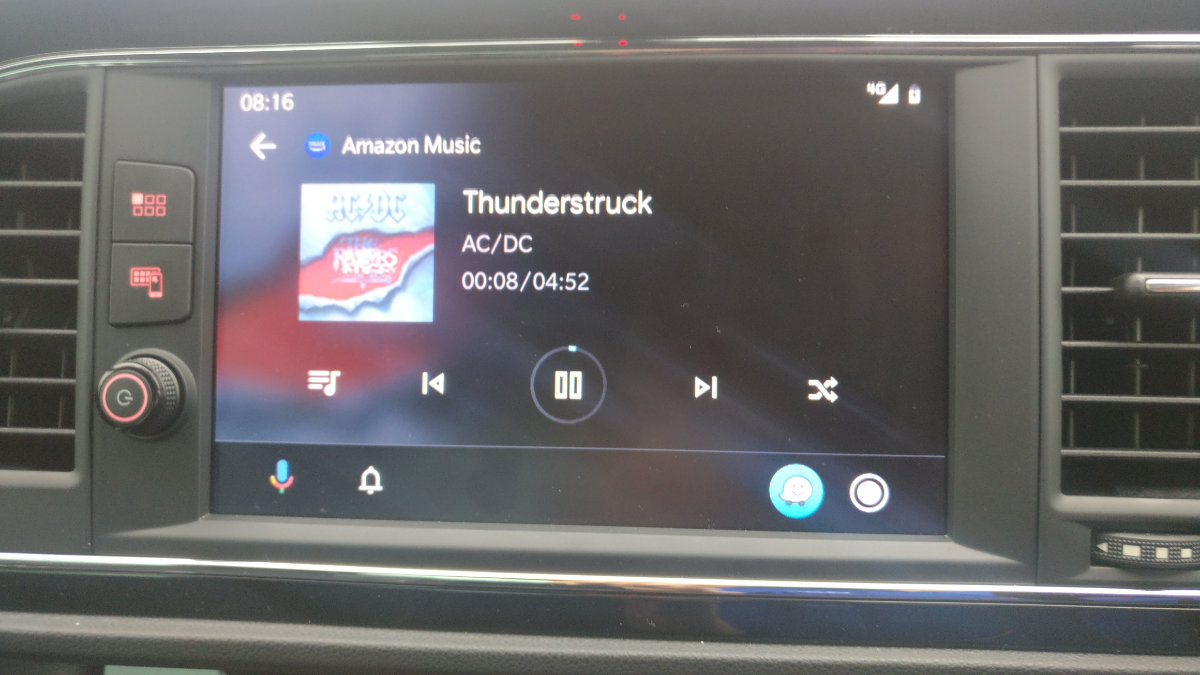 With all the awesome stuff out the way the car came with some normal stuff that still gets a mention, the LED auto headlights being the best as it seems they show up the road quite nicely up to a point then the light just stops and as the light is so bright anything that comes into view just happens instead of older lights the brightness dimmed down after the main beam hits the floor… maybe it's just me…
LED Interior lights are pretty good, we have the following items that are lit for your viewing pleasure, we have the Door sill kick plates which light up with nice bright CUPRA text
Then we have the LEDs in the door card which nicely goes across the card and not too bright, the colours are changeable, I had them red and then blue just because blue… you know… the best colour *cough* speed blue *cough*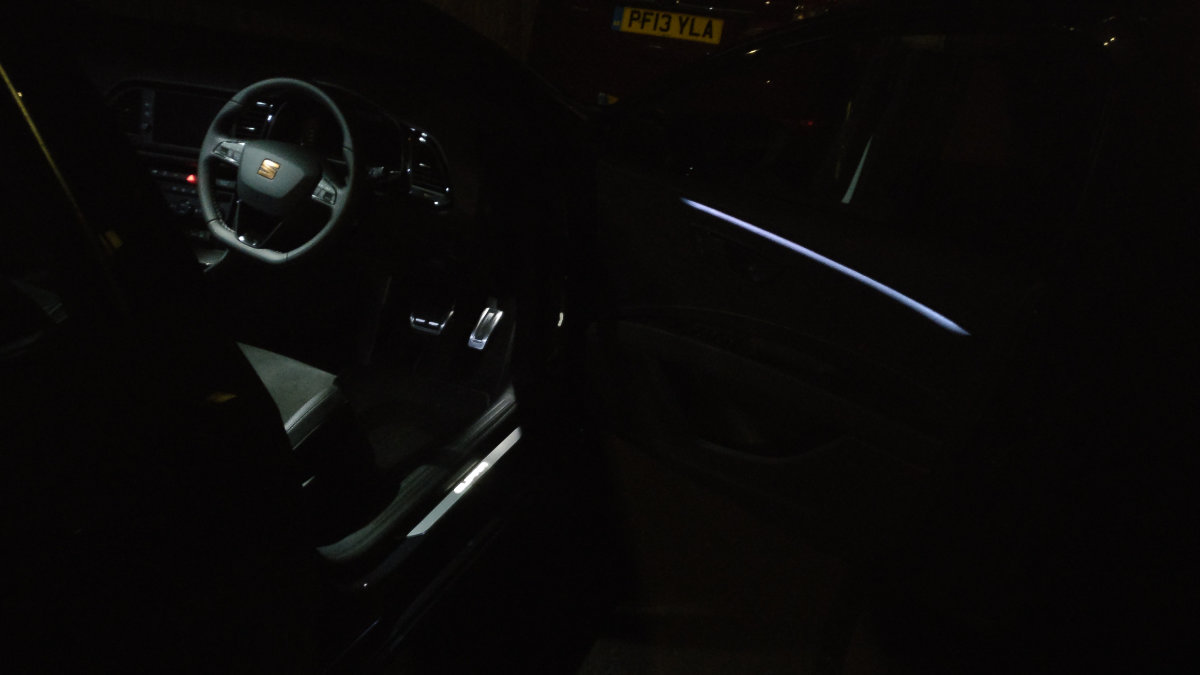 It's nice to see the interior lights are now LED and the fogs also seemed to be LED which saves people changing them on purchase.
What's it like to live with:
Ok so here it is… Breaking it down…
Running costs would be a fun one, my MK2 does between 32mpg and 40mpg depending on the run, whereas the MK3 I couldn't really get over 38mpg, now this could well be down to it wasn't my car etc but I was driving the same for the most part. The tank holds 50L in comparison to my 55L in the MK2 but it seemed happy to make near 400 miles to a tank.
Comfort comes down to a comparison to the MK2 and it definitely wins hands down but I'm still more of a fan of the looks of the leather MK2 seats as these just look normal with no real sense of sports seats… I am talking about the Cupra in Comfort mode for the comfort test I doubt there is much in it when set in CUPRA mode.
Power comes in spades but all too easily with the 7 speed gearbox it seems effortless which takes away some of the fun in my eyes which I currently have in the Manual R, it's something I would obviously get used to but when driving hard I only felt the power when I let go of the accelerator which sounds weird but it just gives you a nice jolt to say yeah you hit that hard.
Cost is a funny one, I'm seeing lots of Cupra's on the market and not an unreasonable price but the deals I've been seeing for lease are silly money, to get 8k a year and maintenance comes to about £255 a month whereas the Golf R with no maintenance shows up at £367 a month… It all depends if you wish to mod the car or not.
Styling is a hard one as everyone is different and things make people happy and others not, in my eyes it's no MK2 but it's miles ahead of the Golf R
Tech is plenty when taking into consideration what I have in my MK2 R, LED lights, Front assist, Android Auto, DCC etc I'm not sure I would need the panoramic roof or the keyless entry. It would have been nice to have a nice sound system in the standard Cupra (with sub).
Would I buy one? – Yes, most definitely, I would happily say it's a great car with everything I personally need in a car, I wouldn't say that anything on the Lux interests me as much unless they have an upgraded sound pack.
Hope this helps someone, it's definitely helped me.
Review courtesy of forum moderator Jimbobcook