Gentlemen
Thought it was about time I do a cupra.net write up for my
Quattro MK2 Cupra R Project
.
For a more detailed version including all other mods please find us at
www.remappers.com
So I bought the
Cupra
back in May 2013, Typically I never thought I would go this far with the modifications but the hunger for more power soon got the better of me!
Cupra
Kung Fu was one of the last MK2s off the production line back in late 2012. I'm a proud owner of my Leon and I'm just glad I got the chance to get one before they all got snapped up. When I started looking around, there were only 3 left in the country on sale through SEAT dealerships with sub 5k miles on the clock. This
Cupra
had never left SEAT ownership as it was used by one of their branch managers for 6 months, it was in show room condition without a scratch, dent or scuff. Was very excited when I picked it up...
Within three days of driving, I decided it simply wasn't fast enough!
So I contacted the REVO team and asked them what could be done to pep it up. They advised I give Andy a call from
Autotechnica
and he would sort me out with some modification goodies. Within just 8 months we have gone to a REVO Stage 3 big turbo conversion with a full engine re-build and now we're ripping it apart for an AWD conversion! You could say I'm a little impatient and a bit nuts, but this has become a major project for us and we have plans to turn this
Cupra
R into something rather special.
The Project Team
From day one the guys at Autotechnica have been absolutely brilliant. Andy and his men have served many years working for Volkswagen Audi Group main dealerships as master technicians and they really know their stuff! From my initial enquiry through to the completion of REVO Stage 3, these guys have been really good to work with. They are all down to earth people with an honest and professional approach. They have always shown some real enthusiasm towards the car and their quality of work is something else!
94 Calvert Lane, Hull, HU4 6BJ Tel 01482 353369
I would highly recommend Autotechnica to anyone who wants to take their car to the next level. They are the only Revo Technik authorised dealers in the area and will take on any project from a minor service to a full-blown engine rebuild. Their pricing structure is very competitive and will put any main
dealership
to shame!
Modifications
Up to now we have concentrated our efforts on the engine and handling upgrades alone, the exterior of the
Cupra
has been left untouched and we plan to keep things simple. We prefer the element of surprise, a wolf in sheeps clothing! the only mods inside the car were upgrading the speakers for some quality Alpines, they run off the original head unit for the time being.
From a standard car we went straight to Stage 2+ then soon after we carried out some handling upgrades including front & rear sway bars and a full
coilover
kit, then before XMAS we went to Stage 3 and did an engine re-build. We now have the
Cupra
back in the garage for the the AWD conversion.
We will be taking the car to some shows this summer so we wanted to make a start on the conversion in good time so we're well prepared for the new season.
We are currently running at around 450bhp
which I have to say is rather a challenge on front wheel drive! especially when blessed with our UK weather!
We have REVO Stage 3 settings on Boost level 9 (aggressive boost) which via their software is the highest we can go before we install a boost & air/fuel ratio gauge, which we will be doing before the summer. Stage 4 is on the waiting list of further mods to be done, all we need is an uprated valve train, everything else has now been done...
Modifications to Date:
REVO Stage 3 Remap
Garrett GT3071R ATP Turbo Kit
Additional Custom Hosing
Wossner Forged Pistons
Wossner Forged Con Rods
Audi RS4 Injectors
Iridium Spark Plugs
Audi RS3 Fuel Pump (tank end)
Loba High Pressure Fuel Pump (engine end)
REVO Integrated Throttle Pipe
Milltek Turbo Back
Exhaust
(De-Cat)
REVO High Flow Intake
Eurojet Intercooler
REVO Engine Mounts
REVO Pendualm/Dog Bone Transmission Mount
Quaife Limited Slip Diff
Bilstein B14 Pro
Coilover
Kit (lowered approx. 20mm)
H&R Front and Rear Sway Bars
SuperPro Anti-lift Kit
I won't go into too much detail on the REVO stages as this is really an AWD Thread, but
What's it like to Drive?
ermmm... wheel spin is a small issue!
And yes I was warned about this...
I think for anyone who plans to keep their Leon a front wheel drive car really should stick with Stage 2+ and no more, otherwise you have so much torque you simply skid about all over the place. You may actually find a car with half the power will blow you off because they have better traction than you do
We had already planned to go AWD some time ago so for us it wasn't an issue
Why we didn't do AWD first? well we wanted a couple of months of fun in the car and you can get still some great performance from it with Stage 3, providing you know when to apply and ease off the throttle. As for the sound, when the Garrett Turbo kicks in... OMG absolutely awesome!!! it spools up with a real hard rasping note as you hear the increased surge of
exhaust
gasses blasting out the back of the car. Our
Cupra
doesn't just growl like and angry dog, the
exhaust
pops too!
VW Festival at Harewood 2013
So this was project
Cupra
's first car show…. how exciting!!!
After months of hard work and many modifications, our
Cupra
R was now a car worth showing to the big wide world! The VW Festival was the first show for the project and we got some great feedback and interest with the works that we'd done. Autotechnica had their own stand there so Kung Fu took prime position!
Meet Project
Cupra
!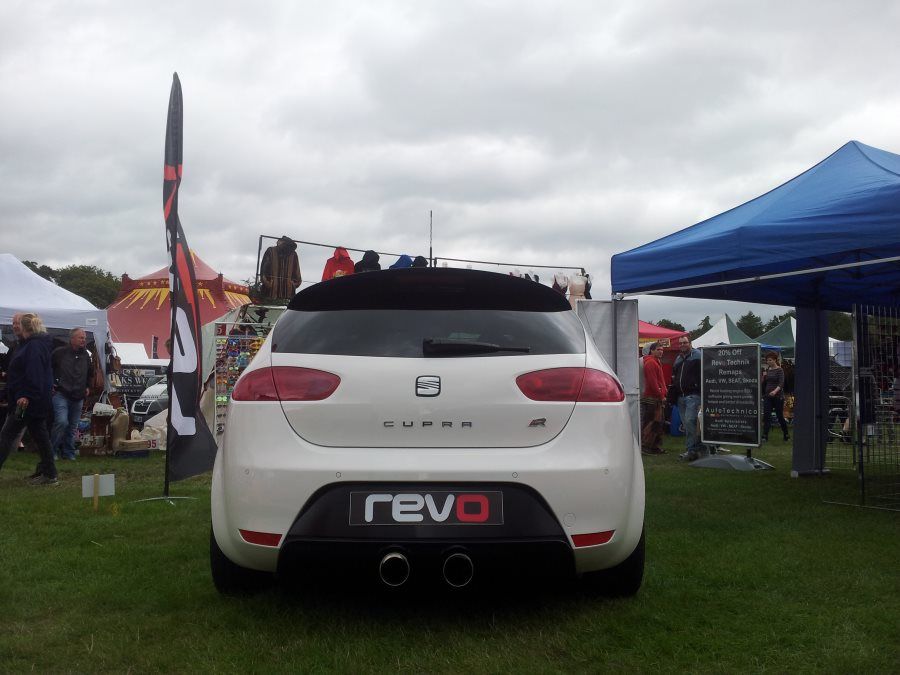 AWD Conversion
For those who didn't know, the Seat Leon shares a similair foot print as the VW Golf and the Audi A3. There are some subtle differences but in essence they share the same floor plan which means that our
Cupra
R is in fact capable of being an AWD car. The Golf and Audi both use much of the same running gear and many of the components found under the chassis required for AWD. Two options for obtaining the parts are buying a donor car which may have all the kit you need, or find the parts separately through breakers yards and salvage centres etc. Donor cars are a lot more expensive and harder to come by though, the sportier series of hot hatches being the S3/Quattro or Golf R/R32 have less numbers on the road and when they are accident damaged, people generally repair them unless they are a complete write-off. Donor cars are unlikely to provide all the parts you need in good working order, generally they will have suffered from a front or rear end collision and severe damage to the transmission is more than likely.
We searched the internet for both parts and donor cars but nothing really came up for the first few weeks, about a month later we came across an 09 plate Golf R32 that was being sold off for spares at Silverlake Breakers in Southampton
http://www.silverlake.co.uk/salvage/
We rang the Silverlake team and spoke to a guy called Paul Wolfe who was able to give us the low down on the condition of the Golf. Paul and the team were somewhat bemused by our requirements but took a lot of interest in our project and had offered us some bulk discount on the parts required.
As you can see from the photos below, the R32 had damage to the roof but the rest of the car was in perfect condition, this was a very rare opportunity to acquire the kit we needed to press on with the project. Apparently someone had driven the R32 underneath an articulated lorry and wiped out the top half of the car. We personally think someone had probably rolled it into a ditch! either way the R32 was in perfect condition underneath.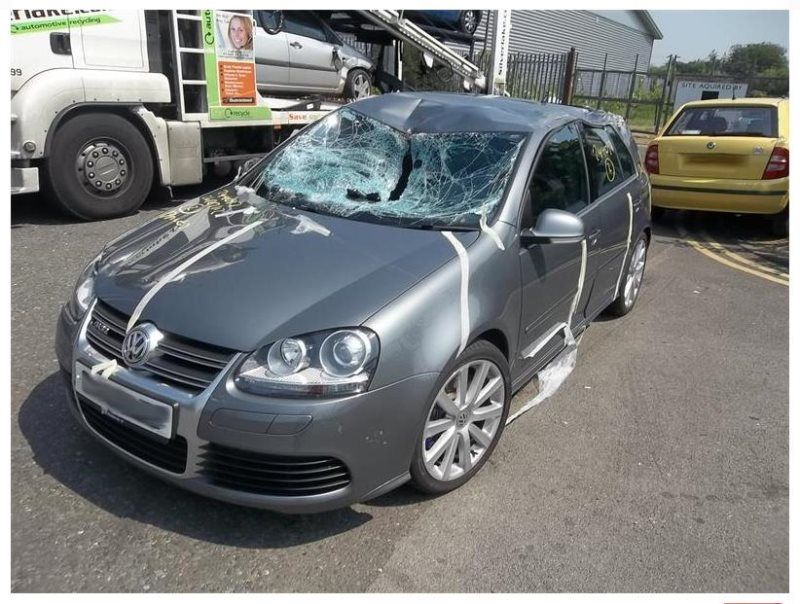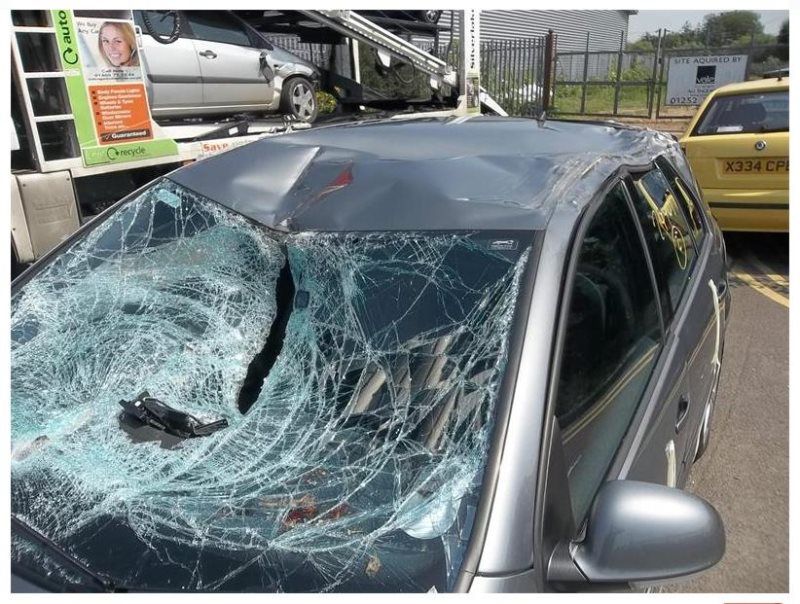 Paul from Silverlake was telling me the R32 was still drivable when it came into the yard as damage was only caused on the roof and upper half of the car.
The R32 had only done 20k miles so all the engine components were in perfect condition.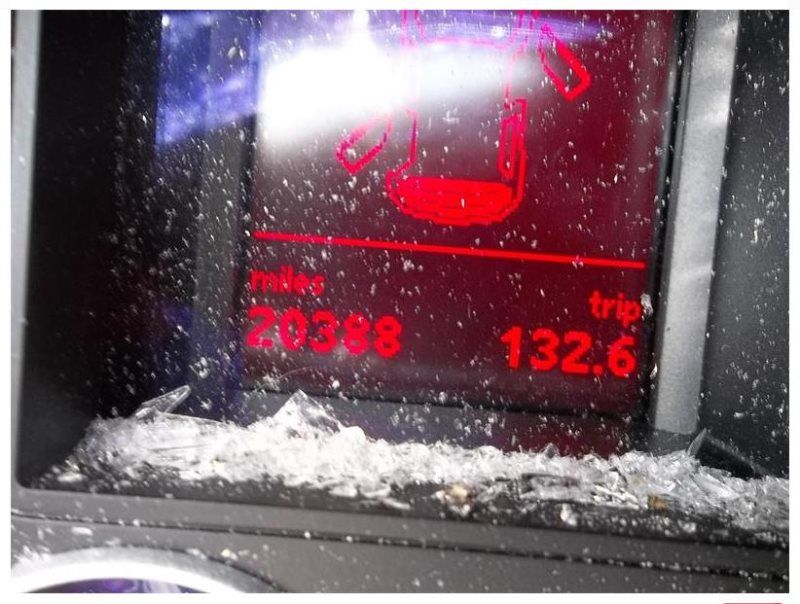 Apparently someone bought the engine and gear box in a matter of days, bet they thought their birthdays had all come at once!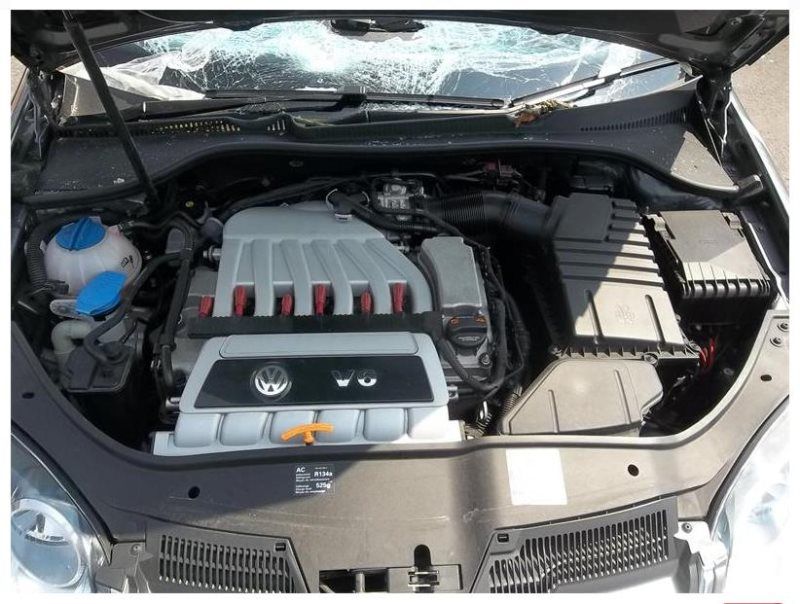 Following some checks through their stock system, it transpired that this R32 did not in fact have everything we needed to complete the kit, one of the hubs on the rear axle, the rear nearside drive shaft and the Haldex ECU Controller had already been taken. This was a bit of a blow for us really as we wanted the full kit, we were still happy with the results though considering we had found the parts which are typically harder to come by. We paid a deposit for the bits and then continued to search for the rest of the missing kit on the internet.
Within a matter of days we then found a whole rear axle assembly for sale on Ebay from an 07 plate Audi S3 8P for £300! We couldn't believe our eyes! Three hundred smackers was an absolute bargain! we rang the seller Faz, who turned out to be a body
shop
repair man. His main line of work was to buy accident damaged cars and repair them for re-sale. Faz was telling me this axle was from a S3 that had been written off from the front, the car was chopped in half in which he bought just the rear end of it for salvaging the rear quarter panels. He therefore wasn't bothered about the mechanics or the rest of the car. I arranged a date with him and then went down in a van to the south coast to pick up the kit from Silverlake and the axle from Faz in Birmingham.
Photo below was taken from Faz's page on Ebay when the axle was up for sale.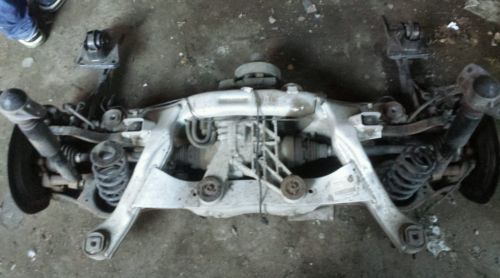 There were several people closely watching the item for about a week, then we came along and bought it out right! snapped it up like a dummy out the mouth! lol well we didn't want to miss the opportunity and risk losing it to someone else.
We asked Faz a few questions about the axle to find out whether it was still a complete unit, we were pleased to hear that everything was in fact still there, the Haldex ECU, breaks, disks, diff, the whole lot!
So in the end we didn't need to buy all the kit we had planned from Silverlake but got a mix and match of goodies from both the R32 and the Audi S3, we also saved a small fortune in the process! So the kit we ended up buying was as follows:
Silverlake
Front Transfer Box and Differential
Front Drivers Side Drive Shaft (is shorter than the shaft on a front wheel drive car due to the transfer box)
Main Propshaft
Full Wiring Loom of the car including the Fusebox (the guys at Silverlake did very well to remove the whole lot in one bundle)
Fuel Tank and Sender
Audi S3 Axle from Ebay
Axle assembly including the following kit:
Rear Transfer Box
Rear Left & Right Drive Shafts
Haldex ECU Controller
Rear Subframe Assembly
Brakes (Disks/Calipers/Pads)
Suspension
Anti-Roll Bar
It took a full day to pick up the kit starting in Southampton at 8.30am and travelling back up North to Yorkshire via Birmingham on the way. There was only two of us to lift the S3 axle into the van at Faz's place, my god it nearly killed us it was so heavy! Can understand why the S3 weighs more than the Cupras. Once everything was picked up we dropped the kit off at Andy's garage in Hull (
Autotechnica
).
We laid all the components out on the ground to see what it would look like once it's all fitted together, this was quite an exciting moment!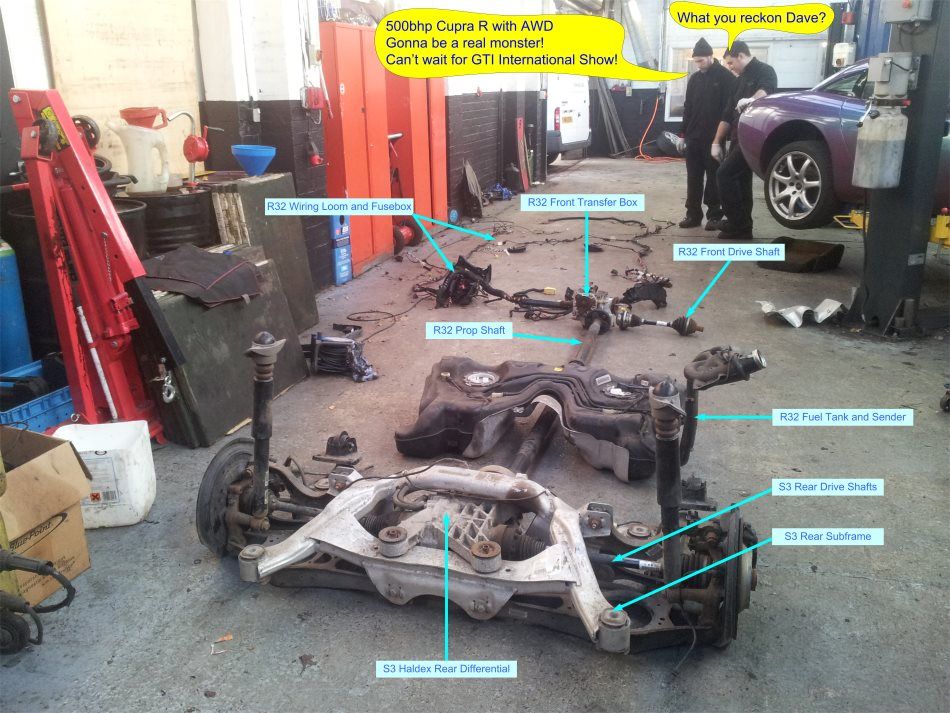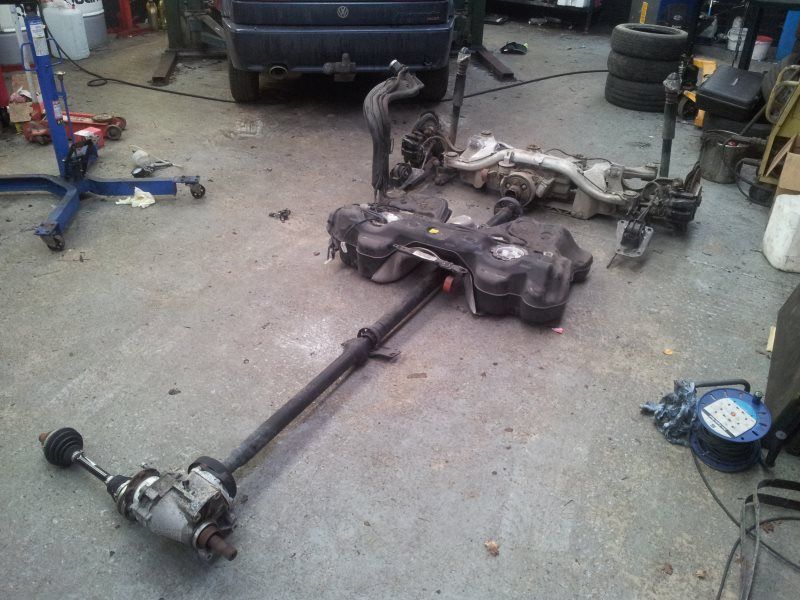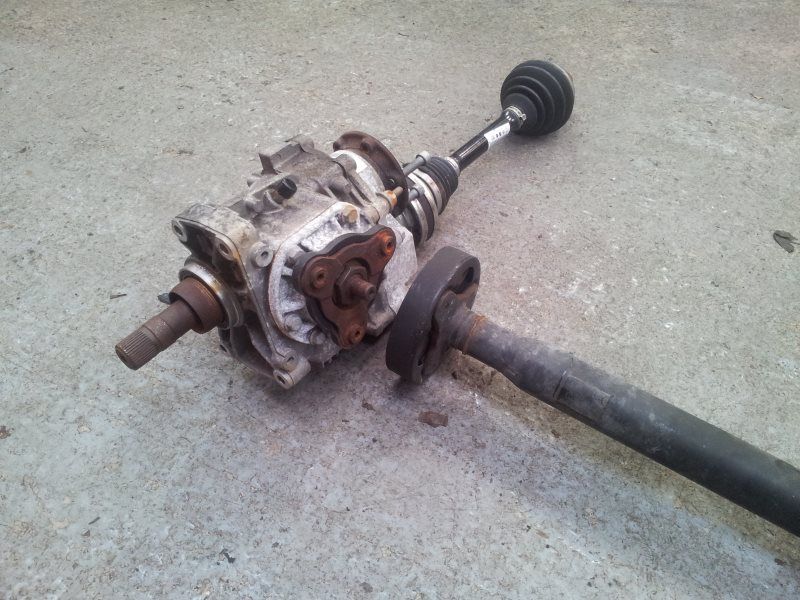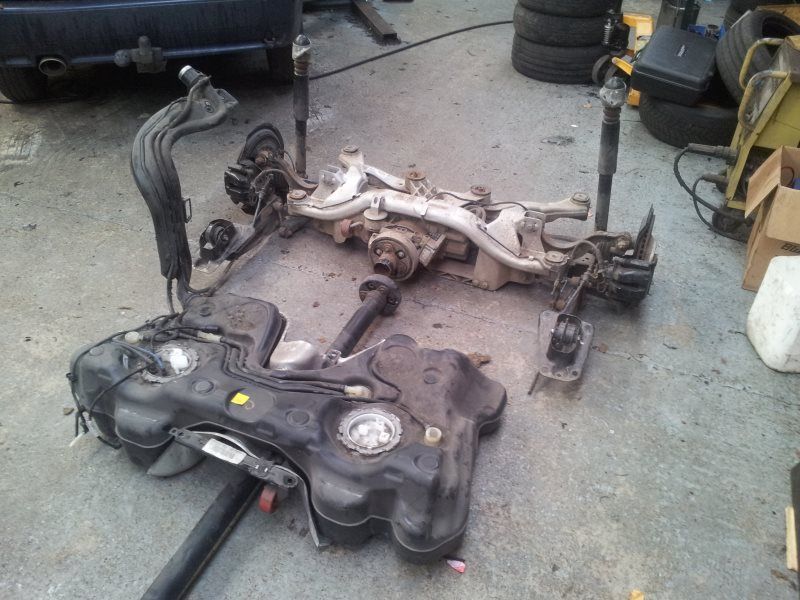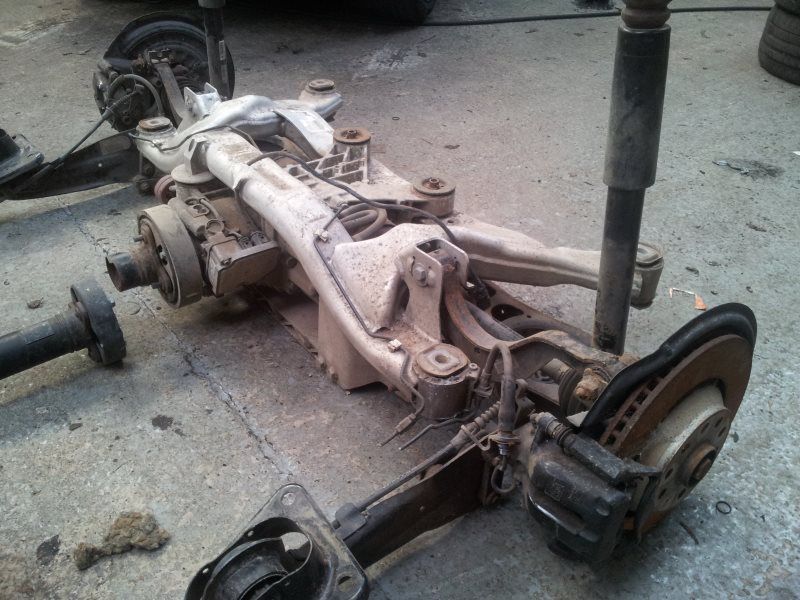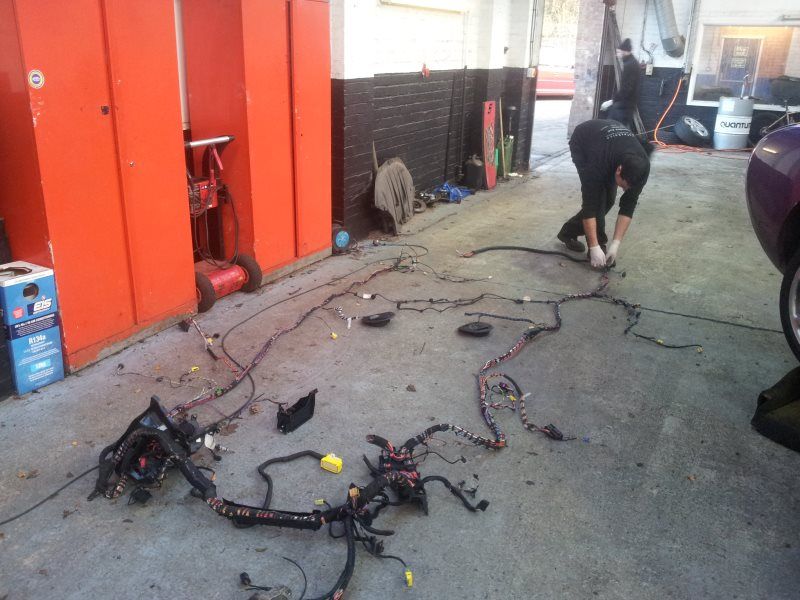 Works in progress...
Last edited: