After nearly a year of sulking from selling the
Ibiza
and having two cars that I wasn't particularly happy with (MK3 Golf GTI and MK6 Ford Fiesta Zetec S) I found my balls and purchased this baby from Skoda in Beckenham...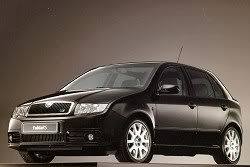 Its a 2006 06 Fabia vRS in Black Magic
Test drove it almost three weeks ago and was amazed at the power! (Golf was 115bhp with some torque, Fiesta a measly 100bhp and no torque) I fell in love straight away and put a securing deposit so nobody else could buy/test drive it.
The days leading up to today were spent putting the standard springs back on the fiesta and standard cd player back in and selling it... yesterday was mission accomplished!
The drive to Beckenham took almost two hours but the drive back only 45mins... work that out!
Anyway, I will probably keep it standard for a while but in the next month its getting a full detail by TnS Detailling (same chaps that did the
Ibiza
) and some colour coding.
Proper pics when the weather is nice!
Last edited: