I bought my 2003 LCR as new with delivery miles on it for my 27th birthday, happy birthday to me, lol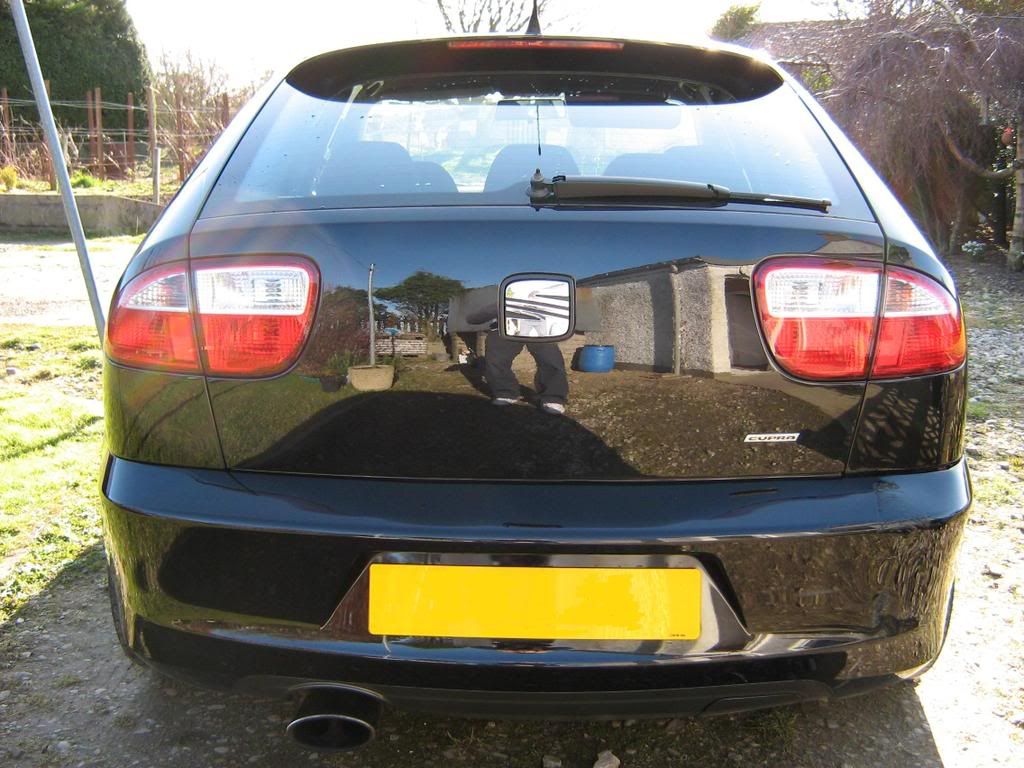 I loved the shape, the style, the speed and above all it is black, which we all know is the best and fastest colour.
I bought after 6 months of test driving, internet searching and magazine reading to ensure that this was the right car to cover all bases. AND after 5 years it still does everything I want and wanted it to.
So over the years I've been very slowly upgrading bits that fail or wear out.
The first being the Pirelli P Zeros were changed for Good Year Eagle GSD3's and now Assymetrics. For the winter I bought Michelin Alpin 2's, these were fantastic and allowed me to use the car every day in the winter where the GSD3's I couldn't even get out of my drive.
Handling has always been my main objective in a car, so the S3 strutt brace, Neuspeed ARB, dog bone mount and LCA rear polyflex bushes were all fitted with geometry done also. This made a huge difference to the handling, turn in was shapened, wheel hop was vastly reduced and understeer was replace by a little oversteer, which was nice
Noise and power wise the air box was replaced with BMC CDA CAI kit, a Forge Eliminator DV was fitted and the full set of Forge black turbo and intercooler hoses was fitted. I tried the Sprint Boost thingy , I really like it and still do.
I now have the forge LCR FMIC which with all the other power mods have made a small amount more power and boost but have made a big difference to the intake temperatures so all the power is still there even on hot days (in Scotland?? lol)
So in the past year I have decided that the LCR's life is about to get a bit harder. I'm slowly changing it into a fast road/track day car.
My clutch went recently so this was changed for a Spec stage 1 with Steel SMF.
When sifting through
www.vwvortex.com
I have come across various handling mods to help me get the best out of my LCR on the track. As we al know a FWD car is never the best choice for this but i plan to make the best of this with mods. So a GB was set up with a company in America who supplies uprated engine mounts, amongst other things
. The GB went very well and these were delivered to me on Friday. The kit consisted of a 25% stiffer transmission mount, engine mount and dog bone mount. The transmission mount was fitted on Saturday (cheers Craig, your a star!!) with a mate, this was very easy to fit. Along with this the top mount bushes were changed in all four corners as I was getting alot more banging when travelling over bumps.
So this weekend I had a big box of bits waiting to go on. Outer CV joints, top mount stuff, service stuff and uprated mount stuff.
I went to back off the 30mm nut to change the CV joints (which was supposed to be torqued to 240 ft-lbs) and couldn't back it off, even with a 3 ft scaffold pole!!! So that didn't get done.
As for the service, when I got to the sump plug I noticed a drip of oil coming from it and oil in the under tray, AND it was pretty much hand tight!!!!
So when fitting the new plug I realise that the threads in the sump were stripped.........
So today I've got intouch with Jabba about a baffled sump, with GSF about a new oil pump with ancilleries.
This will be changed by myself and Craig ASAP as I'm s####ing myself about this popping out and loosing all engine oil.
Anyway, this is the story so far about my track car build, I'll keep it up to date as I go along. any help or tips would be appreciated on this.
when researching this project I found it very difficult to find out any information about setting up the LCR for the track so hopefully as this project develops it will allow others to get an idea whats needed to get the best out of it for the track
Cheers dude.
Car spec
Engine 1.8 20 VT 210 BHP AMK
Green Cotton Dual cone induction Picture of these pieces, Cone and elbow trial fit Forge FMIC Forge 007P 4 BAR FPR Full set of Turbo and Intercooler hoses Phenolic gasket Stage 1 clutch with lightened Steel SMF Autotec Wavetrac differential Gear box fitting threads More detailed thread with pictures to follow 3" Blueflame DP, de CAT and 2.75" CAT back stainless Steel exhaust Full Custom Stage 2 remap
Handling
KW varient 3 coil overs lowered 20mm front and back with bump at 1 turn and front rebound 1.5 turns and rear rebound at 2 turns Rear Neuspeed 28mm ARB set to stiffest setting (redressed with new kit) New fitting kit fitting 23mm R32 front ARB and bushes Front S3 strutt brace Rear LCA Audi TT roadster bushes New top mount bushes and bearings Superpro competition bushed Dog Bone Mount Vibra-Technics Competition Engine mounts Toyo Proxes R888 front and GYE F1 Asymmetris rear Pictures of tyres Buying and fitting tyres Lexan windows Weights of windows, Fitting kit and pictures
Braking
Powervane 2 piece 330mm x 28mm front discs with DS3000 pads EBC Ultimax Eliptically grooved rear discs with Pagid pads Goodridge Braided brake lines Fitting of these RBF 600 fluid
last RR 288 BHP, 300 FT-LBS at Wallace performance. Stage 2 with supporting mods Solution to alarm going off when driving also car randomly locking and unlocking 1/4 mile day at crail On return from SCN CPoP, after initial strippage Strippage Second track day, first one on Knockhill, SIDC day Rolling Road session at Wallace performance __________________
wow mate, what a write up...will defo be following this too. huge respect for turning t
Last edited: