RULES AND GUIDELINES
PM me your USERNAME, ENGINE TYPE, LOCATION (city/area, not where we can steal it from) and COLOUR. If i dont get one of them, im not listing you. If you want you can send me your Msn address aswell. Yes i know if we looked under info we could see it....
Im hoping admins will make it a sticky.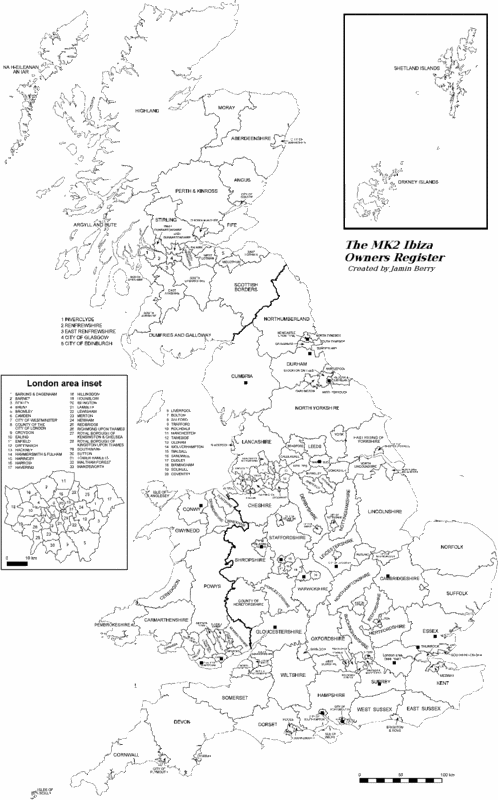 1. Jamin Berry, Banana yellow 2.0 16v CUPRA. Nr Windermere, Cumbria (
[email protected]
)
2.
[email protected]
, Copper Bronze 2.0 16v GTI , Cheltenham Glos
3. Dirtbiker, Lazuli Blue 1.4 5dr, Nottingham/Southampton
4. Ibiza_95, Magic Black 2.0 16v Cupra Sport GTI , Wakefield, West Yorkshire
5. jaketalbot, metallic black, 2.0 8v cupra sport, Colchester, Essex
6. richard soame (soamer) silver 20.8v cupra, Telford shropshire
7. jamiepyrite, blue, 1.4 8 valve, Durham
8. C11PRA DC, Bengal Yellow, 2.0 8v GTi Cupra Sport, South Leicestershire
9. Hayz, I have the
Seat Ibiza
Cupra Gti 8v the AGG engine I believe, It's Yuca Green and I'm in portsmouth.
10. Dolly, 2L 16v Gti Cupra Sport... Orange (EDIT: copper)..Wolverhampton
11. Czechboy (Mig) - Petersfield (Hants) and Kingston (London) (EDIT: only marked Kingston upon thames on the map) - 2.0 16v in magic black
12. F1nn, 2.0 16v in copper, Middlesbrough
13. jcs356, White
Ibiza
GTi 2.0 8v, Guildford
14. Dave Cymru, 2.0 16v Cupra Sport, Kiwi Green, Bridgend - South Wales
15. Mickyggggg - Bengala Yellow -
Mk2 Ibiza
Cupra Sport 2.0 16V - Newcastle upon Tyne (EDIT: he forgot to PM me his location the first time LOL)
16. EssexIbiza1985, Mk2 1.4 8v, Norwich (Weekdays), Romford essex (Weekends), Metallic Silver.
17. Krishen, 2litre 8v cupra sport Gti (Agg), Birmingham/ Reading (student so equally split between the two) and colour is Bengal Yellow
18.
seat ibiza
1.4i cls, black, peterborough in cambridgeshire (Omg i forgot to put the name on this one. If you know who you are, PM me..
)
19. sionowz, Bengal Yellow - 2.0 8v GTi Cupra Sport, Cardiff
20. Ibiza_Liz ,1.4 8v, 3door, Silver, north wales
__________________
Thanks
Last edited: