What is it?
Meet the entry-level engine choice for the CUPRA Formentor in the V2 spec (not to be confused with the VZ2), We've got most of the external looks of the VZ2 but how does the 1.5 TSI hold up against the other more powerful versions? Read on to find out.
Verdict
With great low-down power, comfort, good looks and reasonable price, I think this V2 trim is a great choice for those not looking for the full fat engine trims. A good all-rounder for those looking to join in on the new premium brand.
What we liked
Styling
Ride comfort
Bucket seats
What we didn't like
Lacks overtaking grunt
No CUPRA mode / button
No Dynamic Chassis Control (DCC)
Exterior
Here we have the CUPRA's popular FORMENTOR in the lowest power trim. Despite this, we've still got a great looking SUV (coupé) to look at here.
Before we go over the exterior here is a quick look at the size differences between the CUPRA Formentor and CUPRA Ateca Facelift, whilst it doesn't seem there is much in it, the Formentor is nearly 10cm down in the height department which is pretty significant.
CUPRA Formentor
| | |
| --- | --- |
| Length | 4446 |
| Width | 1839 |
| Height | 1520 |
| Wheelbase | 2679 |
CUPRA Ateca Facelift
| | |
| --- | --- |
| Length | 4386 |
| Width | 1841 |
| Height | 1613 |
| Wheelbase | 2630 |
Who fancies a little video walk round?
You'll notice unlike the CUPRA Ateca which has more of a boxed look, the Formentor shows a plethora of crease lines, grills and curves which help give it a much more striking image and makes it very photogenic.
Looking at the boat race (front end), it keeps with the same style grill as the recently reviewed CUPRA Leon all be it slightly taller, the fog/cornering lights nicely placed under the main lights.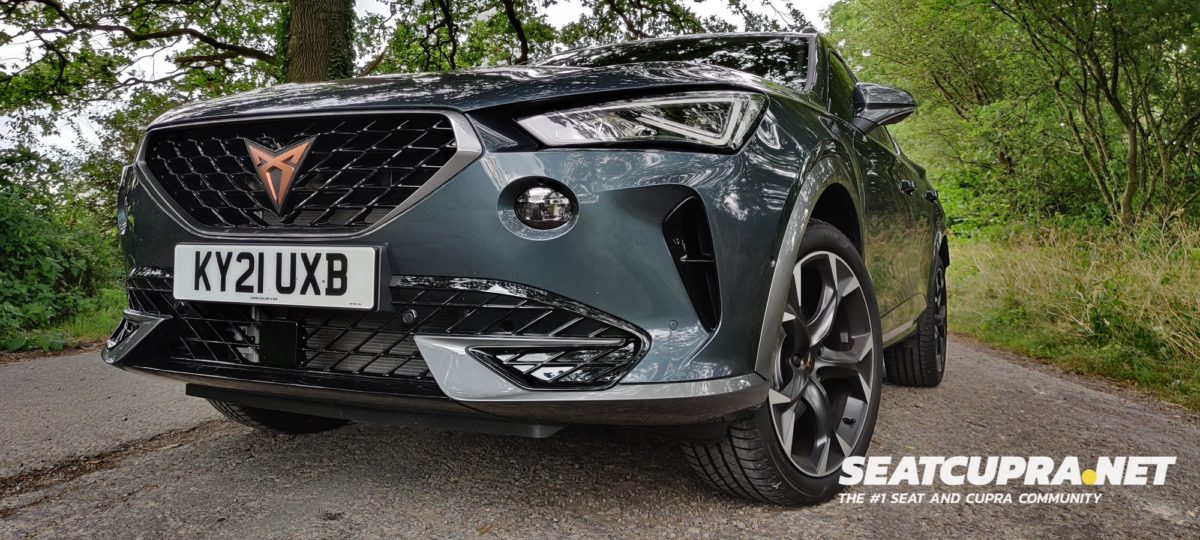 Ahead of the front wheels, we have some vents which remind me of the SEAT Leon MK2 K1 front end, which is a pretty big compliment if you ask me.
Moving down we find the front splitter which has a great little scoop upwards and turns back on itself to help break up that bottom grill, the addition of making the centre section of the splitter black helps it to blend in for that wide mouth effect that most MK2 and MK3 SEAT Leon's had added aftermarket.
I'm still not sure I like the new style bonnet on the CUPRA Leon and Formentor as the opening is pushed up a good 4 to 5 inches from the front grill like it was in the MK3 Leon, it just adds an extra line that distracts from the creases and body lines.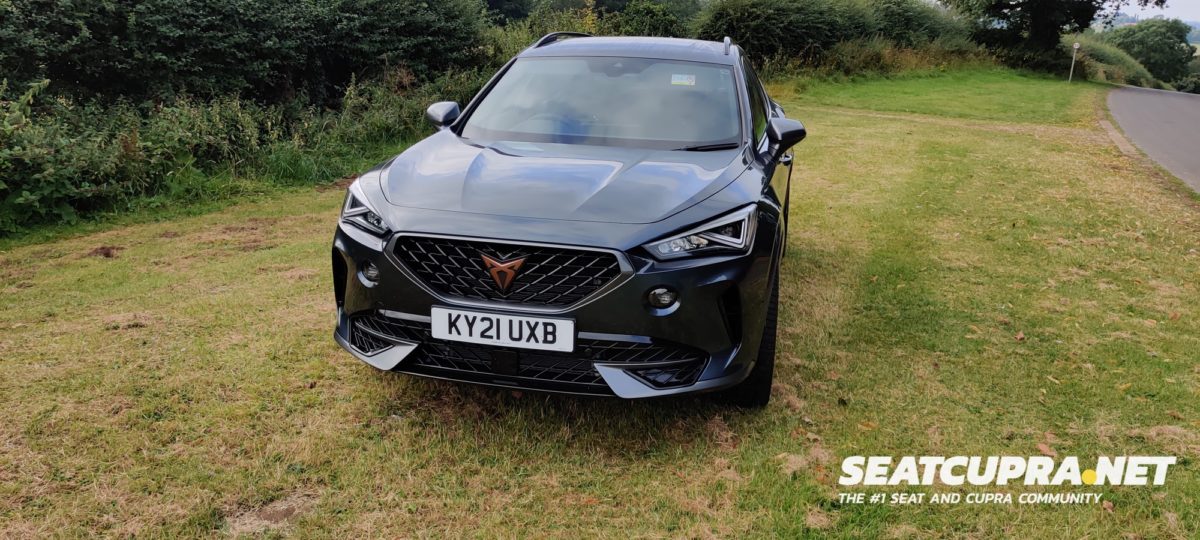 Before we move on to the rest of the car, I'd like to point out how good the Magnetic Tech paint looks in both bright (first few images) and cloudy weather (picture above). I'd be interested in your comments below on your favourite paint colours for the latest range of CUPRA's.
Onto the side of the CUPRA Formentor, there are the curves in the bodywork along with the big creases over the front and rear arches. I've still yet to decide if I like the grey/silver arch accents, to me they just highlight the fact there's a big gap between them and the tyres.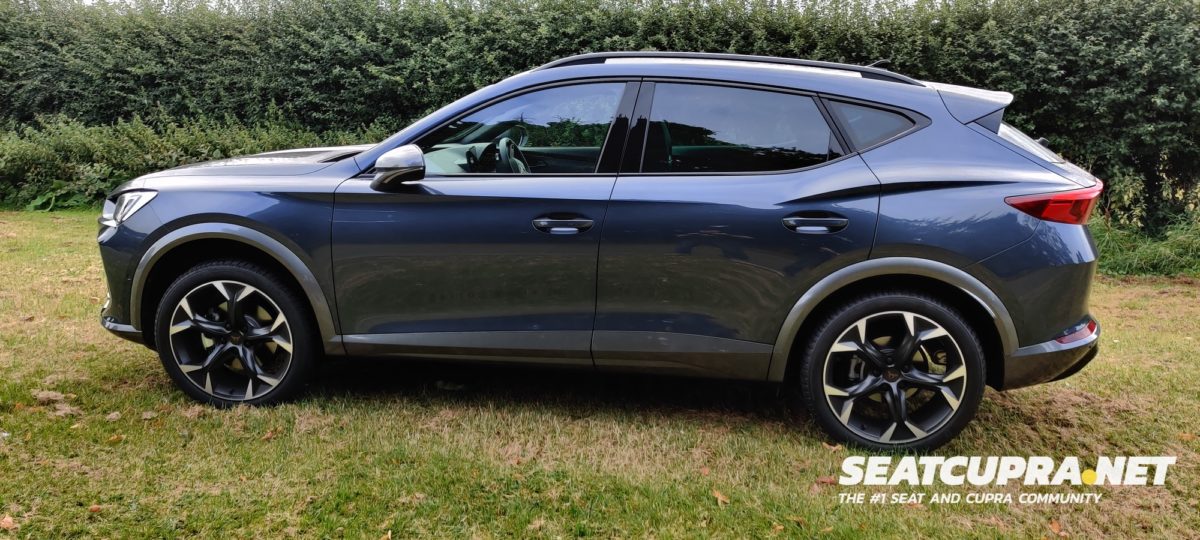 As for wheels on the V2, we've got the 19-inch machined sport matte black and silver alloys you also find on the VZ1 and VZ2 trims. As for tyres on this review car we have Bridgestone Turanza T005 with 245/40/R19 94W.
Just like the gloss black on the MK3 Leon Cupra wheels, the matte doesn't like even the slightest bit of dirt making all your hard work cleaning them disappear within 10 miles of driving. I must say once clean they do look great, the styling makes for an easy clean and the silver accents give the sporty look. I normally find with pure black alloys they just disappear from more than 5m away and all you see are the brake discs.
One of many things (more to come) you fail to get with the 1.5 TSI version of the Formentor is CUPRA decals on the brake calliper which is a shame as it's not much to ask for considering you've just bought a CUPRA branded car.
Onto the back of the car, as with most smaller engines cars you don't get the full-fat exhaust system, the 1.5 TSI is no different with 2 fake exhaust covers, the real exhaust being underneath the car hidden away from view.
Personally, I don't mind the look of it as it's the same sort of setup for the Hybrid version which looks better than a single small pea shooter exhaust pipe sticking out.
For those wishing to know what the exhaust system looks like you'll be glad to know it's a little higher off the floor than most so I could get under it a little better.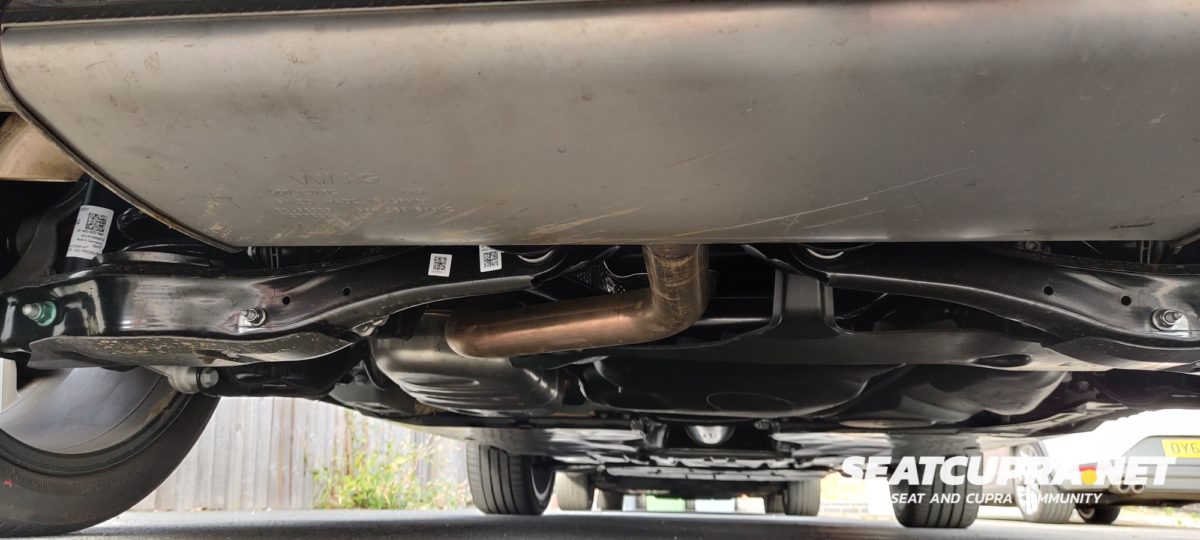 Styling for the rear is again filled with plenty of body lines, even though it's not as aesthetically pleasing as the front of the car it still has its own charm with fewer creases and more of a straight cut design to help fit in with the coast-to-coast light. The Formentor doesn't have the lip above the rear lights like the CUPRA Leon which makes that car look a little grumpy.
Overall, the Formentor is easily the best looking CUPRA out currently even with the lower-spec version it's still a looker!
Interior
If you know my reviews at all you'll know I'm a big fan of interior comfort, as a driver I spend 90% of my time with the car, sitting my butt in its seats, so how does the Formentor stack up to a SEAT MK3 Leon Cupra ST?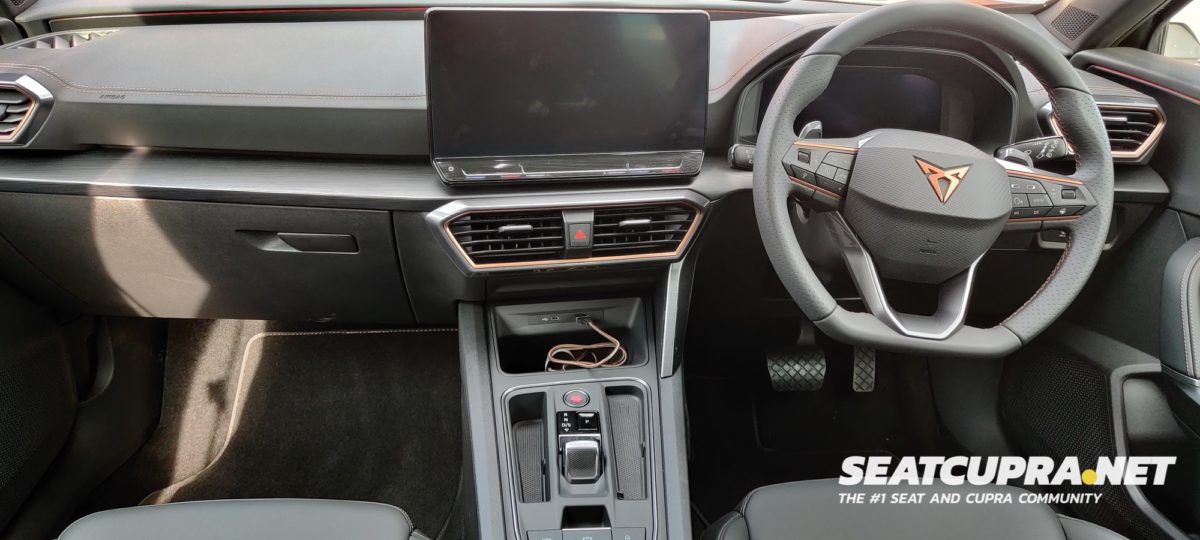 So, you've bought/leased a new CUPRA, it's the nice economical 1.5 TSI, you get the V2 spec so it's got some nice goodies, you get in and expect the awesome CUPRA profile button and Engine Start/Stop buttons on the steering wheel or at the very least a CUPRA profile you can put on, because you know, you've just got a CUPRA?
Well, it turns out with this trim level (V2) you don't get the CUPRA & Engine start/stop button which I could probably live with as it's a lower-powered engine, but to remove the CUPRA profile and just leave you with Sport in a 'CUPRA' car is pretty poor in my eyes. After getting in and finding this out I felt a little bit cheated even though it wasn't my car.
With that minor rant out the way, let's talk about comfort, something this review car excelled at in heaps. It is easily the most comfortable SEAT/CUPRA I've driven (slightly behind a 1996 Citroën AX Salsa with its sofa style seats).
The better half and I headed out as soon as the Formentor arrived on a 40 mile round trip through the countryside (not) admiring the number of potholes and bumps in the road, normally in the MK3 Leon Cupra the ride is quite firm and bumps are felt through your spine, in the Formentor it feels firm but soft enough that you can enjoy the UK roads with some degree of bone structure remaining at the end.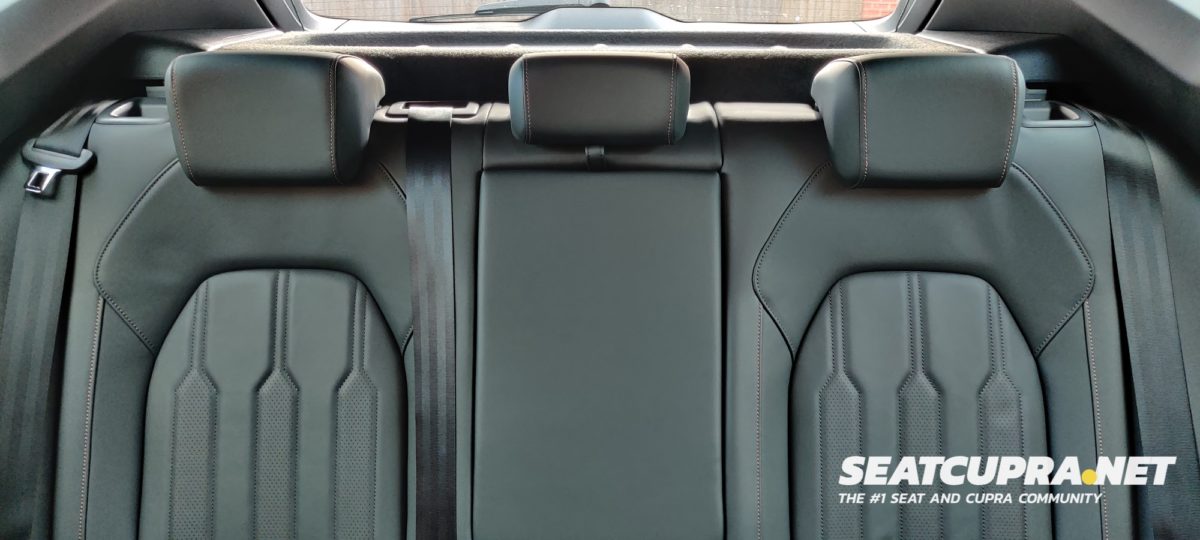 The V2 trim gives you fully-electric front seats with both front and rear seats in black leather showing off the CUPRA copper stitching, whilst looking very low maintenance with mainly wipe clean and hoovering needed I think the copper stitching may help show less fade overtime against a white colour which would turn a brownish colour. The back seats are comfy and being 6ft 2 I can easily fit behind the driver's seat which is also set up for me so most normal-sized humans should be good to go for any knee waving activities in the back.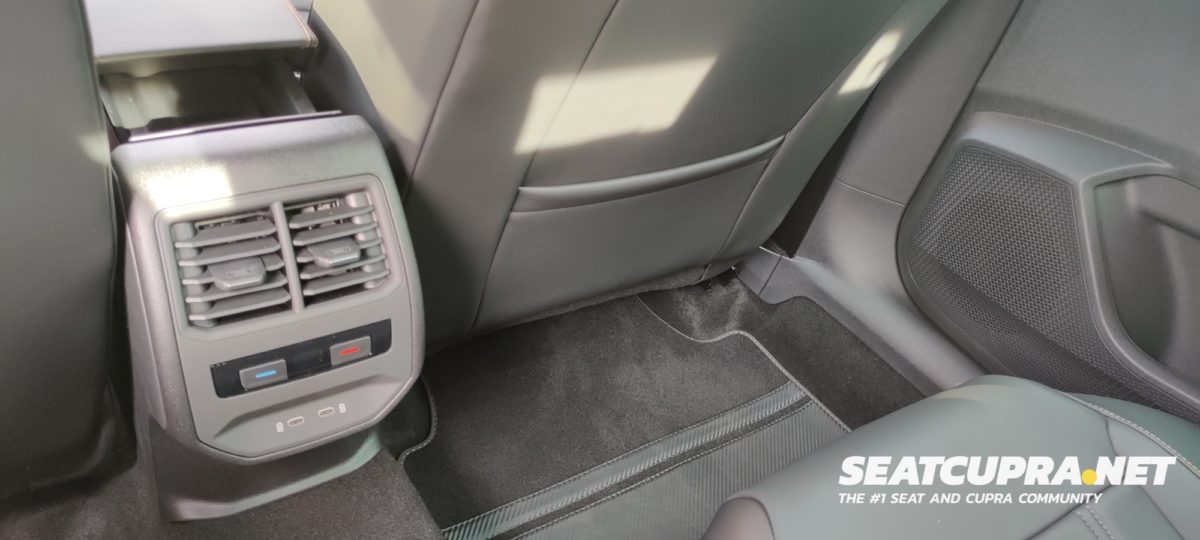 Onto the doors, we find an illuminated CUPRA door sill and much the same door card as our previous reviews of the CUPRA Formentor e-Hybrid and full-fat 310bhp version, fine leather stitching and a much softer armrest (door card) than my MK3 Leon (facelift).
I'm glad that I can still see some buttons around the place but fear that soon buttons will be increasingly sparse as touchpads come more and more common in cars.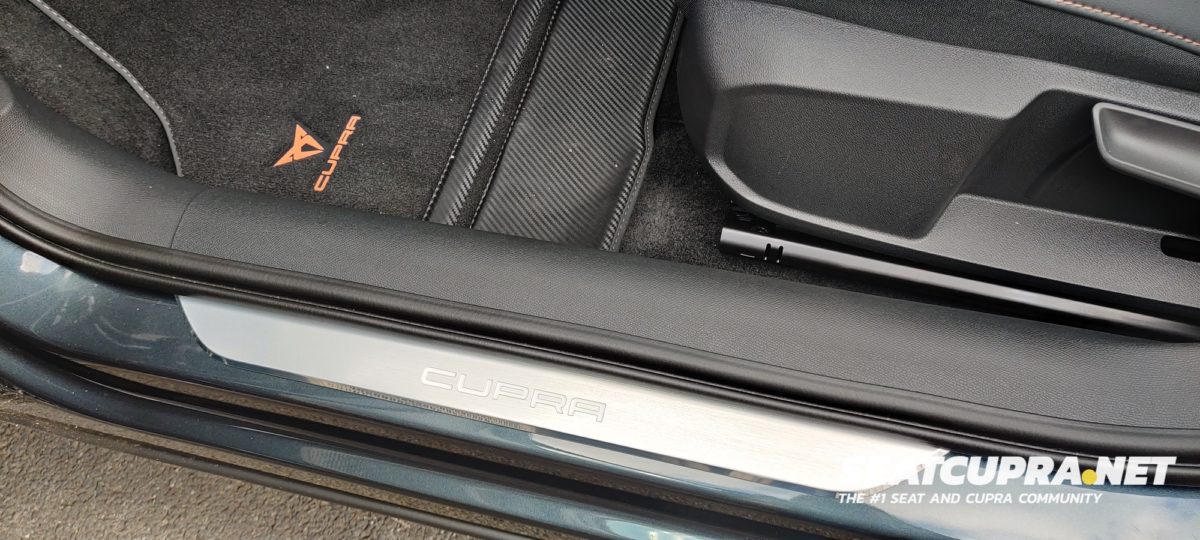 Copper stitching follows onto and across the dash giving a nice premium feel to what normally would be either fake-looking carbon fibre or that squishy rubber that's not rubber (if you know, you know). Also, like other CUPRA branded cars you get the new coast to coast LED lighting, which is customisable by colour and brightness, always a nice feature to have, although too bright and it becomes a little distracting at night time whilst looking like a mobile brothel if you have it set to red.
Something I've always missed from the older style Leon's would be completely useless but still always handy under-seat cubby hole for that tiny thing you need to hide or maybe stash a Sat Nav (do people still buy them or just use Waze on their phone?), I'd like to see that cubby hole brought back as it's nice to have and stops the front bit looking a little lonely.
Moving round into the boot we find a lovely 450L space (set to lowest position) ready for all your Tesco Bag for life shopping trips. To put that into perspective the new CUPRA Leon Hatch has 380L and the CUPRA Leon Estate tops all of them with a lovely 620L.
I don't see anyone having an issue with space for the standard day to day items and even a large family food shop unless you shop at Aldi/Lidl in which case you go in with a list of 4 food items and come out with a large metal pizza oven for the garden you don't have.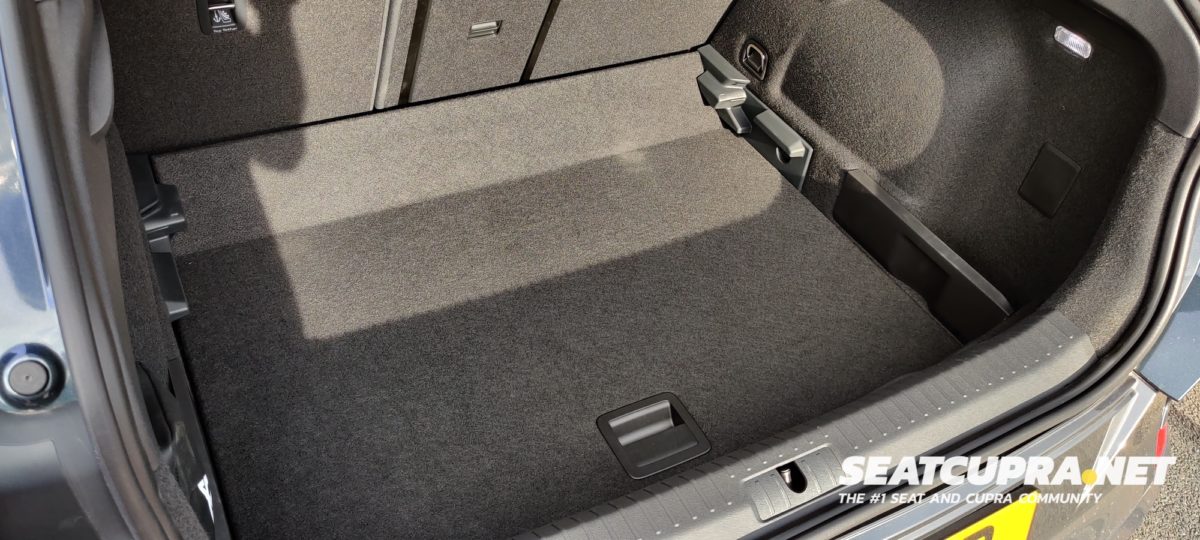 We've got the usual 60/40 split for the rear seats with my favourite ski hatch in the middle for those annoying long items or possible escape hatch if you get locked in the boot. You may also notice that you get a nice CUPRA bag (may not be in all cars) that had a medkit inside, which was nice.
So, what do you think of a spare tyre in this V2 spec? Don't get your hopes up as it's a gunk canister and a tyre inflator, a shame they didn't use the tyre shaped space to put a tyre in instead of those who just get a sub in the boot.
So, I did find an issue on this Formentor, but it wasn't software related for once, it seemed that either the boot seal wasn't put on right or the bodywork doesn't marry up leaving a gap which you can just see in the below image. Not sure if that was done by a previous reviewer but I noticed it as soon as I opened the boot being that OCD guy. Thoughts?
Engine and sound
Being the lowest powered engine in the Formentor range, how does it cope with lugging around 1463kg (nearly 200kg lighter than the CUPRA Leon Estate 310)? If I'm honest (when am I not…), I found the 1.5 TSI to be pretty gutless as you'd expect coming from a 300bhp daily, so you might say that's a little unfair and you'd be right. It all depends on what you're after from the engine.
With all these restrictions (speed limiters etc) coming into force in the coming years (cheers Boris), part of me thinks there's not much point in the super-powerful engines for those of us who don't tinker and turn it off, all you'll be doing is cruising on the Motorway at 70mph and the 1.5 TSI is more than happy to sit there.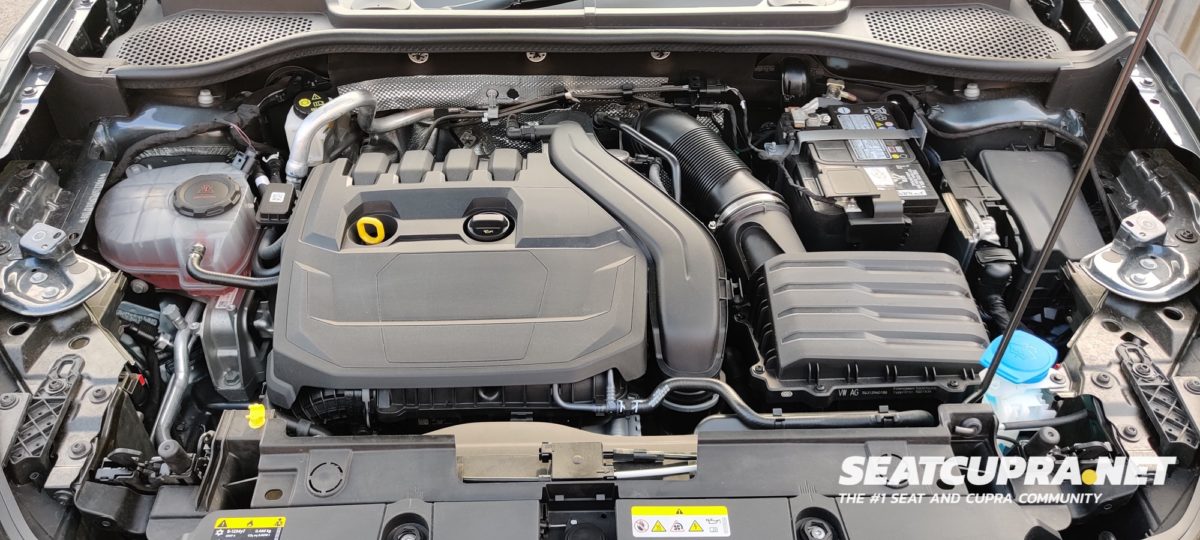 We've got the new style engine bay, which in no uncertain terms looks boring, no CUPRA badges to be seen, it's like that saying, "I got a car and all I got was this lousy rubber engine cover". I'm all up for saving a pedestrian faceplanting a solid plastic engine cover but I'm sure they could have put the CUPRA logo somewhere to get that nice touch.
Here are some engine specs from the spec sheet for those interested in numbers
| | |
| --- | --- |
| Engine | 1.5 TSI |
| Transmission | 7-speed automatic |
| Max. Power: PS @ rpm | 150 / 5000-6000 |
| Max. Torque: Nm @ rpm | 250 / 1500-3500 |
| Fuel economy (mpg) WLTP | 39.2 – 41.5 |
| CO2 (WLTP) | 155g/km |
| Euro standard | RDE2 |
| 0-62 mph | 8.9secs |
| Top speed | 126mph |
For those eagle-eyed viewers who have seen the CUPRA Leon Estate 310 review the sound figures were already in there for the Formentor 1.5 but here's a rundown for my favourite test (same road, same equipment and same time of day).
Here are some default sounds you hear for reference.
45dB – Those annoying early morning birds
50dB – Normal conversation at home (without children)
60dB – Standard Office
70dB – TV Audio
80dB – Dishwasher
Cold start
SEAT Leon MK2 Cupra R (Stock) – 82dB
SEAT Leon MK3.5 Cupra (GPF) – 87dB
SEAT Mii Electric – 47dB
SEAT Leon MK4 FR 1.5 eTSI – 82dB
CUPRA Leon 310 Estate – 95dB
CUPRA Formentor V2 1.5 TSI – 71dB
50mph Comfort
SEAT Leon MK2 Cupra R (Stock) – 74dB
SEAT Leon MK3.5 Cupra (GPF) – 72dB
SEAT Mii Electric – 70dB
SEAT Leon MK4 FR 1.5 eTSI – 74dB
CUPRA Leon 310 Estate (CUPRA Profile) – 75dB
CUPRA Leon 310 Estate (Drive Profile) – 72dB
CUPRA Formentor V2 1.5 TSI – 71dB
0-60mph Heavy foot
SEAT Leon MK2 Cupra R (Stock) – 86dB
SEAT Leon MK3.5 Cupra (GPF) – 79dB
SEAT Mii Electric – 71dB
SEAT Leon MK4 FR 1.5 eTSI – 80dB
CUPRA Leon 310 Estate (CUPRA Profile) – 78dB
CUPRA Leon 310 Estate (Drive Profile) – 74dB
CUPRA Formentor V2 1.5 TSI – 75dB
So, one point worth mentioning is that the CUPRA Formentor 1.5 TSI is 11dB quieter on startup also with the 1.5 engine, that's quite a difference. Inside the car being civilised, we find much the same readings give or take from the other review cars all hovering around the low 70's mark.
I don't think there will be many cars in the SEAT range that will be under the Mii in terms of the heavy foot test (CUPRA Born maybe), but the Formentor 1.5 TSI comes in with a respectable 75dB which conforms with the CUPRA Leon estate but not as loud as the SEAT Leon 1.5eTSI, one assumes the more expensive car gets better soundproofing.
I did notice, a lot like the SEAT MK4 Leon Estate review when you rev the 1.5 engine with a heavy foot, not a lot happens but noise and not the noise you like to hear, the sound of a car struggling to shift its weight in a timely manner. Lower down in the rev ranges the engine is a belter, around town and on 50mph roads the car felt perfect for anything I needed.
On the road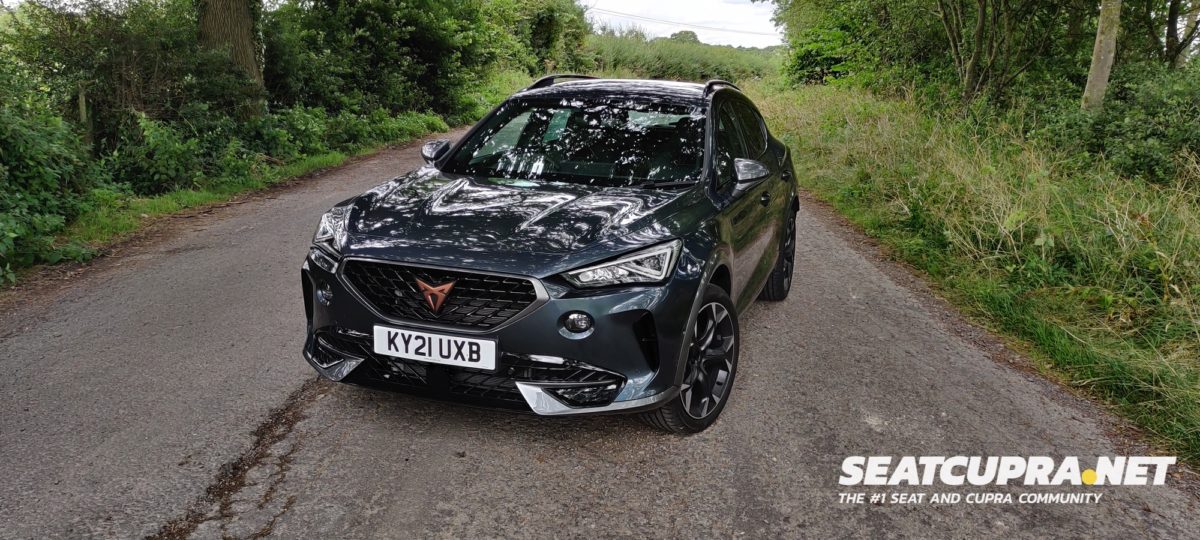 So, what's it like to drive, as mentioned in the Interior section the seats in this Formentor are superb, even if it had 120bhp you'd still be comfortable and in my mind on today's roads that's what matters, arriving at a destination and not having a numb butt and being able to get out and go without a full yoga session of stretches.
In terms of moving around, once you set off you realise that the engine is well suited to lower speeds, it was punchy, smooth and quite promising, after an hour drive on 60mph A/B roads I found myself really enjoying the experience. I didn't find the lack of DCC to be of any issue whilst going over bumps or the steering comfort that changes between profiles in my SEAT Leon Cupra, I did miss the CUPRA profile (not sure if I've mentioned that enough yet), even if it didn't do anything at least you have it.
After a few days of driving, I worked out that the best way to treat this engine to get nice steady power is to surge the accelerator and not just mash it to the floor, if you gain momentum like you're walking up to a snake (never done this and don't try this at home) then when you get to around 3k+ revs you can push down harder and the pull actually feels like somethings happening as it should without the loud screaming and over-revving.
After I got the hang of it the only issues I had were overtaking at 50mph+ when the car just didn't feel like it was ever going to make it, I'm sure it's just me being a power snob but it felt like it's suited to town runs and not anything you'd like to do in a rush.
During the time I had with this car I didn't get any wheelspin or wheel hop, something I was expecting in heaps as this V2 is only FWD, the Bridgestone Turanza T005 tyres (245/40/R19) gave me no issues in cornering or full beaned starts in either dry or wet weather but upon looking at pricing they hold around the same price (£140 ish) as a PS4 so probably won't catch on to most people wanting a premium tyre.
I think for a small engine in a big car if you're in for the life of cruising and just enjoying the car this V2 is a good choice, some of us like the looks/tech but don't need 5 million horsepower to go with it and I get that completely.
Technology
Unfortunately, there isn't much to talk about here that hasn't already been covered in previous reviews (CUPRA Leon Estate 310, CUPRA Formentor VZ2 etc), the infotainment system is somewhat still buggy for certain things, the lane assist is still dangerous at points and the reversing camera gets near enough unusable after a drive in the wet unless you like looking at muddy pictures of a floor.
They did fix the Android Auto screen setup from the SEAT MK4 Leon I reviewed which I am most grateful for, I just hope they get these software glitches sorted soon as I'm pretty sure it's putting a few people off buying or keeping their new SEAT/CUPRA.
Oh, I nearly forgot, this V2 model has a lovely heated steering wheel, which would have been the best addition to any car I've owned, who doesn't want nice warm hands when you leave the car. Admittedly for the UK we don't get much hot weather so this feature would get used a little more than most other hotter climates.
Lastly, I'd like to talk about the towing arm on this model which I don't think made it onto the spec sheet, unfortunately, I don't have anything to tow so for me it was a little wasted but the design kept it hidden unless needed was a nice to have for sure.
In the boot you have this button you press, you hear a satisfying clunk as it falls from its hiding place, to lock it in place you just need to pull it down so it clicks into place and I assume off you go, it almost makes me want to tow something and show it off.
What's it like to live with?
Running Costs
Normally with a CUPRA car, you probably wouldn't be too fussed about MPG but with this 1.5 TSI, you're either getting it for better fuel consumption, no need for the extra power or the price so MPG may be more of a thing. As this review car had so few miles on it, I'm not sure my MPG findings are much to go on.
During the drives I did I don't think I saw much over 40mpg which isn't that great but then again, you'd have to be very good to a 300bhp+ CUPRA to get that sort of mpg. This V2 has a 50L tank so you'll probably be looking at 400 miles to a tank with mixed driving.
Comfort
I couldn't be happier with the comfort in the V2, everything just seemed like a delight when I arrived, the comfort for me nearly counterbalanced the lack of power (that I'm used to), 10/10.
Power
I'd like to think if I owned this car and not a 300bhp Leon I'd be thinking the power would be more than enough for daily use, I just struggle to see how it would make me feel for overtaking a tractor (which we have many near me) or joining a motorway with a short space to accelerate. As this is also a family car with it being fully loaded with kids and a food shop it may start to show some sluggish tendencies at lower speeds.
Cost
So, a SEAT MK4 Leon Estate 1.5 eTSI 150 comes in at around £28,000 and this CUPRA bring around the £31,000 mark I think it's a good price for a CUPRA branded car even though you'd lose 150L of boot space but gain so much comfort with the same engine (without the mild hybrid).
Styling
I think the Formentor (at the time of writing this) is the best looking CUPRA model available, it seems to hit that happy medium of being aggressive without being too blocky or smooth. If you manage to get the VZ3 or VZ Edition, you'll get the fancy Copper wheels which seemed to of missed the CUPRA Leon by (in the UK). I'd struggle to find anything big that bothered me with the Formentor.
Tech
It seems that issues aren't being fixed quickly enough from the discussions in our community, but for the things that do work out the box, I'm happy with the progression from the previous-gen infotainment screens etc.
I'm still getting used to the smaller gear stick and lack of any buttons for the major components like aircon and volume, part of me thinks that it's just a fad and buttons come back soon-ish when they need to do something "new" again, or get fed up with reviewers complaining.
Would I buy one?
After the first day of driving, I would have said no (taking my current daily into account), but the more I drove it the more I didn't need the extra power for daily use, I think the 1.5 TSI is a good engine and it very nearly works beautifully on this V2 trim Formentor.
It's a shame they didn't include the CUPRA Profile as that bothers me for something so simple if all they did was change the Sport profile to a CUPRA one.
So, in summary after the week of driving the Formentor, I think it would be on the list for the next car, I'm not sure about the other engine specs if I'd choose this 1.5 TSI but I'd be happy with it after getting used to not having 300bhp.
Specs of the model in this review
Engine – 1.5 TSI
Transmission – 7-speed automatic
Max. Power: PS @ rpm – 150 / 5000-6000
Max. Torque: Nm @ rpm – 250 / 1500-3500
Fuel economy (mpg) WLTP – 39.2 – 41.5
CO2 (WLTP) – 155g/km
Euro standard – RDE2
0-62 mph – 8.9secs
Top speed – 126mph
Length – 4446
Width (Including wing mirrors) – 1839
Height – 1520
Wheelbase – 2679
Boot space – 450
Fuel tank – 50
Kerb weight – 1463
Towing capacity with brake 8% – 1700
On The Road – £31,190
Metallic Paint £555
Extended safety system £135
As tested: £31,880
Black Leather pack incl winter pack £0.00
Benefit-in-kind rate – 35%
Insurance group – 20P