hello there,
i've started the boot-light project before reading this thread. my ibiza came without boot-light or glovebox light, so after some thinking i've decided to start installing one.
i've purchased the plastic trim with the light bulb and the support for the light bulb.
a friend told me what wires power the light (that is brown-blue and red-black) and after looking in the boot compartment i've found the pink connector were the wires are found an connected the light to it.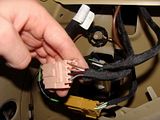 BIG problem, as you can see in the picture the red-black wire i used isn't the one needed. after measuring with a voltmeter there is only 3.5V on those wires, so i need to connect the red-black wire from the interior light.
how can this be done? which route would you thing would be easier? anyone know what is the red-black wire from the pink connector for, the one that i've used?
i am willing to finish this project and after i will do a diy, for others to see.
any advice is welcomed!
Last edited by a moderator: